So you really want to throw a Halloween party, but you're over the age of 20 and don't want to spend the evening standing around a punch bowl listening to "Thriller" all night. I feel you. That means it's time to graduate from the traditional Halloween party to the more elaborate and sophisticated Halloween Costume Dinner Party. Congratulations!
If this is your first time hosting a dinner party, then I've got the basics covered for you. Keep reading, take some notes, and get prepped for an awesome evening.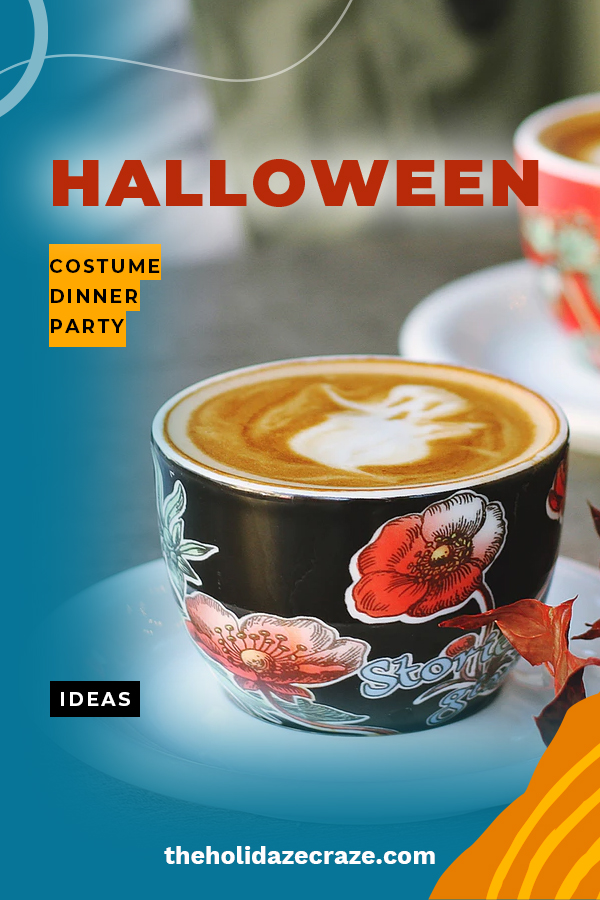 Halloween Costume Dinner Party Ideas
Must-Have 01: Invitations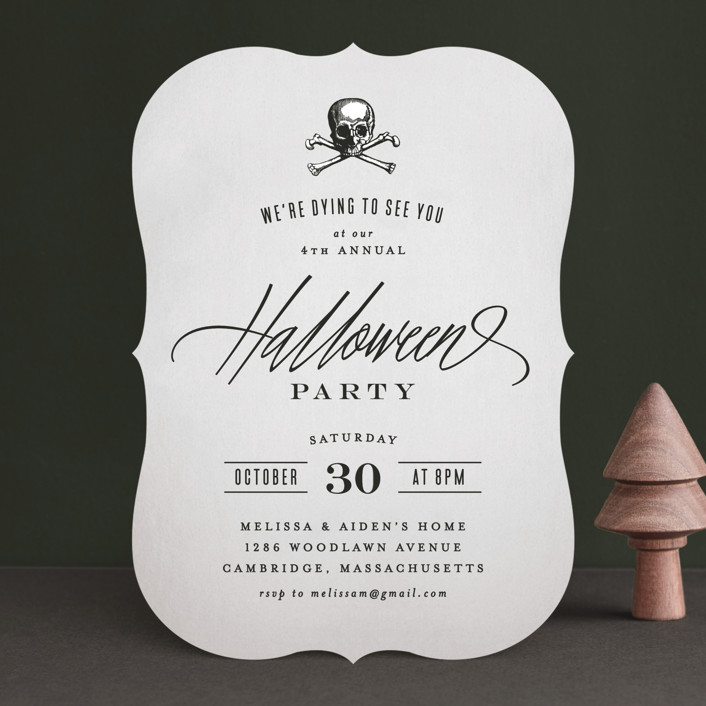 If you're hosting a Halloween costume dinner party, then it's imperative that your guests know they need to come in costume. I'd even suggest giving them a theme to work with so that those who struggle coming up with ideas will have a little guidance. This invite from Minted is sure to set the tone for your party and is fully customizable so you can add whatever instructions your guests need to know. If you want something a little more generic (we all have budgets) then this is also a great option!
Must-Have 02: Short And Sweet Spooky Menu
Unless you have the big bucks to afford catering, chances are you're doing the food yourself. Do yourself a favor and keep the menu light and simple. It will allow you to have more fun and for things to run a little smoother. Stick to simple dishes that can be made festive, like spider deviled eggs and mini mummy sausages. Then for the main course, pick something that's going to be easy and edible without ruining makeup or clothing. Pizza is a fun and festive favorite that can be modified to feed any group. If you want something a little more sophisticated, try turning pot pies into mummies! The key to a good themed dinner party is adding subtle touches to simple dishes, like the cream spider web on the butternut squash bisque above.
Must-Have 03: Spooky Place Settings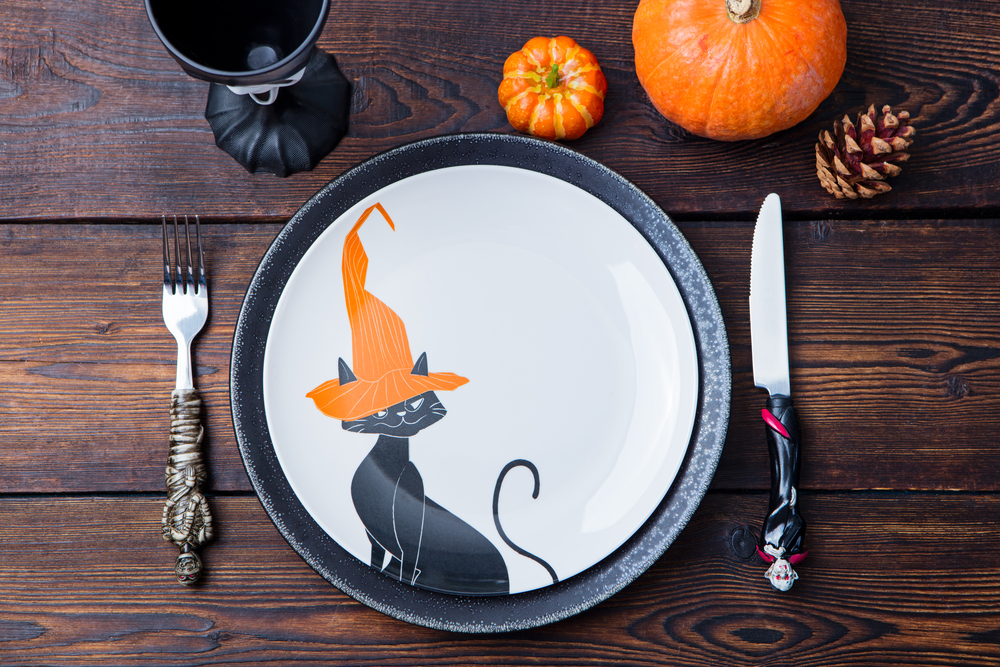 Never underestimate the effect that good serving ware has on a party. So this one time, skip your usual plastic forks and your everyday use silverware. Grab a set of black stainless steel silverware here and a set of dishes to complement the mood here. In addition to cutlery and dinnerware, having some festive glassware is important. You can go the glass route, or try a set of these liquid-activated LED champagne flutes instead. Whether you're serving bubbly at your party or not, they will surely help keep things festive!
Must-Have 04: Spooky And Festive Centerpieces
Yes, you can go the route of pumpkins and black cats. But don't underestimate the power of fresh flowers to add a pop of color and sophistication to an event. Dahlias are great for centerpieces because they provide a subtle floral scent to your table with a maximum color pop. You can utilize pumpkins as your vases, or check out your local thrift store for some vintage vases (or here if you can't find any). If you need flowers (or even ideas), then you've definitely got to check out Blooms by the Box.
Must-Have 05: A Cool Color Scheme
Sure, black and orange are staples of Halloween. But if you want to elevate your party so that even your guests pick up on your new adult status, then try something different. Go for a minimalist approach with white, cream, beige and accessorize with lots of skulls and spiderwebs. Grab a 10 pack of skulls here for all your decorating needs. If you're after a pop of color, try adding a little black and red or purple. It'll be festive without being too kitschy.
In addition to a good color scheme, lighting is super important and can help set the tone for your dinner party. Some flame-less candles (like these) or vintage candelabra like these will go a long way.
Must-Have 06: A Costume!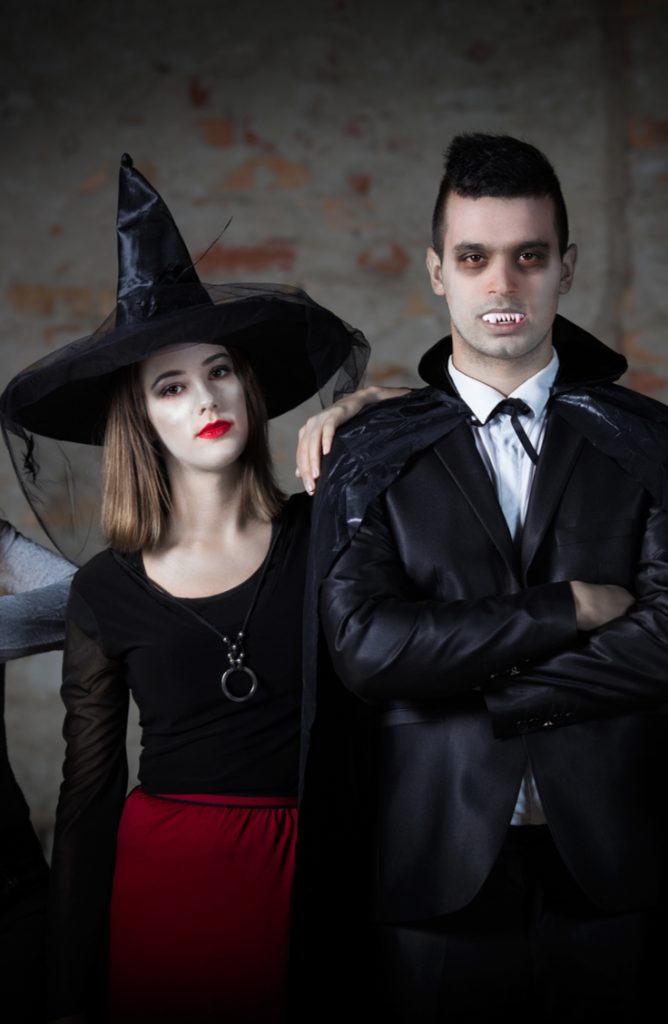 This is kind of a no-brainer. But if you're throwing a costume party, you've got to have a costume! If you're not into costumes, or you want to make things a little easier on your guests, then I'd suggest incorporating a Murder Mystery into your dinner. You can grab an already made game here and then assign characters when you send out invites. This is sure to add a little spice and spook to your evening! If you're ready to choose your costume, then you really need to head over to HalloweenCostumes or HalloweenExpress. Between the two sites, they have pretty much anything you could want, and at great prices too!
Now, get on out there and get ready for a dinner party like no other!