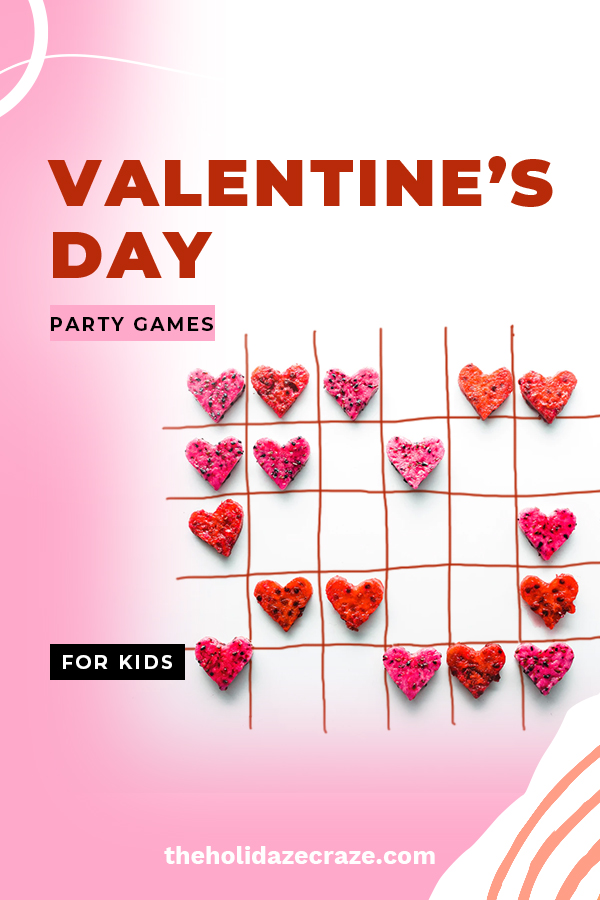 It's just not a holiday about love without a few games! I mean, where's the love if you're just sitting around in the bleak endwinter?
We've gotta get these kids moving, get some color back into life, and have some fun in February!
Don't worry, either. I'm not ever proposing we break the bank to do so.
In fact, this first idea of mine can be completely homemade. All you'll need is paper, marker, and 5 hearts of each color.
This picture has hearts made from cloth, in pink and red. Who's to say you can't just cut out a few in paper or felt? I won't tell.
If you need rules for Tic Tac Toe: two people or teams place one heart by turn. The first to get three in a row gets a kiss -or, they just get to be the winner if they're not the kissing type.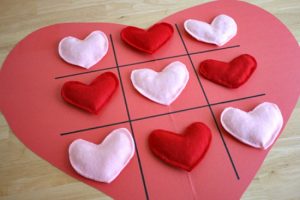 Not all games need to be competitive. We are talking about a love holiday, here.
In The Love Game, therefore, players each wear a heart of a unique color. When the homemade spinner (brads, popsicle stick, and paper) lands on that color heart, the person who spun says a nice thing about the heart-wearer.
My kids are not the most complimentary about each other, but they are always up for a game. I know what we'll be playing next Family Game Night.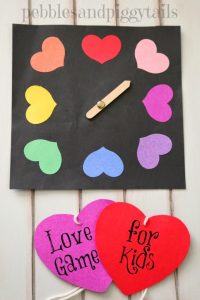 Would you believe this skeeball is a homemade game?
If you're up for some carnival game action, head over to Michael's for foam core squares, Bristol board, and crafting supplies.
Brush up your X-ACTO Knife skills in cutting out the 14″ x 25″ ramp, 14″ x 18 1/2″ back, and the sides into L-shapes. That back heart is a masterwork of folding and hot-gluing.
Decorate the whole getup with hearts, stripes or cupids. Then, drag out your ping pong balls and play ball!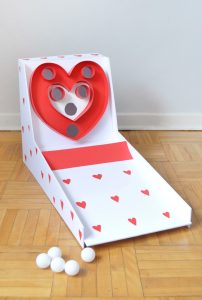 Have you seen this game before? I've heard it called a few names, but all of them have "punch" or "poke" as part of the title.
That is because this game is made by covering a shallow container with tissue paper, then letting the kiddos tear through to the goodies inside.
You did remember to put a treat or prize in the shallow container, right?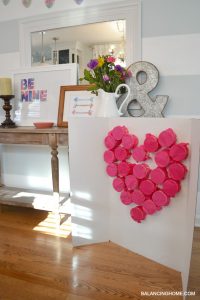 I've got kids. I know that they need some sort of educational material to help me feel like I'm a good mom.
Go dump out your Scrabble letters, or Bananagram, or Boggle cubes. The children can help; they are really good at dumping.
Now, write a few simple words on some paper hearts and let them take turns drawing one and spelling it.
If you've got advanced learners, write larger words or have them try anagrams (making more words with the same letters).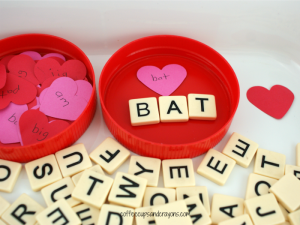 Games just wouldn't be games without a pinning option, especially if you're wandering through this list for class party ideas.
Instead of some sort of bow or diaper on Cupid idea, try this frog prince. You know you want to kiss him.
Maybe the winner of this could get some lip gloss, Hershey's Kisses, or a plush frog.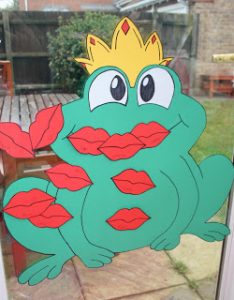 I have a boy or two, and they are kind of into weaponry.
I can guarantee that arrows are their favorite part of Valentine's Day, after the chocolate and candy.
I know they'll be all over this arrow-making, arrow-throwing game. If they can keep it to throwing them at the plates, I'll have a hug for the winner.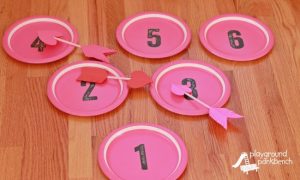 Let's say you're just not that into crafting a game. Do you have a printer?
I love printable options! They're made by my kind of overworked people, the sorts that understand the tiredness one can feel after chasing children around.
Instead of a crossword, word search, or BINGO, this time I've got an I Spy Game. After you read out the items from the answer key, they'll circle each on their individual sheets.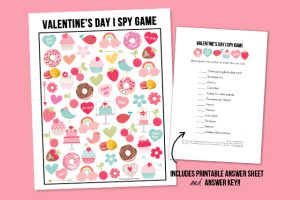 Besides Scrabble, another gaming favorite is Yahtzee. Feel your heartrate increase in anticipation of wilds, full houses, and three-of-a-kinds!
What's Valentiney about this one? The dice aren't your normal pips. They're H-E-A-R-T-S and numbers 2-6.
Grab some Mod Podge, wood square blocks, and scissors. Then, print, assemble, and play!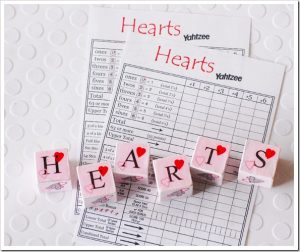 Who can forget the universal appeal of a piñata? You get to smack something really hard till candy falls out.
I'll bet you thought a heart version would be really complicated, right? Newspaper, papier-mâché, and paint make for a big mess.
Well! This heart piñata is made through the magic of duct tape and posterboard.
Yeah -you're going to want some candy and a stick to hit the whole thing, too. Oh, and a mask.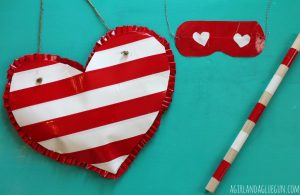 We did an educational game with spelling earlier. Now, let's try some math.
Print out a few hearts, then cut them in half. Don't worry; you won't be "break- breaking" my heart for long.
You're going to be printing addition, multiplication, division, or long division equations on one half and the answer on the other. Hand these pieces out to a large group, and have the participants find their other halves.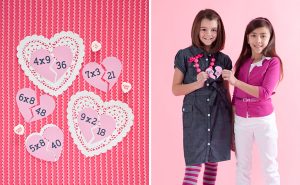 If you didn't get enough of throwing arrows around, try painting an old box and creating a "target" with a heart hole.
You can even make some new arrows, since these brightly-striped ones are really cute.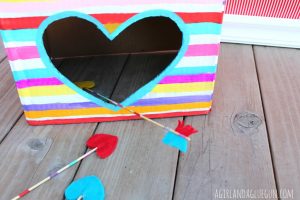 3. Handmade Charlotte, Michael's
6. Things I Like to Make, The Candy Store
Looking for additional Valentines Day stuff? I've got you covered!
12 EASY Room-Mom Valentines Day Party Ideas