I don't know what the holidays are like at your house, but at mine, they can be crazy stressful. Between my family and my husband's, things can get a little crazy with who gets how much time on which day. For the first few years of our marriage, it took a lot of the fun out of the holiday. Until we discovered "Friendsgiving." Then our lives changed for the better.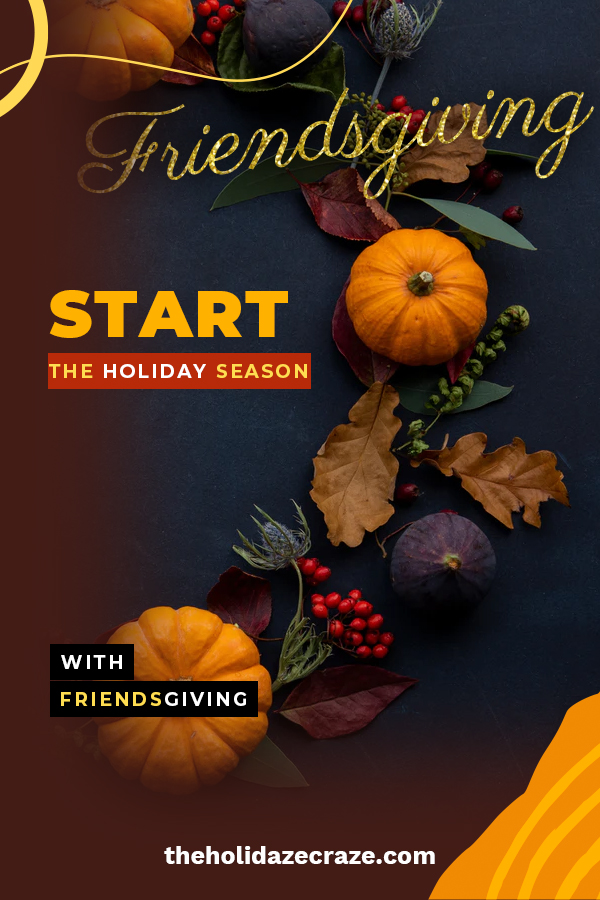 What is "Friendsgiving", you ask? Isn't a Thanksgiving party with those friends who are the family you get to choose. We opt to celebrate our "Friendsgiving" on a day when it's not crazy busy or stressful to help keep the event more fun. Sometimes this means having the big dinner in October. Other years we've celebrated in January. By picking a date that isn't next to the actual date, you get to relax, avoid the crowds, and have a less stressful event. Trust me, it's worth it. As a bonus, because you get to have some control and say in your "Friendsgiving," you'll find that the actual day of Thanksgiving isn't as stressful because you will have already had or soon will be having a great "Friendsgiving." It's a win all around in my book.

So, how do you throw a good "Friendsgiving" you ask? I've got you covered there!
Start The Holiday Season With Friendsgiving
Must-Have 01: Decorations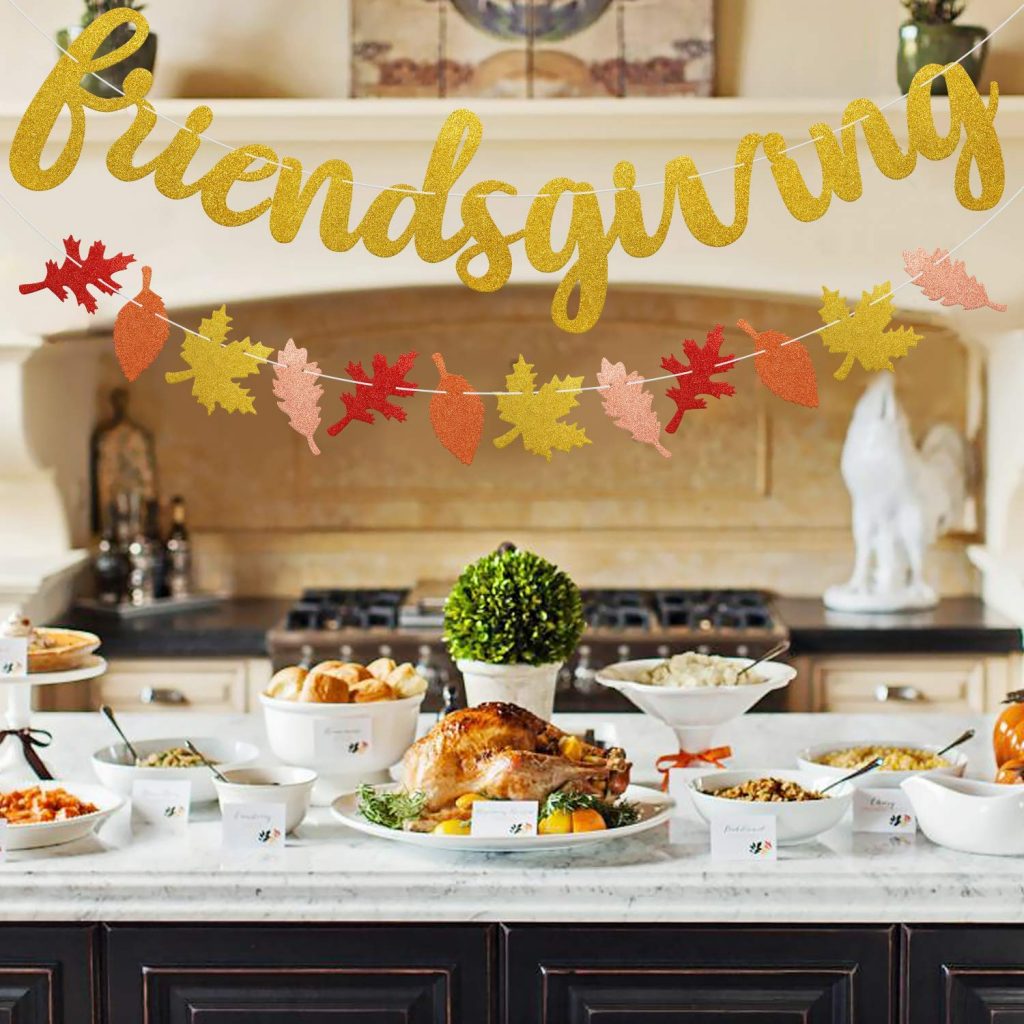 Decorations set the tone for your party, so whatever type of event you're planning on, your decor should match. If you're going for low-key and easy, then Big Dot of Happiness has you covered there! Simply go here and find everything from photo booth props to signs to table decor and favors. If you're more of a DIY host, then Amazon has a ton of things you can pick and choose from. One of my favorites is this darling banner. If you're aiming for super low-stress, then you don't have to do anything special for the event! Just let your regular fall decor speak to the time of year.
Must-Have 02: Invites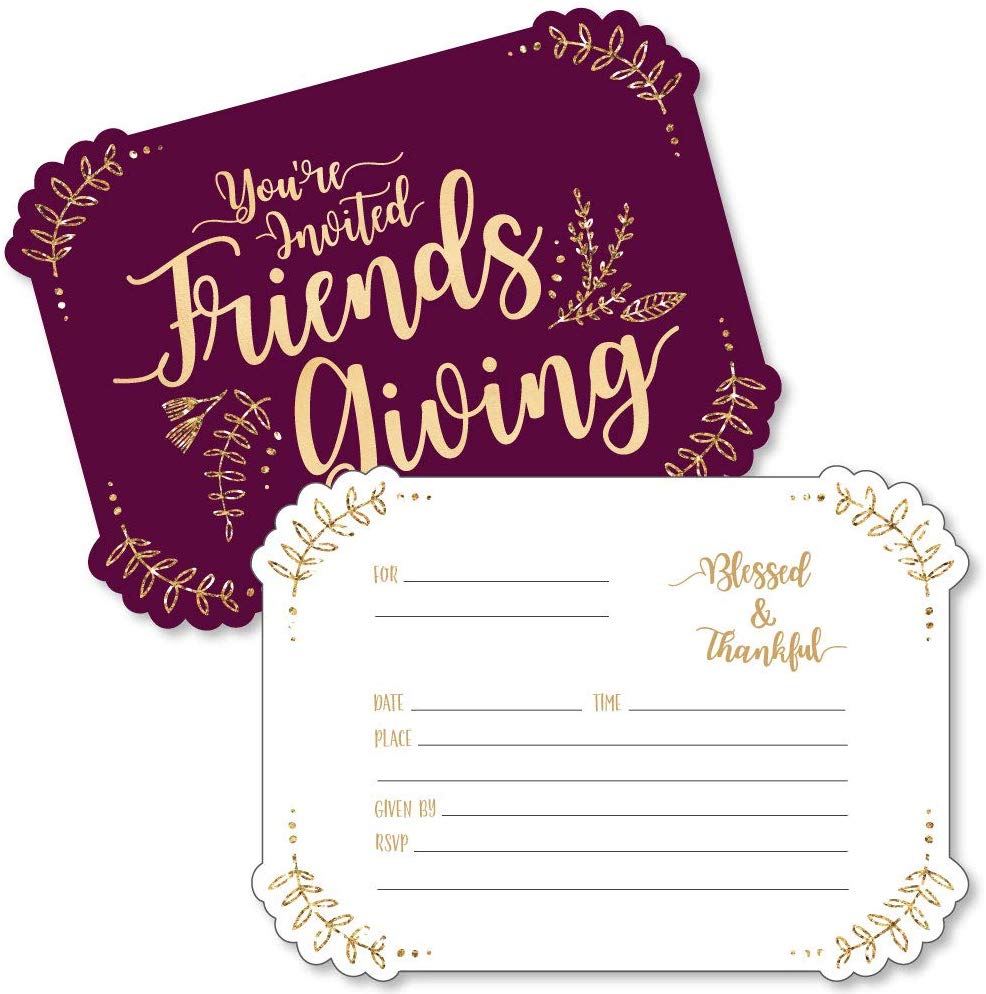 You can totally do this super low-key and coordinate via text. But if this is your event, why not make the most of it? Whether you make and print your own invites, or opt to grab a set of these, sending out formal invites will make things more official and fun! It's also a great way to assign people dishes to bring if you're going for a potluck setup.
Must-Have 03: Menu Tags
In my husband's family, Thanksgiving is served by the adults who wander from table to table dishing out food. This is meant as a way to keep the conversation going and people talking, but it also results in cold turkey and dishes getting consumed one at a time rather than together. To avoid any awkward dishing (and the chances for things to get dropped), I'd suggest setting up your dinner buffet style. That way guests can pick and choose what they'd like on their plate and how much of each dish. Plus, I feel like it's a little faster.
Now that you've got the how part figured out, it's time to figure out the what. You can opt to cook everything yourself. You could also opt for catering if people are willing to pitch in. I've found though, in the years that we've been celebrating "Friendsgiving" that the best way to ensure a good time is for everyone to bring their favorite dish.
Sometimes I assign a dish so that I know we will have a good variety. Other years I've assigned a theme and let my friends get creative. One year we did a gigantic nacho bar and everyone brought their favorite toppings while I provided the chips. It was really quite epic. One thing I'd suggest is grabbing a set of these so that you can label each dish on the buffet table. It'll help people make informed decisions and can help separate out allergens like gluten and nuts if needed.
So choose what works best for your crew and roll with it! Remember, "Friendsgiving" is about the people and the holiday you choose it to be about. So literally the sky is the limit.
Must-Have 03: Games and Fun
When all the food has been consumed, it's time for the good times to roll. If your crew has some activities they like to do on the regular, this is the perfect place for them. It's also a great time to try out something new! Whether you're ready for something adventurous and a little rowdy like this or this, adding a game is a must. You could even put together an escape room in your own home by grabbing one of these sets.
In addition to the games, I'd suggest having some music on in the background. Create a playlist of the top songs from the year you all graduated or throw them for a loop and choose something off the wall like Christmas music.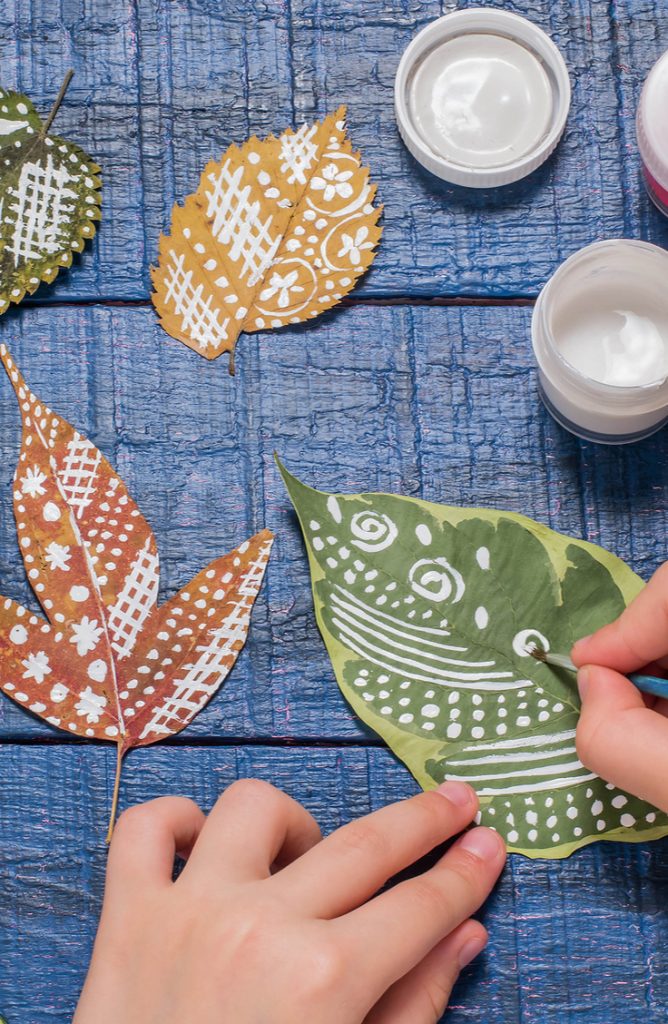 If you have a crafty crew, you could also opt for a "Friendsgiving" craft. You can do something silly or something thoughtful. Take a break after dinner and have everyone head outdoors to gather some leaves, then spend a few minutes decorating them with designs or things they are all grateful for. Then string up the leaves and hang from bare branches so that they can be hung on the wall.
Must-Have 04: Desserts
Okay, so our friend group likes to have a pie-eating contest each year. Everyone brings a pie (or two) and then we see who can eat the most slices. The winner gets a pair of ridiculous maternity pants someone found one year. It's a good time for one and all! I'd suggest having a few different desserts for people to choose from. Either have everyone bring their favorite sweet or have people bring toppings for sugar cookies that they can decorate after dinner.
One last thing I'd suggest is some serving platters for all the food. In general, I prefer simple and plain to anything patterned so that it all matches regardless of how I choose to decorate. Grab some beautiful platters here and here. This brings me to my last must-have…
Must-Have 05: Servingware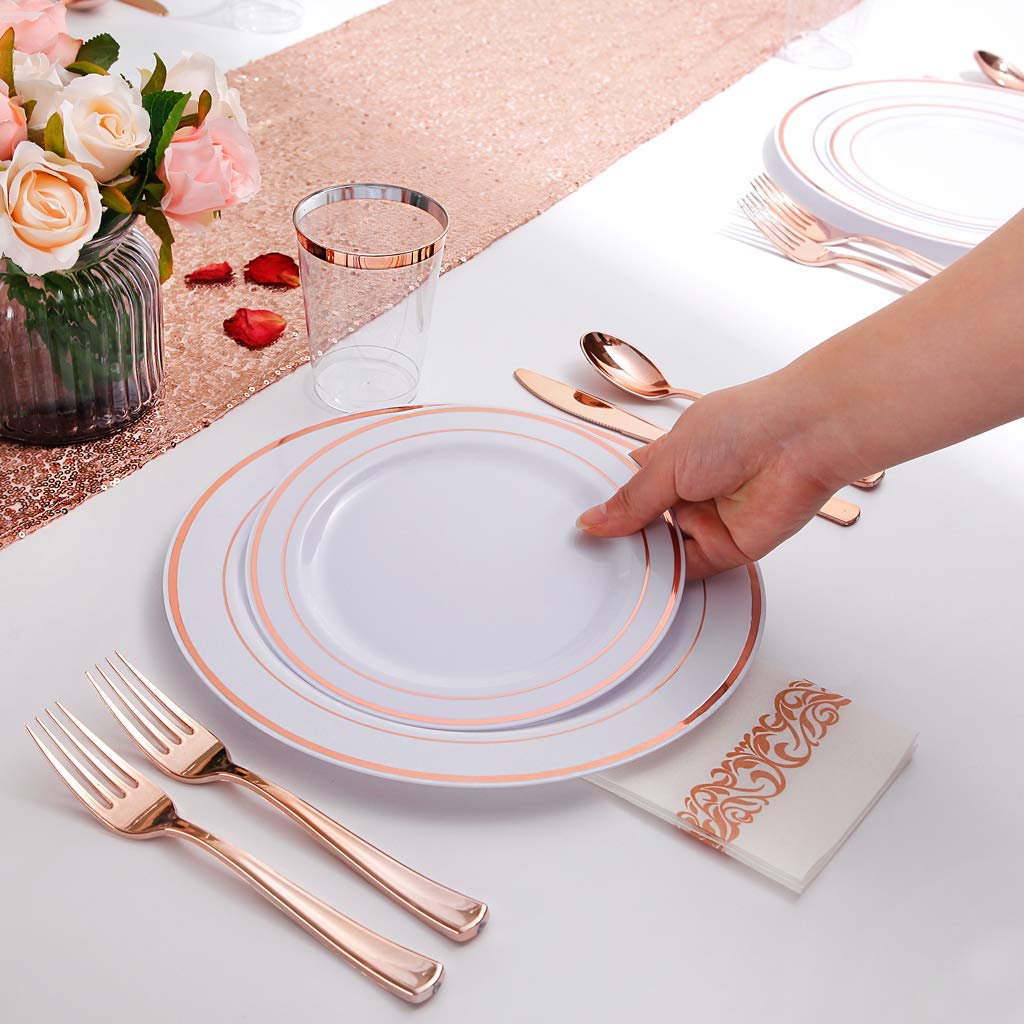 Okay, one of the things I hate the most about Thanksgiving with my family is the number of dishes that have to be washed when dinner is done. It takes forever and usually ends up being a job no one wants to do. So, do yourself a favor and grab some disposable dishes. You can totally go cheap and easy, or you can get some really decent disposable serve ware that looks like the real thing. Grab a set of rose gold dinnerware here! Trust me, you won't regret it one bit.
Now get on out there and celebrate those friends who are more like family! It'll help you distress this holiday season, I promise.