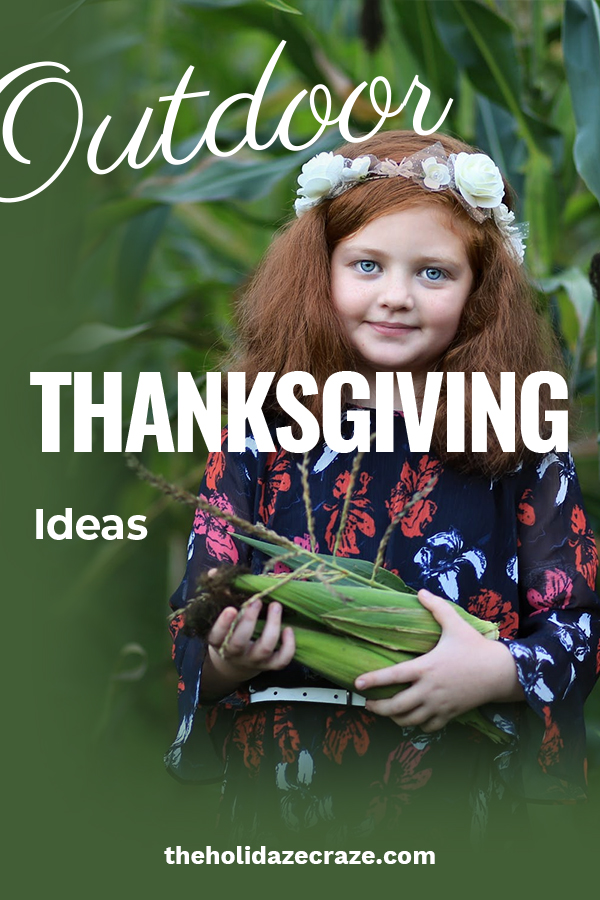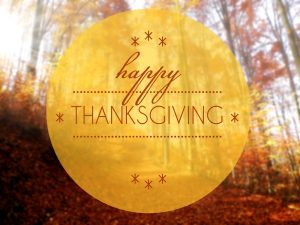 If you happen to live in a place where the weather is mild come the third Thursday of November, then I have your solution to an overcrowded house on Thanksgiving. Have it outside. I know, you're thinking I'm crazy. But hear me out. If the weather isn't too cold, then being outside is perfect. There's plenty of room to stretch out, room for kids to run and be loud, and as a bonus, you get to enjoy the *hopeful* autumn foliage. Before you jump right on board, there are a few things you've got to decide first.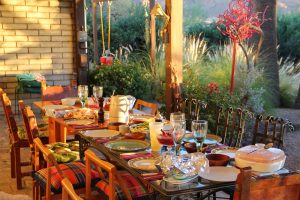 Your Tablescape. Are you going to have one large table for everyone? Or several smaller tables? There really isn't a right or wrong here. It just depends on the atmosphere you're going for. A few small tables allow for more intimate discussion and talking. A large table feels more "family"ish and allows everyone to be together in one big group. This also allows you to plan for how your centerpieces are going to look (and whether or not you need more than one). I'd suggest choosing a theme that matches your table layout. If you're one big table and family, then I'd go full harvest and traditional turkey. Fill your table with autumn leaves from the craft store or your backyard. Center your table with some well-chosen pumpkins and a tall candle or two  These placeholders are perfect for an outdoor setting as well.   If you opt for a few smaller tables, you can totally go more fun or more intimate. The Big Dot of Happiness has some fabulous items to go with whatever theme you'd like.             
Think about time and location. It's best to put your tables in a place where they will get a little sunshine and not crowd whatever you've got in your backyard. I'd also suggest serving your dinner more around 2-3pm to avoid any evening chill.
Keep your food in the kitchen, under tin foil, and possibly in a warm oven until the absolute last second. I'd suggest getting all the littles situated at their seats and choose some coordinated helpful family members to bring out the dishes after you've said grace or thank you and are really ready to eat.
Carve your turkey at the table. Not only is this super festive, but it also allows people to get warm meat. Since the turkey will hold the warmth more than the slices, it's the smart thing to do.
Plan for lighting and warmth. I'd suggest having some candles and possible a space heater or two to help ward off any chill. If you've got it in your budget to splurge for a tent in the case of rain, do it! You won't regret it.
Have some activities planned.

Photo Booth: These are perfect for having some fun, keeping people entertained, and documenting some memories.
 Flag Football: This is a classic and a great one for after the dishes have been cleared. It will keep everyone warm because they are running around.
Roast some S'mores! I know, Thanksgiving is all about the pie. But really, if you're outside, then roasting s'mores over a fire or some Sterno canisters is a great idea!
Play classic games-These can be indoors or outdoors. My family loves our Lawn Jenga.

Be prepared to change things if the weather doesn't hold. It's okay to be flexible. I'm quite the worrier when it comes to planning, so I always have a second and third option ready just in case something happens.
Happy Thanksgiving!