Whenever party time comes around, I am so stressed out!
Thoughts like, "Why did I agree to this thing?" And, "Didn't I leave everything to the last minute the last time we had a party?" Pop into my head.
We're always up late scrubbing floors and stashing underwear and hoping that everyone shows up after all that work.
The other thing I am terrible at is figuring out the amount of food I need. Frankly, I just fudge it.
But last Thanksgiving, we ran out of mashed potatoes. Last Christmas, there weren't enough strawberries for our pancake brunch. I could keep going, but you get the idea.
This is why meal planning is going to be our new best friend.
Just look at this handy, pretty chart: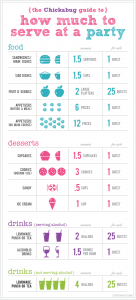 It's a very nice, colorful, basic gauge to determine what to expect in terms of feeding live people who show up.
I also think it makes my guests look like pigs. 1.5 cups of potato salad? 3 cookies?
Someone (you) is going to have leftovers.
When sitting down to plan this wild party of yours, I recommend a few preliminary steps.
1. Who is coming?
If this is a family shindig with lots of non-drinking minors, you're not going to need those 1.5 drinks per hour.
If it's a cocktail party with friends, that number might be higher. In that case, I also suggest you ask a few friends to bring a bottle.
In fact, the prettied-up chart for cocktail parties looks like this:

As it says, "Only you know your crowd."
2. What type of party will you have?
This could also be #1. I'm not picky. Point is, you'll serve different things to your evening, adult visitors compared to daytime, child birthday party guests.
The BIGGEST meal plan, of course, is a gigantic holiday affair like Thanksgiving.
Which, by the way, has its own chart of portion sizes: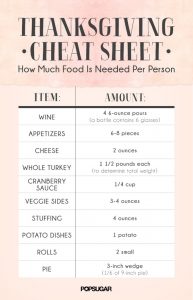 This will be your best friend when you need to know how many pounds of turkey each person needs.
3. Does anyone have allergies? Are they on a diet?
Obviously, since you know your guests (Step 1), you've probably already considered their dietary needs. Some meal guides are not so specific, however.
Do you know how many organic, free-range, unmolested cauliflower fronds equal one serving?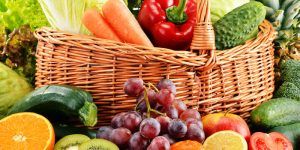 Here's a great article by BBC Good Food about vegan diets.
4. What the heck is a serving size?
I ask this same question whenever January comes around, and I try to work off all those holiday sweets.
There are a lot of articles and estimates out there; but, a good measure is always within reach: YOUR HAND.
A serving of bread, fish, or chicken is one hand; beef and pork are a palm; and starches like pasta and rice are a fist.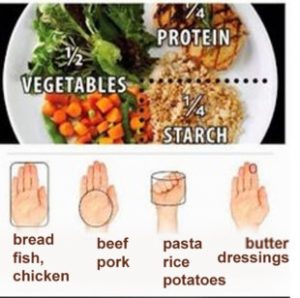 5. What about specific items, like cold cuts? Buns? Ice cream?
You've looked at our nice pictures, you know who's coming, and how much cake to buy. But, you just want to plan sandwiches. How many slices of meat and cheese should you get?
It's looking like 4 slices of meat per person, plus 1-2 slices of cheese. This depends on the thickness, of course. Guests will take more slices if they're scrawny cuts.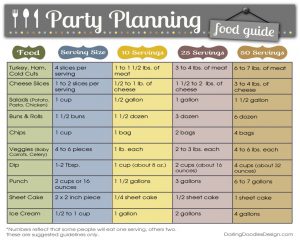 I also like how this food guide does the extra math for you, because stress affects accurate multiplying abilities.
Now you can be at the store, pull out this article, and see that you need 3-4 lbs of sliced meat for your 25 attendees.
6. Wait! What about the rest of the party?!
Thank goodness for one-stop shops when it comes to decorations, like Beaucoup. It has party and wedding favors, décor, and more!
Or, you can always rush over to Dollar Tree. They've got everything but the kitchen sink.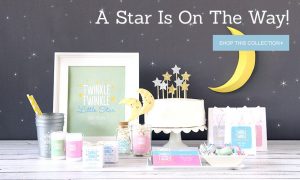 The following websites contributed to our awesome chart collection and party suggestions:
Header: Chickabug
1. Food Network
2. Pop Sugar
6. Beaucoup and Dollar Tree