Congratulations to Graduation! I believe, in regular parlance, that is phrased as "Congrats, Grad!"
Your friend, relative, or acquaintance is anything but regular, and you want to show him or her that you care.
I mean, anyone with a wallet (with money inside) can pick up a gift card. You're going to DIY things impressive-style, with a homemade present worth more than Wal-mart gift cards.
Another great benefit of creativity is saving costs.
If you have a slice of log laying around, for example, you're already halfway done shopping for materials for this clock.
It also requires sandpaper, a clock mechanism and batteries, wood-burning tool, and paint (if you want red clock hands) and polyurethane.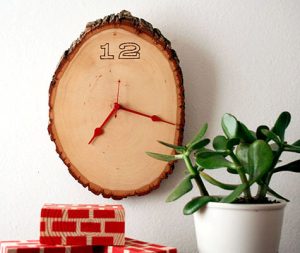 Although I poked fun at chain store shopping earlier, everyone loves the gift of money.
Crack your knuckles and brush up your origami skills to deliver this monetary lei.
You'll also need paper, glue spots or clear tape, ribbon, and a glue gun.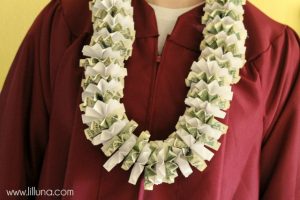 Besides actual cash, you can't go wrong with a handmade card.
Stop by Michael's for some nice cardstock, a brad, and a bit of embroidery floss for the tassel.
Next, print out the "You did it!" messages. Finally; cut, paste, pin, and deliver.
And, hey -you can slip some money inside if you just didn't want to full-on origami it this time.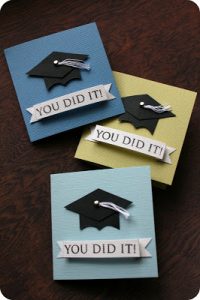 If sewing is your thing, these super simple mouse pads will be right up your alley.
In fact, you don't even need mad skills to make these. All you need is a neighbor who sews.
Okay, really -it uses a straight stitch through layers of fabric and shelf liner, plus a paper towel so it doesn't stick to the machine.
The finishing touch is two coats of Mod Podge, applied and dried.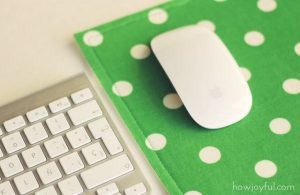 Are you looking for super super simple? Like, no sewing or gluing?
Run to a craft store and purchase some of those Hama beads peeps use in ironing projects.
Using a small knife or nail scissors, cut a slit up the side of each bead. Then, pop the slit over the earbuds cord.
It takes a while, but makes for a fun, distinct present.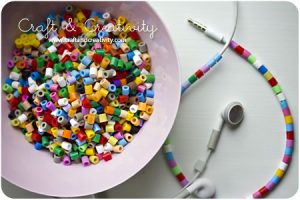 For this owl lamp, necessary supplies include an owl and a lamp.
A drill and bit that can carve out the hole for the lamp stand would also help.
Be really careful; avoid electrical risks.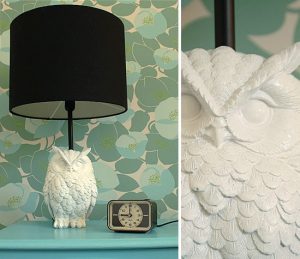 Let's say the senior in question is leaving his or her home state.
Dig out your acrylic paints and a canvas to give them a picture worth remembering.
If your home state is something tricky, thank goodness for the magic of paper-cutting machines. Otherwise, good luck scissor-cutting bumpy borders.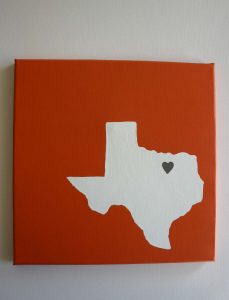 All right; can't nobody say I never gave you tricky DIY ideas.
If your hoarder grad can be parted with them, round up his or her favorite t-shirts and cut them into quilt rectangles.
Made like any patchwork quilt, this one will take a few days of sewing.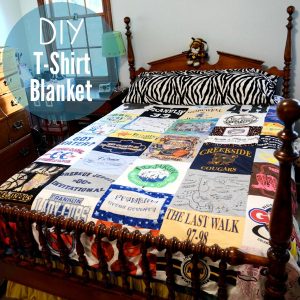 Ah, now here's an idea more at my level of skills. This is an oilcloth book cover.
Isn't it fancy? Isn't it cute?
Oilcloth is perfect, because it protects against spills and doesn't fray when cut.
This is a straight-stitch sewing project like the mouse pad, and can be done in minutes.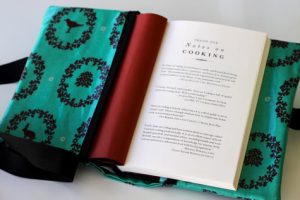 I remember poring through all these present ideas when my baby brother graduated. He's a tough one to buy for, so I wanted to make his.
After rejecting everything, I finally settled on this awesome idea: secret book compartment.
You'll need an unobtrusive-looking, hardback book, some glue mixed with a bit of water for the pages, and a few very sharp X-ACTO knives (or equivalent).
It took awhile, but it's still one of his favorites. For kicks, we gifted it along with a small flask and some collector coins.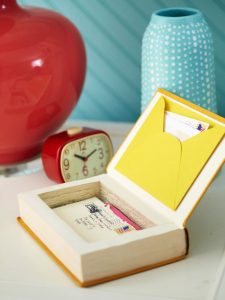 Get further instructions for your DIY grad plans at the following websites:
4. How Joyful