Holiday Halloween Wreaths
I love making wreaths. I especially love making wreaths for all the different holidays throughout the year. I love being able to take something old and make it new, and I love having a lot of choice in what goes on my front door. So, here are some awesome Holiday Halloween Wreaths to help create some inspiration!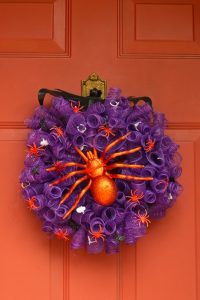 This is a pretty easy wreath to recreate. It's best to start with a wire mesh base like these. Then all you have to do is tie on some ribbon in a color of your choice-we opted for some spicy purple here and accented with a large orange spire and some little orange spideys as well. It's best to go ahead and curl the ribbon beforehand in strips of 2″ and 4″. This will allow for some depth. Then you can tie or glue them onto the wreath in bunches. Finally, adhere your spidey decorations to add some zest.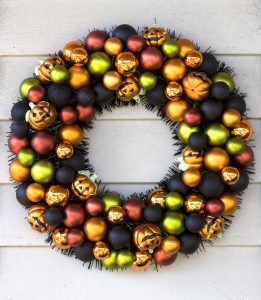 This wreath is an easy one to put together as well. Start with a foam base instead of a wire base, and then using hot glue, add your choice of holiday ornaments to your wreath. Mix and match sheens-shiny, chrome, and sparkles for a varied look. If you can't find ornaments with faces, go ahead and make them yourself! It's also a good idea to vary your sizes for some depth. Popping a little bit of some black tinsel garland around the back will also help create some variation to your design.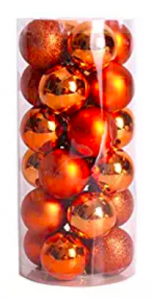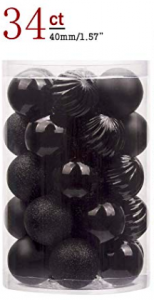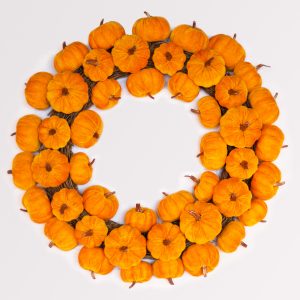 If you're looking for something more classic, using a grapevine wreath, you're going to layer and attach some tiny pumpkins. Start with a grapevine wreath like this one, and glue on some pumpkins like these, and you're in business.
There you have it! Three Holiday Halloween Wreaths that you can DIY for your own front door! Happy Crafting!