Halloween is celebrated around the world with zeal and zest. People dress up spooky and engage in activities all day and night long. Everyone hosts Trick-or-Treat and bonfires. However, one of the most popular Halloween-specific activities that people love to do is dress up as clowns. The sales of clown costumes are highest during the Halloween season. Clowns are scary and odd that makes them the perfect Halloween character. This blog post is just what you need if you're planning to dress up as a clown this Halloween and are looking for Halloween clown makeup ideas.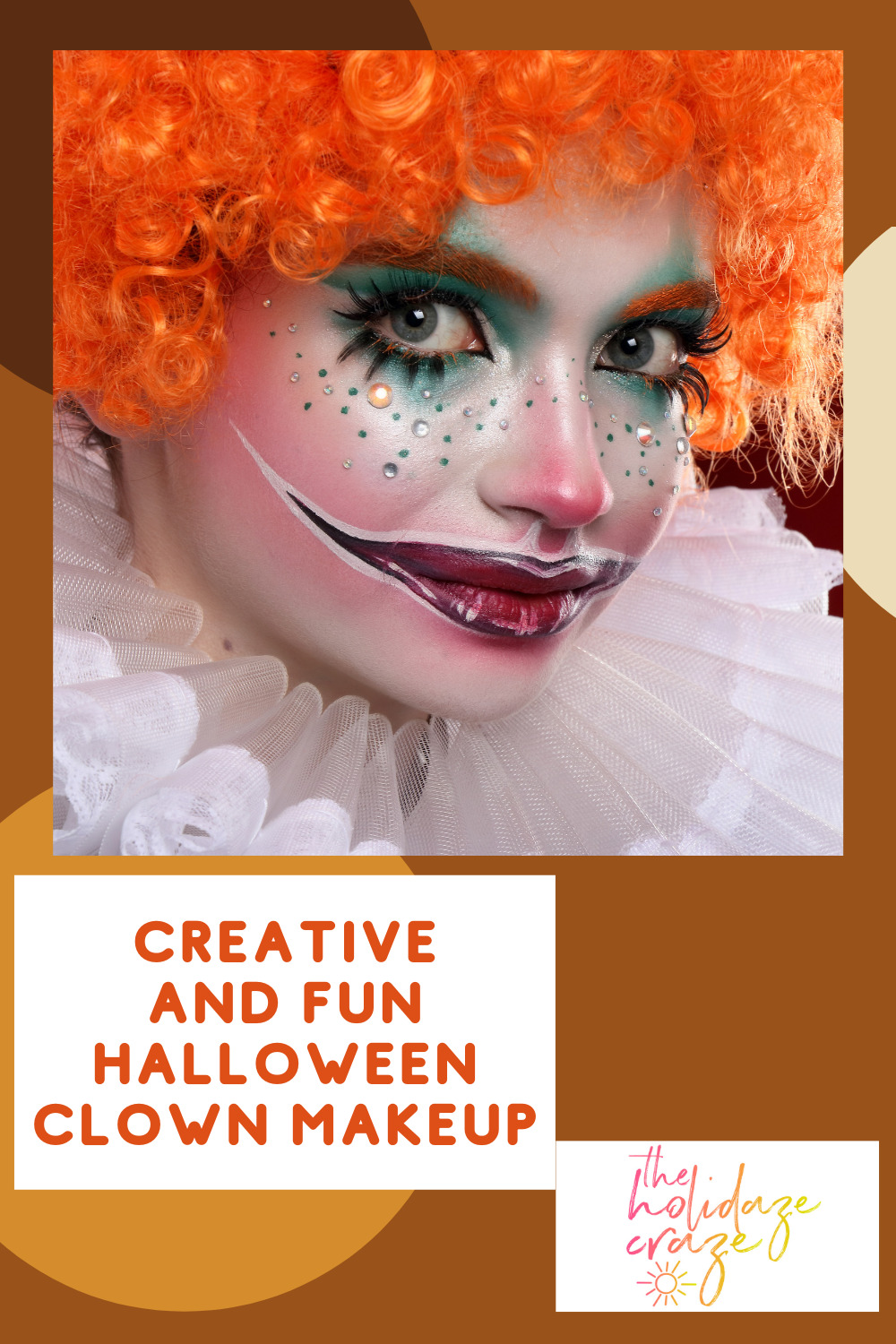 Clowns are merely entertainment figures. They wear colorful costumes and do overly colorful and bold makeup. The characteristic red cheeks and nose are the major highlights of the clown persona.
However, why is it that a figure that's meant solely for entertainment and fun got associated with an occasion as spooky as Halloween? Aren't clowns meant to make people laugh? Why then do the people link them to an occasion that's all about fear?
History of Clowns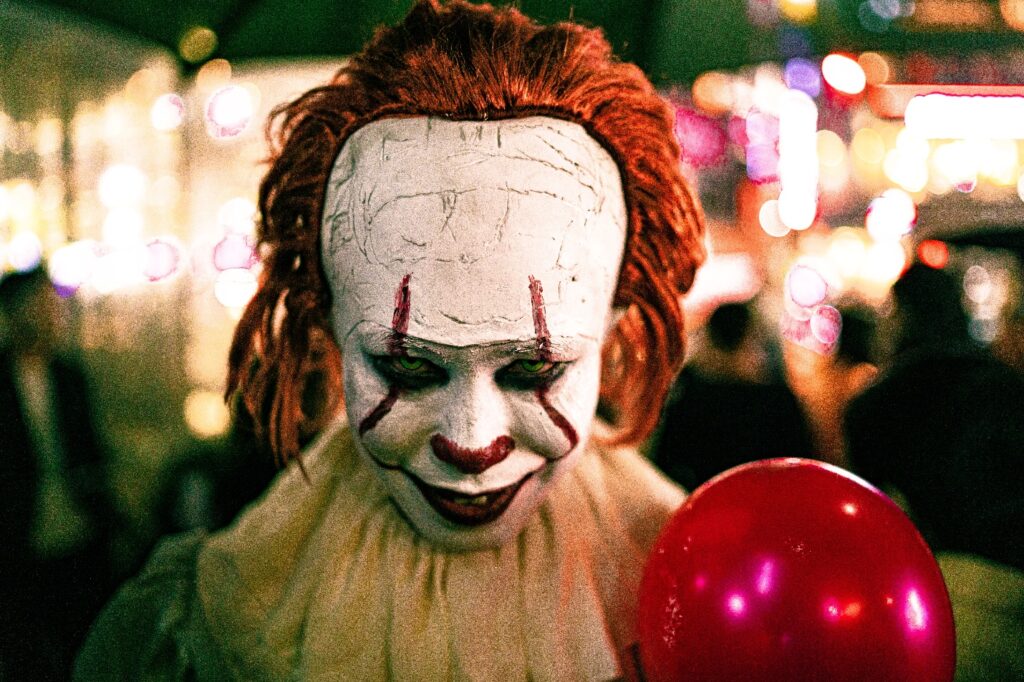 Although clowns are supposed to be funny figures that should make people laugh, most people today, especially the kids, aren't very fond of them. Many people are even scared of them. It has nothing to do with their appearance. The truth is that clowns are linked with a dark history.
Clowns date as far back as 2500BC. There were clowns in every era that has passed. They made people roll of laughter with their funny, and rather, stupid acts. But if you look deeper, most of the clowns' activities were based on a common trait – mischief. There was always a dark side to the concept of clowns.
The First Modern Clowns
Grimaldi was the first in the line of the modern clowns. He performed on stage, and when he did, the audience literally laughed their heads off. He was the first of the clowns who dressed up in bizarre costumes and covered his entire face in odd and overly bright makeup.
However, his real life was full of tragedy. His wife died during childbirth, and he lost his 31-year old son to alcoholism. He also became disabled during middle age. His life was really grim, and this is where the 'clown' became associated with grimness, sadness, and tragedy.
Charles Dickens is another popular clown of history who's said to be inspired by Grimaldi's alcoholic son. It's believed that he invented the persona of a scary clown. He would undertake acts where he was seen destroying himself to make his audience laugh.
However, the real game-changer was the era of Pierrot. He killed a young boy on the streets by hitting him with his walking stick because the boy had made fun of him.
Dark History
This is where things changed for the future clowns. Two of the most popular clowns of history were associated with grimness, sadness, and even violence, and that set a bar for all future clowns.
The 'scary clown' persona is still active to date, which is why they make an important part of the Halloween occasion.
Basic Features of Halloween Clown Makeup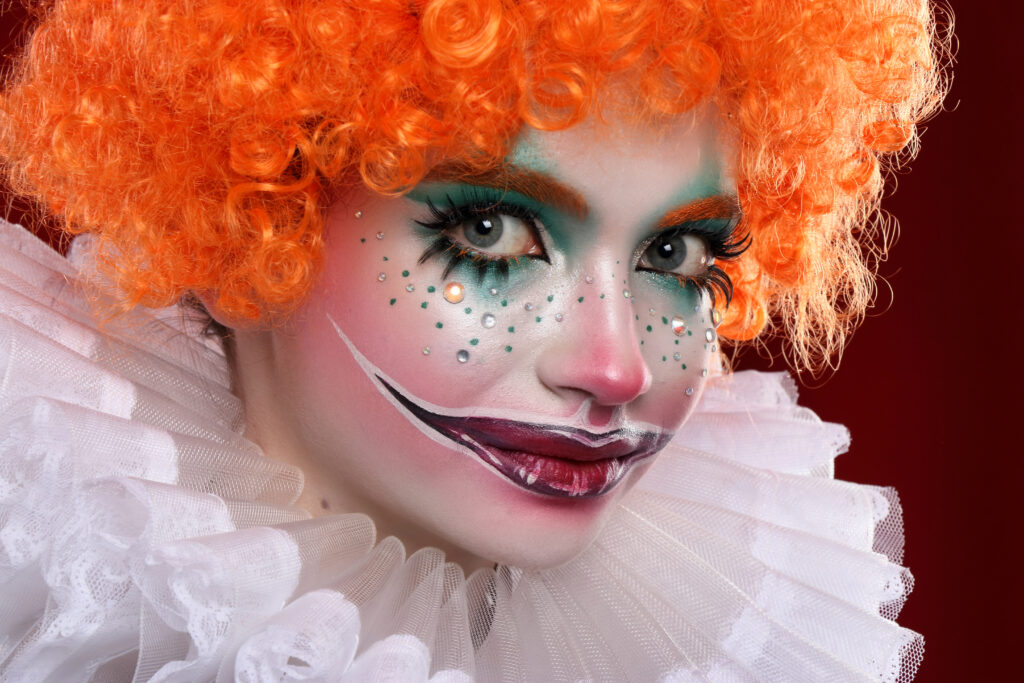 There are some basic features of the Halloween clown makeup. You need to incorporate these basic elements into your makeup, and you can play around the rest of your face as you please. The basic elements of the Halloween clown makeup are:
Dramatic lips
Bold cheeks
The bold red nose tip
Sharp points above and below the eyebrows
Popular Halloween Clown Makeup Ideas
Halloweens are incomplete without the scary clown roaming around the streets to play around with children. Moreover, Halloween costume parties are also not complete without a couple of youngsters dressed up as the clown.
You may want some Halloween clown makeup ideas if you're planning to dress up as the clown this year. Let's not keep you waiting.
Clowns don't have to be scary all the time. Although the concept of a Halloween clown is to scare people, you don't necessarily have to make yourself look more of a ghost and less of a clown. You can go bold if you wish or keep the makeup subtle. That's the thing about Halloween clown makeup. It's highly customizable.
You can do it as per your liking. There are no set rules that you've got to follow. The Halloween clown doesn't have to be bloody all the time. Moreover, you can sprinkle some glitter and make the clown look cute and welcoming!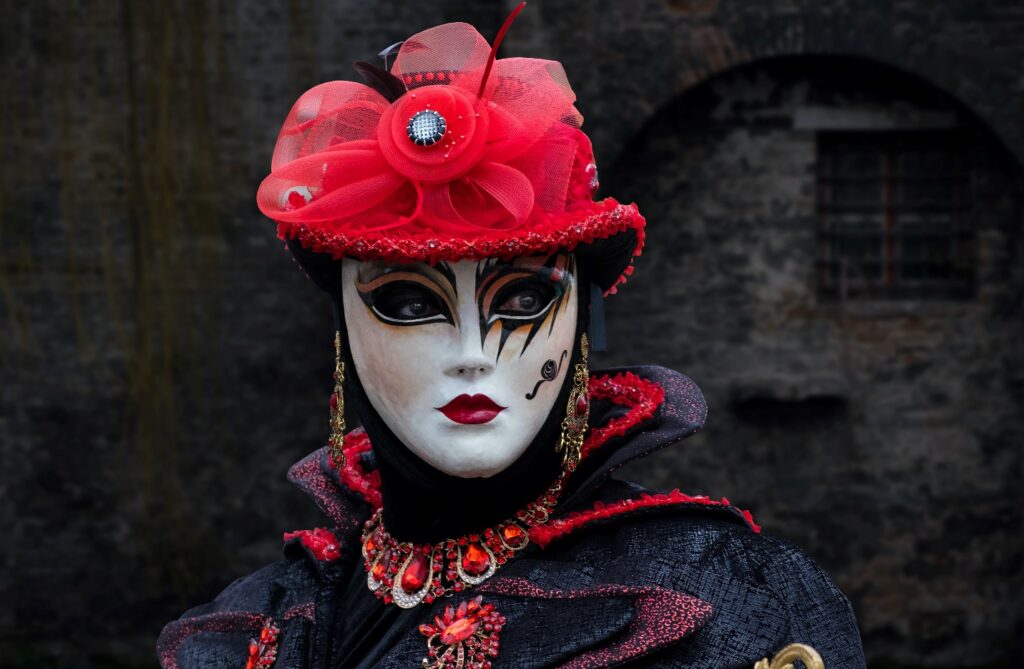 Clown Eyes
The first on our list of super cool Halloween clown makeup ideas is the clown eyes. You don't have to paint your face all white. You can leave your face as is and focus on the eyes only. Making clown eyes is no big deal.
You can use the makeup that you already own and play around with colors. You'll find plenty of YouTube tutorials for clown eye makeup. Some basic makeup products that you'll need to make clown eyes include an eye shadow palette with bright colors and a black eyeliner.
Abstract Makeup
Who said you've got to go full coverage with Halloween clown makeup? The more abstract, the better. You can get as creative as you want. You can paint your face in patches, leave it incomplete in certain areas and go full in others.
One of the coolest ways to make this Halloween makeup look dramatic is to apply a heavy fake lash on one eye and bold red lipstick on half of your lips.
Party Clown
Halloween clowns can look hipster too. If you want to make a fun entry at your friend's costume party this Halloween, the party clown makeup is what you should opt for. Go bold with lips and eyes.
Red lips and winged eyeliner are the major highlights of this look. You can paint your collar in fun stripes to make the overall look more appropriate for a party. The colored nose tip and bold cheeks are important too!
Blue Clown Makeup
Blue clown makeup is what you should try if you want to be the cold and creepy clown this Halloween but don't want your look to freak people out.
This look is the perfect balance of fun and creepy. Go bold with blue lips and blue-toned eye makeup. Use blue and white paint to paint your face in cool designs, making sure not to cover all of your face.
The Creepy Clown Makeup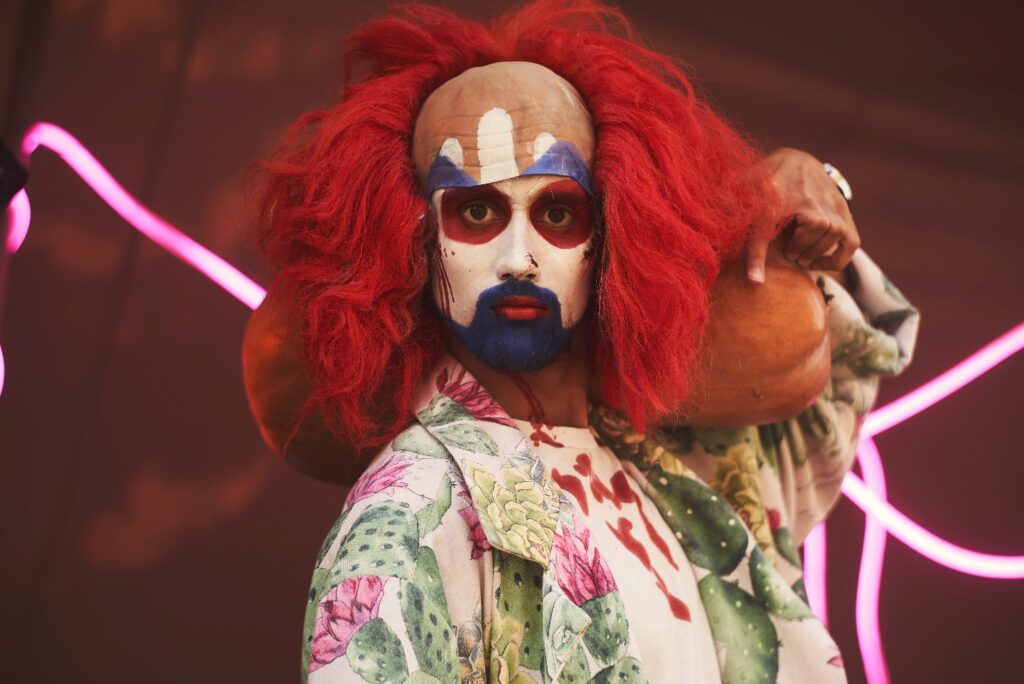 If you want to go over the board with the typical clown reputation and dress up as the creepy clown, you would totally love the creepy clown makeup look. Use faux blood for the extra creepy effect.
Fluffy fake lashes, bold kohl-lined eyes, and bold glossy lips paired with a white-painted face will make you the creepiest clown in the town!
Pennywise Clown Makeup
You've got to agree that the Pennywise clown is the creepiest of all. The clown that you saw in the movie IT really had us all on edge. If you really want to scare the kids of your town or wish to dress up in an award-winning costume for the Halloween dress-up competition, this is the Halloween makeup look that you should choose.
Use white face paint to cover all or half of your face in white paint, apply dark red lipstick, go bold with the eye makeup, and let your hair loose! We say invest in a red hair wig and get in the role totally!
Colorful Clown Makeup
If you're planning to change the aura of Halloween this year and not scare people for a change, you can try this colorful clown makeup look. Paint yourself in all the happy colors. Neon colors are a really good option. Wear some pretty jewels, dress up in a colorful, funky outfit, and apply makeup that appears pleasant to the eyes.
Simplistic Clown Makeup
One of the best Halloween clown makeup ideas that you're going to love this Halloween is the simplistic clown makeup. Don't paint the whole of your face in white. Just paint the areas around the eyes and lips in white color so that the colors you apply to your eyes and lips stand out.
Don't forget to go bold with the eyebrows. Winged eyeliner and dense mascara on the eyelashes and the red nose tip are must here!
Glam Clown Makeup
If you're looking for some out-of-the-box Halloween clown makeup ideas, you'll like this glam clown makeup. Instead of applying just the regular makeup, top your makeup with stone-y accessories and glitter. Use plenty of highlighter and show off that glam makeup you spent hours on!
Some of the most prominent features of this makeup look are heavy fake lashes and heavy kohl eyes.
Smokey Clown Makeup
Smokey makeup looks a class apart. You should try the Smokey clown makeup look if you're a fan of Smokey makeup. Smokey eyes with a dash of bold neon paired with dark black lips are all it takes to make a statement this Halloween!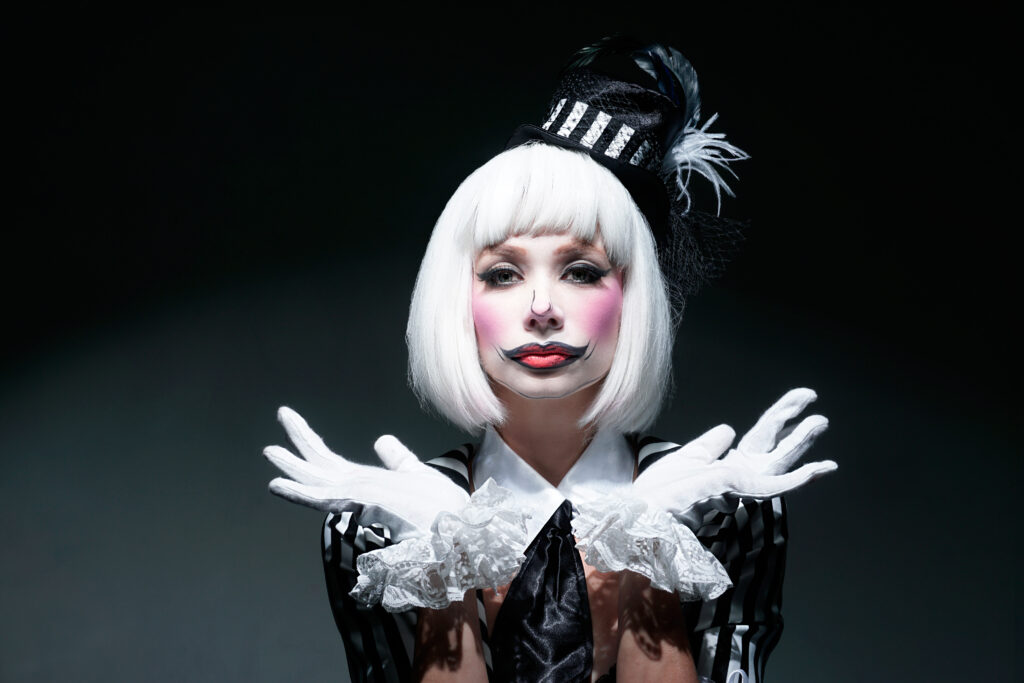 Rainbow Makeup
Your face is a blank canvas that you can fill any way you like. You'll come across plenty of Halloween clown makeup ideas because everyone does makeup as per their taste. Like we mentioned in the beginning, there are no hard and fast rules for Halloween clown makeup, so you don't have to restrict yourself.
The rainbow makeup look is the coolest of all Halloween clown makeup ideas. Paint your face in rainbow colors. Don't forget bold red lips. You'll totally rock the Halloween clown avatar!
Happy Sad Clown Makeup
Clowns make people laugh, but there's an unexplainable sadness associated with clowns. The happy-sad clown makeup look depicts the two extreme emotions of clowns at a time. Paint half of your face to look like a happy clown and the other half as a sad clown.
Choose bright-colored makeup on the happy side and dull and gloomy colors on the sad one. It's one of the best Halloween clown makeup ideas that you'll come across!
Halloween is all about fun. The scary games are all a part of Halloween fun, and you shouldn't go over the board with it. However, you've got to be very careful and responsible when you're dressing up as a Halloween clown.
Therefore, you shouldn't choose any Halloween clown makeup ideas that are too creepy for the kids. Choose a makeup idea that's the perfect blend of scary and fun!