It's a dessert, it's a fruit, it's a dairy product. It's… it's ICE CREAM!
I LOVE ice cream. It's every college student's favorite breakfast, after all.
And we're going to have a entire party based on that frozen wonderfood.
Quick! Get the invitations!
When I think of ice cream, I can only settle on a scoop and cone shape for invitations.
This first one is my favorite. The party information is printed on one background paper, then a scoop and a cone are attached over the bottom part.
Another scoop covers the middle, and another (with cherry) on the top. I mean, for cuteness!
Pop over to Michael's for all kinds of adorable paper toppings, and get crafting.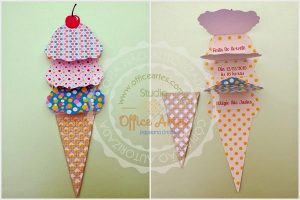 Three scoops may be a bit too much cutting and pasting for ya.
In that case, or if you like this one better, I give you the single scoop version.
I appreciate the creativity and durability of the moving brad at the top, plus the clever "Here's the Scoop" tagline.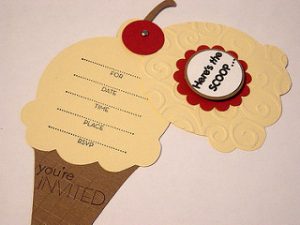 While we're making the invitations, let's think about goodie bags.
We've got paper; how about some lunch bags? Cut the paper into scoop-like half-circles, then get artsy with a permanent marker for the "cone."
If you want to keep the prizes on theme; pop in some ice cream erasers, plus freeze-dried ice cream pouches.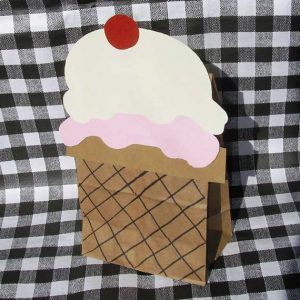 Onto decorations!
Unless you want to turn your thermostat to dangerously-low levels, we're going to need things that look like ice cream.
I don't know about you, but I think the honeycomb looks really cone-ish for these hanging decorations.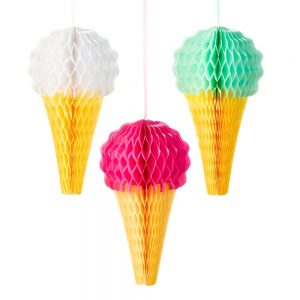 I can't let you have a party and not make a garland or two.
I suggest a few tassel ones, for fun and color.
They're super easy to make: loop ribbon shreds over the string, attach, and tape in place.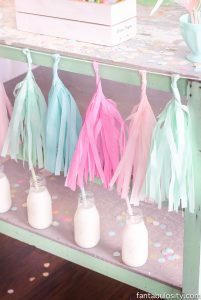 My favorite decoration on this entire page, however, is this giant ice cream sundae.
Take, make, or borrow a giant cuplike pot. Then, craft some tissue flowers in two colors. Third, locate someone with a giant cherry.
Pile them all into the pot, and stab in a painted wrapping paper tube (or, one that still has striped paper on it) for the straw.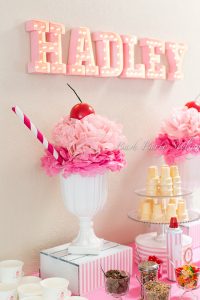 Another cute decoration I found was this birthday person sign.
The cone is burlap, which you probably have laying around from other crafting projects.
The scoops, sprinkles, and letters are paper. Get your letter cutter, or buy some letters, and paste it all together.
Happy Birthday! -unless you're having a party just to eat ice cream. In that case, cut out "I SCREAM FOR ICE CREAM," instead.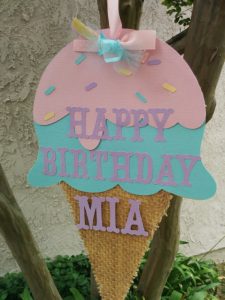 You can probably tell, by now, that I'm a little hung up on the cone motif.
What can I say? I think they're clever.
These hanging delicacies, pictured, are home-made from cloth (balls and fluffy edge) and paper cones.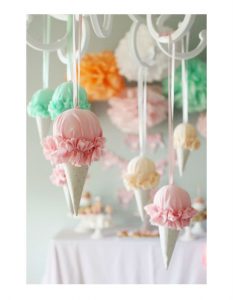 In my defense, I got away from the cone-shaped design for this birthday sign.
I love how simple and pretty it is.
If you want to make your own; you'll need paper circles, ribbon, bows, and gold glitter letters.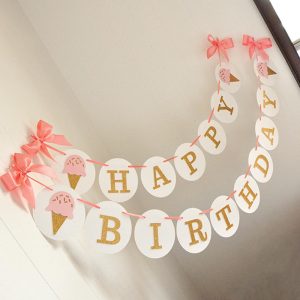 What's a party about ice cream without actually EATING the stuff?
That's why we're definitely having a toppings bar.
Get some great ice cream for a base. From there; set out cups of nuts, cookie crumbles, M&Ms, cherries, chocolate chips, sprinkles, brownie bits, and whipped cream.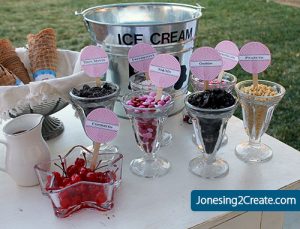 I thought you'd kill me if I posted another scoop idea, so we'll skip the Pin the Scoop on the Cone game.
Instead, I am totally going to do this Ice Cream Toss one.
Put the ingredients for shaken ice cream into a bag or jar, then toss it between partners.
Just think: game AND party food-maker.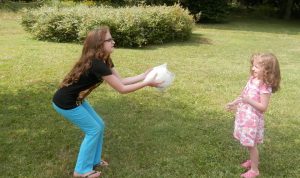 Don't scream! Get ice creamed at these websites:
2. Flickr
3. Etsy
4. Amazon
6. Chickabug
7. Etsy
8. Grzero
10. Jonesing2Create, Candy Store
11. The Spruce