Are you the favorite house in the family? It seems like every holiday season, come rain or shine, we flock to my mom's house to spend time together and celebrate the season. I'll admit, there are times when it can get a little stale and it's good to have some party ideas to fall back on. Here are some of our favorite family Christmas party ideas!
Family Christmas Party Ideas
Candy Making: This one requires a little bit of prep, but it oh so worth it. We prefer making English Toffee, which is more of an adult thing than a kid approved activity because of the hot candy. So here is an awesome (and tasty) activity that everyone can enjoy:
Reindeer Pretzel Rods: All you need is some melting chocolate, pretzel rods, pretzel twists, candy eyes, and red hots. Start by snapping the twists in half so you have some awesome antlers. Then simply dip the rods in the melting chocolate and let the kids add the eyes and nose. You could totally add some sprinkles as well if you're in the mood!
2. Holiday Bake Off! If you're going to be hanging out for a while, food is a must. I'd suggest having everyone bring their favorite holiday treat and sharing them around a fire. I'm in love with these Peppermint Meringues: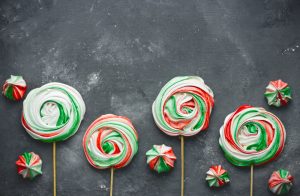 Ingredients: 3 large egg whites, pinch of fine salt, 1/4 tsp. cream of tartar, 3/4 c. superfine sugar, 1/4-1/2 tsp. peppermint extract, red and green food coloring.
Process: Start by heating your oven to 250F and lining some pans with parchment paper. I'd suggest making some circles so that they come out the same size. Then beat the egg whites and salt on high speed until foamy. Add the cream of tartar and beat until soft peaks form. While the peaks are forming, add the sugar a little at a time, then add in the peppermint. Fit a pastry bag with a star tip and using a toothpick, scrape the red and green inside the pastry bag. Put your meringue inside the pastry bag then begin creating your meringues! Pipe them in whatever shape you'd like and bake until they are firm and dry, which can take up to an hour. Then turn off the oven and let them sit until they are completely dry which can take up to two hours.
3. Christmas Caroling: If you've got a musical bunch, then Christmas Caroling is for you! Check out my earlier post on how to have a Christmas Caroling party.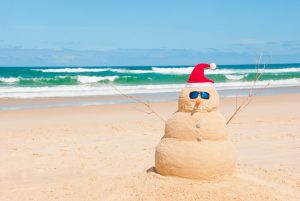 4. Host a Christmas in July Party: Rather than doing your snow thing, get your hula on! Big Dot of Happiness has some awesome party favors to help you find your Aloha spirit.
5. Gingerbread House Decorating Contest: This is a great one to involve kids of all ages. Pick up some gingerbread houses here, then set a theme for everyone to follow! This could be Nightmare Before Christmas, Christmas in July, Charlie Brown Christmas Houses, etc.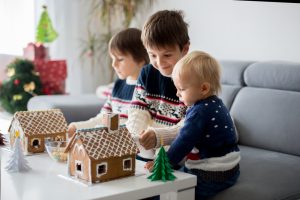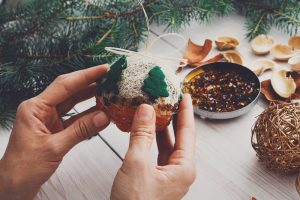 6. Ornament Decorating Swap: This is a fun one for young and old, and it's not hard to put together. You simply need: Fillable ornaments, acrylic paint, paint brushes, and any bits and pieces you'd like to include. Next up, put a bunch of topics in a bowl. Last year we did our favorite villains and it was hysterical! It works really well to give people a topic and have them write down something related to the topic. Then you pick your paper out of the bowl, decorate, and swap! Let the good times roll!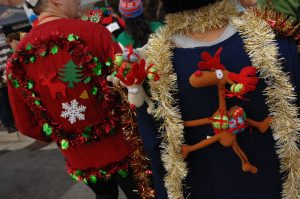 7. Ugly Christmas Sweater Contest: This one requires a little bit of set up beforehand, but it's totally worth it! Have everyone bring a plain sweater or sweatshirt that fits, then either swap or decorate their own in a truly amazing Holiday manner. I'd suggest having some felt in various colors, puff balls, Peel N Stick Fabric Fuse, and anything else that strikes your fancy. Then have at it and make the ugliest sweater of them all!
And there you have it! Seven ideas to help make your Christmas party the best for everyone! Happy Holidays!