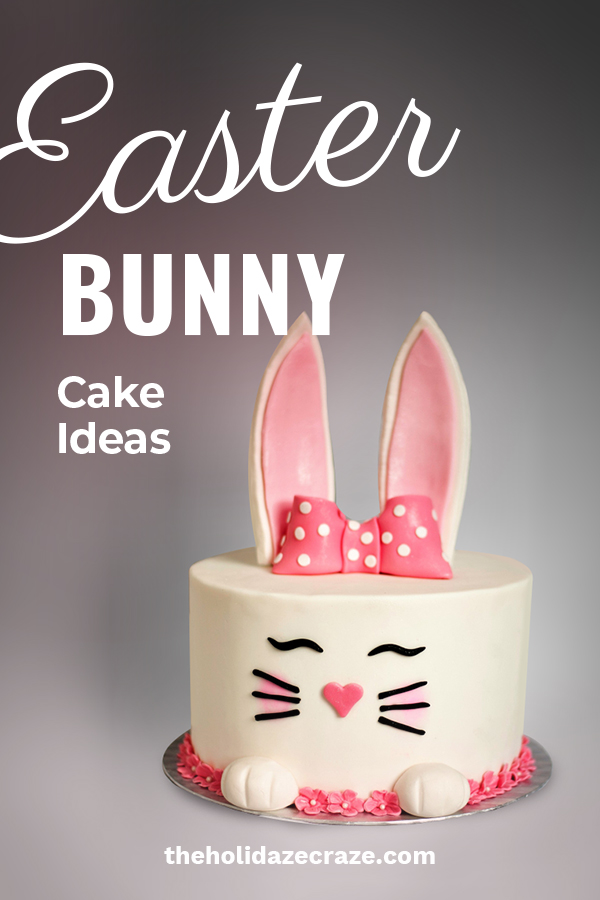 If you're looking for some ideas for Easter desserts, look no further! I've gathered up two easy DIY ideas for a great Easter Bunny themed cake!
Option 1: Make your cake into an actual bunny! This can be done with a combination of buttercream frosting and fondant. Start by making your favorite cake, then cover in a nice smooth layer of buttercream. You can totally cover the whole thing in fondant, but I find that most kids don't love the taste, which makes it a little bit of a waste.
Then you'll need some white fondant (get it here), pink fondant (here), and black fondant (here). Start by rolling out the white fondant and making the ear shapes like below. Roll two balls of fondant and using the back of a butter knife, make indentations for paws. Using the pink fondant, roll it out and cut out slightly smaller versions of the ears. Attach by painting a little bit of water onto the back of the pink shapes, then placing on the white. Place two toothpicks or skewers into the bottom of the ears, making sure not to pierce through the fondant. bend slightly to get the right shape, then allow to set/dry for about 15 minutes.
Using the remaining pink fondant, you've got two choices: either add a little white to lighten it up so it's a different color from the ears, or a little red food coloring to darken it. Mix it well. Roll out thin, then cut into two strips: 1-5″x2″, 1-1″x2″ plus 1 small heart. Using the water glue technique, fold the longer/thicker strip into a bow shape. Put either something round in between or a little bit of paper towel. Scrunch down the middle, then wrap the smaller strip around and secure with water/glue. Allow to dry for at least 15 minutes. Add white polka dots if you'd like! Once everything has set, add the ears and secure with some additional buttercream. Secure the bow with buttercream. Last, roll the black fondant out into thin strips and form your eyes and whiskers. Adhere to the cake with a little water or buttercream. Ta-da! A bunny cake!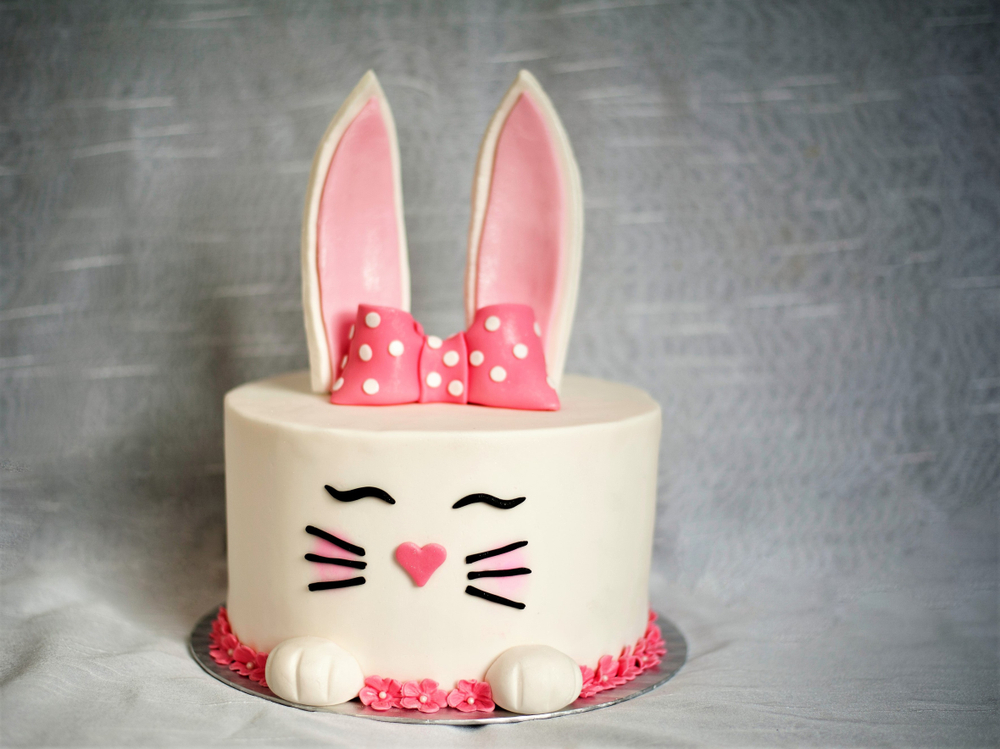 If you're a little worried about making a full cake, then this is a great option: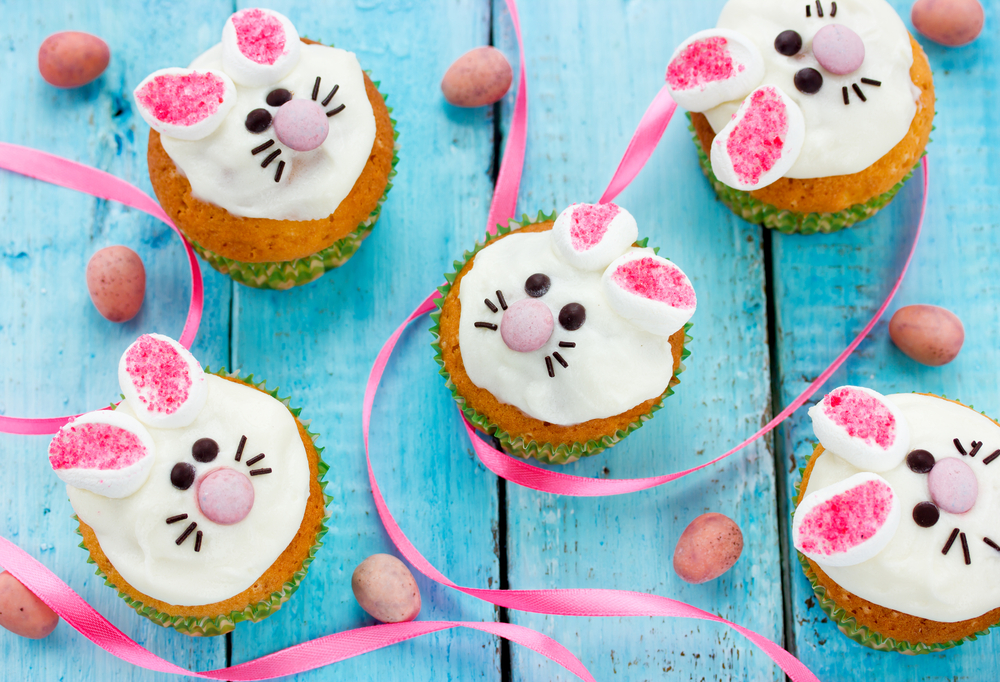 To make these darling cupcakes, start by making your favorite cake mix, then pouring it into lined muffin tins. Bake and allow to cool. Once they are cool you're ready to do the decorating! Start by making a nice buttercream:
Ingredients
4 c. powdered sugar
1 c. softened butter
2-3 tsp. vanilla
1-2 Tbsp. milk
Process: Put your powdered sugar into a large bowl. Add in the milk and vanilla and mix well. Toss in the butter and mix until creamy. If you need, add a little more milk or powdered sugar until you get the right consistency.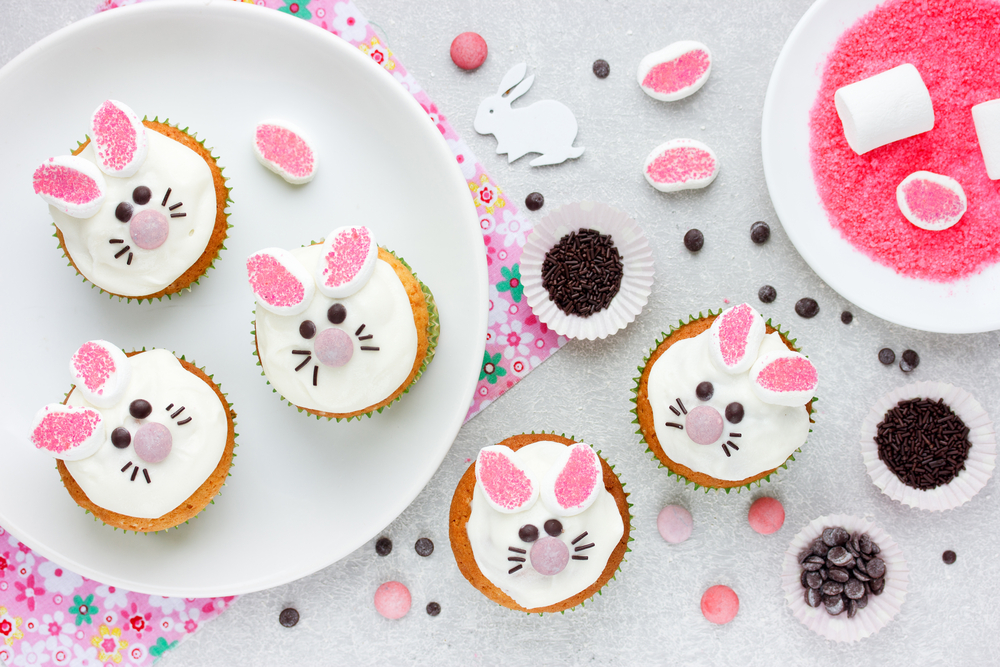 Once you've got the buttercream, decorate! Cut mini-marshmallows in half and dunk the cut side into some pink sprinkles (like these). These are your ears. Use black jimmies (like these) to make your whiskers. For your eyes either use mini chocolate chips or nonpareils like these. For noses either use a little pink buttercream or something like this.
And there you have it! Happy baking and decorating!