We had to make Mother's Day gifts by hand when I was little.
Most years, naturally, that meant a card or a picture (which is the same thing, but flat). I always wanted to be fancier in the presents I made, but lacked the knowledge or supplies to do so.
To all those thoughtful people out there, ready to give an extra little bit of love, I found these for you.
-And for your less-thoughtful friends. You can look, too. It's Mom's Day, after all.
1. Handmade Paper Flowers
Perhaps it's all those years of card-making and picture-drawing, but I'm a sucker for paper crafts. If I could get away with cutting out a snowflake, I'd give my dear mummy one of those.
Since we're talking a different sort of holiday -and season- flowers are definitely more appropriate.
These beauties are made by cutting shapes from card stock, slitting the base, slightly folding at that slit, and stapling. Each piece is added upon the other for a full, rose-like effect.
Once you've bouqueted a few, they can be used for that traditional card or picture, a wreath, a lei, hair accessories, or a paper bunch on floral-taped sticks.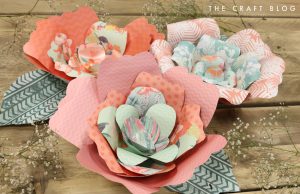 2. Coupon Book
While we've got the art supplies out, another easy idea is a book of coupons.
Children of all ages can think up and create their own. Young'uns still at home may consider ones for extra chores they don't normally do, a hug, a kiss, or making a special dessert.
Older offspring out on their own may include coupons for lunch dates, a visit to Mom's favorite store, or cleaning the house. Hey -it needs cleaning, even when you've moved out.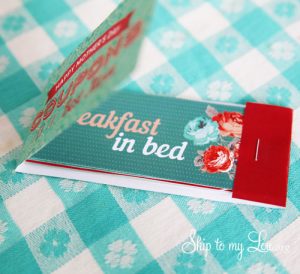 3. Sugar Scrubs
Pampering ideas are also great, and the products for such are surprisingly easy to mix up.
Take sugar scrubs, for example. Sugar, coconut oil, and essential oils are the only ingredients. Mix and match colors and flavors for which type you'd like.
They're inexpensive, quick, useful, and look lovely in a cute container.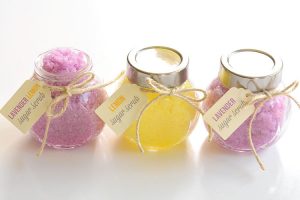 4. Superhero Candy Bars
We all know moms are superheroes. Just look at all they do for us.
These are especially good for kids or classrooms of kids. All you need are some paper accessories: head, mask, cape, card; yarn "hair;" and a candy bar.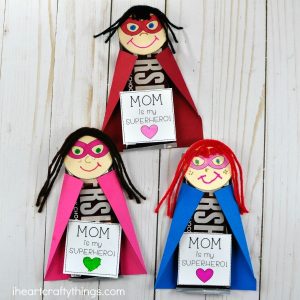 5. Fingerprint Family Tree
Waaaay back when I was but a kindergartener, the teacher painted my hand for a craft with a poem. It said something about always leaving fingerprints on furniture and wall.
I'm all about cutesy stuff like that, but think this family tree of fingerprints is even better.
For starters, draw or print a tree. Include something schmaltzy about family underneath it, or just type your family's name. Next, forensic through your family members with some ink and write their names on their prints.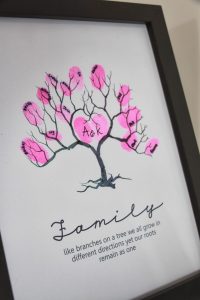 6. Homemade Soap
Maybe when you read about sugar scrubs, you though about soap. Soap cleans things, and it can be made, too.
If you can get goats' milk soap base, plant pieces like lavender flowers, and essential oils; you're set.
My absolute favorite thing with homemade soap is to form it in cute silicon molds.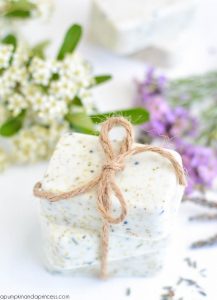 7. Breakfast in Bed
Another tradition we had growing up was breakfast in bed for Mother's and Father's Day.
Just think: homemade, edible, and nutritious. Well, more nutritious than just chocolates.
Whip up pancakes, waffles, bacon, bagels, Eggs Benedict, soufflé, crêpes, or fruit. Add sweet little touches by serving it on a cute tray, with a fancy napkin.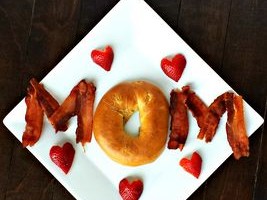 8. DIY Bracelet
If you have access to some jewelry-making tools, consider making Mom this super cute Sundance Style bracelet.
You'll need strands of leather, beads, rings, crimpers, and a lot of other stuff.
I know my mom would love it; wouldn't yours?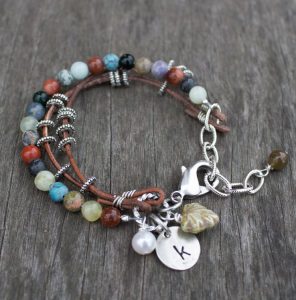 9. Write a Poem
Did Mom tell you all she'd like from you is a nice note? Did she remember that those genes skipped right over you?
Never fear; the Internet is here!!
Using a nifty poem generator like this one, you'll be able to Mad Lib your way into mum's heart in mere minutes!

10. Picture Frame
Parents just love pictures of their children. They did all that work, and want to show off to visitors.
Instead of painting or fingerprinting a frame this year, try wrapping one in yarn.
As you may guess, you'll want some yarn. You'll also need to pick up a photo frame, your glue gun, and whatever accents you want to add when finished.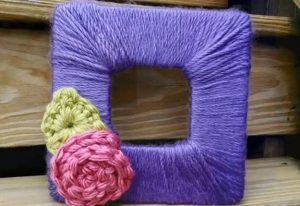 11. Hand-warming Mug
Anyone can leave handprints on things like windows, mirrors, jeans, or pictures with poems.
Go unique for ma by defacing some ceramic mugs.
Necessary supplies also include surface conditioner, paint, glaze, and brushes.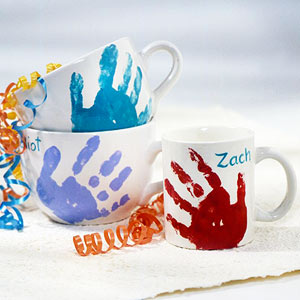 12. Hand-sewed Tote Bag
I'm not quite done with the sewing ideas, mostly because bags are so darn useful.
I have a ton at home (I'm a mom), and I still keep picking up more when I go grocery shopping.
Come to think of it, my mother (heavily) hinted that she needed a tote to carry her swimsuit and book to the pool.
I think that means she wants chocolates.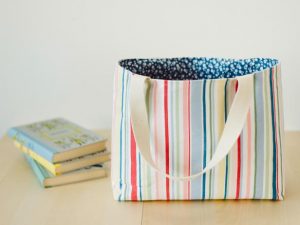 Go call your mother, then read below to figure out how to make her something real nice:
1. The Craft Blog, by Trimcraft, Michael's
3. The Holidaze Craze, One Little Project at a Time
6. A Pumpkin and a Princess, Amazon
7. Babycenter
9. Proflowers
10. DIY Projects
12. HGTV