The only thing better than football is a great slider to stuff in your face while watching it.
Don't believe me? Try hosting a party without food. Who's going to go to that?
That's why I've gleaned the webpages of slider-ness to find twelve recipes, PERFECT for whoever might be coming.
The first tasty morsel is a Philly Cheesesteak Slider.
Yes, you can do that. Yes, all you meat-lovers may thank me.
The secret to simplicity with these is to buy pre-made, connected rolls and slice off the tops in one, solid piece of bread.
Then, fry up some ribeye strips to perfection; follow with caramelizing onions and sautéeing red and green peppers.
The last step is to layer bottom bun crust, steak and veggies, shredded provolone cheese, and that top bun piece.
Bake, and love.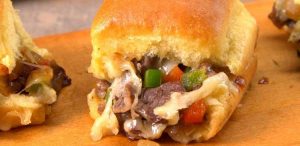 Breakfast bun? Slider? Yep!
After eating these bacon, scrambled egg, cream cheese bagelwiches, you'll never want to go to McDonald's again.
Go grab some mini bagels at the store; plus bacon, eggs, chives, cream cheese, butter, dried onions, granulated garlic, and (optional) sesame or poppy seeds.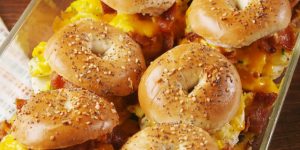 I couldn't give you a list of sliders without including a classic: Burgers.
Of course, these aren't just ordinary hamburgers. These are BACON cheeseburgers.
Besides the hamburger getting fried with onion; it's crumbled and mixed with tomatoes, Worcestershire sauce, Dijon mustard, and salt and pepper.
But -that's not all! There's a glaze of butter, brown sugar, and more Worcestershire and Dijon just before baking.
If you need one of those nifty red pans from the picture, check out Amazon.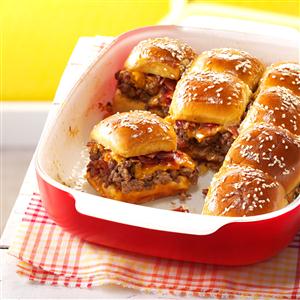 You just might have someone show up who's avoiding carbs, or can't eat gluten foods.
That person still needs the meaty goodness of a slider, so you can put together a few of these pickle ones.
They're also a hamburger patty mix, grilled and cheesed. Just be sure to mold the patties up to fit between whatever pickle slices you get.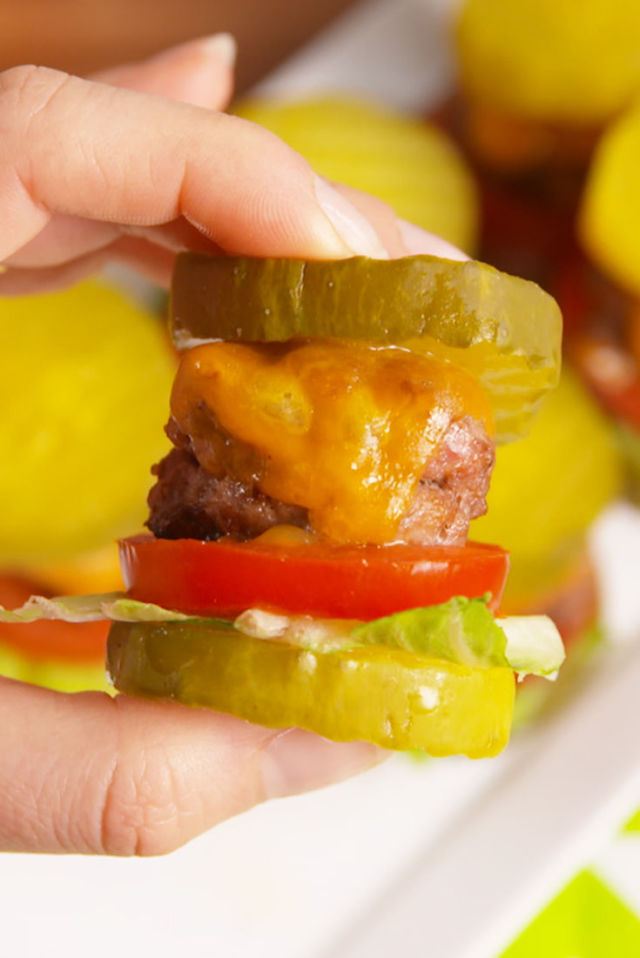 Do you have any Buffalo Chicken fans, besides football ones?
This easy recipe is baked on Hawaiian rolls. The chicken is fried with butter, hot sauce, and dry ranch seasoning.
Don't forget cheddar cheese, and some prepared ranch dressing for dipping.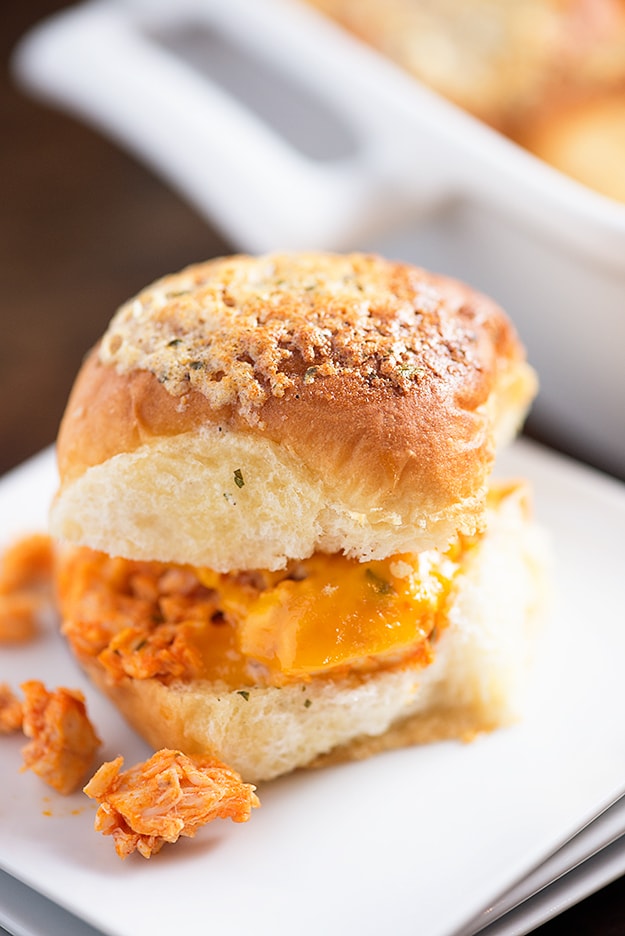 Slide over to taste central with French Dip sandwiches.
I can't look at that deli roast beef and provolone without salivating.
My favorite part of these is the tablespoon of au jus seasoning mix, Worcestershire sauce, sesame seeds, dried minced garlic, onion powder, and seasoned salt baked right on top.
Once they're done, with the smell drifting all over the house, mix up some individual au jus in cups for the lucky eaters.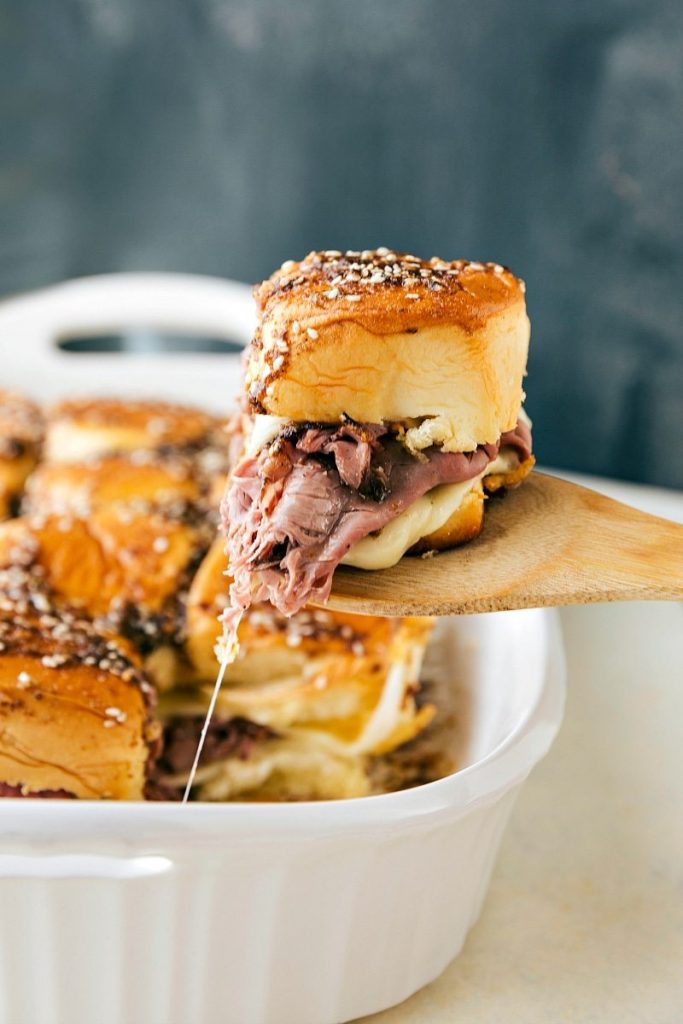 I'll bet you thought we were pushing things with those bagel sliders, or maybe the pickle ones.
We can totally push the limits beyond those two.
What about chicken and waffle sliders?! You haven't tried the full flavors of American cuisine if you still haven't tried this combo.
Thanks to the wonders of Eggo minis and chicken tenders, these can be put together in the blink of a toaster.
Drizzle with real maple syrup, and don't get too sticky.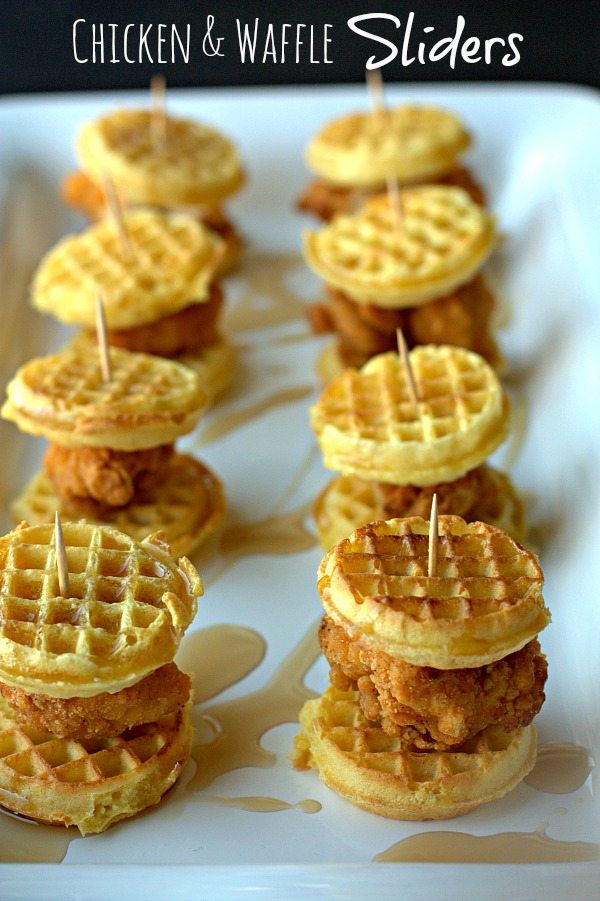 Another traditional slider is pulled pork. In fact, I'll bet those and burgers are the only ones you thought of when clicking here.
Not one to disappoint, I've included a fantabulous recipe way down here so you'd see the other options first.
Just remember that pulled pork needs HOURS to cook for that wonderful, meaty, porky taste. It can be baked traditionally, or in a slow cooker.
Besides a rub of peppers, paprika, and mustard powder; the pork shoulder is baked with onion, garlic, cider vinegar, tomato paste, and chicken broth.
Whip up fresh coleslaw, and top the meat with it before serving.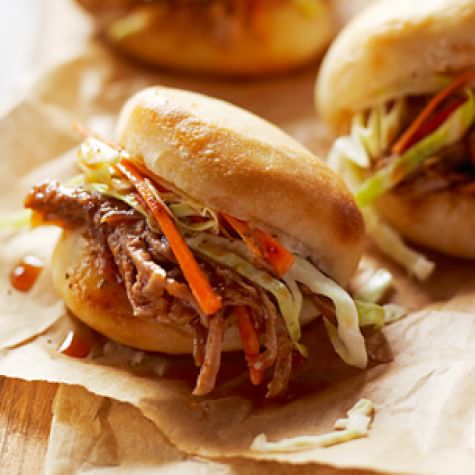 Everyone knows someone who can't live without meatballs.
Ree Drummond's mini meatball sliders are a quick crowd-pleaser; using meatballs (yep), marinara, and mozzarella cheese.
You'll have meatball amazingness in under an hour.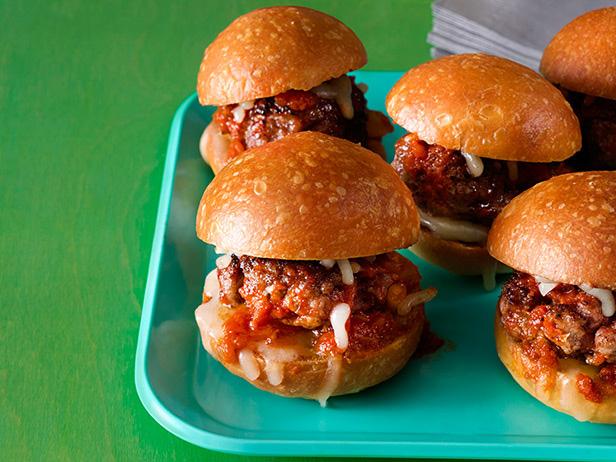 A personal favorite is chicken parmesan, but I've never seen it in sandwich form.
Now, I can have my sandwich and eat it bite-sized, too.
The recipe calls for (fully-cooked) breaded chicken tenders, pasta sauce, and mozzarella and parmesan cheeses. Like those French dip sliders earlier, the tops are sprinkled and the whole mess is baked.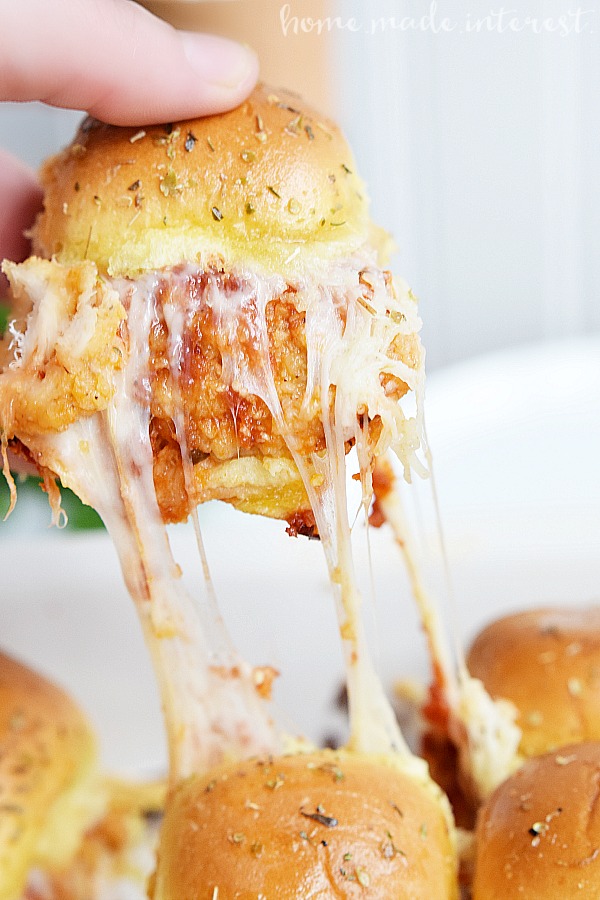 Something's going to be fishy at your football fiesta with these salmon sliders.
First, some adobo sauce is mixed with mayonnaise. Next, salmon, red pepper, scallions, breadcrumbs, 2 tablespoons mayonnaise, the lemon juice, salt and black pepper are ground up together for the patty.
After cooking the fish, its topped with leftover spicy mayonnaise and a few sprigs of fresh lettuce leaves -and sandwiched.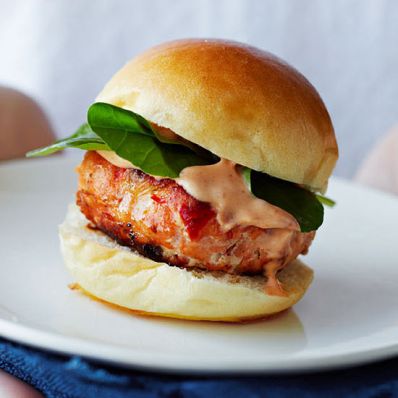 My last suggestion is a sausage and pepper combination.
Sausage links will need to be fried and cut, then laid on the buns.
Cut up some peppers and onions; then fry and simmer in a tasty mix of brown sugar, Worcestershire, balsamic vinegar, and pepper.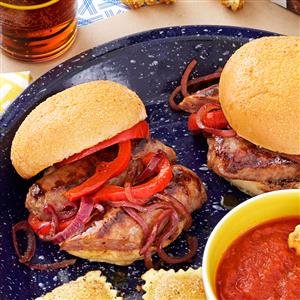 Finally, I'm just going to leave this link to 24-hour Fitness here. After all those delicious sliders, you may need it.
Are you hungry yet? Click these links for the full recipes:
1. Tip Hero
2. Delish
4. Delish
9. Food Network
11. Family Circle
12. Taste of Home
13. 24 Hour Fitness