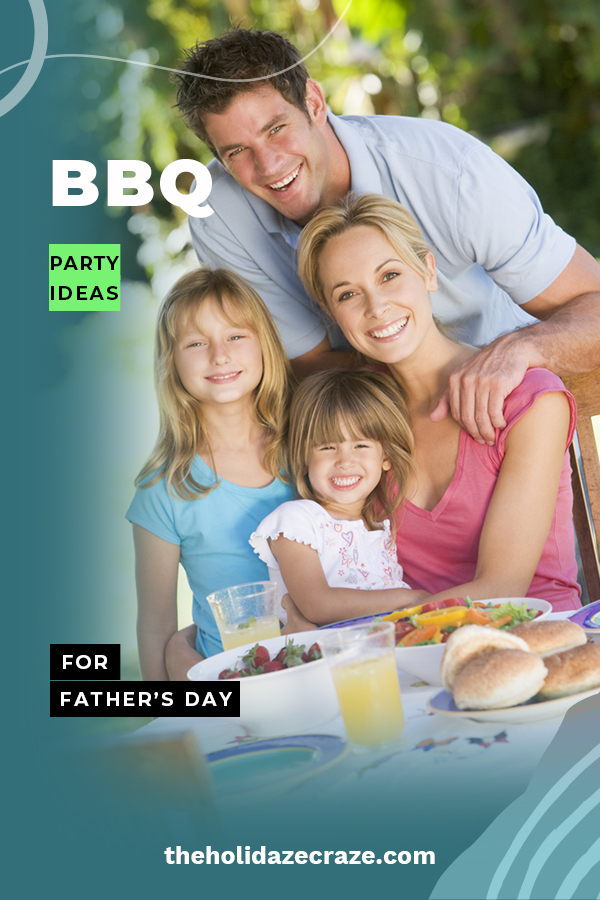 Father's Day is just around the corner, so it's prep time! Dads do a lot for their families, so they deserve to be celebrated. From troubleshooting all the tech issues, to fixing things around the house, our dad is pretty darn handy to have around. All this adds up to someone who needs a little bit of love thrown there way. How do we do that? In our house that spells Bar-B-Que, so I've rounded up our favorite recipes and items to help you celebrate your dad like he deserves.
BBQ Party Ideas For Father's Day
Idea 01: Appetizers
Hot Beer Cheese Dip
This dip is one of my husband's favorites. It's hot, cheesy, and makes good use of bread. All things that he loves to splurge on when he's not trying to eat healthy.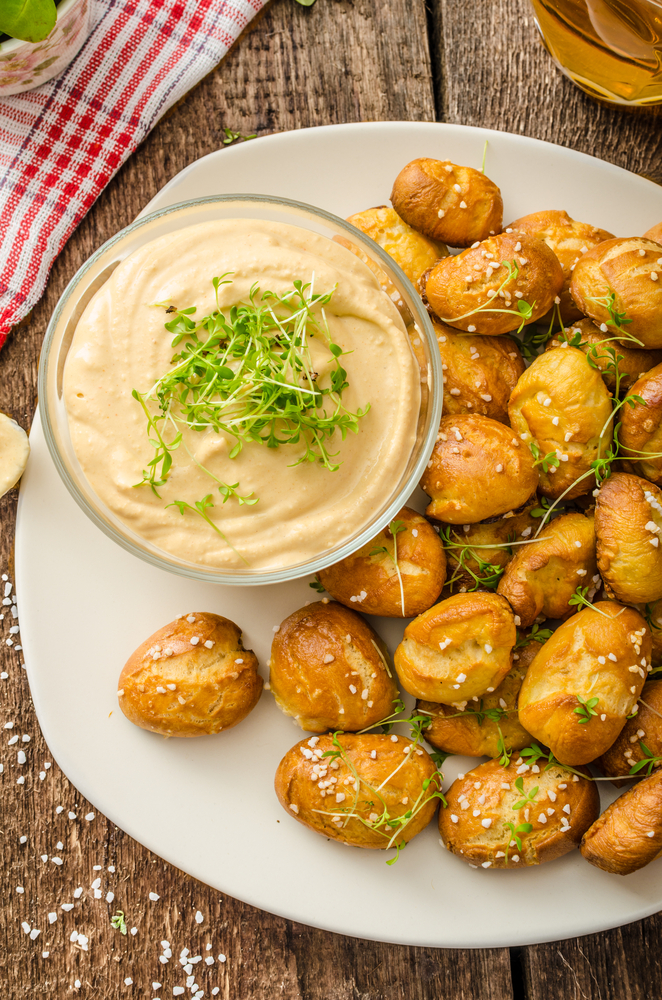 Ingredients:
1/2 tsp. olive oil
1 Tbsp. finely minced shallot
1 tsp. finely minced garlic
12 oz. beer
8 oz. cream cheese
2 c. shredded sharp cheddar cheese
2 c. shredded mild cheddar cheese
green onion or sprouts to garnish
Process:
Begin by heating the olive oil in a medium sauce pan over medium heat. Then add the shallot and garlic and cook for about a minute before adding the beer and bringing the mixture to a boil.
After the beer is at a boil, reduce heat to medium-low and begin adding the cream cheese slowly. Continue stirring until the cream cheese is completely melted, then slowly add the sharp and milk cheddar cheeses. Serve hot with pretzels, chips, or bread.
Idea 02: Salads
Potato Salad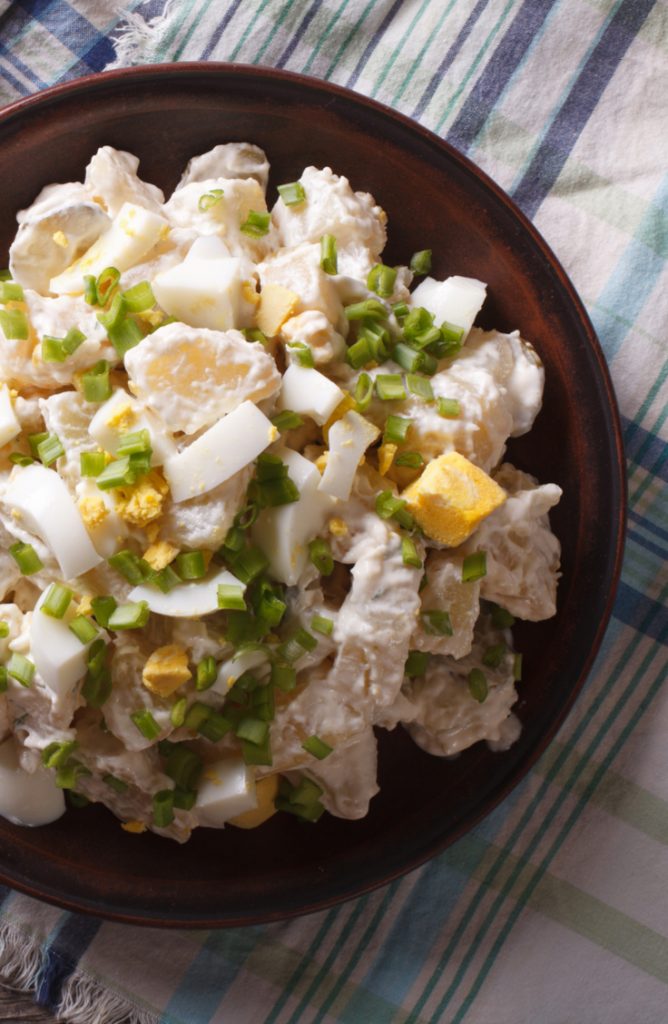 It's always a good idea to have some greens on the table, but I'll be honest, my husband doesn't love them. So we get around by serving potato salad. It has veggies, right?
Ingredients:
6 medium red potatoes finely diced
3 peeled and chopped hard-boiled eggs
1 c. mayo
2 Tbsp. finely chopped chives
1 Tbsp. milk
1 tsp. apple cider vinegar
3/4 tsp. salt
1/2 tsp. ground mustard
1/4 tsp. pepper
Process:
Begin by boiling your potatoes in salted water until they are tender, which should take about 5 minutes. When they are nice and soft, drain and put into the fridge to cool completely.
When the potatoes are cooled, add in the eggs and mix well. Next you're going to whisk together the mayo, chives, milk, vinegar, salt, mustard, and pepper until well combined. Then pour over the potatoes and eggs and stir until everything is well coated. If you need to add more milk, go for it. Garnish with paprika, chives, and a few slices of hard boiled eggs if desired and serve!
Idea 03: Main Course
Blue Cheese Burgers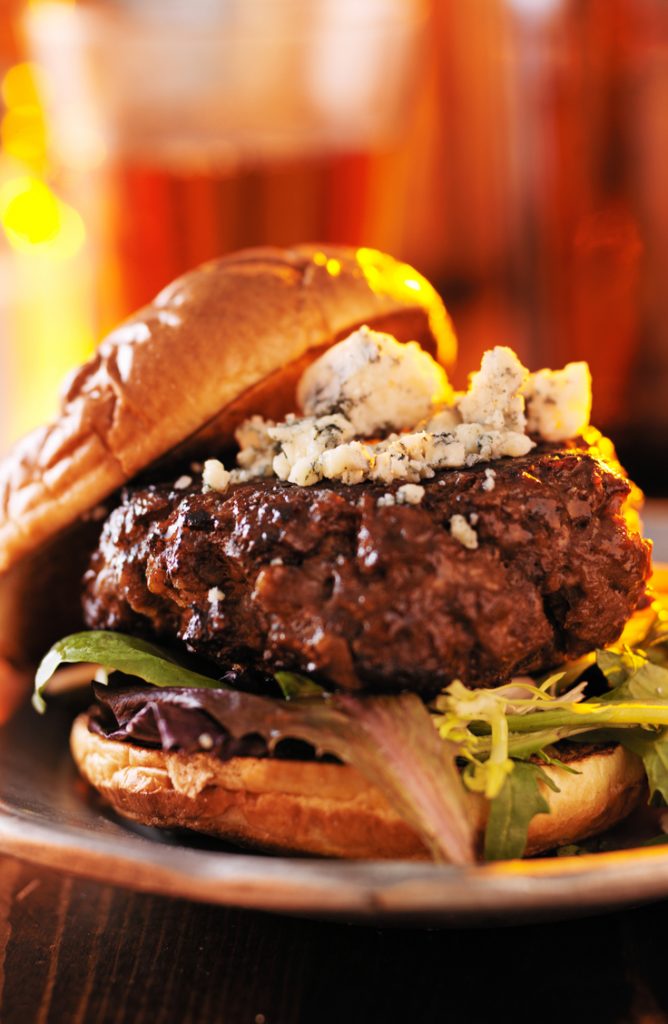 Burgers are a little cliche, I know. But this burger will blow dad's mind! It's so full of flavor that he's going to appreciate all the effort you went through to make it.
Ingredients:
3 Tbsp. olive oil
4 fresh Rosemary sprigs
2 medium red onions, thinly sliced
1 tsp. salt
1 1/2 lb. ground chuck
1/2 tsp. pepper
4 oz. blue cheese
4 hamburger buns
butter lettuce or spring mix
Process:
Begin by heating your oil in a large cast iron skillet (like this one) over medium heat. When it's hot, add the rosemary and fry for a minute until the leaves are crispy. Then remove from the skillet and set on a paper towel to cool. When the rosemary is cool, remove the leaves and set aside.
Next, add the onions and 1/4 tsp of salt to the skillet and stir to coat completely. Then cover and allow the onions to cook for about 8 minutes until they begin to soften. Remove the lid and continue cooking the onions until they are nice and caramelized, about another 8 minutes or so. Remove the onions from the skillet and add to the rosemary leaves.
Last, you're going to make your burgers! Begin by heating your oven to 400F. Then shape your beef into 4 patties about 3/4″ thick and season with salt and pepper. Next, cook the patties in the skillet for about 5 minutes or until they have a nice brown crust. Flip and cook again until the burgers have reached your desired temperature. Then transfer the burgers to a parchment lined baking sheet and crumble blue cheese evenly over the top of each burger. Next, bake the burgers in your oven until the cheese melts. Last, build your burger with the caramelized onions, lettuce, and rosemary and serve!
Idea 04: Dessert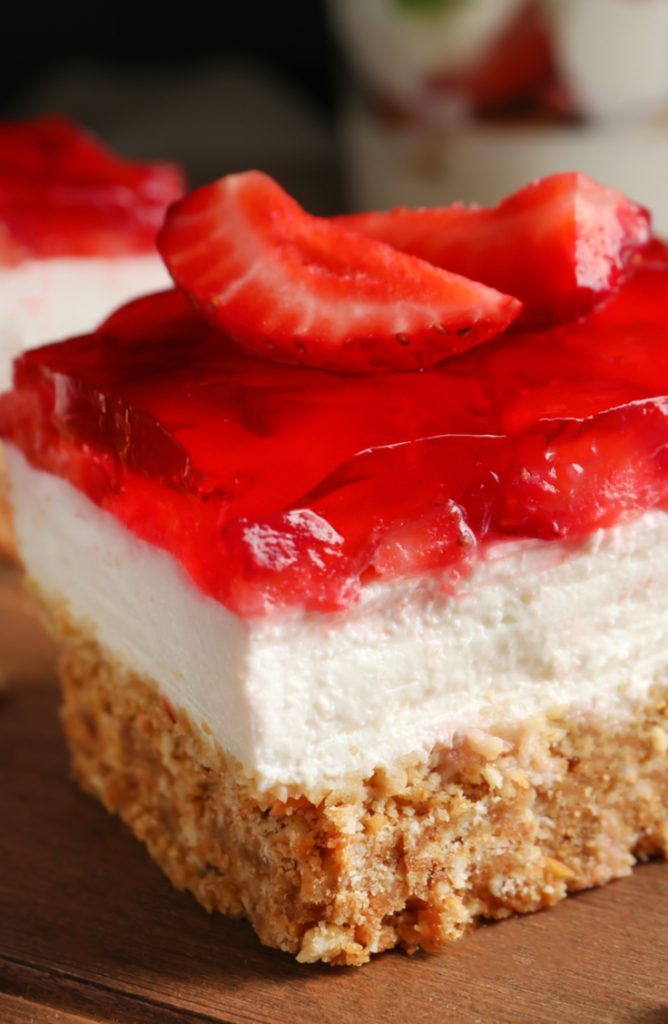 Let's be honest, this is one that should totally be customized to the dad, or dads, you're celebrating. No Father's Day is complete without a delicious dessert! In our house, the dad loves a combo of salty and sweet. His favorite? Strawberry Pretzel Dessert!
Ingredients:
Crust: 2 c. crushed pretzels, 3/4 c. melted butter, 3 Tbsp. sugar
Filling: 2 c. whipped topping, 8 oz. cream cheese, 1 c. sugar
Topping: 2 packages strawberry Jello, 2 c. boiling water, 2 packages frozen sweetened sliced strawberries (thawed)
Process:
Start by making the crust! First combine the pretzels, butter, and sugar in a bowl. Then press the mixture into a 9×13 baking dish (like this one) before baking at 350F for 10 minutes.
While the crust is cooling, beat the whipped topping, cream cheese, and sugar until completely smooth. Then spread over your cooled pretzel crust and refrigerate the whole thing for at least an hour so it's nice and chilled.
When the filling and crust are ready, it's time to make the topping! Begin by boiling 2 cups of water, then dissolving the Jello into the boiling water. When the Jello is ready, mix in the strawberries. Allow the mixture to cool. You can totally put this in the fridge for 30 minutes so that it starts to set, but you don't have to.
Last, carefully pour the strawberry Jello mixture over the filling. Put the entire thing back into the fridge for at least four hours or until it's set. Cut into squares and serve with more whipped topping!
Idea 05: Decorations!
No BBQ is complete without some awesome decorations! Big Dot of Happiness has you covered. From stickers for water bottles, to yard signs and photo booth props, they have all the items you need to take your dinner from okay to yay!
Now get on out there and celebrate that dad of yours! Happy Father's Day!