These days, Over the Hill can be 50s, 60s; even 80s.
If you're looking forward to a little age-ribbing, why not even 35?
What's important to remember is the celebration of life, the tribute to your dear friend or relative. Consider, therefore, inviting guests with a morbid invitation like the one pictured.
Or, if you aren't superstitious about the whole thing, look into an invitation phrased like an obituary:
"John led a good life; join us in mourning the passing of his 49th year."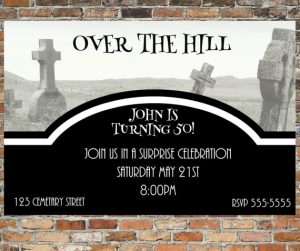 Dearly Birthdated, the color theme for this solemn event must include black.
Thanks to the wonders of craft stores, however, we've got many shades of blacks and grays to choose from.
Look at this banner, for example. There are grays and blacks of paper; but also of ribbon. The letters are a sparkly silver.
Purchase or cut out "Happy Birthday," "Celebrate in Peace," "Over the Hill," or "Older than Dirt."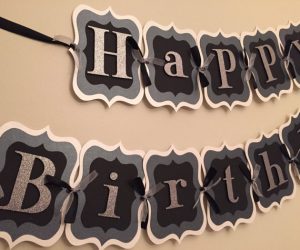 Let us pay tribute to our cherished comrade with a photo display.
Seeing as how it's actually a birthday party, try a photo number setup.
It's black and white, and shows a collage of the person's life. Bonus points if they're all past birthday pictures, too.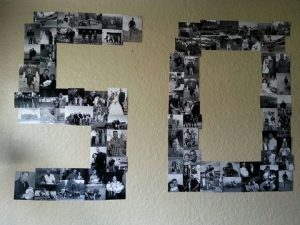 What's better than getting older? That's right: being reminded of it!
Everyone's happy to know that prune juice might feature in their near future, so make a centerpiece of it.
This creative arrangement is a juice bottle, topped with a styrofoam half-sphere over the lid, then stabbed decoratively with prune snacks and curled ribbon.
It's a decoration and a present, unless you need all those prunes for yourself.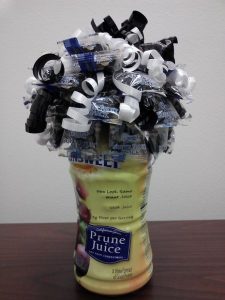 Thank you, Dollar Tree, for having the perfect table settings for this sad occasion.
As we eat soft foods and sip our Ensure, the black with black with black will help bring an uplifting spirit to the funeral mood.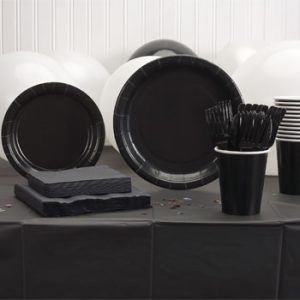 The person of honor needs a cup befitting his aging state.
As a special favor at dinner, or as an appropriate present, pick up this "I'm sorry you're old." mug.
Sentimental. Sweet. Sorry.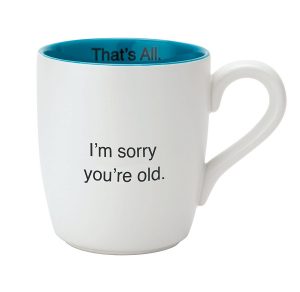 Another upcoming event for seniors is increasing inability to see those tiny letters at eye exams.
A great wall decoration (or gift) is this idea: typing up a custom message in classic eye chart format.
Some ideas I read included: "U R OVER THE HILL," "IF U CAN READ THIS U R OLD," and quotes about age from celebrities.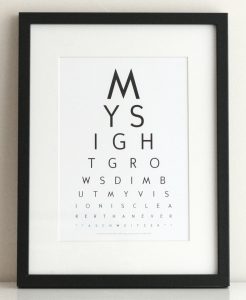 As we gather at the graveyard service for our good friend, to discuss his life and achievements, don't forget the ice cream.
If you're into making your own cake; edible letters can be found at the store, and tombstones don't need fancy frosting roses.
I think Mums are traditional, right?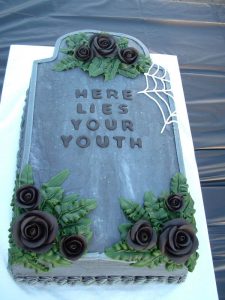 Young children, or young-at-heart ones, may find sitting through the service a bit tiring.
I'm sure they could use a little pick-me-up in the form of sugared "dirt" cups.
If you're as old as dirt, you may as well eat some -with denture-chewable pudding mixed in the crushed Oreo parts.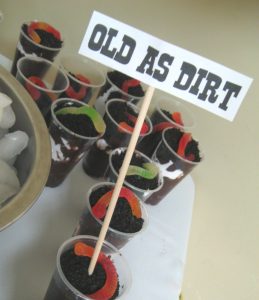 Would you like mournful attendees to take more than a program outline home?
Check out these customizable pill bottles!
Fill your prescription with jelly beans, M&Ms, or the classic candy favorite of the lucky stiff.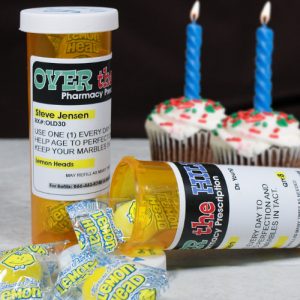 Dry those tears, drape that house, and visit these websites for birthday idea details:
1. Etsy
2. Etsy
3. Pinterest
5. Dollar Tree
6. Amazon
8. Creative Cakes, Inc., Amazon
10. Cheap Favor Shop