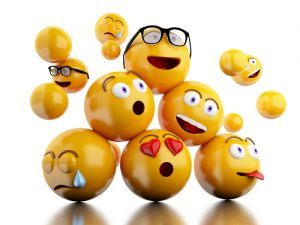 Emojis: the icons that speak paragraphs, and are the language of a generation. An emoji birthday party brings out all the emotions along with a lot of laughs.
You've got the classic poop emoji, winky face, kissy face…the options are endless. Which is why they make a fabulous theme for a party! They are entirely customizable and the options are almost limitless. The first thing you need to think about (well, what always comes to mind for me) is food. Your food should tie into the theme, and lucky for us, emojis provide some awesome inspiration!
Emoji birthday Party Food
You can create your own Poop Emoji Cupcakes! Not only will these be a crowd pleaser, they are also delectable. Start with a good chocolate cake mix. You can use the boxed version, which I do on the regular. Toss in some mini chocolate chips for some added chocolatey goodness. Once you've got your cupcakes made, its time to morph them into cute Poop Emojis!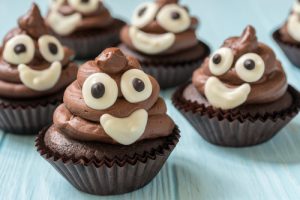 Whipped Chocolate Buttercream Frosting
Ingredients:
1 1/2

 

c

 

(340g) butter, at room temperature

4

 

c

 

(500g) powdered sugar

3/4

 

c

 

(94g) cocoa powder

4

 

tbsp.

 

(60ml) heavy whipping cream

2

 

tsp.

 

(10ml) vanilla extract

pinch table salt
Process: Start by whisking the butter and sugar together in your mixing bowl. When it's nice and fluffy (3-5 minutes), add in the cocoa powder, salt, whipping cream, and vanilla. Whip it until its smooth, fluffy, and shiny. You can refrigerate it for 15-20 minutes if you're worried about it melting. Once the cupcakes are cooled, pipe the poop onto the top! Lastly, you've got to add the smile and eyes. I'd suggest getting some white chocolate melts and piping the eyes and mouth. When the white chocolate is cooled, add those cute little guys to your cupcakes, and Voila! You've got yourself some darling Poop Emoji Cupcakes!
You can also make an emoji cake! Simply bake your favorite cake (funfetti, anyone?) and frost with yellow buttercream (just use the above recipe and forgo the cocoa) or be extra crazy and frost with white buttercream and simply cover the cake in yellow sanding sugar, yellow chocolate candies, or Pina Colada jelly beans! Then use black frosting (or chocolate melts) to create your emoji face. Ta Da!
 Decorations
Now on to the decorations! You can easily turn some paper lanterns like these into cute emojis! Simply pick out your favorite emojis and using some black construction paper cut out the parts of the face you need.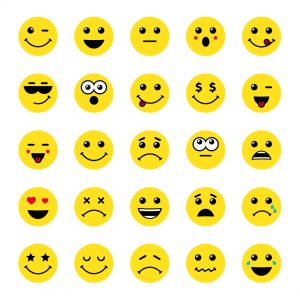 You can add in some red, white, and light blue paper as needed to add some depth to your lanterns, but these will help make any party a hit!
In addition, you can also make an awesome photo wall of emojis for your party. Pull out your yellow, black, and red plates. Tape them on the wall in a nifty pattern, and then make faces on the yellow plates. It makes for an interesting and engaging backdrop to take selfies in front of!
And there you have it! Feel free to take emojis in any direction. They are a super versatile medium to create any type of party!