So, you dream about throwing a mermaid party? Well, what more are you looking for?
Invitations? We've got plenty.
Swim around online shops, or create your own from a few metallic prints.
Michael's has a HUGE paper section. Seriously. How many papers can one aisle hold?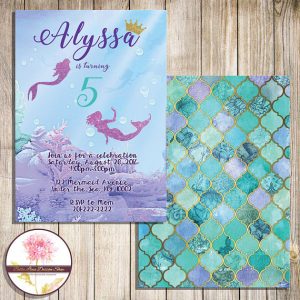 Now for the fun part: decorating!
The seaweed is greener and life is the bubbles under the sea, so we'll go with greens and blues.
Pick up a few shades in tissue or sparkly paper, then cut out a ton of scales to create an ocean backdrop.
Your guests will feel it's better down where it's wetter with this table setter.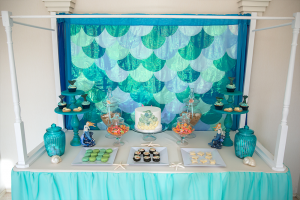 Speaking of fishes, why not craft up a few undersea animals?
Each little snail here knows how to wail here, but did you know that each little jelly is a pretty simple thing to make?
This guy is a Chinese lantern with tulle and hanging ribbons.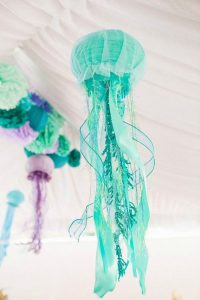 What would you pay, to set this cake, warm on the sand?
You can make your own!
Use Neccos or fondant "scales" on a two-tiered cake, then surround it all with crumbled Golden Oreos "sand."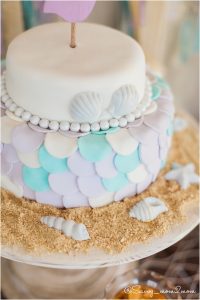 Flippin' your fins, you don't get too far -especially when you're on top of a cupcake.
To make some just like this one, you'll need to layer different color batter in the wrappers. Once baked, top them with frosting, sprinkles, and that tail.
Worried about scaring some party-goers? Use a Swedish fish, instead.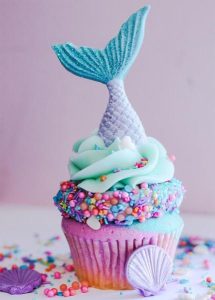 Look at these plates! They've got utensils and napkins a-plenty.
But who cares? No big deal. Don't you want more?
We've got place cards with flowers and hairband. We've got a whats-it and shells from the shore.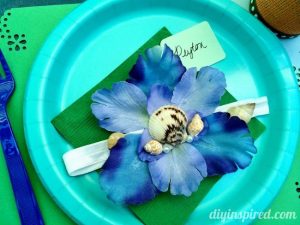 You've got your cakes, your pretty plates. Now, don't underestimate the importance of a cute beverage.
This Ocean Water recipe is made with water, sugar, coconut extract, blue food coloring, lemon-lime soda, ice, and a Swedish fish.
You might want a few Mason jars and striped straws, for a cute final touch.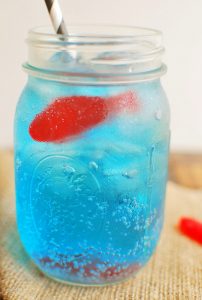 You'd think the colors of this ice cream would turn me away, but they actually make me want it even more!
I guess the ice cream is greener, too, when it comes to a mermaid theme.
Heavy cream, sweetened condensed milk, vanilla extract, and (of course!) food coloring make up this no-churn recipe.
Go under your sink for Wet Wipes when your mermaids have finished their cones.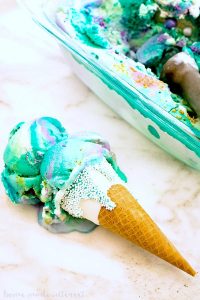 We're going under the sea for this party, but what about under the sand?
A very cute game idea is one in which the guests may dig up buried treasures, especially in a cute location.
If you don't happen to have Eric's washed-up rowboat handy, a regular sandbox works just as well.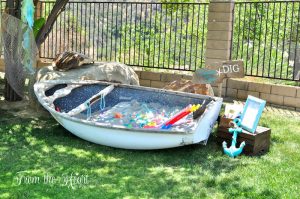 Is it time to return to the surface?
Help guests remember what's part of this world with a few burlap goodie bags.
I love the idea of gluing a real seashell on the outside of each; and filling them with mermaid treasures and fish candies.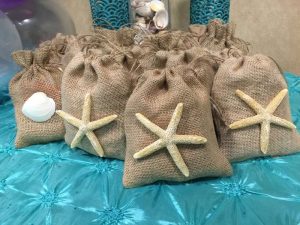 Ready for your ocean adventure? All the ideas for this party can be found at the following websites:
4. Savvy Mom 2 Mom, Candy Store
5. Seatail Shop
6. DIY Inspired
7. Fake Ginger
10. Catch My Party
Plan more parties with The Holidaze Craze! Here are a few of my favorite party ideas:
10 Minecraft Themed Birthday Party Ideas
Winter Wonderland Birthday Party Ideas
8 Magical Ideas for a Harry Potter Party