Minute to Win It games are sweeping parties everywhere, and may come to land at your own.
You're going to need some ideas, fast.
Got a few donuts laying around? Well, throw those out and go get some fresh ones.
People are going to be eating those things, you know!
Get some string while you're at it, and then you're set for the classic Donut on a String game. If you don't have enough space to string a whole line, partner people up and have them feed each other fishing-pole style.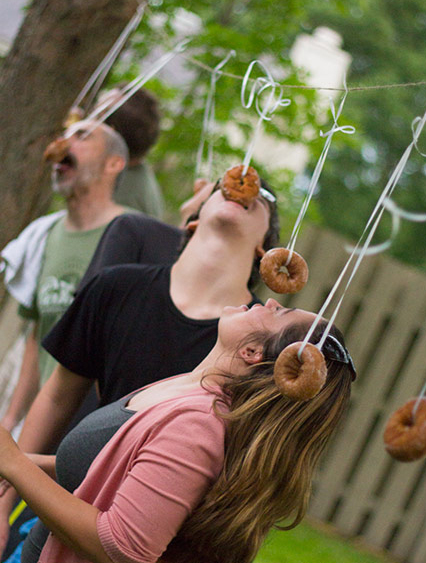 While you were out shopping for donuts, you should have picked up a few craft (popsicle) sticks and dice.
'Cause your guests are going to play the Dice Stacking Game.
Club Chica Circle suggests these rules: that each player must hold a stick in his/her mouth and stack 6 dice on top of one another at the end. The first person to hold the stack without dropping any for 3 seconds wins!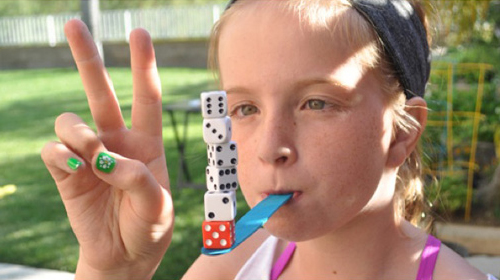 I didn't even know this, but Minute to Win It is even a popular event on TV!
Okay, okay -I'm a bit slow.
If you're way ahead of me here, you've likely seen Face the Cookie!
A cookie is set on the player's forehead. Only using head movements, that person must navigate the cookie into his or her mouth.
May the chocolate chips be ever in your eyeballs -or, something like that.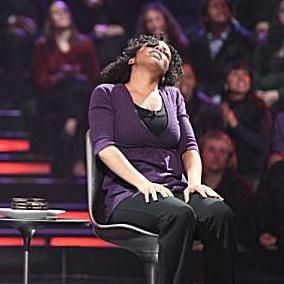 The rules for playing Your Home Based Mom's idea of a game are exactly what they look like: try to knock cans over by swinging a ball attached to your waist.
Titled Bottoms Up! (what else), this simple game will be sure to have your guests falling over with laughter as the cans hopefully fall off the table.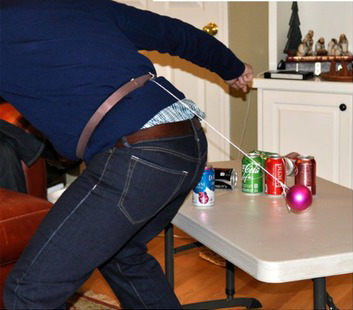 Another straightforward idea I found involves chopsticks, miniature marshmallows, and Chinese takeout containers to place them in.
I'm thinking we'll call this one Chop-Gooey.
Arm players with chopsticks and see how many have the Karate Kid skills to be the champion!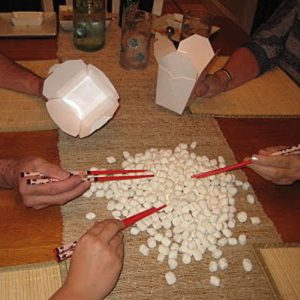 This idea looks complicated -okay, it just looks silly.
But, believe me, it works. I've played this one.
Popularly known as Shake it Off or Junk in the Trunk, partygoers with great hip action will really shine when you set this one up.
Materials include a tissue box for each player (usually two), ping pong balls, belts, and scissors. You're going to need some crafting skills to attach a belt through each empty box, then place the balls inside and attach the belt around the lucky participants.
Once the music and timer starts, they need to shake out all the ping pong balls to win.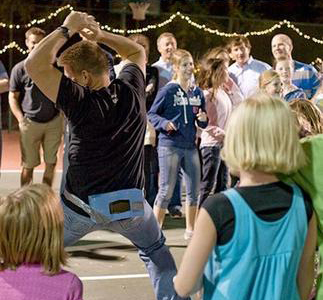 If people didn't feel self-conscious enough shaking out ping pong balls, consider this next game.
Elephant March uses a pantyhose with a baseball in the end, and 8 water bottles. In The Picky Apple's picture, they substituted an orange for the baseball.
On his turn, each player stretches one end of the pantyhose on top of his head, walks forward straddling the midline, and attempts to knock over all the bottles.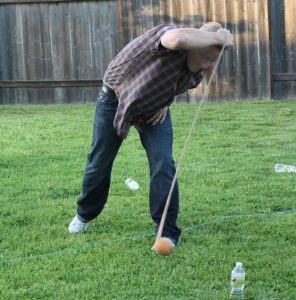 In Scraptacular's Cotton Ball Game, competitors are blindfolded and given two bowls and a spoon.
One bowl goes on the lap; the other goes atop each person's head. Next, all they have to do is use the spoon to transport cotton balls from the lap bowl to the head one.
Easy, right?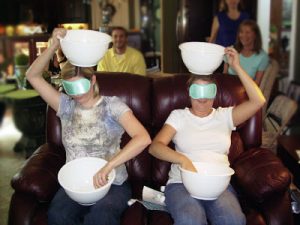 Who doesn't love Fruit by the Foot? Well, that person can be the one taking pictures.
The rest of the party needs to line up and grab a flavor.
Start everyone with one end in their mouths and hands held behind their backs. Whoever eats his/hers first wins!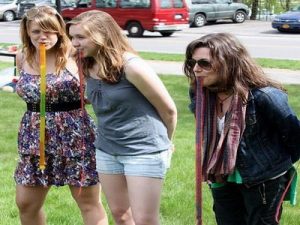 Finally, here's another easy idea, appropriately titled This Blows.
Guests use a balloon to knock down a line of cups. They must refill the balloon each time they run out of air.
Who is full of the most hot air at your party?