The judging results are in: you've won the bid to host an Olympics party!
Go, and notify the contending nations! Get your prize podium ready and craft up some medals!
Need a few decorations? A traditional idea for any nation is to display the Olympic rings.
Head over to Michael's for some Styrofoam (polystyrene) rings. You'll want at least five. Pick up some crêpe paper while you're there; in blue, black, red, yellow, and green.
Another option would be to paint each ring the color you need. You're the judge; it's your call.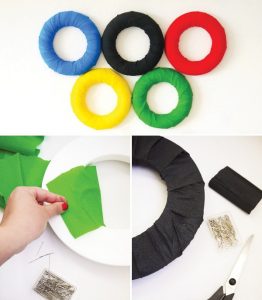 Speaking of nations, there will be many attending the games.
Want to represent? Try this flag banner; it hangs from the ceiling, wall, chairs, or porch.
With 100 countries, at a low price, it's a perfectly legal steal.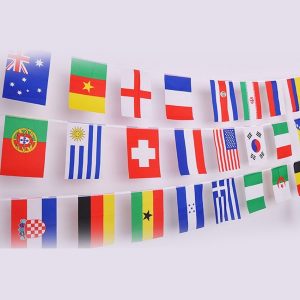 As the host, you've got to dress to impress.
I'd go with a jersey from your home country, or one of these rhinestone t-shirts.
They're DIY, so make some for the whole family. Make some for the guests. Have them make their own while they're watching events.
The method used for the one pictured was with Deluxe Edition Silhouette Software and Silhouette Rhinestones.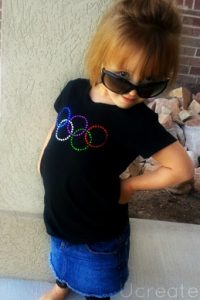 Decorations and shirts are all well and good, but the best part of a party is food.
Sure, sure -the company's fine, too. Go visit with people while you eat food.
If your favorite country has blue, white, and red in its flag, these dipped strawberries will be perfect.
Start with a strawberry, dip it in white chocolate, and then dip the tip in blue sprinkles. If you're Brazil or Nigeria, you may have to dip broccoli.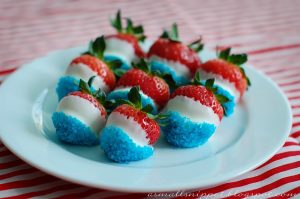 Once those strawberries have set, consider sprucing up your toothpicks by buying a set of flag ones, instead.
These party picks can be picked up at Amazon, or most party stores.
The real question is: how many packs of party picks will picky party people pick?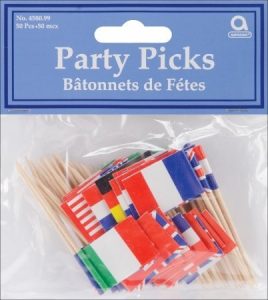 That ring motif is a universal design -so much so, that you can even use it on cupcakes.
Roll colored fondant super thin, then shape it into your five ring icon on each one.
By the time the Olympics are over, you may be done.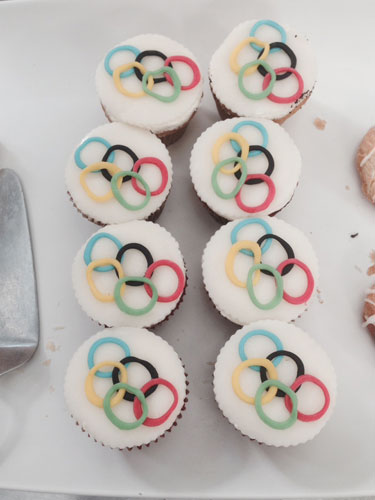 For drinks, it's always a quick option to pick up a few beers from various countries (or all from your own).
However, I loved the patriotic look of this sangria.
This masterpiece is mixed from dry white wine, triple sec, berry-flavored vodka, lemon juice, and a simple syrup. The red is strawberries and raspberries; blue, blueberries; and "white" in star-cut pineapples.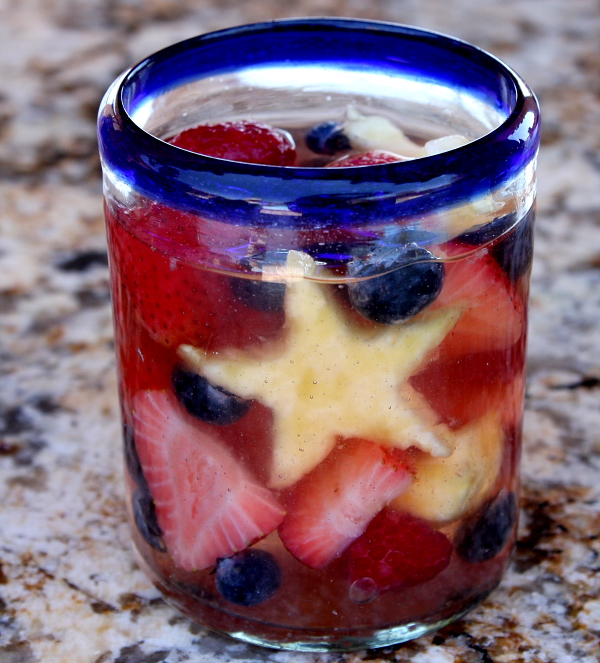 Your fruit can also be eaten raw, especially if you have a lot left over from mixing beverages.
A sectioned platter like this will help accentuate the variety.
Go with what your nation's colors are. If bananas aren't "white" enough (because, well, they're yellow), throw some white chocolates in the middle.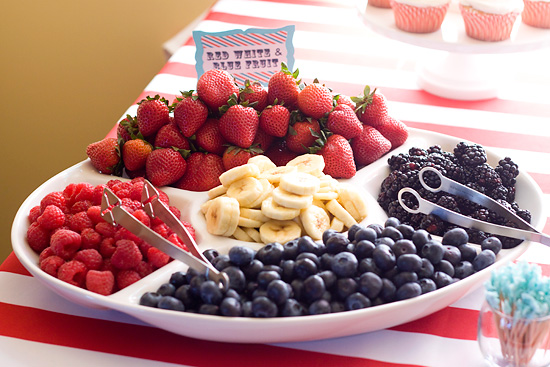 Besides a few ringed t-shirts, would you or your attendees like a laurel wreath?
You can all make a few for kicks, or assemble them ahead of time for game champions.
These are made entirely from paper, adhered by the power of hot glue, and colored by the magic of gold spray paint.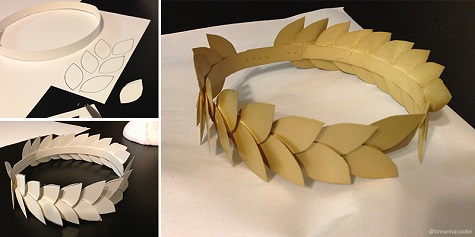 My favorite craft idea, however, is this torch. It really lights up, because that's a tea light on the end of a (clean) used toilet paper roll.
The rest is paint, a cupcake liner, orange and yellow tissue paper, and glue.
Use it for a game, prop, or prize.
Carry it with you to deliver invitations, while wearing a sweat band. Why not?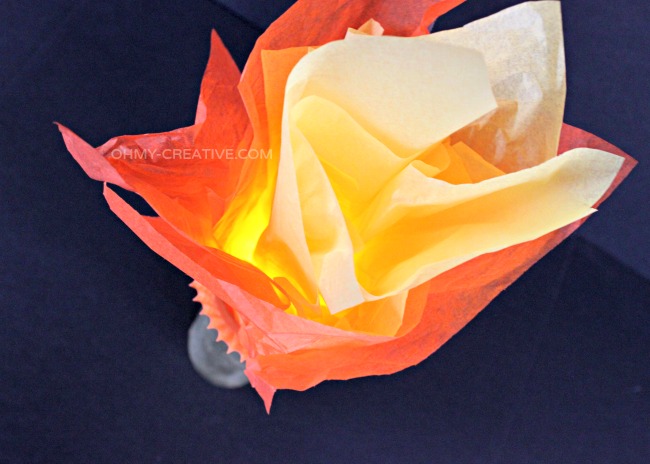 Speaking of games, whoever heard of the Olympics not involving games? That's why I thought it best to have a couple of Olympic-themed activities.
Die-hard fans can always go out and insist on a few 200-meter hurdles or speed-skating races, but most people can barely stick a landing off the couch.
For us, I recommend a simple "javelin" throw: pool noodles through homemade rings. The rings are hula hoops; cut, looped, and secured with duct tape.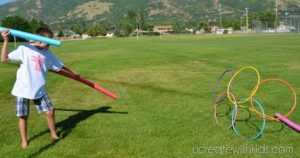 For indoor viewing (say, the winter Olympics), I liked this idea of Giant Golf.
It reminds me of curling, without the ice and without the wierdness of curling being an odd sport.
Your setup will involve taping "goals" on the floor. Contenders will then need to sweep or mop golf balls across the floor to between those lines.
Make it even more like curling with different rules, and varying point lines of tape down the hardwood.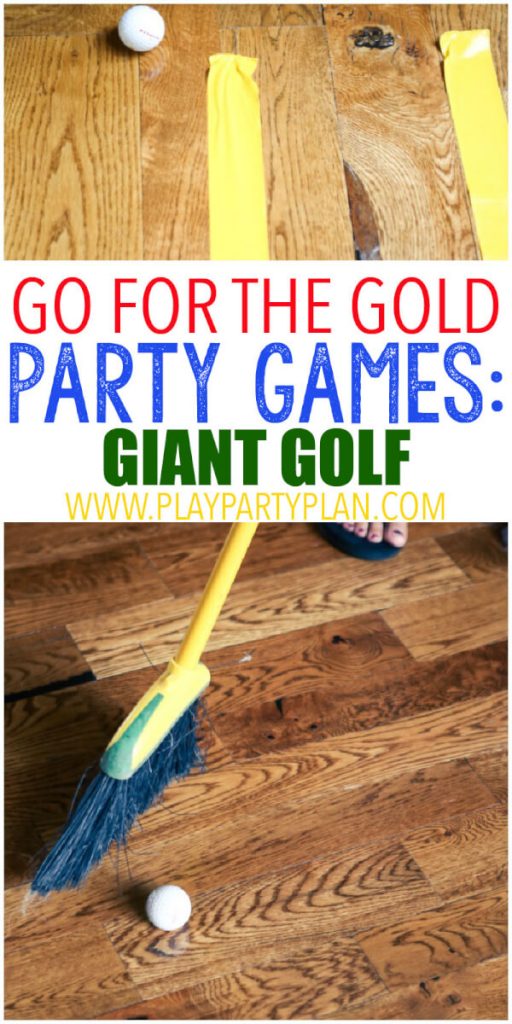 What about prizes?
We mentioned making or buying some cheap medals earlier.
My favorite idea, however, was candy. If you don't like the cluster look, there are always chocolate coins.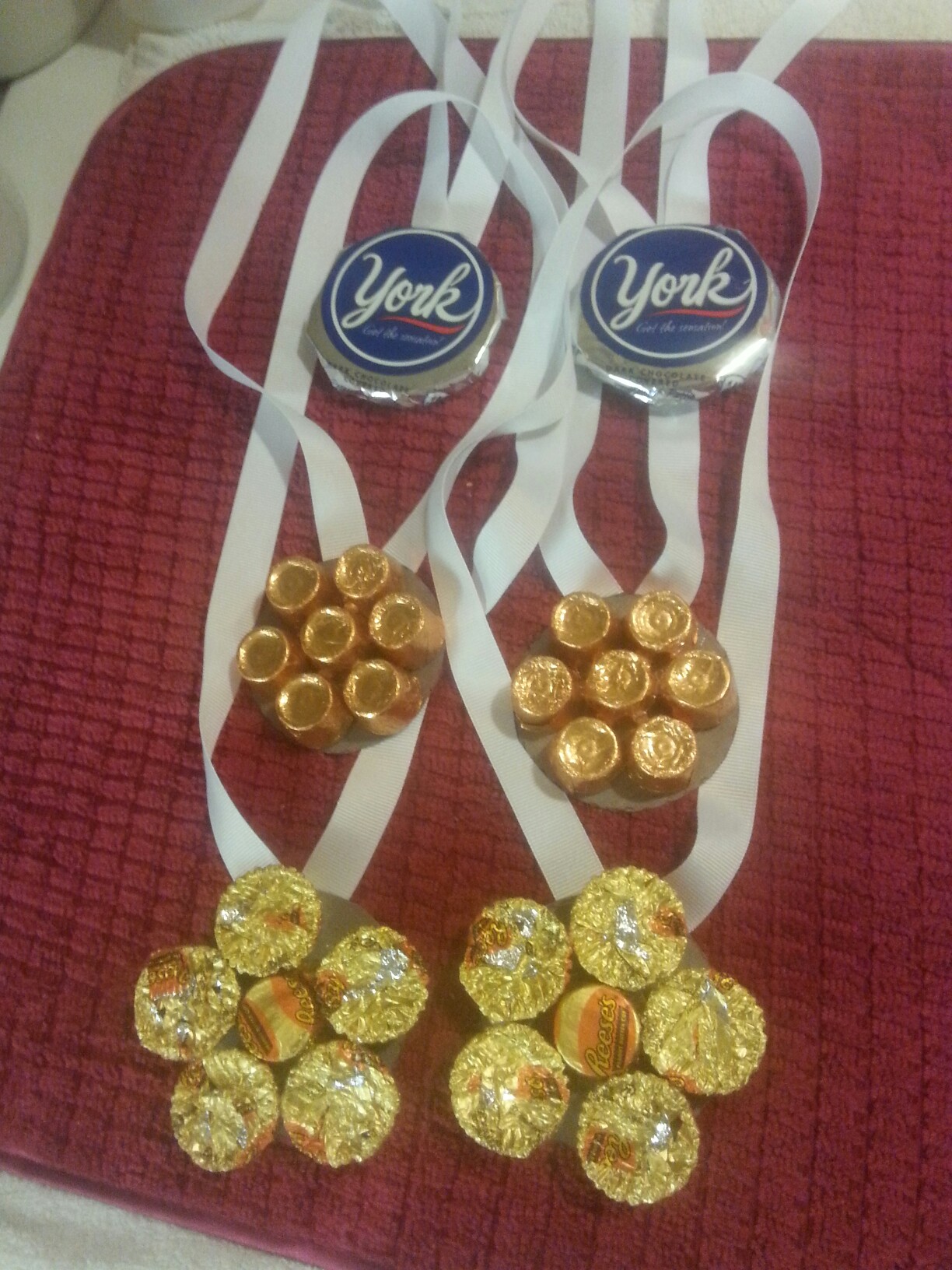 Do you want to throw an Olympic themed party? Use these links to help with your party planning, food, and decorations:
1. Hostess with the Mostess, Michael's
2. Amazon
5. Amazon
7. Recipe Girl
8. Armelle Blog
9. Uncrafted
10. Oh My! Creative
11. U-Create Crafts
12. Play Party Plan