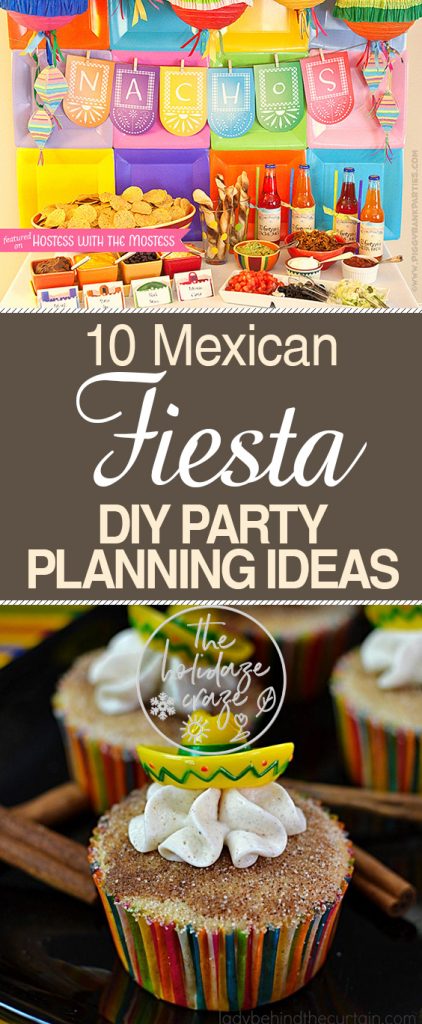 Want to plan a Mexican fiesta party that will turn sombrero-wearing heads? Let's fiesta till siesta, baby!
First, let's taco bout some ideas.

That's what I said: talk about it. I also saw invitations that said, "Holy Guacamole, it's a party!"
Really, no Juan is going to want to miss out on such a fun festival.
Party planning can be a real hassle, even with the fabulous color scheme you've got with all the colors of Mexico.
One thing you won't need to stress out about is the decorations. Just look at that backdrop! Those are paper plates, the likes of which can be found at Dollar Tree.
The banner is a simple printable option, and the paper lanterns are a cheap party store find covered in crêpe paper; it's perfect for your Mexican fiesta.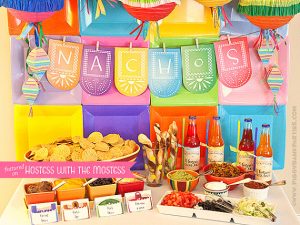 Perhaps the señor or señora of the night would like some authentic mood lighting.
Look no further than the spiciest candle holders this side of the border: bell pepper candles. They're sure to spice up your Mexican fiesta.
As may be obvious from the picture, these are the result of some precise cuttings into fresh peppers. After that, they require tea lights and fire.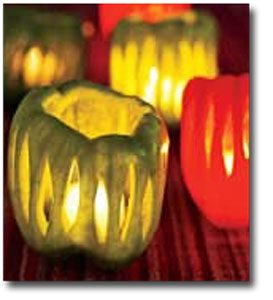 Have I mentioned all the fantastic colors we get to decorate with?! We're talking red, orange, yellow, green, blue, purple -a bright rainbow of options.
A cute, inexpensive use of the whole artist's pallet is by painting Mason jars. What vivid and unique flower vases, yes?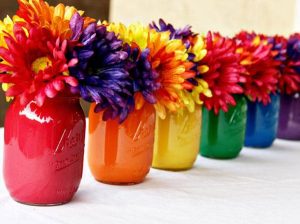 Did you know there are a lot of cacti (cactus, cactuses?) in the Mexican desert? You can pick some real ones as place settings, but I'm more fond of this inflatable kind.
The bonus part is that they aren't going to poke anyone. All they require are pom-poms, tape, and spine-drawing skills.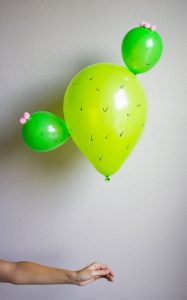 This party needs some serious comida. Otherwise, guests will say, "Adios, amigos."
I might point out that we did mention tacos on the invitation, unless you went with the "Holy guacamole" one.
I'm all for a taco bar, but thought I'd introduce these little individual-sized layered bean dip cups. They're cute, pretty, and practically bite-sized.
To make your own, purchase: refried beans, guacamole, sour cream, salsa, cheese, olives, tomatoes, green onions, and tortilla chips.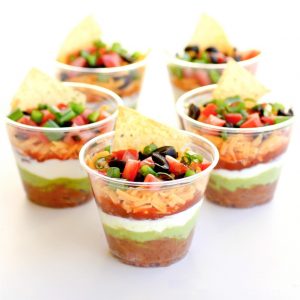 I admit it: I'm a sucker for clever ideas. I don't even like churros that much (gasp!), and I'd totally grab one of these.
These have an awesome recipe. But the miniature sombrero toppers and Mexican color paper wrappers are really what take the cake, and again, make for a perfect Mexican fiesta decoration.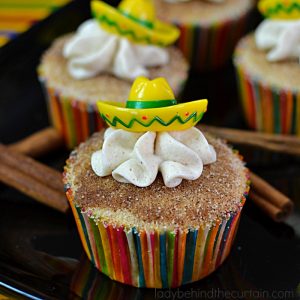 Tacos aren't just for meat anymore. Check out these cookie and fruit ones.
They're really simple, too. All you need is a sugar cookie recipe, and a place to drape the cookies once they've baked and are cooling.
Filling is whipped cream topped with raspberries, kiwi, strawberries, and mangoes.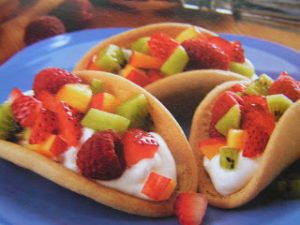 Aren't we having a fantastic Mexican fiesta?! Let's get on to some entertainment!
Besides the lively background music I'm sure you're playing, your friends are going to get a kick out of some funny photo props.
These are a few of my favorites, apart from sombreros and mustaches. Can't touch this, cactus.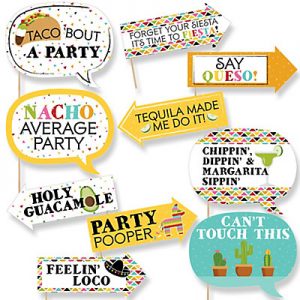 Niños y niñas of all ages love smacking objects. Objects that dump candy and treats are even better!
We're talking piñatas. Even if you aren't hosting a fiesta, I'd suggest one.
Well, maybe I wouldn't say to do a piñata if you were hosting a flower-themed bridal shower.
Still, go iconic. Purchase whatever sugary treats or funny toys your batting audience will appreciate most.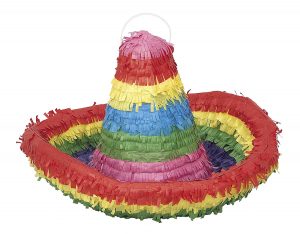 Hey, amigos! Click below to read more about these fiesta ideas:
1. Evite
2. Etsy, Dollar Tree
6. Marla Chicky
10. Amazon