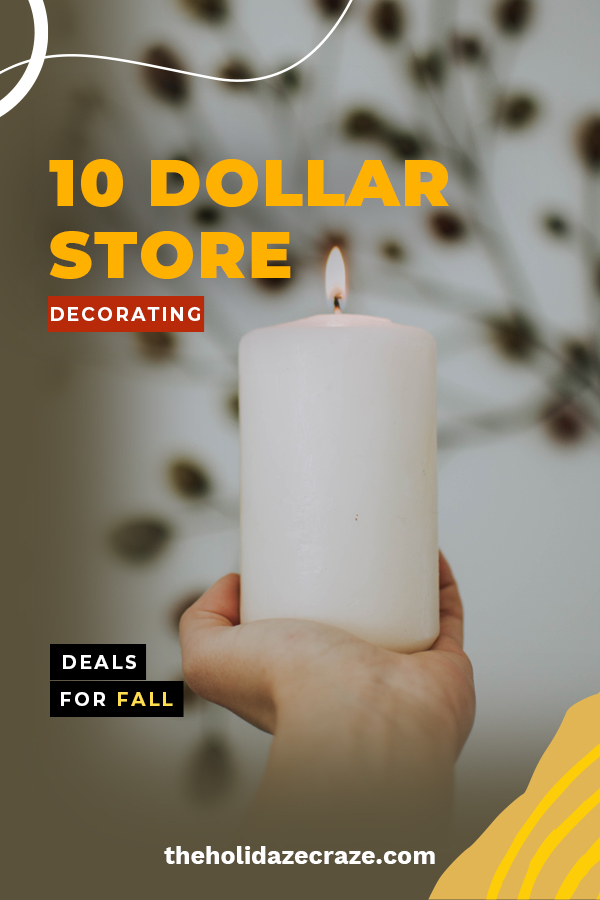 We've all been there: wanting to spruce up the home décor, but feeling too much strain from a burdened bank account. And I'm excited to announce a deal from Dollar Tree for all of my readers. Click this link!
Well, all of us except Martha Stewart.
I'm of the school of homemakers who don't actually believe one can decorate on a budget, at least not well.
However, I am happy to report that I was wrong. I've gleaned the internet for ideas, and come out ahead in the search.
To start with, how CUTE are these cinnamon candles?
They look boutique shop to me. Yet, when considering making one, we can see that it is literally a candle with cinnamon sticks tied around it.
The genius part is to wrap them in an elastic first, then hide the evidence with crafty twine. Then you can add a few fake acorns, leaves, or other natural accents you have laying around.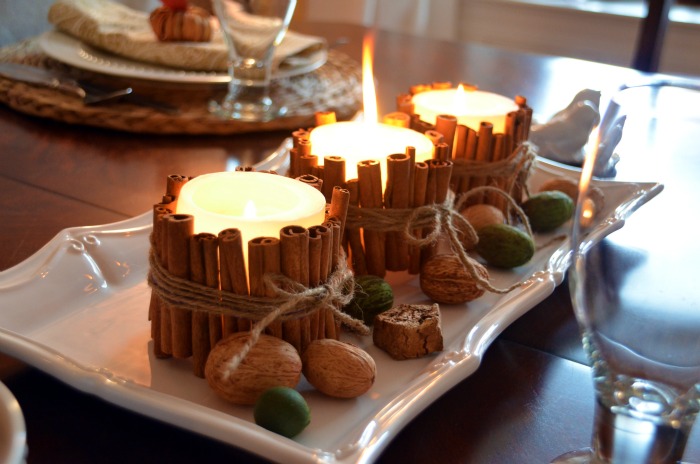 I am just barely beginning to appreciate the magical gift of fabric tape. If you haven't heard of it yet, your life just might be changing from here on.
The stuff comes in a variety of colors, and can be used for limitless crafts.
Farewell to hours of paint or messy découpage when you can literally tape a pumpkin you picked up for cheap and it looks good.
You'll be done in a matter of minutes, and will only have spent a few dollars.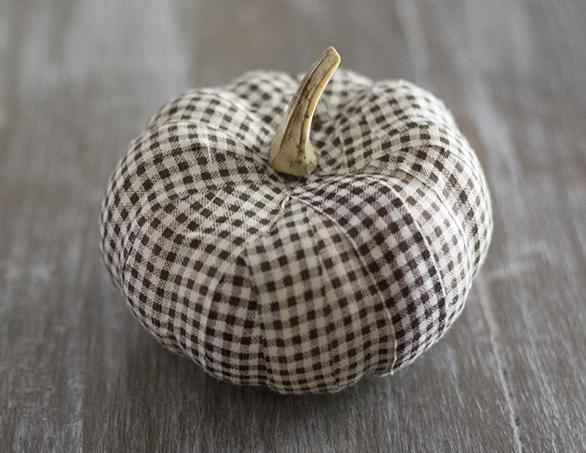 Although these fall vases do use some painting, they're only about two steps longer of a process than taping.
It's probably worth it, too. I'll bet you couldn't tell those were Mason jars.
After a layer of chalk paint, they've been wrapped with burlap and lace trim (adhered thanks to hot glue). The flowers are your standard dollar tree fare, looking quite chic in their "new" vintage jars.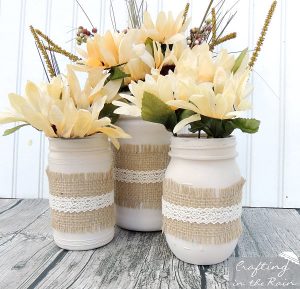 I love hot glue. I know I say it every time it comes up, but glue guns are one of the greatest inventions introduced to man and woman.
Without their magic, this lighted leaf garland would be a lot more difficult to put together.
You might even have to resort to sewing, which is a bit of a dirty word around my house.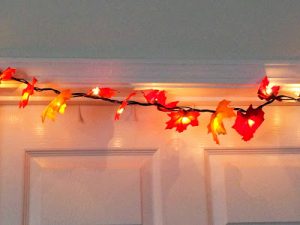 And here we find one of my 10 favorite items on this list: The Dollar Store Bowl Makeover.
I'm always looking for cutesy accents, peering on random (clearance) shelves at home decorating retailers.
Thanks to spray paint, another miracle product, I can dress up anything I find, anywhere. Yep -that is a clear plastic leaf bowl that has been painted.
Be sure to do a few thin coats to avoid telltale dripping, and no one will know your secret.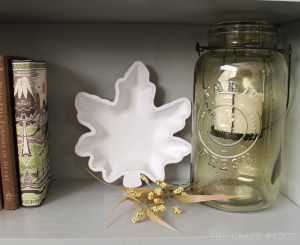 Have you ever noticed various candles for sale at the dollar store? I've always assumed I had to be stuck with what was there for color-matching.
Wine and Glue has opened my eyes to consider a clever alternative, with her Candy Corn Candles.
The candles need to be white, obviously. Then, apply a layer of orange about 2/3 up the sides and let it dry. Finish off with yellow on the base, and dry again. You're done!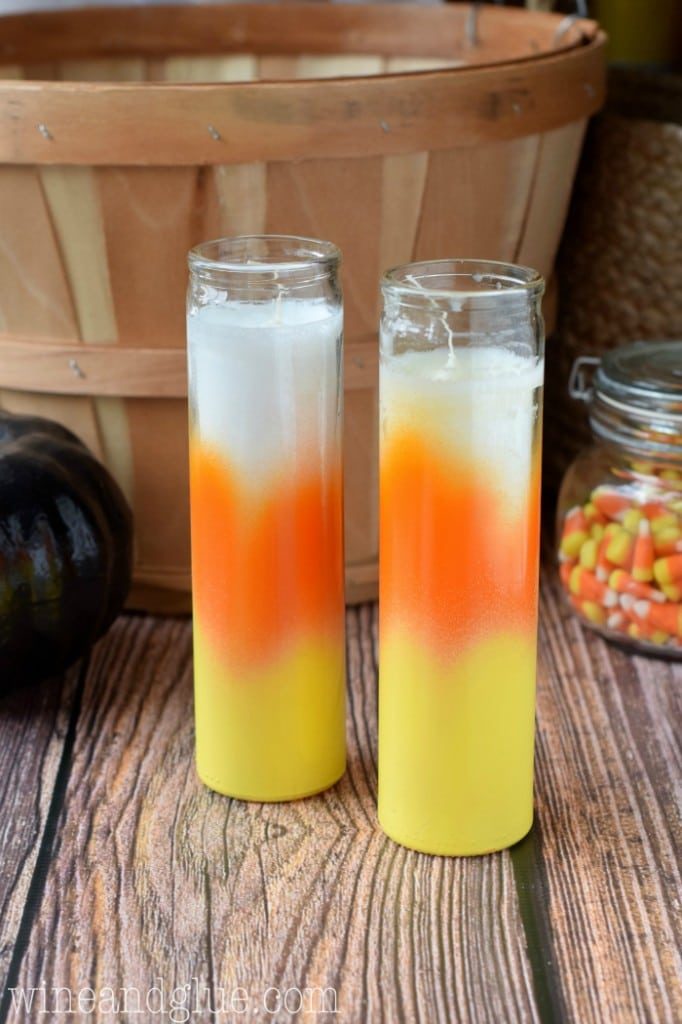 Agh -no! I promised you I hate sewing and now there is a pillow on here!
Don't panic. That pillow is actually made from a place mat. It's a Placemat Pillow. And, it's made with hot glue.
Seriously. Drag out your cotton stuffing or batting from your Meant-To-Make-It box, and lay it between two cloth placemats you picked up at the dollar store. "Sew" with your glue gun, and set it out for autumn.
And -yes, you can make one for each season. You can make one based on any tableware the store has stocked, right?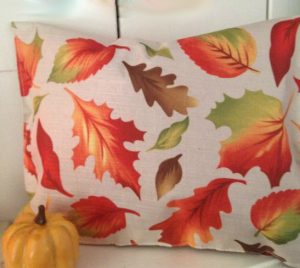 We've discussed making wreaths on a budget before, but maybe this article is your first time reading through my fantastic decorating advice.
If so, welcome! And, here's an acorn wreath for your troubles.
It's cheap because -as you may have guessed- it's made by gluing them all over an existing grapevine wreath.
For the record, I recommend purchasing fake acorns. Sometimes real ones get worms.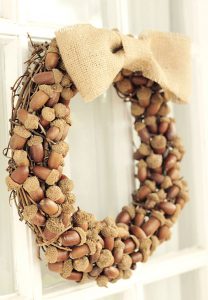 To make these layered candle holders from My Heart's Desire, you'll need a few nice glass containers like her hurricane vases.
Then, obviously, go get some dried filler based on the colors you like. In this picture, there are dried split green peas, small red beans, and popping corn.
Stuff a candle in the mess, and tie it off with the ever-crafty twine bow for a finishing touch.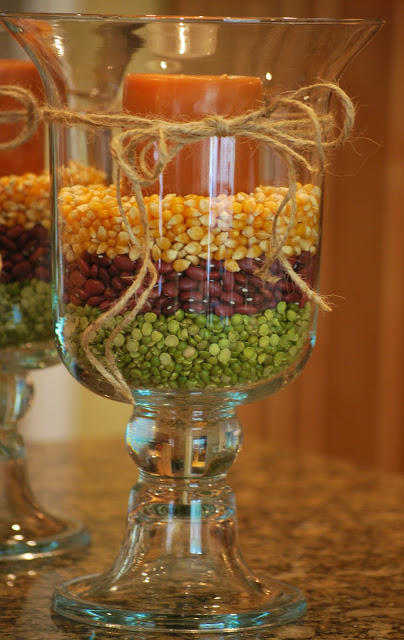 Don't you think these pumpkins look distressed?
That was the general idea, actually, and their name.
They've been painted with glue, paint, craft paint, and splattering. In case you wondered about time, the previous sentence covered a few hours of work. It did not, however, cost more than going out to eat and then spending way too much on ones that look like this at the craft store.
The last step is hot-gluing (yay!) a piece of stick onto the top after you've ripped off the ugly stump they came with.