Is Easter Brunch a tradition in your home?
If not, it can be TODAY -well, it can be when Easter rolls around. It's the perfect event to host after all the littles find their baskets, eggs, and candy; and have passed out from sugar intake on the floor.
For those who love to get fancy, my first brunch recipe is Cheesy Grits with Scallions and Jammy Eggs.
It's part of the whole Easter theme, too! (Y'know… eggs.)
As you may have guessed, you'll need the ingredients listed in the name. You'll also need butter, Kosher salt, jalapeños, vegetable oil, and a fancy bowl for serving.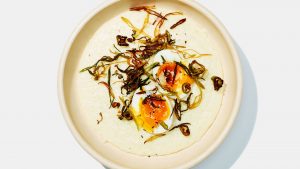 Still running with the eggs idea, I bring you a delicious huevos rancheros mix. It's vegetarian.
Onion is sautéed for a few minutes in olive oil, followed by garlic. A mix of spices including chipotle powder and cumin is added to diced tomatoes, cooked and rinsed beans, water, and salt.
At this point, pull out your miniature skillets. They'll each need a tortilla and a scoop of the beans mixture. Top with an egg, then bake.
Once they're done, my favorite part is that fresh garnish of tomatoes and avocado slices.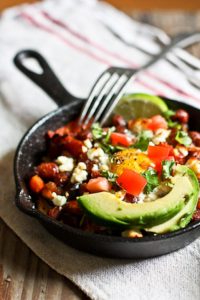 Hey, fellow bacon lovers! I didn't forget you.
In fact, I'm giving you an extra-special taste EXPLOSION: honey-bourbon glazed bacon!!
The honey and bourbon is brought to a boil, then cooled. Meanwhile, the bacon roasts for 10 minutes in the oven. After brushed (or, doused) by sticky goodness, the bacon roasts another 10 minutes.
Pull those pork puppies out, pepper a tad, and try to let them cool before eating them all.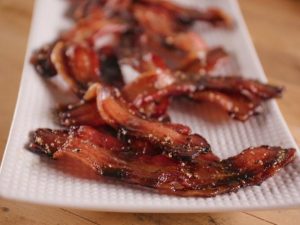 Ah, more food of the "less healthy" variety. Now, this is my sort of brunch.
Make this glazed donut recipe a day ahead, since the dough is refrigerated overnight. It also needs to rise after being cut into donut shapes. The mix takes standard ingredients like milk, eggs, flour, sugar, butter, and yeast.
Finish with frying in hot oil, then eating!
Hey! -they have eggs in them. That makes them Easter-y, too.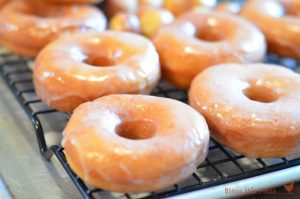 Did you think that people might want something to drink with their brunch?
No eggs here; this is a mango-tamarind smoothie.
Use frozen mango; plus tamarind paste, agave nectar, and unsweetened coconut milk. You'll want a blender.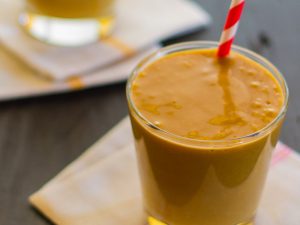 The pièce de résistance of this article is this Smoked Salmon Smørrebrød.
Danish rye or pumpernickel bread is spread with a special horseradish sour cream/mashed potato mix; then topped with smoked salmon, radishes, roe, dill, and parsley.
Even if no one eats it, your friends and family will think of you as the foodiest snob of them all.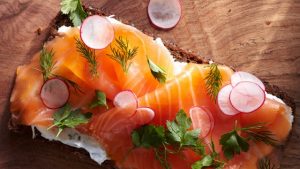 Yet another eggsellent idea is quiche. I've found an easy recipe, to make up for anyone feeling overwhelmed by jammy eggs or Smørrebrød.
It takes a refrigerated pie crust, half-and-half or milk, eggs, bacon (YUM!), cheese, and chopped onion.
If you've got a pie pan and an oven, you can have quiche for brunch in about an hour.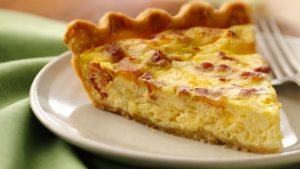 The wonderful thing about bundt cakes is that they can turn out simply beautifully if you've got a fluted tube pan.
The cake is good, too. It's a blueberry sour cream coffee cake. A regular cake, enriched with sour cream, is filled with brown sugar, cinnamon, flour, and berries.
Don't forget the glaze, and a lovely cake stand for displaying it.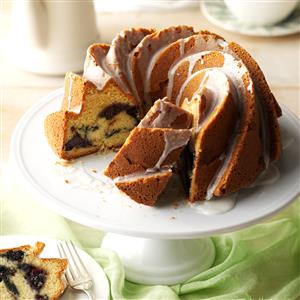 Let's say that you clicked this article because you're looking for breakfast casserole ideas.
You're not hosting brunch, thank goodness. You just need to bring a dish to some other person's party.
Consider whipping up this bacon and egg variety. Fried bacon is mixed with eggs, milk, mustard powder, salt, grated cheddar cheese, and bread cubes. Simple, right?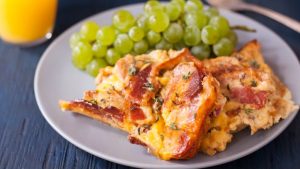 I'll admit it: I'm a crêpe lover. If I had the time to host brunch, I'd definitely ask a guest to make some.
What? You think I'll have anything left after sampling all that bacon?
Anyway, crêpes are easy, fun to make, and still retain a bit of an exotic feel. It's their French origin. The bonus part is that you can fill them with whatever fruits you like or have laying around, then top with powdered sugar or whipped cream. Or hey, top it with both!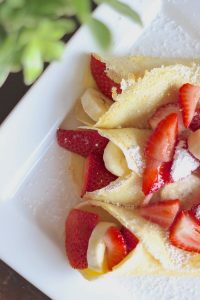 Bake up your brunch this morning by clicking below:
1. Bon Appétit
2. Feasting at Home, Piquant Post, Amazon
3. Food Network
5. Food & Wine
6. Bon Appétit
7. Pillsbury