There are only two months of spring semester left for most University students, and three months for high school seniors. Can you believe it!? That might seem like a long time, but it'll be here before you have time to blink! One of the biggest fads to sweep the nation is for graduates to decorate and personalize their graduation caps (also called mortarboard caps) with quotes, pictures, and bling. And trust me, graduation cap designs are important!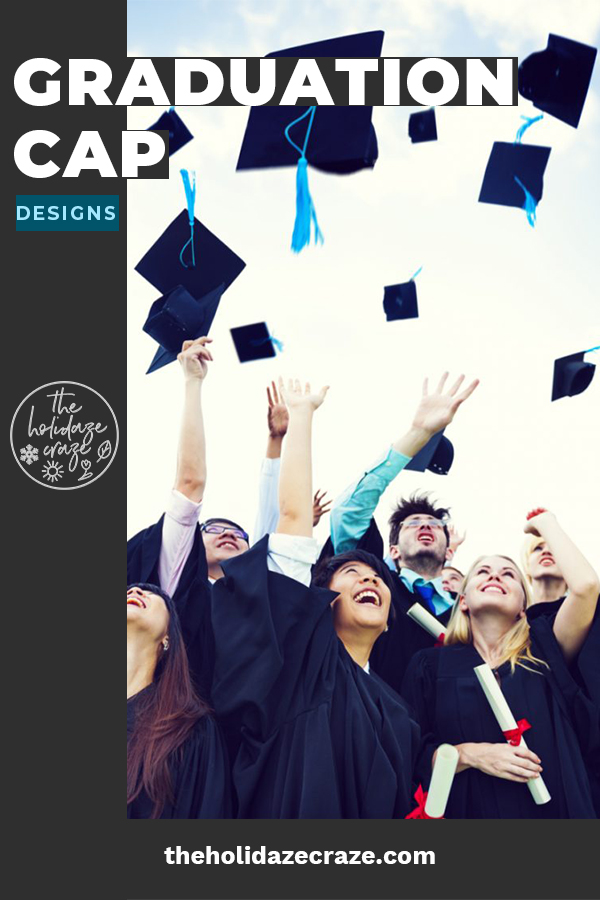 There are a lot of ways you can decorate your graduation cap. You could go funny, poignant, trendy. The options really are endless. Whether you're graduating from High School or College, I've got the skinny of some unique graduation cap designs.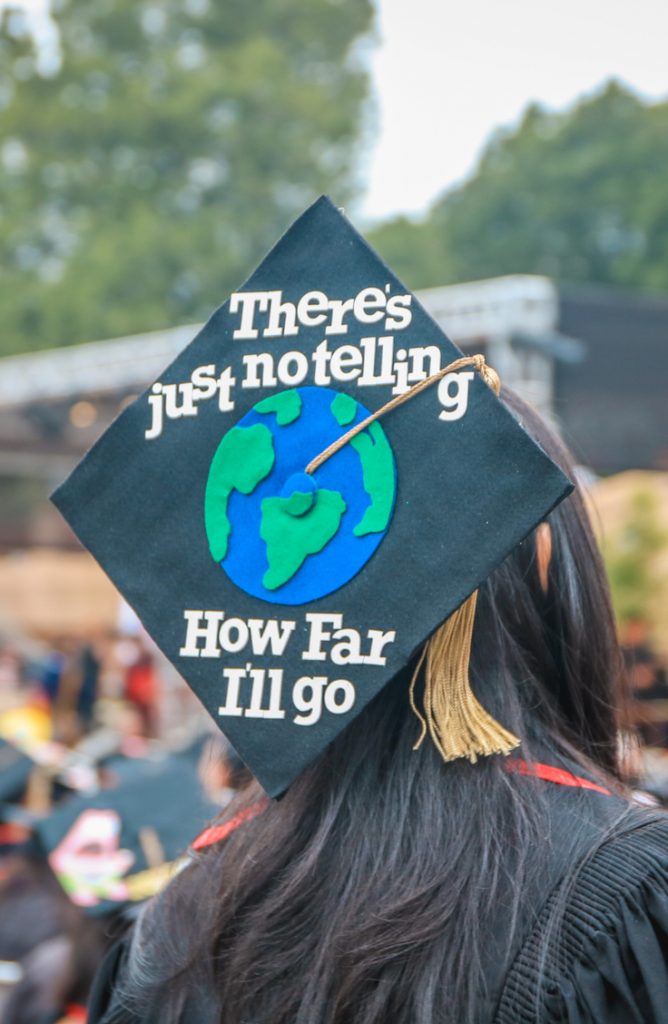 Graduation Cap Designs: Supplies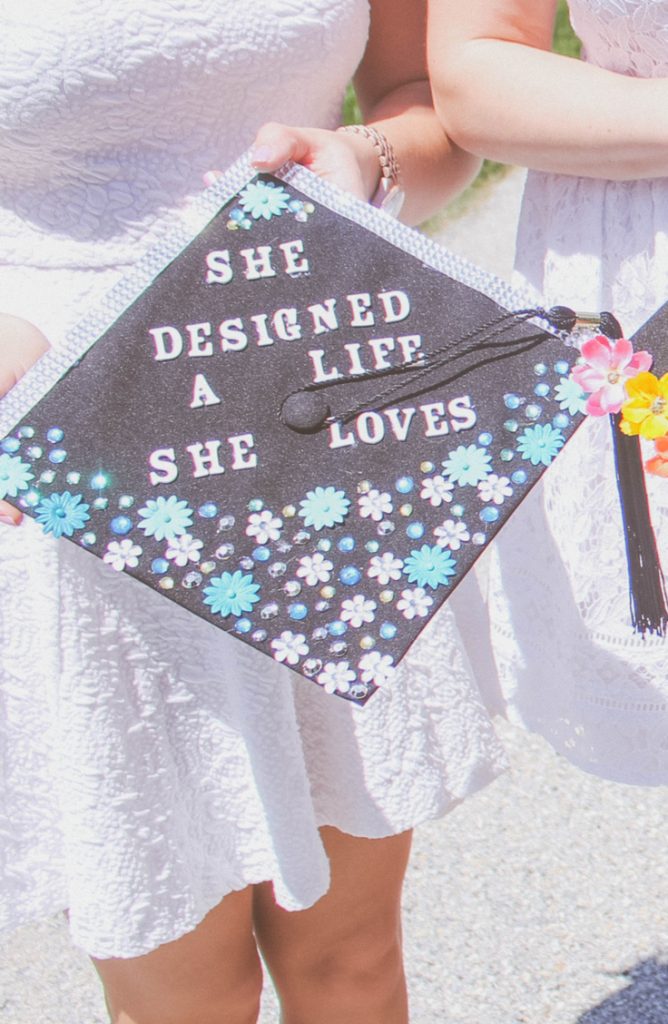 Before we launch into designs for your cap, you've got to have your supplies ready to go. Here are the essentials:
Felt (if desired in place of paper)
Additional 3D elements (flowers, gems, cutouts, etc.)
Graduation Cap Designs: Disney
Disney might be something that you traditionally associate with childhood, but their characters and quotes make for fabulous graduation caps. Try placing a picture in the corner of the cap-whether it's one that you print or draw yourself. Try writing or painting one of these quotes across the cap with the corresponding character in the corner.
"All our dreams can come true if we have the courage to pursue them." -Walt Disney
"Just keep Swimming." -Dory
"In every job that must be done, there is an element of fun." -Mary Poppins
"Even miracles take a little time." -Fairy Godmother
"I never look back, Darling. It distracts from the now." -Edna Mode
"I am never going back!" -Rapunzel
Graduation Cap Designs: Grey's Anatomy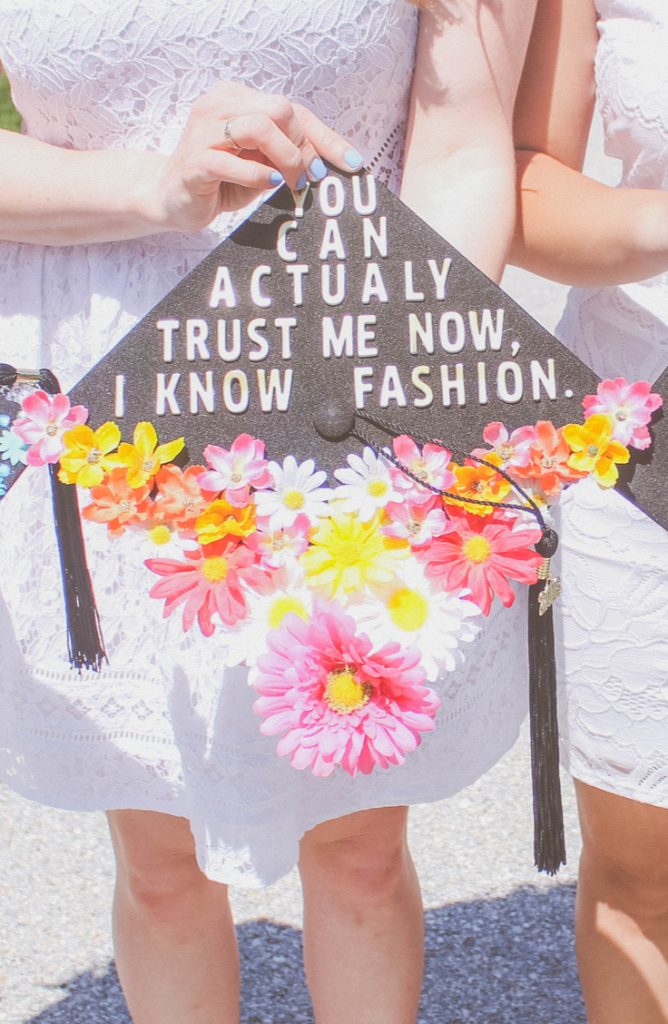 I don't know how you feel about this show, but it's one of my favorites! Why? The quotes! The writers of this show do such an amazing job summing up some of life's most tender moments. If you're looking for a graduation cap design that is a little more thoughtful or provoking, then Grey's has your back. If you happen to be graduating from college with a degree in any medical field, then they are doubly applicable! Here are some of the best quotes for your grad cap:
"Good is not enough, I want to be great" -Cristina Yang
"Have some fire, be unstoppable, be a force of nature." -Cristina Yang
"Screw Beautiful, I'm Brilliant." -Cristina Yang
"We're adults. When did that happen? And how do we make it stop?" -Meredith Grey
"We have to dance it out. That's how we finish." -Cristina Yang
"Sometimes it's good to be scared. It means you still have something to lose."– Richard Webber
"Don't let fear keep you quiet. You have a voice so use it. Speak up. Raise your hands. Shout your answers. Make yourself heard. Whatever it takes, just find your voice, and when you do, fill the damn silence." – Meredith Grey
"You don't need to feel finished because this isn't the end of you." -Meredith Grey
"The future is the home of our deepest fears and our wildest hopes." -Owen Hunt
"The only way to fail is not to fight. So you fight until you can't fight anymore." -Amelia Shepherd
Graduation Cap Designs: Nursing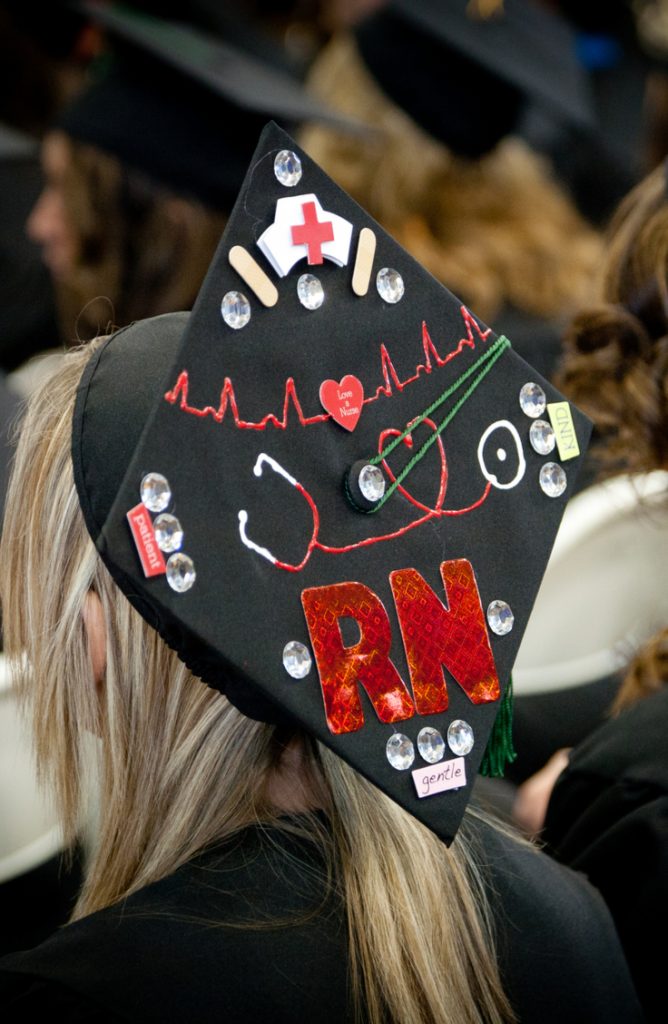 If you're graduating with your nursing degree, then go you! Nurses do so much work for little thanks. This means it's time for you to celebrate this awesome accomplishment! One of the best ways to personalize your graduation cap is to tie it into your degree. Nursing is a great one because there are so many elements you can incorporate into your design! Here are some quotes to inspire your design:
"EaRNed it."
"It's a beautiful day to save lives."-Derek Shepherd
"Stick 'em with the pointy end." -Game of Thrones
"Busted mine to save yours." (with a heartbeat)
"I could say nursing school was easy, but that would be A-Fib."
"Not all angels have wings, some have stethoscopes."
"Your personal healthcare companion." (with Baymax)
"Cute enough to stop your heart, skilled enough to restart it."
"Keep calm and scrub in!"
"A-airway, B-breathing, C-circulation, D-degree"
Graduation Cap Designs: Teacher
If you're graduation with a teaching degree, then chances are you're SUPER ready to party it up. Whether you're planning on spending your days with the little people, the awkward teens, or the pre-adults, you're going to have your hands full. And you should have a graduation cap to match your mission: educating the countries youth.
"Teaching is a work of heart." -Hercules
"Off she went to change the world."
"And she taught happily ever after."
"It takes a big heart to shape little minds."
"My turn to teach."
"2 teach is 2 change a life 4 ever."
"I teach, what's your superpower?"
Graduation Cap Designs: Funny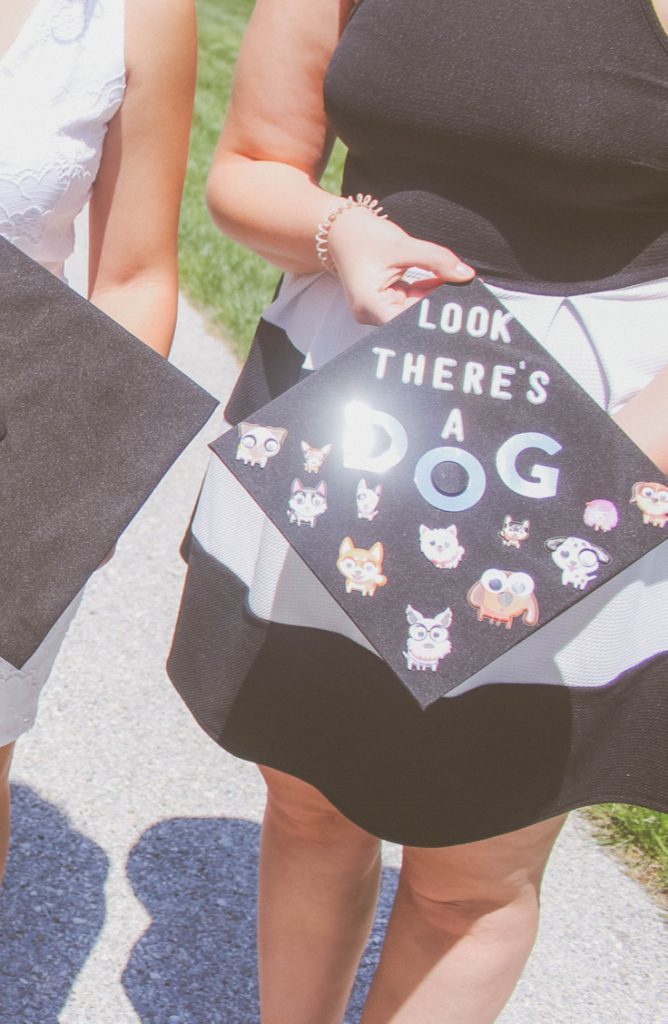 If you're looking to spread a little cheer with your graduation cap, then funny is definitely the way to go! You can make a statement with your cap that summarizes the journey you made and makes light of all the silly things we go through on the way. Here are some of the best quotes to design your cap around:
"Game of Loans" (play on Game of Thrones)
"My $(insert dollar amount) hat"
"Straight Outta College"
"(Your name) has a degree, (your name) is Free!"
"This degree is powered by cappuccino. Better Latte than never!"
"Now hotter by one degree."
"College debt is not a joke, Jim!" -Dwight Schrute
"I can't believe we all wore the same thing"
"Me? A graduate? Shut Up!" -Princess Diaries
"You guys, I'm like really smart now! You don't even know." -Kelly Kapoor
"What, like it's hard?" -Elle Woods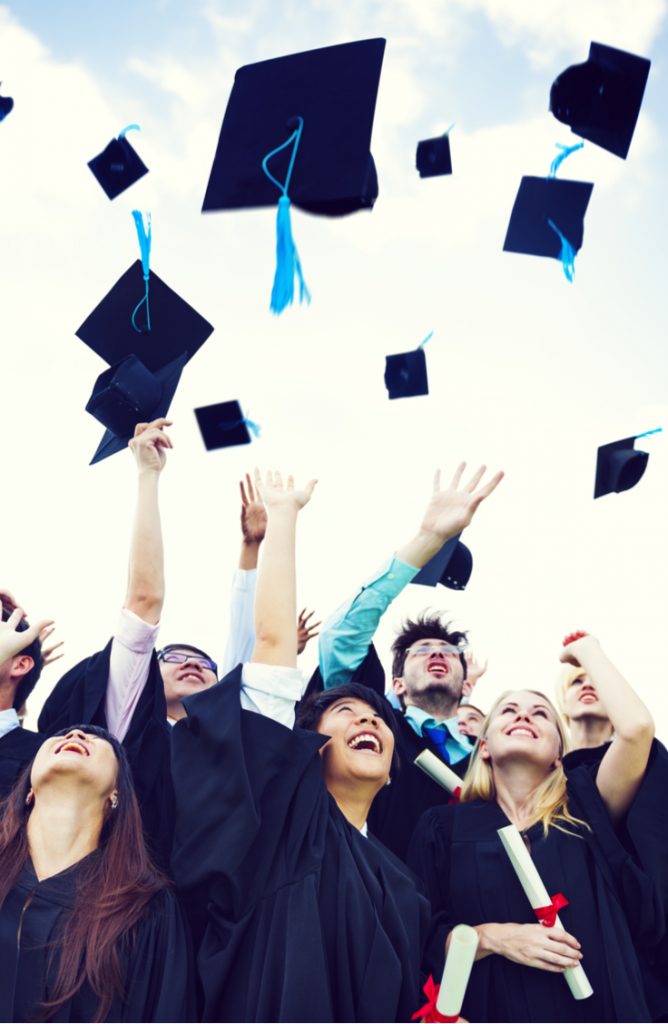 With all these options, it's a good thing you have a few months to narrow down your favorites! Which quote will you be rocking this May? Share in the comments below. And if you're looking to make a money lei for the graduate in your life, I've got you covered. Congratulations and happy crafting!