Yo ho, and a bottle of punch. It's time we rounded up these scurvy kids and had a party!
Give them each map leading to the party location, and leave the cutlasses at the door.
After swabbing the back porch, raise a mainsail banner behind your table of vittles.
"Yo Ho! Let's Go!" It says.
Yer sailing crew will feel the heat of the tropics if you wrap burlap strips up the pillars, then top with coconut tree "leaves."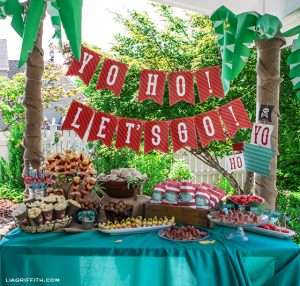 Avast! Loaded Merchantman off the port bow!
Run up the skull and crossbones; we've nothing to lose.
Can't find yours? Visit that reputable trader, Amazon.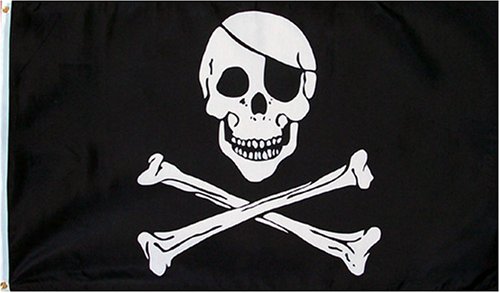 What's that? You haven't a ship to run the attack?
Have ye a supply of bedding? Pull your striped sheets from the hammocks, and cut a few stout canes from the hardware store.
Methinks you'll need glue and strings to bend those sails.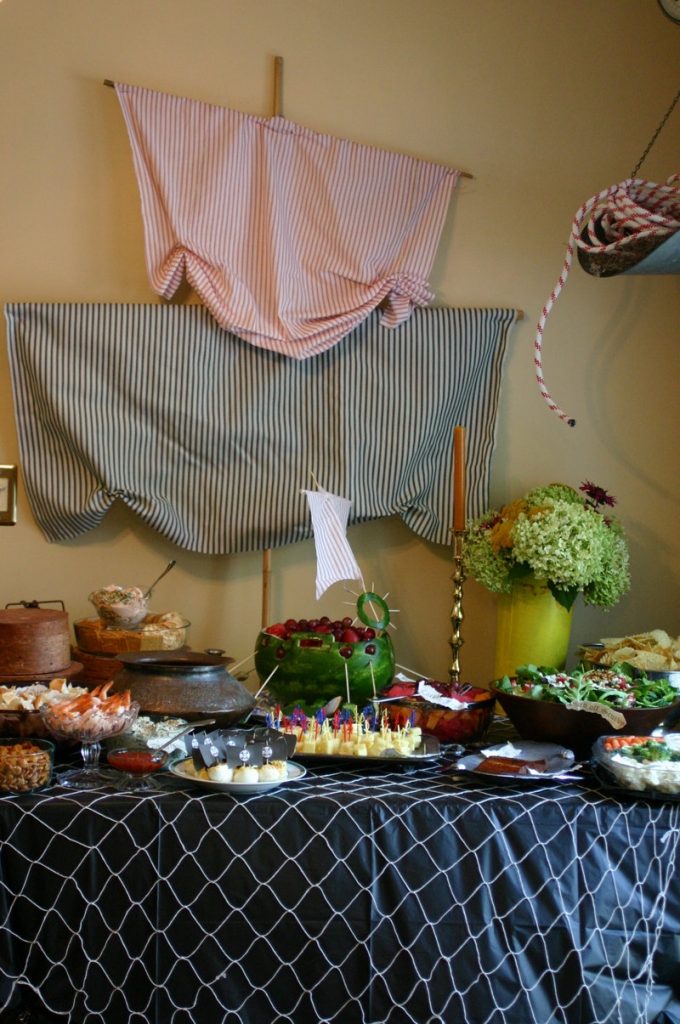 What does a pirate sail for?
Adventure -certainly. Gold -definitely. Chocolate gold -most definitely.
Whether ye be filling one chest or fifteen, or decorating the serving benches of the messdeck, you'll need to raid a few towns for a good supply.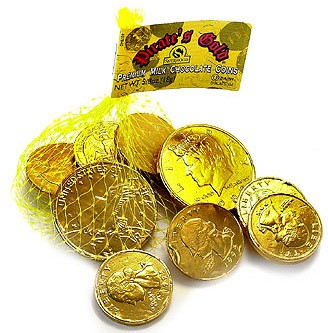 Any pirate knows the oceans aren't always friendly, and that be due to more than other sailors.
What about eels? Giant squid? Shark-infested lagoons?
Best not scare the littles with authenticity. Take a melon, instead, and carve your sharky likeness.
Here, take me knife. Take me blue Jello, too.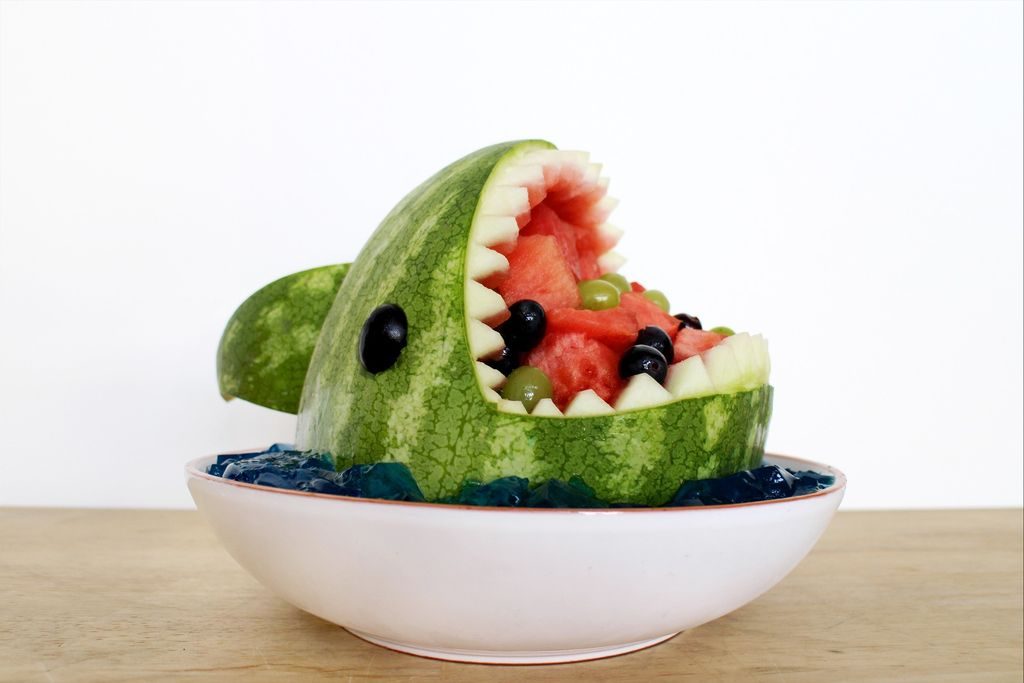 A pirate worth his salt also needs a proper spyglass.
A pirate parent needs to save a few pieces of eight, so search the hold for those pool noodle weapons.
Borrow Cook's cookie cutter, and now me cutlass, to shape the spyglass tube. Tape the edges and mark it with a skull.
Well done, mate.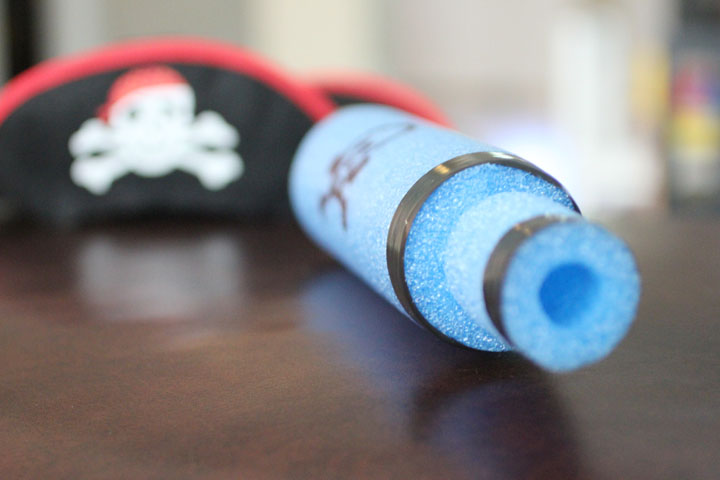 Who doesn't want to dig for treasure?
Well, that kid can stay behind to swab the deck. Repair the mainmast while you're there, ye swab!
The rest of you, take me treasure map and those strange-colored shovels outside.
Mom or Dad, let's hope you remembered to bury some treasure afore they arrived.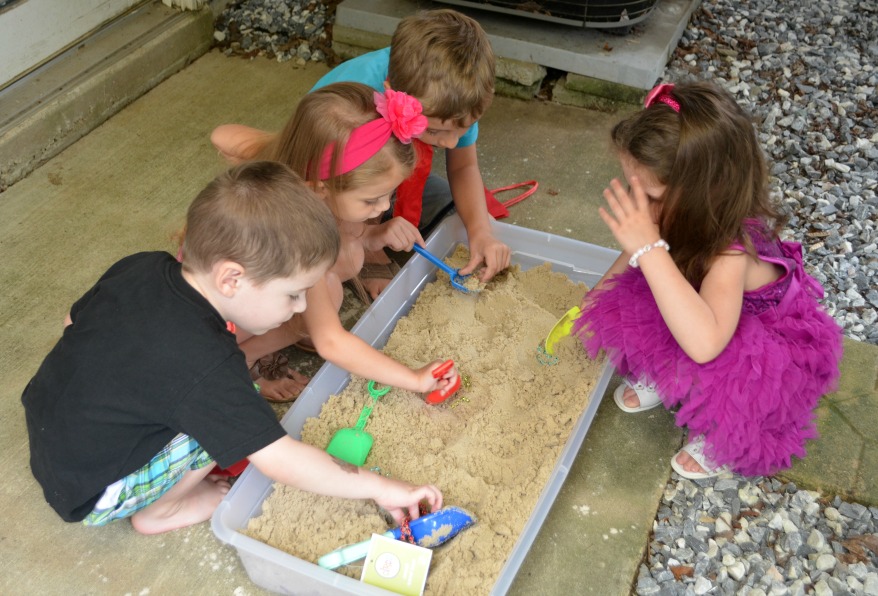 Besides worthy transport, the crew could use a little diversion.
I'm sure they'll maintain their good humor, and their strength, by tasting these hot dog inventions.
They'll be needing dowels, sails, and flags. Perhaps they'll pull into Ketchup Bay.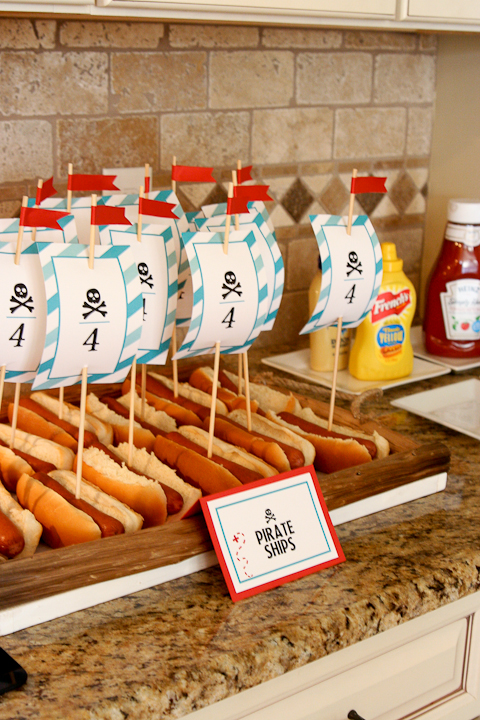 Where be the ultimate treasure?
That's right: within the confections of a sugared cake!
Have Cook frost a sheet cake in ocean blue, then lay a sheet of fondant parchment across for the island.
I'll bet you a full doubloon that yer birthday boy or girl will want where X marks the spot.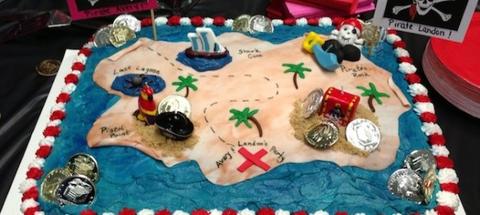 I be in favor of the land-lubbing guests walking the plank afore eating such tasty treats, but they may still fear those sharks.
Best be rewarding them all with a piece of the ole Jolly Roger, goodie bag style.
Shake up yer black paint and lay down a skull stencil for a true pirate look.
Arrr!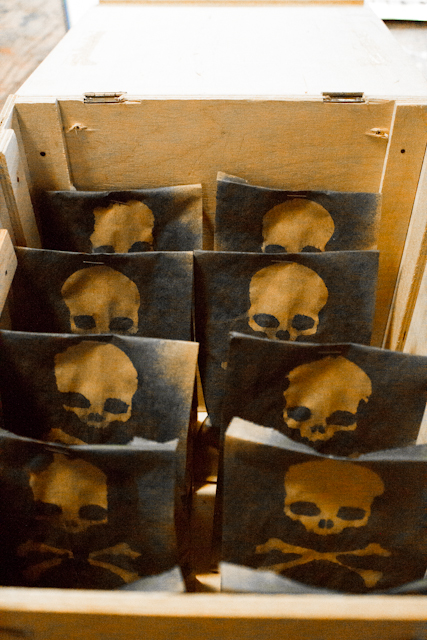 Shiver me timbers, and click the following websites fer information:
1. Lia Griffith
2. Amazon
4. Candy Store
8. Pizzazerie
9. Revelbee
10. Craft Knife