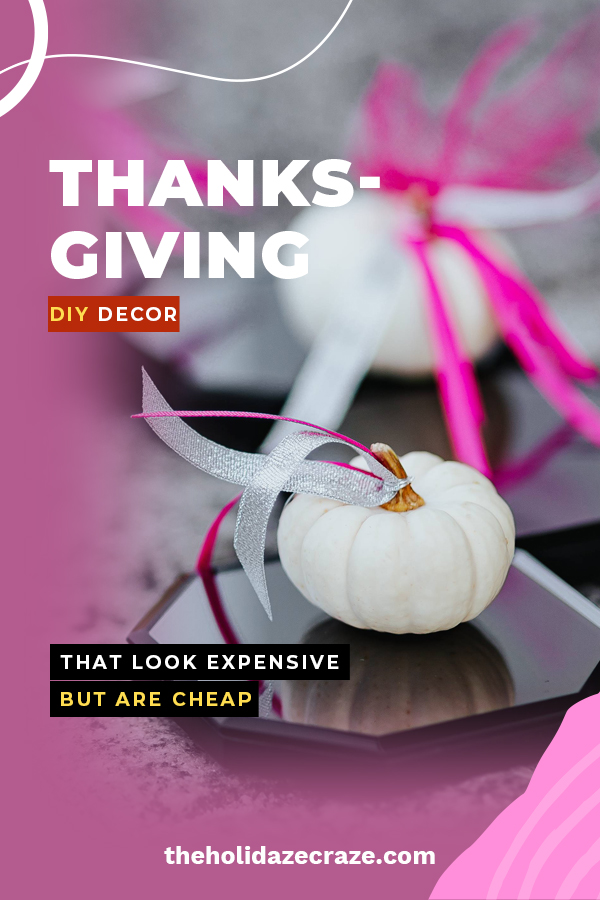 If you're hosting the big meal Thanksgiving day, then chances are you're going to need some decor. If you're looking for something that isn't expensive but looks like it just came out of a catalog, look no further! Armed with a few basics, you can transform some really basic elements into something luxurious and nice looking.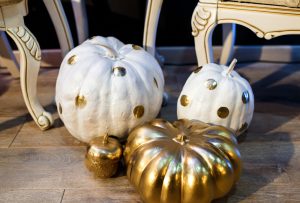 Start by picking up some plastic pumpkins. You can probably find some at your local Dollar Tree, or check out these from Amazon. Next, all you need is some spray paint that is off-white, and some that is a burnished gold. Lastly, a stencil with some holes punched out of it will help you create the polka dots. Simply take your pumpkins outside and making sure that you're using spray paint that will stick to plastic, you're going to spray paint them either gold, or antique white. For the white pumpkins, once they are dried, you can add some stylistic polka dots. You can also add white dots to the gold pumpkins if you'd like, but I think that the solid gold looks awesome.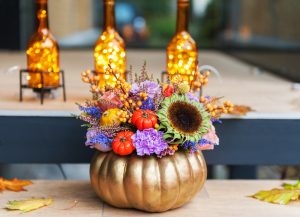 A second way to utilize your pumpkins is to purchase the halloween pumpkins on deal, or purchase something like this, spray paint it like you did the other pumpkins, and then utilize them as a vase for your centerpiece. It looks upscale and lovely without being pricey.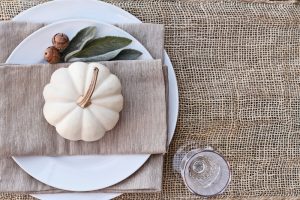 Adding a burlap table runner as an offset to your pumpkins is a great way to add a touch of rustic that looks expensive. The rustic brown sets off the white and cream perfectly in this table setting.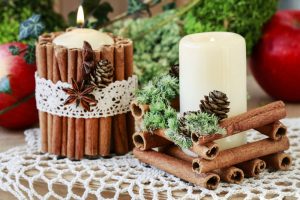 This looks a little Christmas-y, I know. But hear me out. Substitute the pinecones and greenery with some autumn leaves and you've got one awesome centerpiece! Simply glue the cinnamon sticks (like these) onto the candle and accessorize with lace or autumn foliage and you've got a beautiful looking (and smelling) center piece.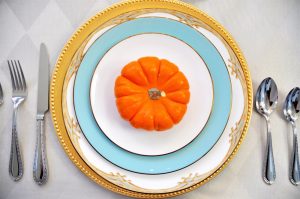 Last but not least, don't underestimate the powers of a gold charger underneath your china. These are only $1 a piece and will elevate any table setting.
Good luck, and Happy Thanksgiving!