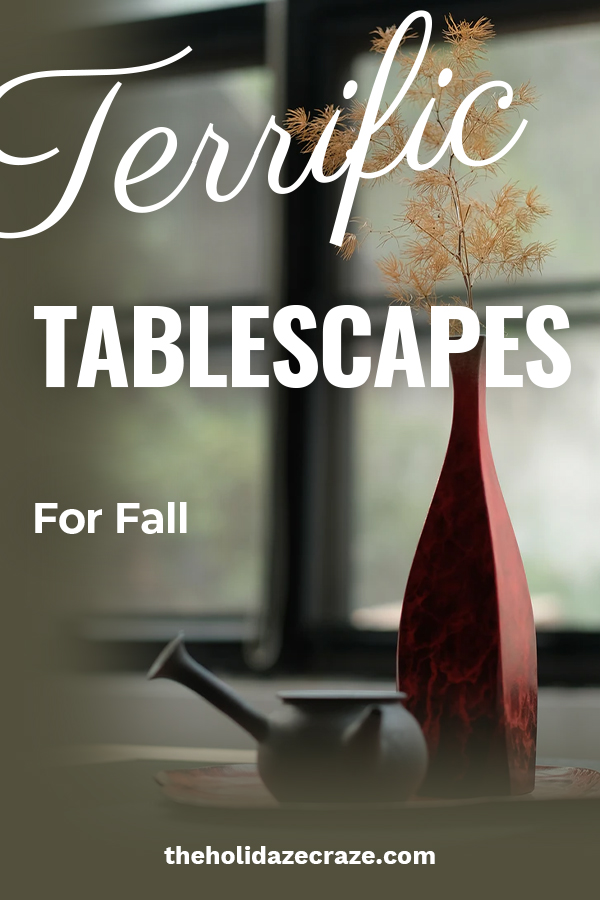 Every year, we end up having my husband's very large family over for Thanksgiving.
We set up all our spare tables and chairs, ensuring there are enough forks to go around. I check the turkey. Someone makes mashed potatoes. Children run around screaming and stealing grapes.
While I'm trying to reheat peas that were done way before the turkey was, my amazingly artistic sister-in-law stares at the tables. "Would you like me to help you set these?" She asks politely.
Staring at the laden tables in confusion, I respond, "Um, no thanks. They look like we've got everything."
Then it dawns on me: she is referring to some things besides plates, cups, napkins, utensils, and random children. I think she is asking about decorations -things like centerpieces, candlesticks, flowers, or cornucopia.
Anticipating her question this year, I've gone and found 6 great tablescapes for fall. Whether for Thanksgiving or the whole autumn season, you can have more than just eating-ware on your table this year.
I really love a traditional, natural layout.
Take Six came up with just that, using neutral whites, tans, and fall flora as accents.
Brown plates on round place mats form a stacked background for cute patterned turkey plates. Speaking of turkeys, the pleated napkins look just like the rear plumage of that delicious bird.
The pilgrim statuette in the middle adds the perfect tie-in between traditional festival and natural sources. Look at the leaves wrapped around the white pumpkins, or the dried flowers and Indian corn.
The best parts, of course, are those transferware bowls and pitcher. This is one of many tablescapes for fall is so cute! It really sets the mood.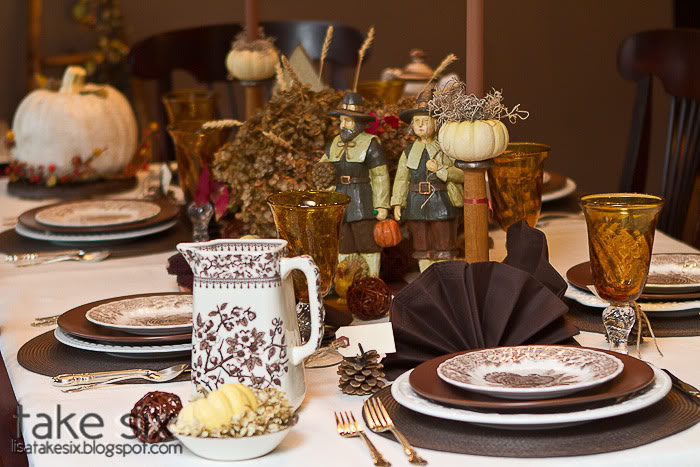 Would you like even more natural? How about a literal step away from trees, on a table set outside?
Michelle explained that her inspiration for this idea was the yellow and brown of Charlie Brown. That flannel tablecloth certainly fits his style.
Pinecones are scattered rampantly down the middle, and atop each place setting. The candle is made from nested vases and trimmed sticks. Those folded napkins match perfectly.
Tie a yellow ribbon round the old oak twig candle holder and invite a few friends over. You'll have a picturesque picnic in your own backyard with this,and other, lovely tablescapes for fall.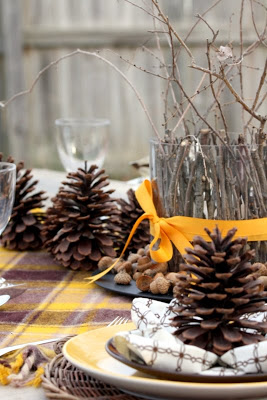 I know what you're thinking: this does not look like a tablescape for fall.
Well, you're right. This picture is a shot of the arrangement suggested for Christmas or New Year's. It's that tree in the center!
For the season just before all that, simply trade the hairy tree thing for a gold twist basket full of pumpkins.
Yes, that's all.
Pick up a geometric gold and silver tablecloth and decorate with your own mix of solid shape plates and cups. Just ensure you don't forget those fresh flower vases, or the ornaments on the folded napkins. You can use a tablecloth like the one pictured below for multiple tablescapes for fall. Get creative!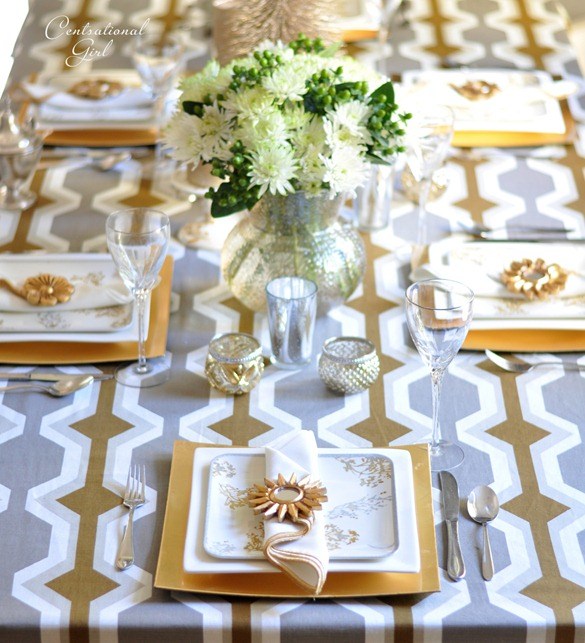 Fall is lovely, and very colorful. I find the oranges, yellows, reds, and browns a welcome change from so much green all summer.
Unfortunately, I will agree that shopping for décor gets old quickly once those same four colors keep cropping up.
Eddie Ross asks, "Why not mix things up?"
After all, who says fall needs the same little corner of the color wheel?
And, if you are anyone like my purple-obsessed sister, who says you can't have the colors you like on your table?
Hey, it's still fall. Look at those gourds.
Go for it.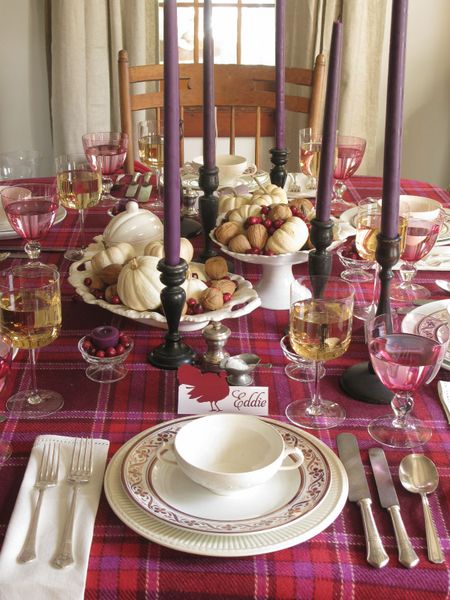 A truly majestic look for the table can be found through antiques.
If you are already drawn to classic pieces, look through what you have. Try an old kerosene lantern as a centerpiece, or colored glass goblets at each place. Accent with leather and wood.
The deep tones and timeless beauty of good pieces will add an austere class to your stately setup.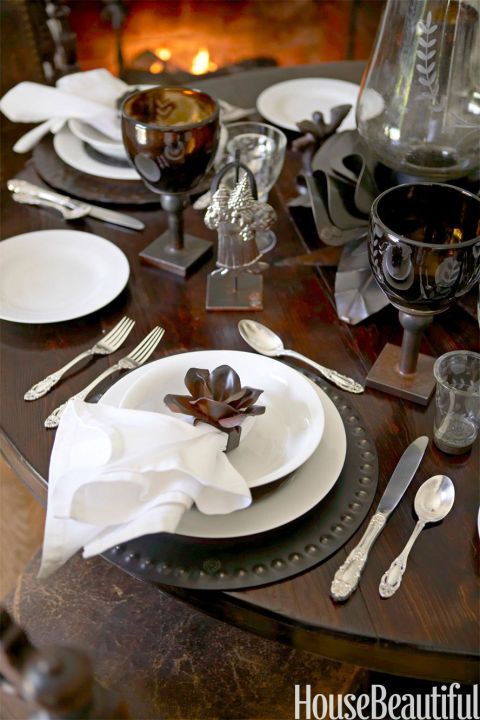 Fall doesn't need to be about a depressing decline toward winter.
There are many flowers that blossom at this season, or that bloom in many of the colors we see in fall.
Why not gather a few bouquets, and place them round your table in interesting, assorted vases? The designer says different heights are essential to the bright, cheery feel of it all.
Craft a cute matching tag at each subtly gold place setting, and you've got a brightly blooming board.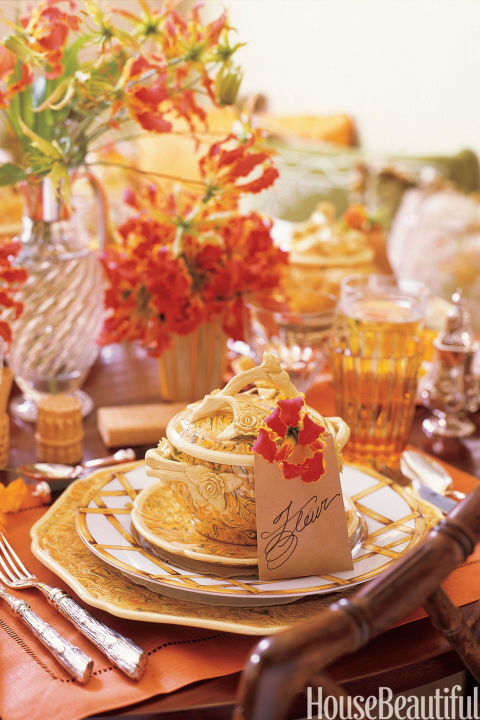 Did you know you could have living plants as part of your table decorations? I only knew about using the ones recently severed and stuffed into water.
Check out House of Brinson's suggestion of the outdoors indoors with succulents growing in glass bottles near cut flower arrangements.
Finish with simple table settings, to compliment Nature's innate artistic touch.