Spring is on its way, I promise. It might not feel like it when you wake up in the cold dark, but it's true. I love winter. I love the look of snow and being inside all cozy warm! I'm the first to admit, however, that spring is better. There is something so hopeful about everything coming back to life after sleeping through the winter. So, in celebration of what's to come, here are some beautiful spring porch decor ideas!
Spring Porch Decor Ideas (Farmhouse Style)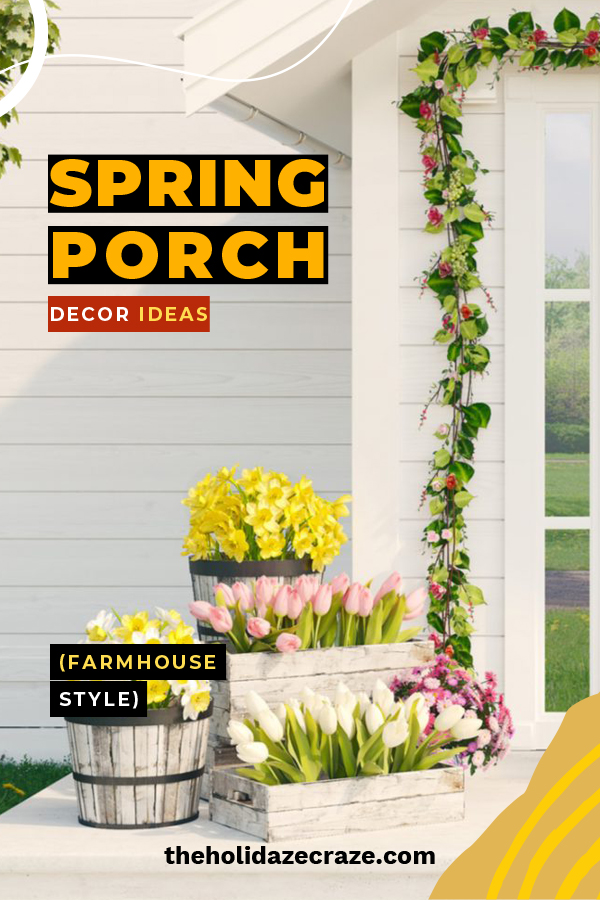 Now, I'm going to be a little more specific than just a spring-themed porch because there is something so wonderful about the elements of Farmhouse decor when it meets spring. They were made for each other!
Spring Porch Decor Idea 01: Milk Can Planters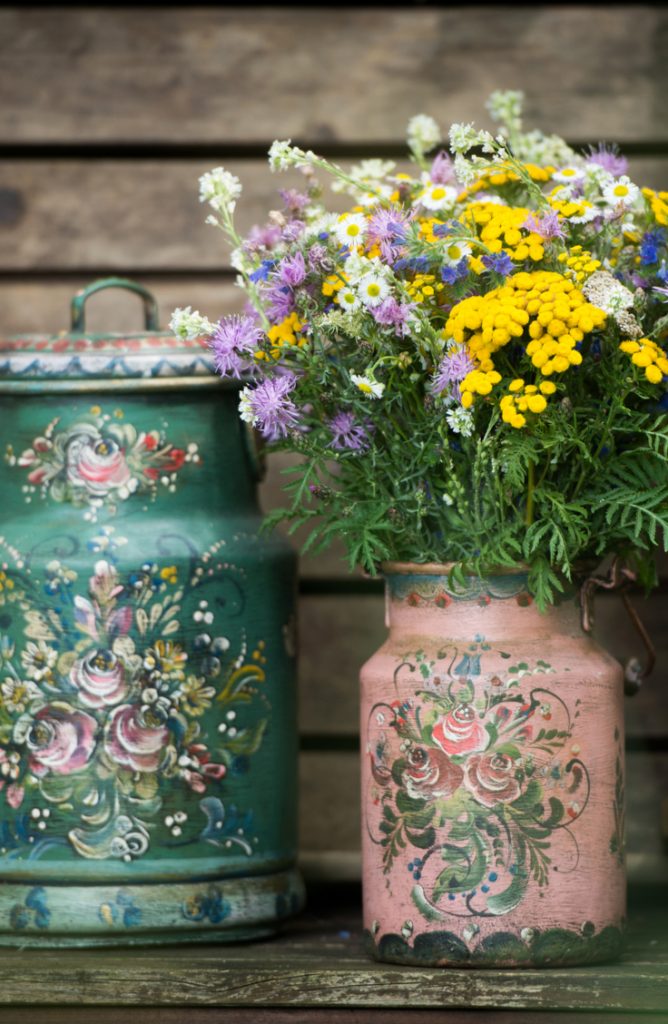 One of the basic elements of farmhouse decor is the emphasis on the raw and the rustic. A great way to incorporate this to your porch decor is to use a milk can planter like this. You can definitely leave it raw metal, or you can use paint to add a little bit of a softer touch with some florals or even a fake logo. You can fill them with fake branches, flowers, or plant real ones!
Spring Porch Decor Idea 02: Statement Wreath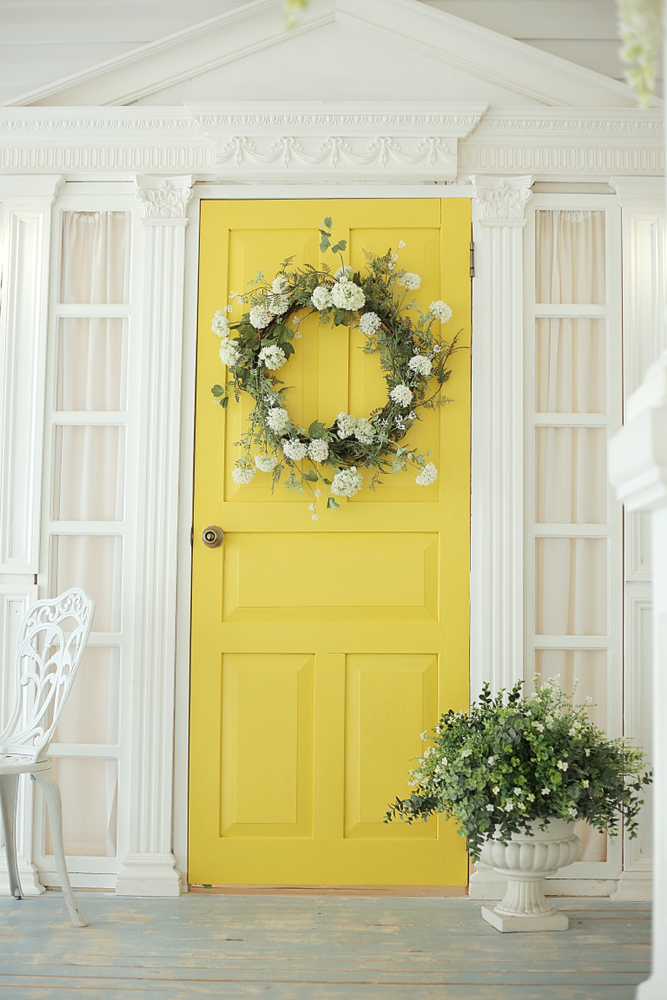 Remember that the idea here is rustic and raw. So you don't have to have a perfectly structured wreath on your door. Instead, opt for something a little bit looser in the structure like this wreath. It has a grapevine base with some soft loose flowers. You could put in tulips or hydrangeas for a splash of color if you wanted. Just keep the organization nice and loose and you'll be just fine!
Spring Porch Decor Idea 03: Welcome Signs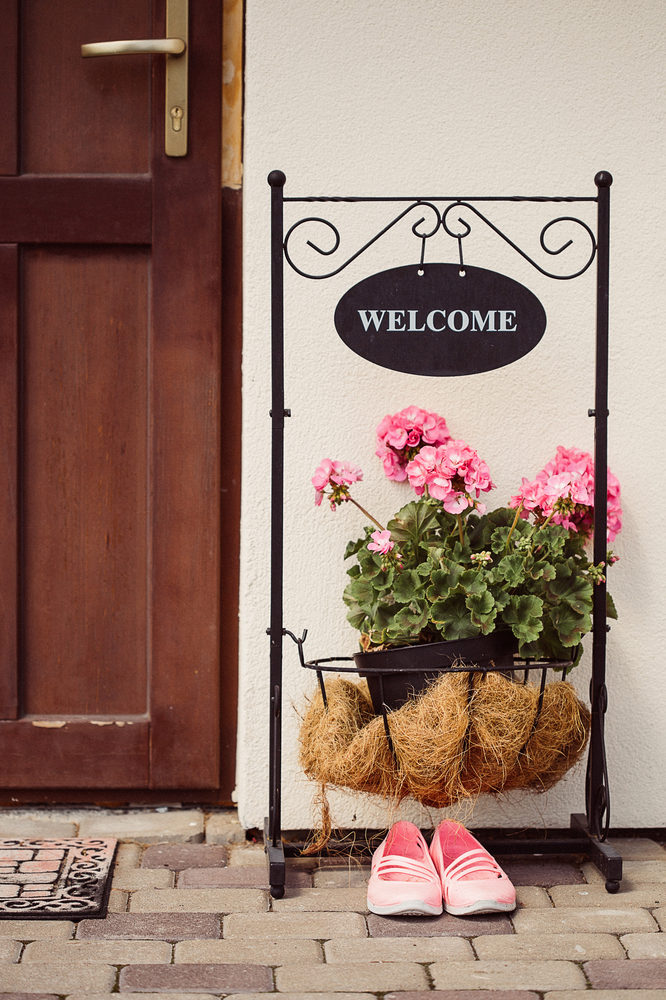 One basic element that you shouldn't overlook when it comes to Farmhouse style decor is a well-placed "welcome" sign. Whether you opt for wrought iron like the photo above, or something a little more rustic (like this sign or this sign), you can't go wrong with a large "Welcome" on your front porch.
Spring Porch Decor Idea 04: Boxes of Flowers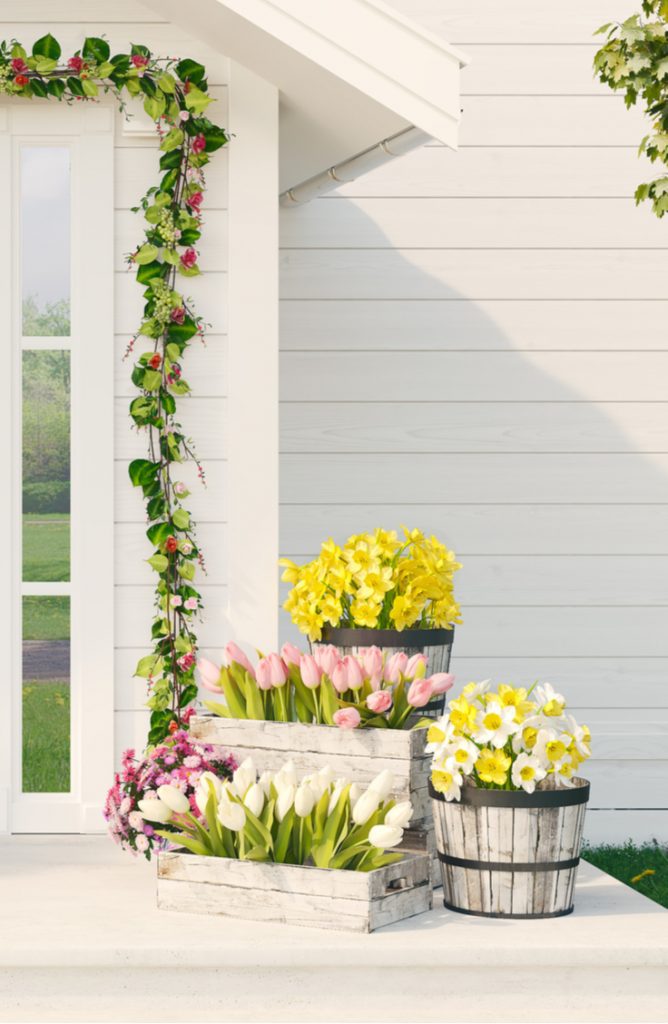 Farmhouse decor is all about using what you've got and repurposing items to give them new life. So it makes sense to repurpose boxes, chairs, lanterns, and more as a part of your decor. Fill the boxes with tulips, pussy willows, or other fresh and wildflowers you can find to add some springtime to your porch. Grab some vintage boxes here, a wooden barrel here, and some fresh floral ideas here. This is a great way to add maximum effect with little effort!
Spring Porch Decor Idea 05: Reuse & Recycle
Like I said, one of the staples of Farmhouse decor is reusing and repurposing old items for new ideas. A great way to do this is to check out your local thrift stores or even root around in your garage. This bike is a little more…delicate than Farmhouse decor typically is, but you can get a general idea. Plant flowers in the bike basket or in an old pair of rainboots! It's a great way to be gentle on the environment and Farmhouse-chic. One more thing, don't be afraid to give your reused items a nice fresh coat of paint. Farmhouse decor is all about paintable items, after all, that's what makes it so versatile.
Don't fear, Spring is near! And you can help usher in the season by using some of these Farmhouse decor ideas to brighten up your porch. Happy Spring y'all!