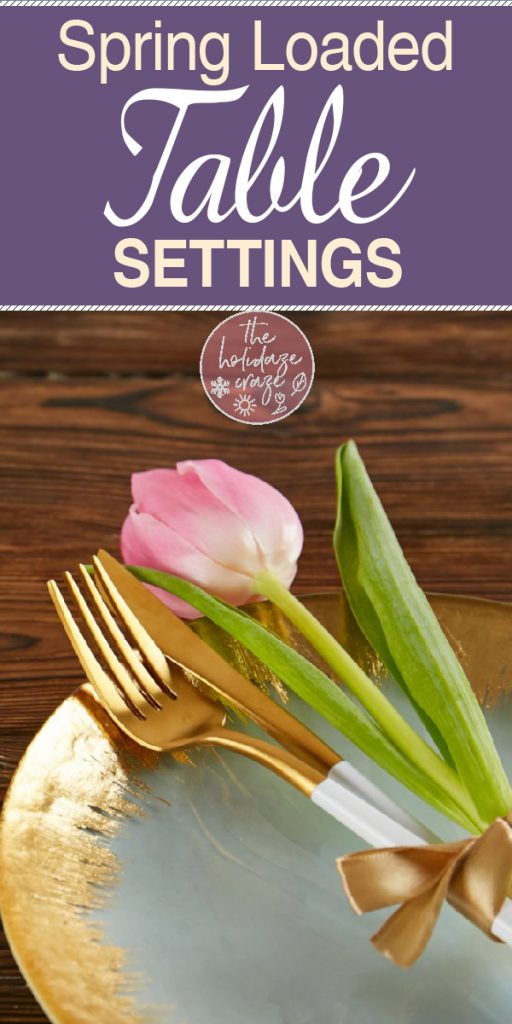 If you're looking for a way to extend your spring decor from your doorstep into your home, then I'd suggest putting together some amazing spring table settings!
Take inspiration from the floral motifs of the season and incorporate them into your color palette, your textures, and your accessories. Here are some suggestions for creating some beautiful Spring table settings.
Spring Table Settings
Idea 01: Rustic Meets Cute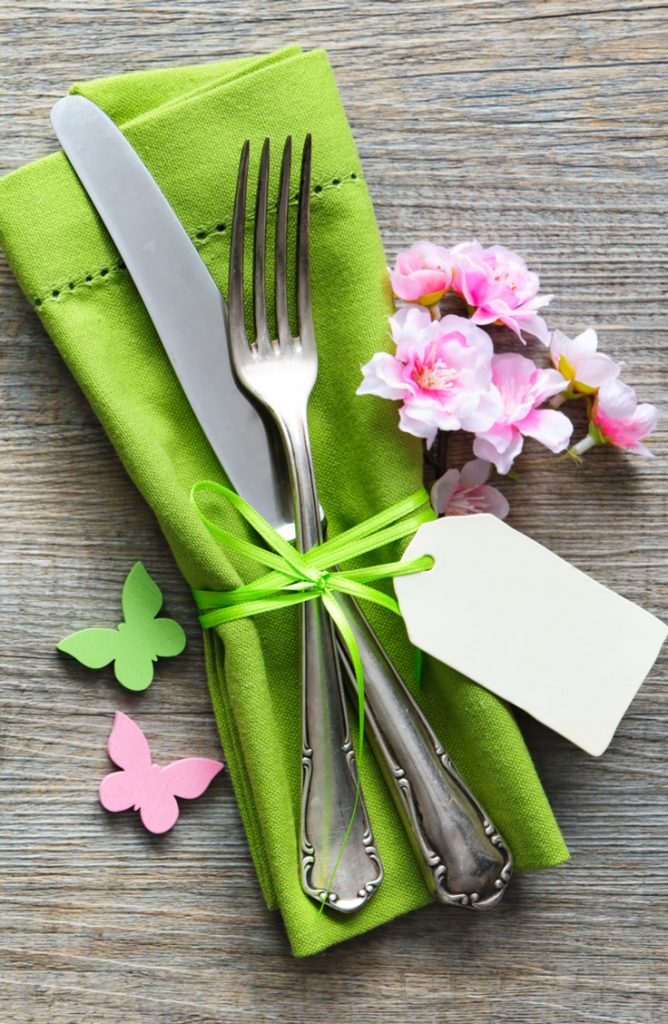 If you don't want to use a slightly more feminine version of the cutlery above, you could go even more rustic and use these. The hammered look will complement the flowers nicely. The pink and green of the cherry blossoms (get some here) work great with beautiful linen napkins like these.
Add a dash of personalization with individual name tags wrapped around the cutlery and a sprinkle of whimsy with some butterfly confetti and you're ready for a beautiful dinner!
Idea 02: Neutral and Natural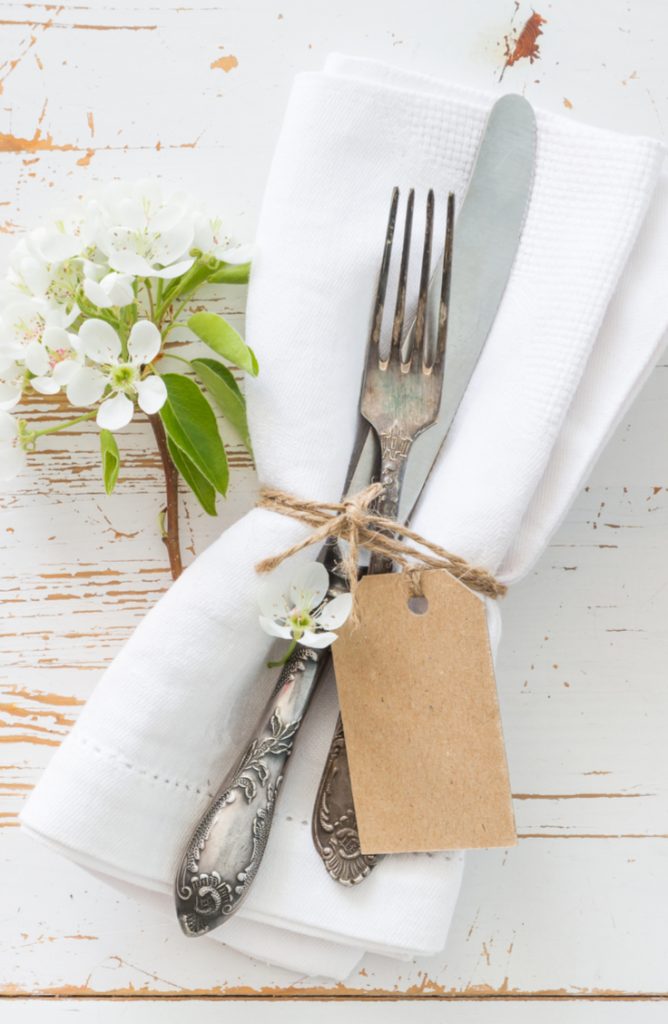 If you want to go for a lighter, more natural table setting, then this is for you! Simple, rustic, and works with a variety of cutlery. One of my favorite things to do is troll the local Goodwill looking for cutlery that's been cast off. Spending a few weekends gathering some antique cutlery will help you create the set you want to use. Then, pair them with a neutral napkin like this and name tags like these.
Lastly, to add a little more spring to your table, sprinkle some blossoms over your table to bring the whole thing together.
Idea 03: Luxe Tulips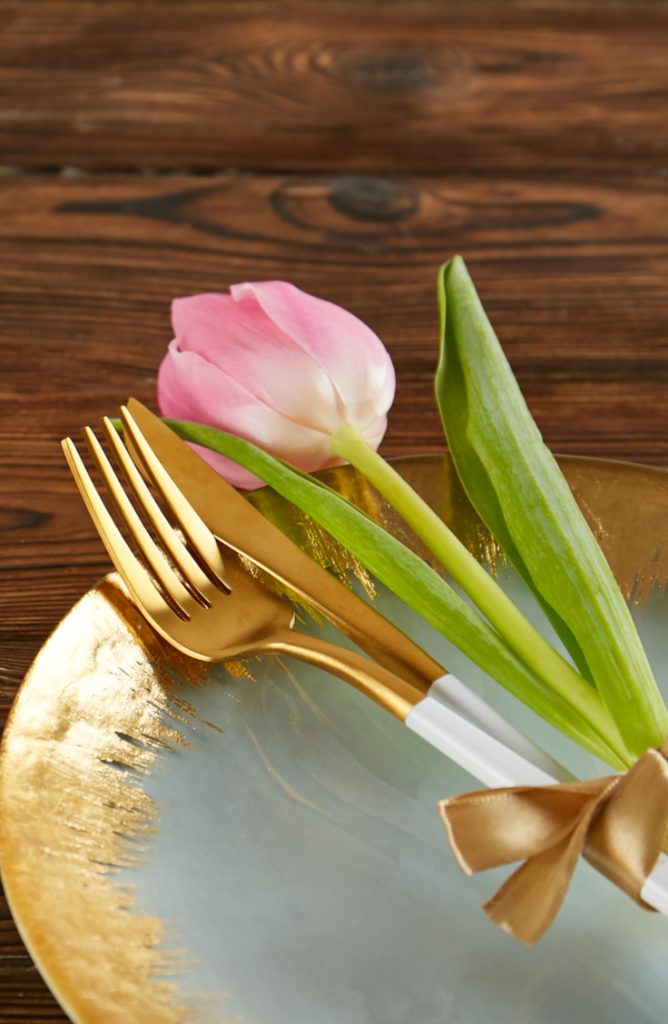 If you are aiming for something a little more upscale, then this is perfect. Start with pairing gold brushed plates (get similar ones here-bonus they're disposable) with gold plated silverware (like these) and a fresh tulip from proflowers.com to create this luxe feeling table setting! All you need to wrap it up is a beautiful bow. If you don't want to run with the gold theme, try matching your tulips. You can find a great selection of satin ribbon here.
Idea 04: Pop of Color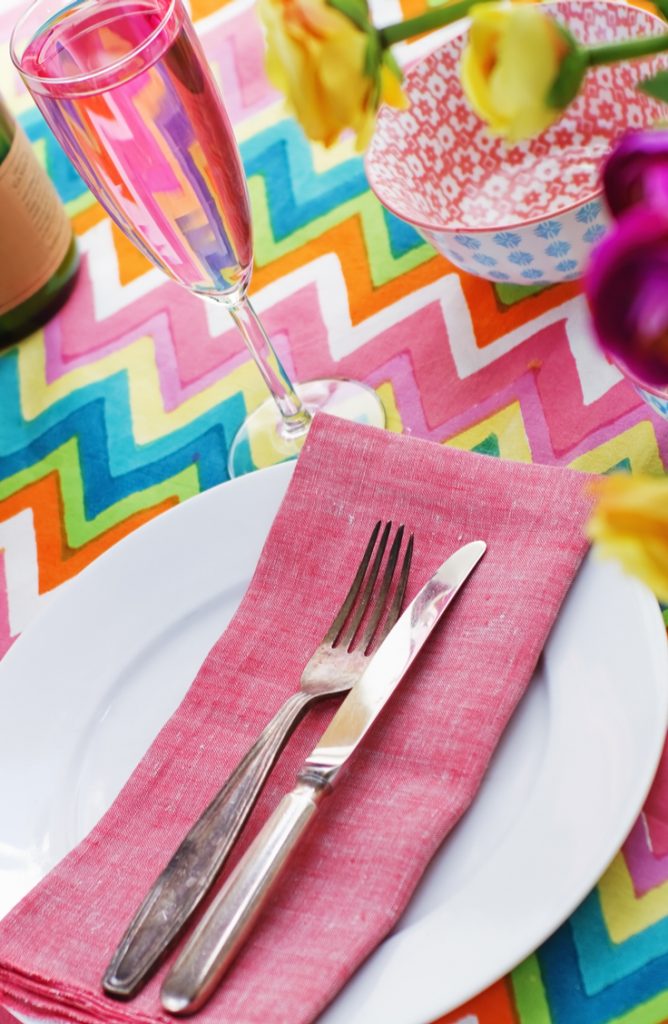 This table setting is a feast for the eyes for sure! The combination of pattern, texture, and color is perfect. Find a similar table cloth here if you want to keep with the multicolored chevron. If not, feel free to jump on any multicolored print! I'd suggest pairing the table cloth with a solid colored napkin to keep things from getting too busy. You could even change up the solid colors, but I'd stick with solids. Lastly, pair with solid colored flowers like peonies or hydrangeas and you'll have a beautiful table setting in no time.
Idea 05: Simple Beauty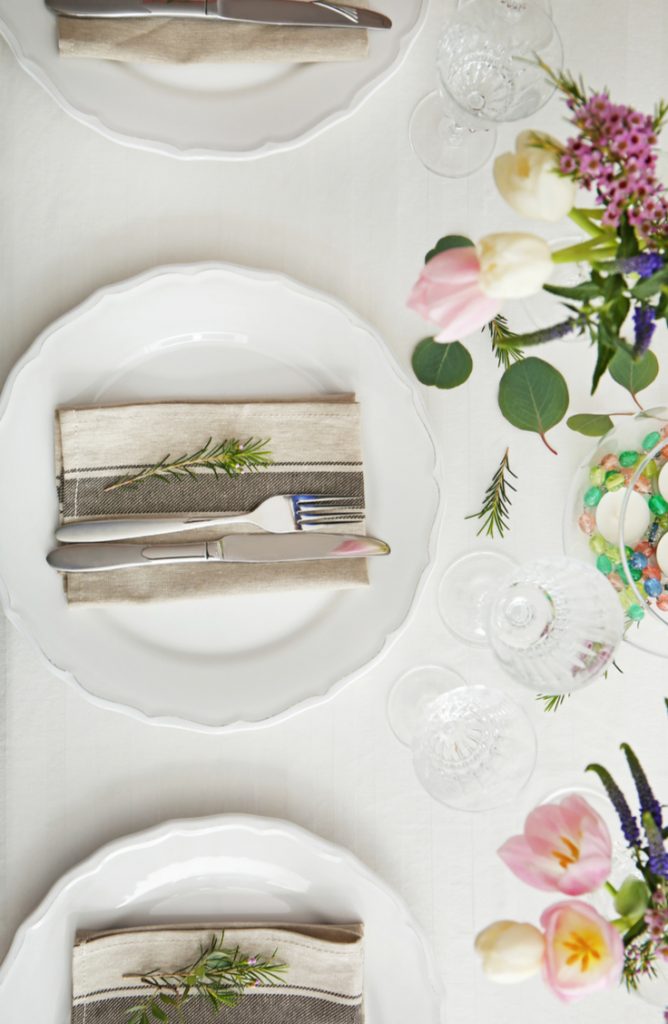 The key to this table setting is pairing some beautiful neutrals with soft florals. Start with a neutral napkin like this before layering with some gently textures on your plates like these. Last up, using some clear crystal stemware like these and topping the whole thing off with some fresh blooms. Even pulling off a few leaves or sprigs and sprinkling them around your table setting will help pull the whole thing together!
And there you have it! Feel free to play with color, texture, and motifs in order to create the mood that you're looking for. Stick with making one or two colors pop and choosing a focus for your table setting and you're sure to create something memorable. I hope you fall in love with one of these table settings!