Snow and I have a tenuous relationship. Rain and I are on much better terms, however. There is nothing I love more than a good rainstorm where I can snuggle up with a book and a cup of tea. It's a little bit of paradise! At least it is until my littles get bored of being stuck inside. Then it can seem a little less enjoyable. So I'm here to offer some suggestions on how to get out of your house on a rainy day and play some ridiculously fun outdoor games in the rain!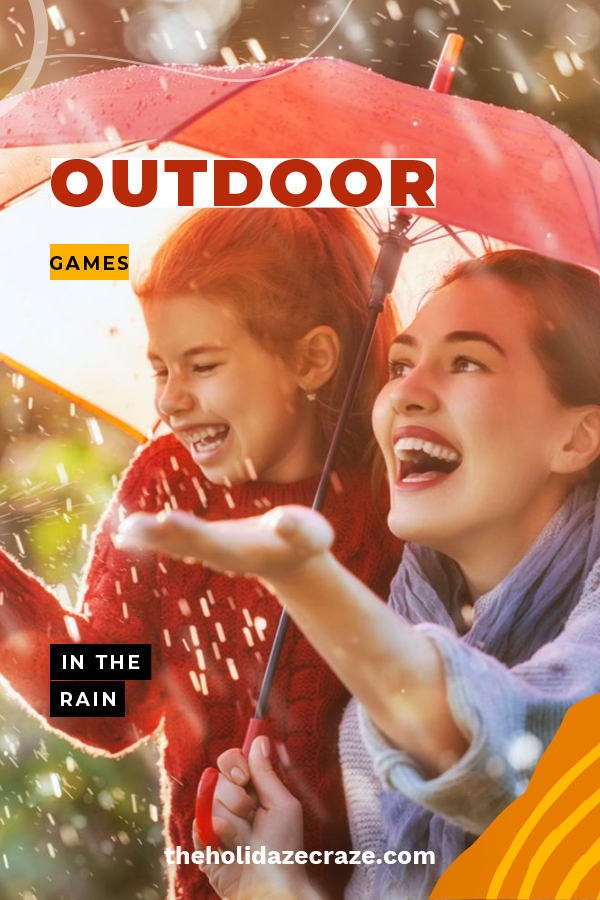 Whether you have little scientists, artists, or adventurers, I've got the activities you need to keep your kids active and having a good time.
Outdoor Games in the Rain: Adventurers
If fun and games are your jam, these activities are sure to please one and all! Word of warning though, they are sure to get you wet and messy.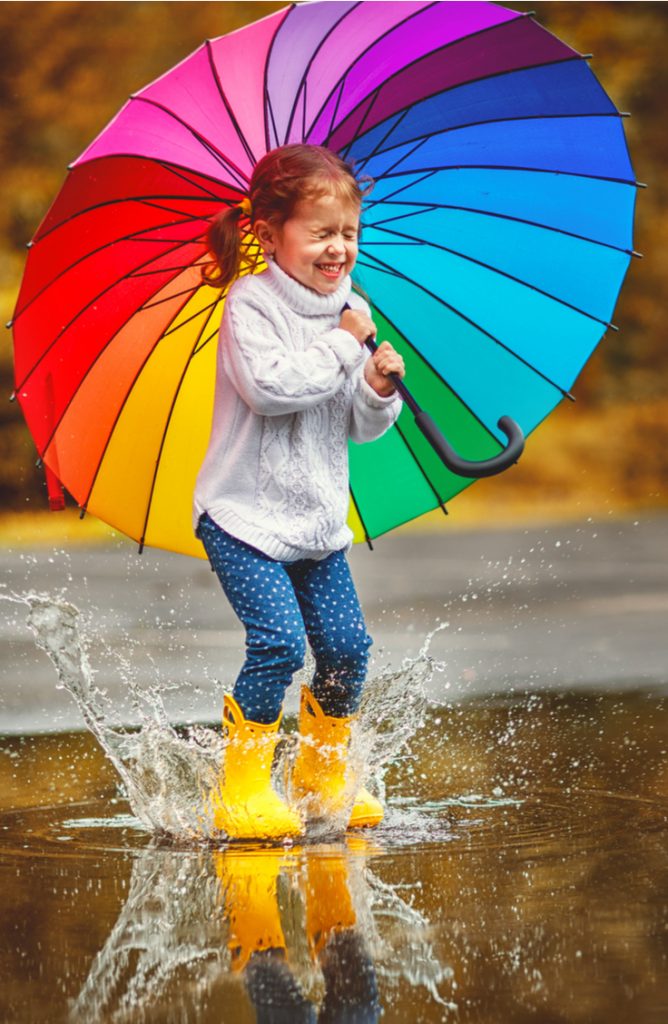 Puddle Jumping: It might sound too easy, but when it comes to games in the rain, nothing beats puddle jumping. Simply being able to jump and splash without worrying about carpet or walls is ridiculously fun! Grab some rain boots, an umbrella or two, and you're set. Take turns galloping, skipping, hopping, and dancing through all the puddles you can find.
Gutter Racing: This was a favorite of mine as a kid. You could totally make paper boats to sail, or you can keep it green and look for different items outside in the yard and see what sails the fastest and best. If you have the ability to plan ahead, grab some of these ducks and have a race to see who's is the fastest!
Catching Rain Drops: Gather different receptacles from around your house and have a contest to see who can catch the most rain.
Slip 'n Slide: If you don't mind getting things a little muddy, try setting up a slip 'n slide and add a little soap to the mix. Then see who can slip and slide the fastest!
Outdoor Games in the Rain: Scientists
If your little one is a scientist at heart, try out some of these fun activities.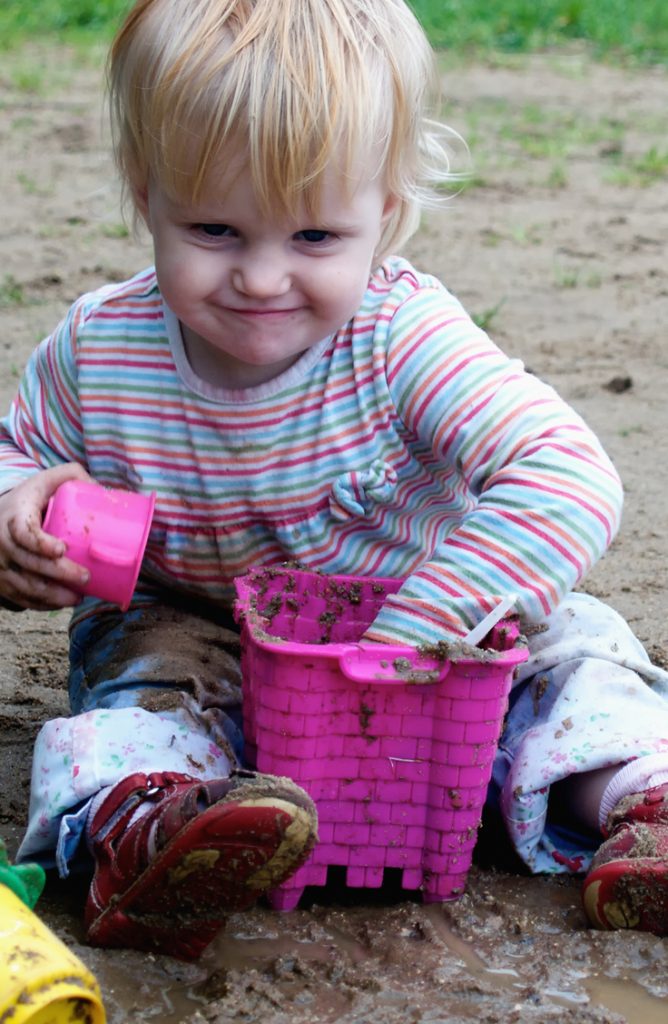 Worm Hunter: If your little one loves adventure, then have them hunt for worms! Fill a bucket with mud and see how many worms you can find.
Mud Pies: These are a staple of childhood. See who can make the best pie by decorating it with elements from the yard. Pull out your sandbox toys and give them some exercise!
Homemade Rivers: Using materials you can find outside, make a dam in the gutter and see which materials work best. Which ones hold the most water back? Which ones are great for structure but not strength?
Rain Gauge: Using a ruler and a container of choice, make a rain gauge to measure how much rainfall you've received. Check it with the local reporting and see how your neighborhood held up.
Outdoor Games in the Rain: Artists
If you have a little artist on your hands, then rain is going to be amazing! There are so many fun art activities that you can do with your kids in the rain.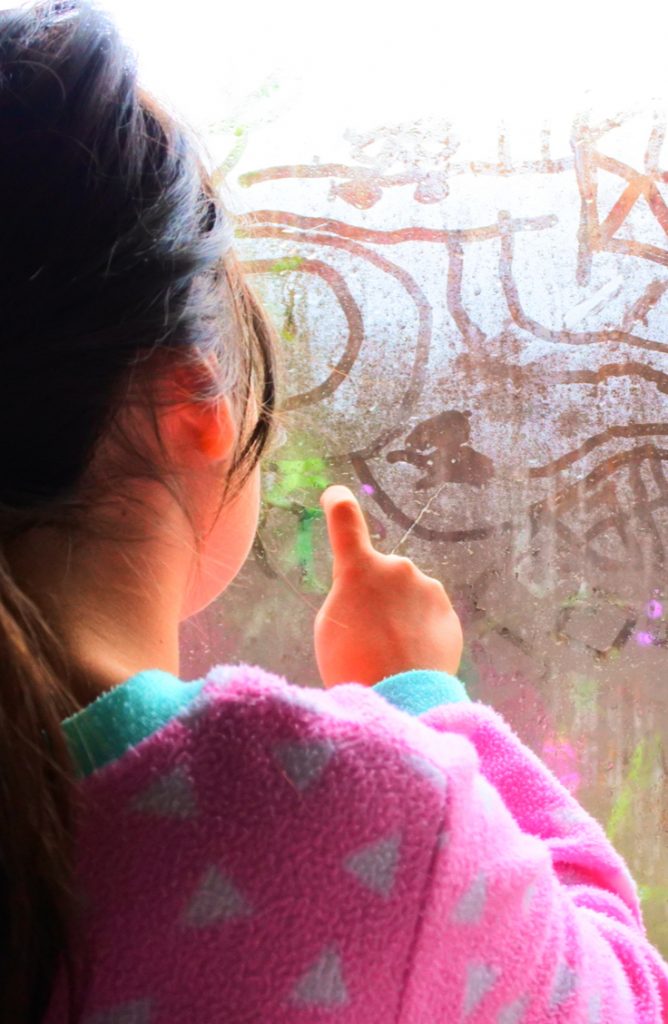 Paper Towel Painting: Using some water-soluble markers, make shapes on paper towels. Then place the paper towels outside in the rain and watch the colors move, blend, and bleed to create a whole new masterpiece!
Sidewalk Painting: Similar to coloring with chalk, this activity is great for creating large works of art. You can either use the leftover watercolor cakes from old sets, or you can use some powdered tempera paints like these. Grab some brushes and have some fun!
Watercolor Rain Painting: If you have older kids you want to entertain, then grab some heavy-duty watercolor paper and some watercolor pencils. Have the kids draw abstract designs then place them outside in the rain to create a truly unique piece of art.
Foggy Windows: If your little is ready to come inside and warm up for a minute, then it's time to paint on those foggy windows! All you need is a little warm breath to create the humidity and you're ready!
Rainbow Hunters: This one's easy, as the storm passes, go on a hunt for the rainbows!
So the next time the weather turns and the sun disappears, don't despair! Pull on those boots, grab that coat and umbrella and head outside. There are adventures to be had and memories to make!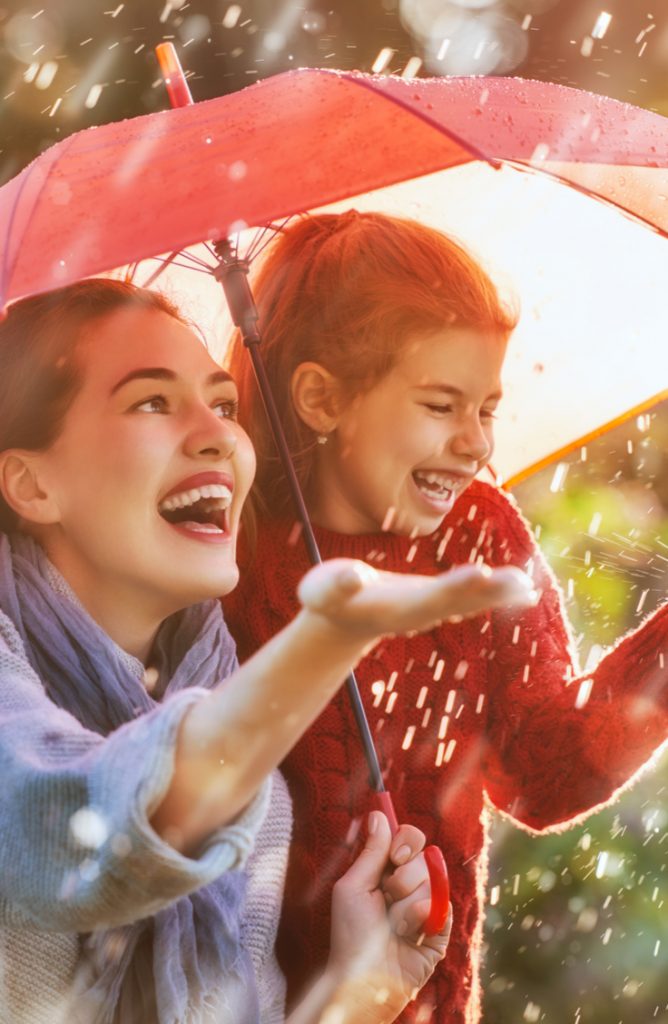 Which activities did you try? Let me know in the comments below.