Christmas is coming! It really is! Get out the hot cocoa, the mistletoe, and those twelve leaping lords (yes, there are twelve of them).
Oh, and why not bring along that evergreen tree thing while you're at it?
Wait -I've got an idea! Let's make a party of it!
Were you already thinking of having a tree-trimming party? I'm so glad we're on the same webpage.
I'm going to help you out, and cover a few basic steps so your party is a tree-rific experience!
1. Assemble that symbol of peace and frustration ahead of time. If you're buying or (legally) chopping a fresh specimen; get its end chopped evenly, set in the stand, and watered.
Most people don't want to sit around watching you wrestle a Christmas tree for an hour. Though, it could be some pre-party entertainment.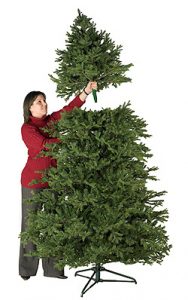 2. Plan some smashingly good drinks, and not necessarily alcoholic.
If you'd like some great mixer recipes, Internet is your friend.
Otherwise, and especially if you are inviting children along, consider this holiday punch idea from Deliciously Sprinkled. It's made with frozen orange and limeade concentrates spiked with 7up (and vodka for the adult version).
I just love the green and red sprinkle rims, the fresh cranberries, and striped straws.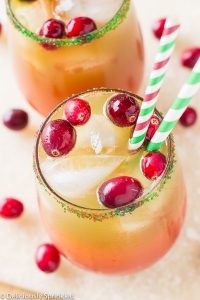 Honestly, though, winter and Christmas just aren't the same for me without hot cocoa. It's super easy to make (just buy a can), and you can make it all fancy with various mix-ins.
My kids are fond of whipped cream or marshmallows. I've also seen candy canes, chocolate chips, creamers, and even Nutella.
The pictured option is actually a homemade slow cooker peppermint mocha.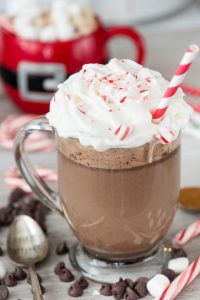 3. Hopefully, you're planning on feeding your party guests.
3a. Which leads me to a quick side tangent I found whilst searching: a children's tree-trimming party.
Uncommon Designs set one up much like a gingerbread house-decorating activity, with sugar cones as the "trees." With a cup full of candy accessories and Pull-and-Peel licorice for garlands, all you need is frosting. You'll need to invite some guests, too.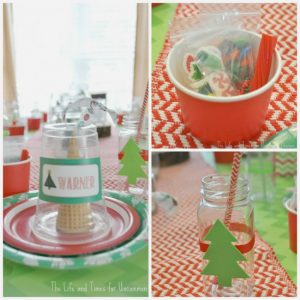 Whether you plan to decorate miniature versions or the gigantic family tree, everybody's got to eat.
I thought it a clever idea to serve a few tree-themed treats.
Like, these Rice Krispie Treat ones. Mix some food coloring and sprinkles into the traditional recipe, then cut them into triangles. That stem is a pretzel.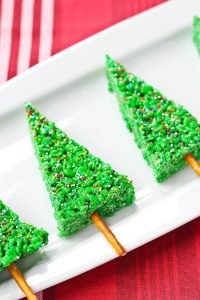 These chocolate versions are the same idea, but with brownies cut into triangles.
Decorate your own, or hand the frosting tube over to your guests. Don't forget the candy cane stumps.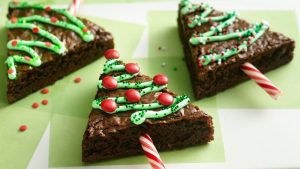 All right, all right. I know some people might be trying to eat healthier.
For those poor people, I've got this fruit Christmas tree setup.
You won't even notice you're only getting fruit when digging in, which would work great for distracting kids as well.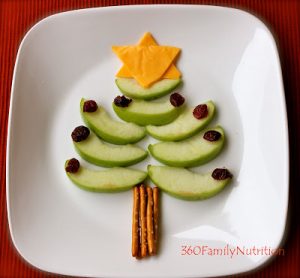 Want fancier? Of course you do!
Well, build a full-on tree with fresh strawberries and a styrofoam cone. The star up top is star fruit.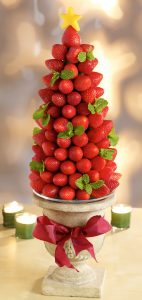 4. Another great way to get your kids of every age interested is by making edible ornaments.
These cinnamon applesauce ones from Katy Elliott are very customizable. Just be sure to make enough to cover all the ones that don't make it to the tree.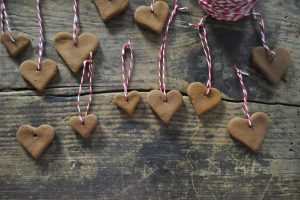 Or, eschew the traditional gingerbread-looking ornament for a cute, easy option: this Kisses Mouse.
Use the magic of hot glue to carefully not melt the chocolate inside; as you attach ears, tail, eyes, and that hanging loop.
5. We're having a party, right? Did you consider making party favors?
And, yes, you ought to think about something to go with the whole theme of the night.
I'm thinking an ornament, possibly with a cute saying like "Thank you SNOW much for coming!"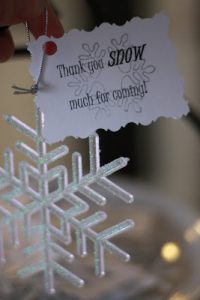 Phew! We're done. Everyone's still smiling, you had help decorating, and it looks fabulous! Plan more holiday parties with these articles:
10+ DIY Place Card Crafts for Christmas

Photo credit: The Lakeside Collection.