I'd take a risk and say that we are living in the second "space age." With all of the new tech and developments, space has come back into the news and forefront of society big time. This means that my little ones have shifted from knights and princesses (thanks, Disney) to space explorers! What I love about this for a birthday theme is that it's incredibly versatile and gender-neutral. We just happen to have a little who will be celebrating their second birthday at our house. So I thought this would be the perfect time to throw a "TWO" the moon birthday party!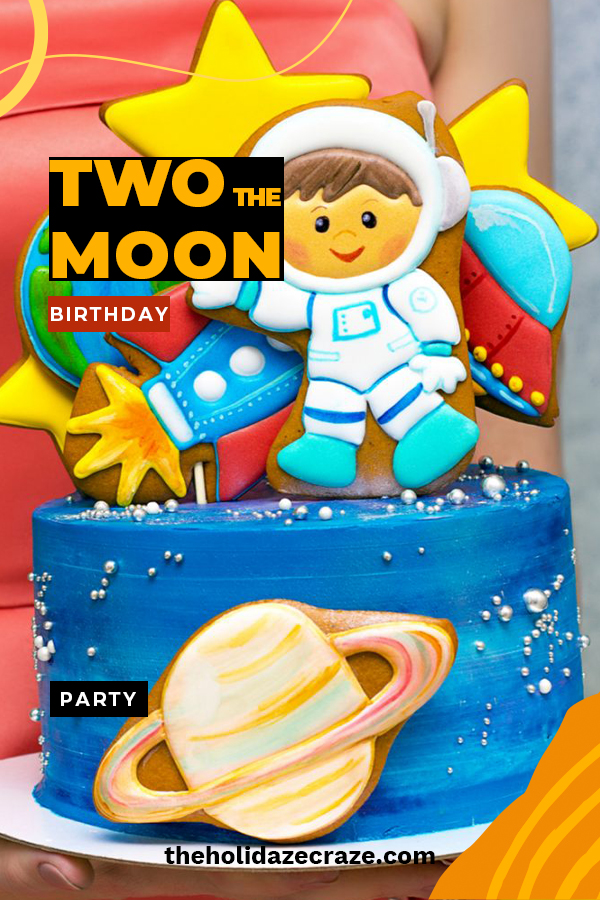 "TWO" The Moon Birthday Party: Decor Ideas
If you're in a hurry or just not in the mood to craft, then you really do need to check out Big Dot of Happiness. They have an entire section of space-themed decorations from invitations to garlands to banners and bags. If you're in the mood to craft, then I've got some great ideas for you!
"TWO" The Moon: Space Bunting/Garland
If you want something that is more cartoonish, then start with a set of pennants like this and add some cutouts like these. However, if you're looking for something a little more glitzy/glam then this sparkly garland is perfect! It's a mixture of metallic circles and stars in various sizes. It would be perfect for a backdrop or even hung across a mantle.
"TWO" The Moon: Rocket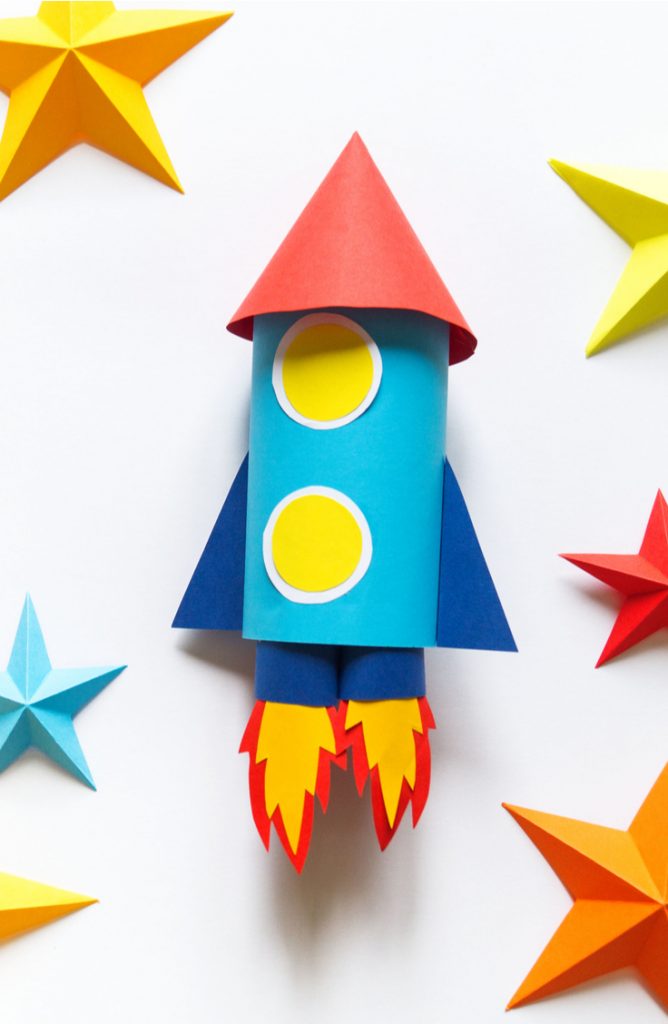 If you're in a jam, grab a set of these mylar balloons that include an astronaut and a rocketship! If you've got time, then pull out your craft scissors and let's get crafting!
Materials:
Start by covering your cardboard tube with your color of cardstock. If you don't want to use a cardboard tube, then you can use your cardstock to make one by rolling the cardstock and gluing or taping it together. Then cut a semi-circle out that is at least an inch larger than the diameter of your tube. Glue the straight ends together to create the top of your rocket. Secure this to your rocket with some glue and allow to dry. Next, cut out some triangles to act as your fins, and some smaller circles to act as the boosters. Glue in place. To finish, add a circle or two as windows on the rocket and attach some strips of tissue paper to the boosters. As an extra finishing touch, add their age on the front of the rocket and…ta-da!
Planets & More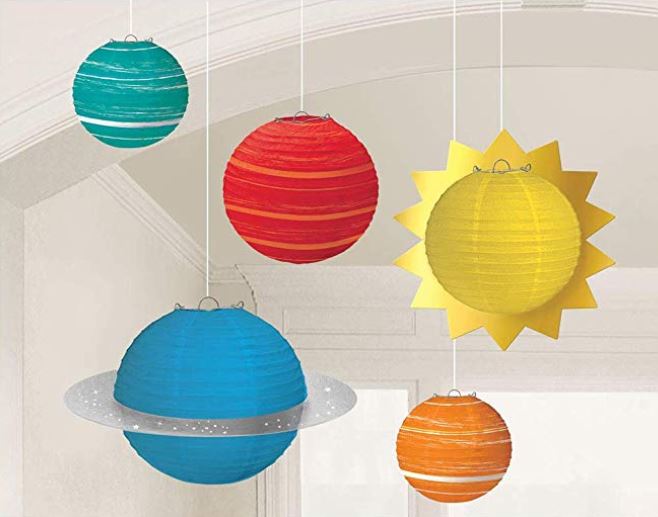 Another great item of decor to have for your party is some planets! These can take the shape of paper lanterns with or without lights inside. You can grab these ready-made ones, or you can make your own! Start with a set of various sized white lanterns like these. Then use acrylic paint to decorate them like the planets in our solar system! Don't forget a healthy dose of glitter to seal everything and add a pop of glitz.
"TWO" The Moon: Puns
If you're looking for some puns to put on invitations or even as decor, I've got you covered! Below are some of my favorites:
How does the man in the moon cut his hair? 'Eclipse it!
I suspect the moon wasn't hungry last night, he looked full.
Where do you leave your spaceship when you visit the moon? At a parking meteor!
How do you organize a party in space? You planet.
What kind of music do planets sing? Neptunes!
Why did the cow go in the spaceship? It wanted to see the moooooon!
What do planets like to read? Comet books!
"TWO" The Moon: Food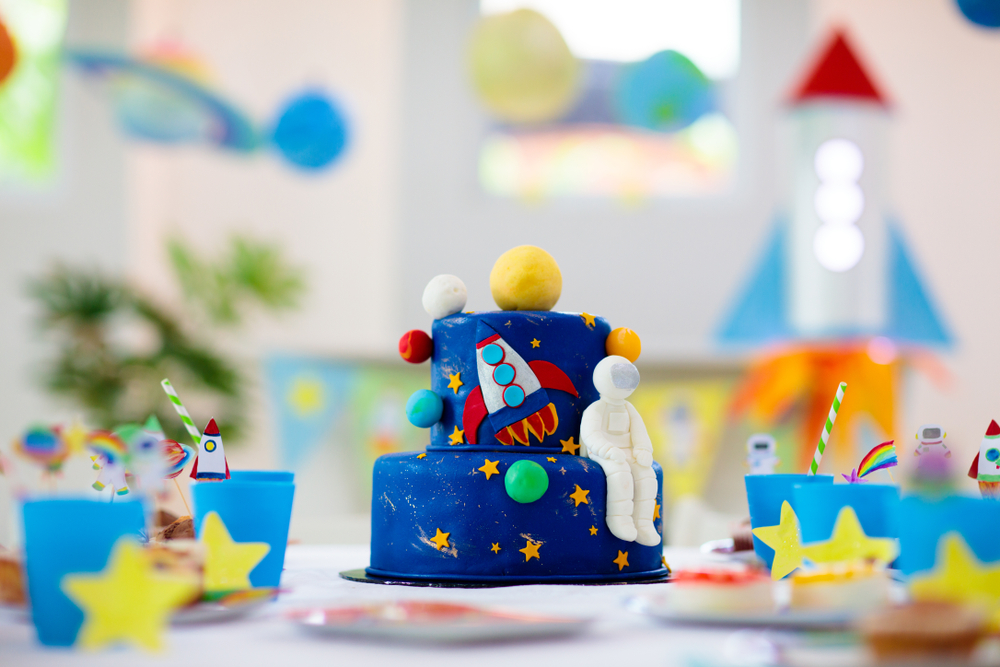 Food is an essential part of any party. Lucky for you, space-themed food is easy and so much fun! Here are some suggestions:
Saturn's Rings (either onion rings or fruit loops)
Space Ships (mini slider burgers)
Planet Pops (cake pops)
Asteroids (rock candy or whoppers)
Space Themed Cake! If you're not great with baking or decorating, simply pick up a regular cake and decorate it with space-themed cookies!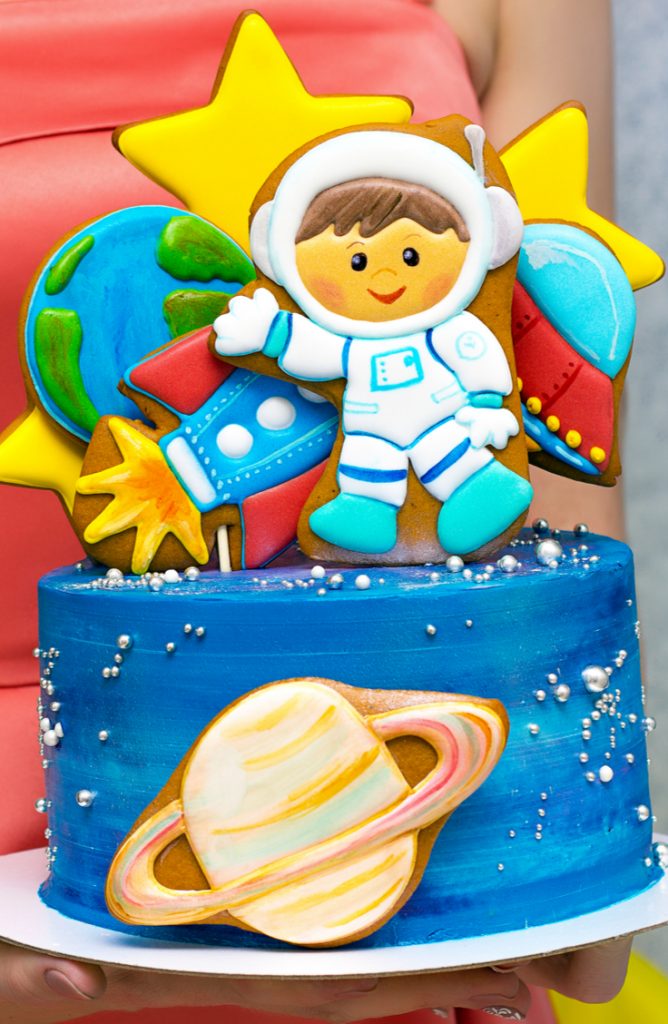 "TWO" The Moon Games
Games are an essential part of any party! Here are some great ones to play with your little astronauts:
Saturn's Ring Toss: Have the space explorers toss rings onto cones named after planets and see how many rings they can land!
Rocket Ship Rings: Hang a set of hula hoops from the ceiling. Have the littles make rockets (paper airplanes) and try to toss their rockets through the hoops. You can have each hoop worth a specific amount of points or have them in a specific order.
Asteroids: Start by having your little explorers find "asteroids" (rocks) outside. Then divide them into two teams and have them paint their rocks the same colors as their team. After the rocks have dried, each team gets to hid their asteroids, and the other team's job is to find them! Whoever recovers the most asteroids the fastest, wins!
Moon Walk: This is the perfect party to incorporate a bounce house. You can play games or decorate the bounce house like a space ship and let them play! Grab an awesome one here.
"TWO" The Moon: Invites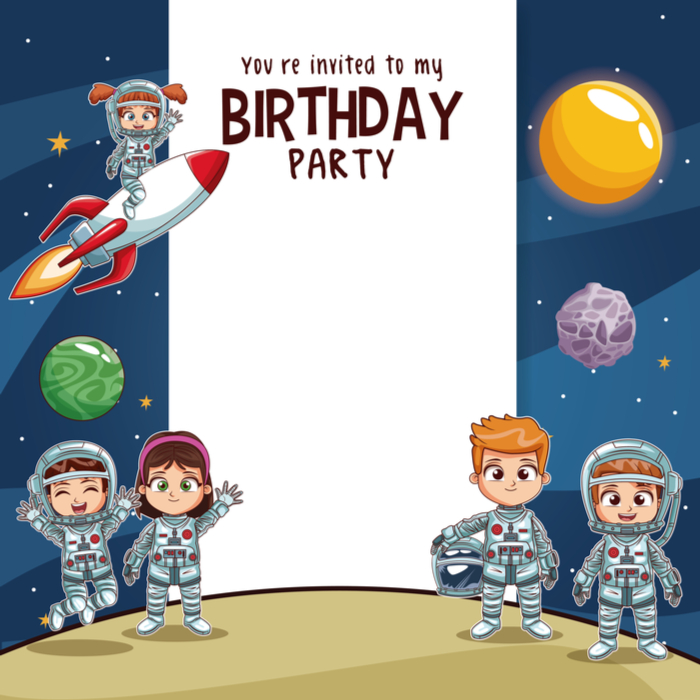 One of the best ways to clue your guests into your theme is by using themed invites. You can find great ones at Big Dot of Happiness linked above. If you're looking to make something yourself, then you can't go wrong with a printed graphic. They are versatile, colorful, and pretty easy. You can print them through Minted for a great price too! If you don't want to print your invites, try making rockets out of cardstock and writing the information on the back.
And that's all I've got folks! How would you throw an out of this world "TWO" the moon birthday party?