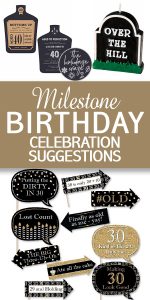 If you've got a milestone birthday coming your way, or if it's for someone in your family or group of friends, it can be intimidating to pull something together! Whether the milestone is sweet like the big 16, or scary like the big 30 or 40, you've got a few options to put together the best birthday celebration!
Whether your doing a first birthday, or an 80th, you've essentially got two options: Sweet or Funny. Sweet celebrates the good parts of life, while funny is going to take a little dig at the Birthday boy or girl.
If you're up for the funny approach it's best that you choose a birthday over the age of 20, and focus on the silly and macabre. Ham up the death day and feel free to tease them about how old they are. Here are some suggestions:
If you're going for the sweet, then it's a good idea to pick a hobby or thing of interest to the person of interest. This allows you to get creative and really have fun celebrating the person of honor in a kind and loving way.
And there you have it! Two unique ways to really celebrate those milestone birthdays for the special people in your life.
Party on!