Food is the best part of any party. Halloween is the best holiday of the year.
No, really. Go ask a kid.
However, there may be a huge amount of sugar involved with Halloween.
Do you want to have some party foods but avoid agitating diabetics or parents?
First, look at this pumpkin dip pot with veggies.
Did you notice the hummus peeking out? How about the candy corn pattern of the vegetables?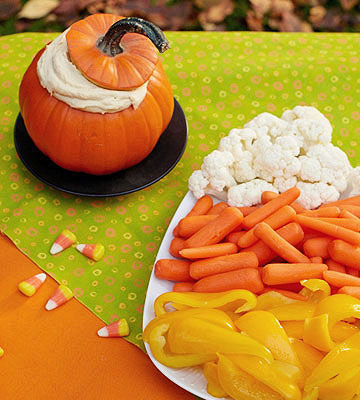 Need another dip? Try a traditional layered bean one.
Hmmm… needs more Halloween, you say?
Would you think piped sour cream in a SPIDERWEB?! The plastic spider adds to the effect, especially once people "fly in" and mess up your lines.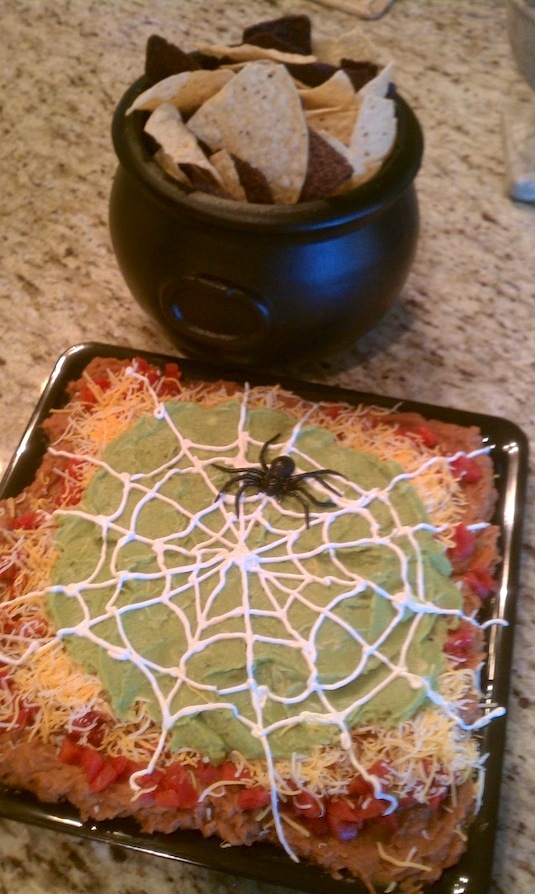 You will never look at pizza the same after seeing these witch fingers.
Oh, yes -they are pizza.
Cute Food for Kids baked a regular pizza (heck, do a cheap, frozen one!), then cut it into finger strips and added a triangle of red pepper.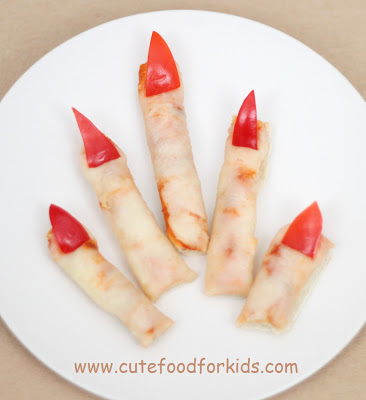 These witches' brooms are spooky without being morbid, and they're healthy.
Cut a string cheese in half, then cut the bottom part into a fringe. Jab the top (non-fringey part) onto a pretzel stick.
If you want that authentic look of the picture, tie a fresh chive around the connection. Or, be lazy and just skip that part.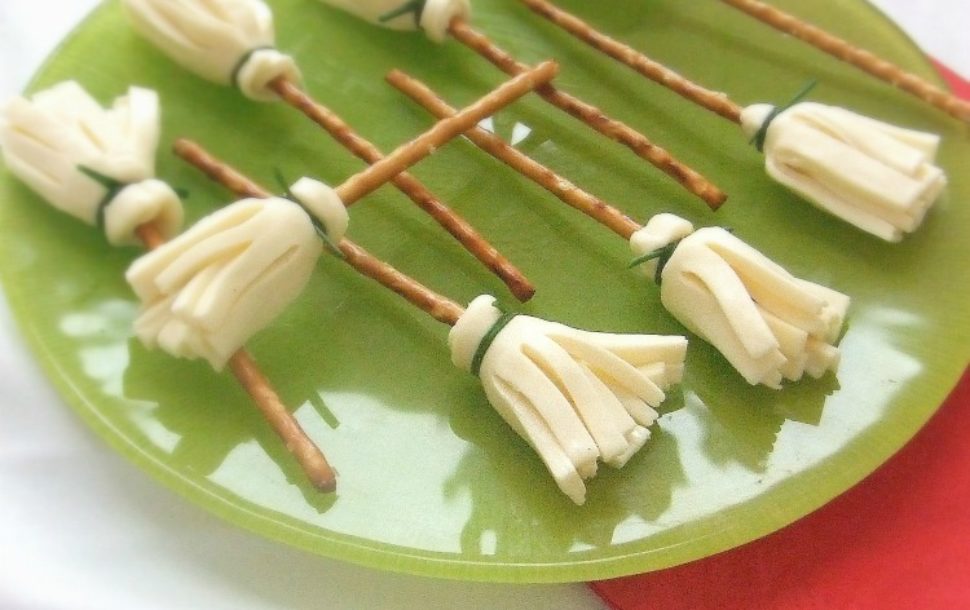 You've probably already figured out how to make these, because you're smart and they are so simple.
Peel a clementine, then jab a celery stick in the top. Yep.
No party is complete without a hot dog mummy.
Don't believe me? Pick up a pack of hot dogs, a tube of those Pillsbury crescent rolls, and some ketchup from your fridge (or, from McDonald's. They're complimentary, you know.)
After cringing and popping open your rolls container, use a pizza cutter to make long strips. Then, skip most traditional mummifying processes and simply wrap your dogs.
Once they've baked, add ketchup eyes.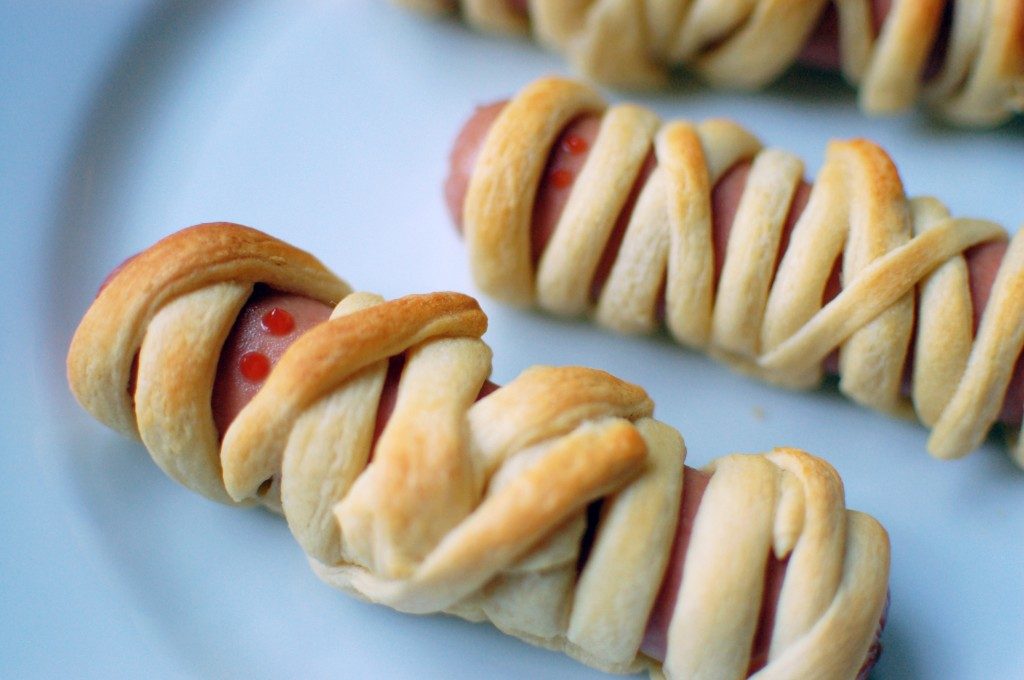 Looking for another creepy food idea?
Well, it's looking at you, too.
These edible eyeballs are made with mini cheese wheels, gel food coloring, olive slices, and ketchup.
The craftiest part involves painting bloodlines with your food coloring.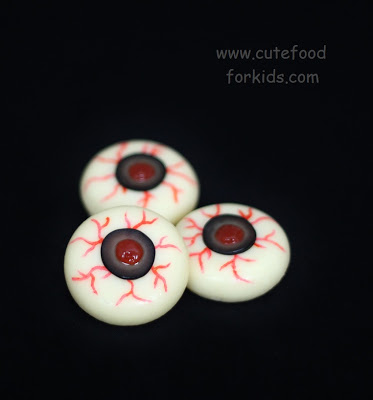 Stuffed Jack o'lanterns, you say? Not pumpkin, you say?
I'm there.
Follow along with Spoon University's recipe and your stuffed peppers will soon be popping into peoples' mouths.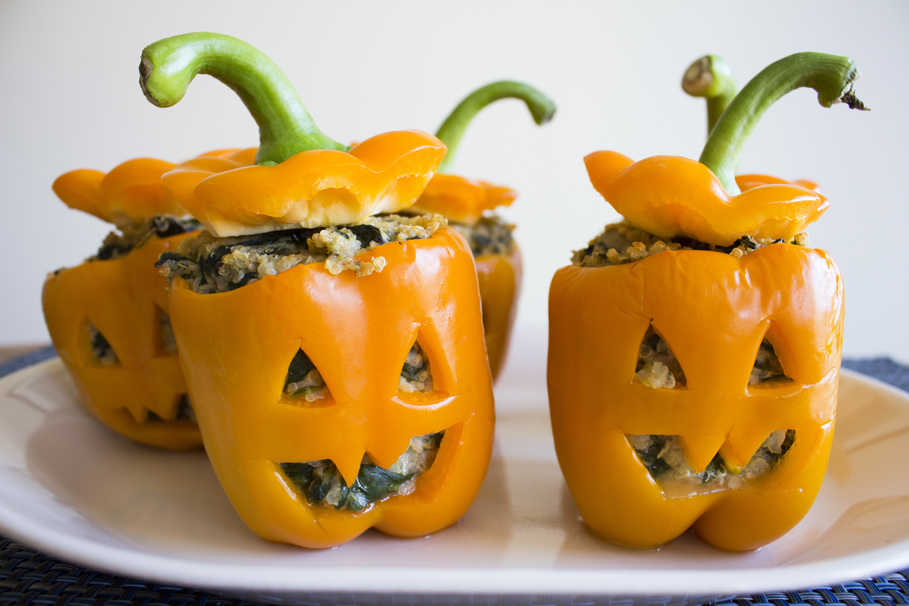 Boo! Whoooooo wants a banana ghost?
Yoooouuu?
Grab some Cheerios, and liven up a quick kids' snack or class party hors d'oeuvre.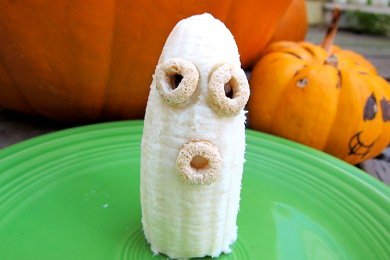 Guests will scamper to your serving area to grab one of these super-cute spider sandwiches.
Cut out circles of bread and use something sticky like flavored cream cheese or peanut butter for the filling. The legs are pretzel sticks or carrot strings, and the eyes are raisins (you can throw a few more of those on there if you wish).
Stick them all together and set them on a web-patterned plate for a finishing touch.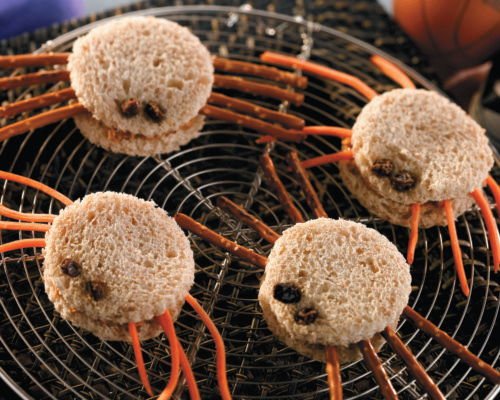 I think we need more finger food.
Don't worry -they're hot dogs. Probably.
A simple recipe; the attention is in the details. Take those knuckle slits, for example. Or, the diced onion fingernail.
Don't forget to serve them in a small pool of blood -er, ketchup.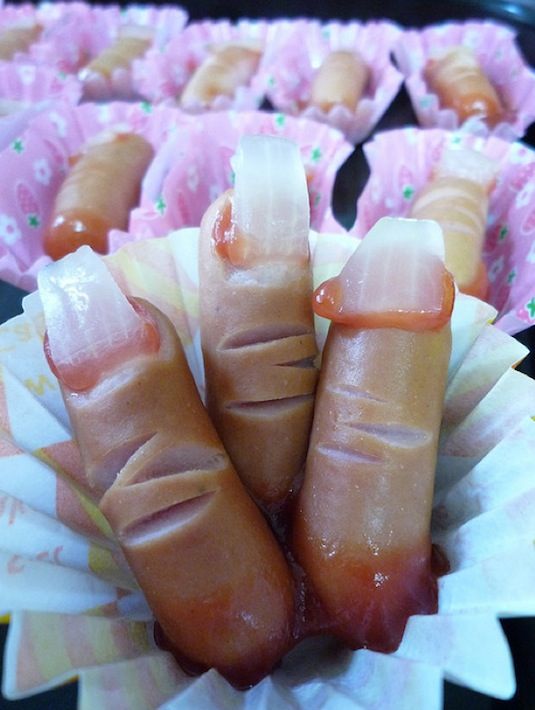 Let's get classy again with some candy corn parfaits.
Pineapple chunks are the yellow, mandarin or clementine oranges form the middle, and wholesomely nutritious whipped cream is the top.
It's okay -my three-year-old says it's healthy.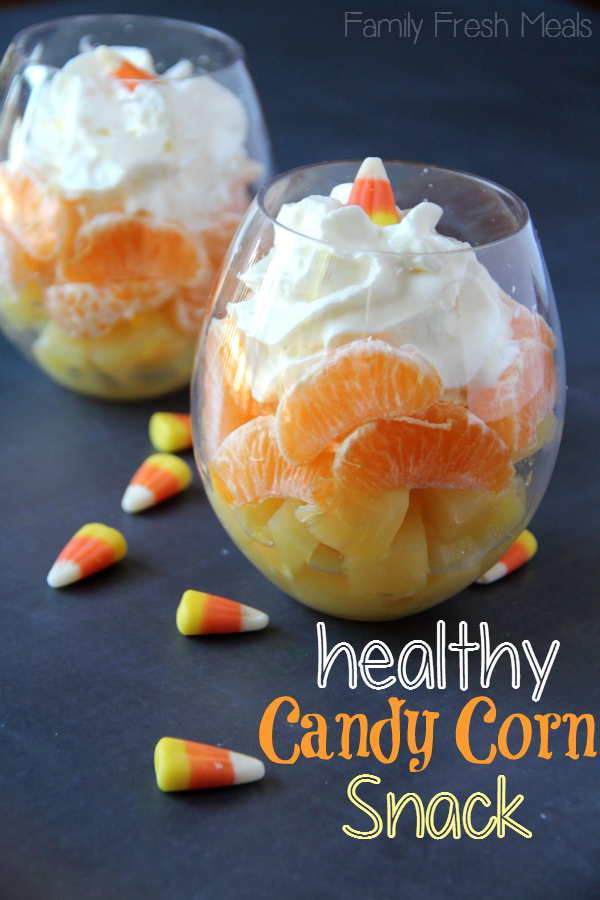 Kids, and everyone who has been a kid, won't mind eating their peas and red bell peppers if it looks like it will EAT THEM!
Want to avoid nuts? Use apple or pear bits in place of the almond slivers.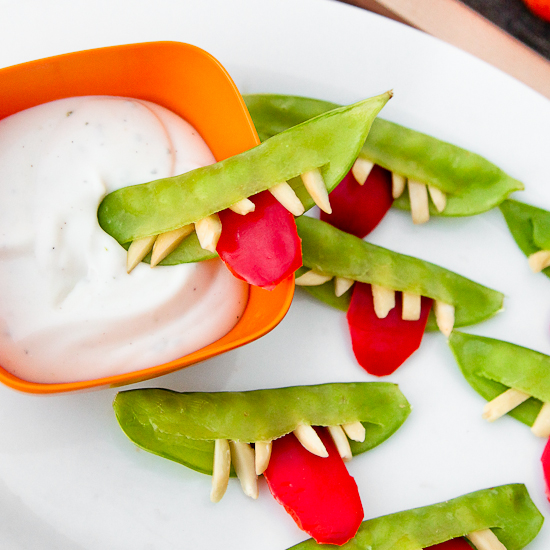 Did you know there's cold-packed cheddar cheese in a container?
Well, did you know it can be rolled into mini pumpkin balls like Play Dough?
Just don't forget the pretzel stem, or snackers might assume you made basketballs.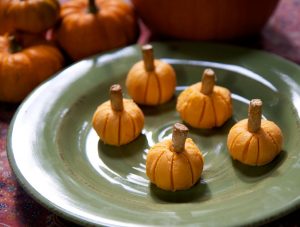 Whooooo's there?
Hungry guests may stay all night when you pull out these adorable owl snacks.
On a large, round cracker base, spread a layer of cream cheese. Add wing and ear accents with almond slices, and a half-almond beak. Ritz crackers with raisins make a wide-eyed, final touch.