I don't know about you, but we have A LOT of bright orange plastic weaponry at home. Besides the guns, I'm sure there are enough spongy orange and blue darts to cushion someone's fall from a bunk bed.
What am I talking about here? I'm talking about a NERF party: the coolest of party themes for your upcoming birthday.
As with all parties on this fine site, I like to start with invitations. We want kids to actually come, you know.
Check out how awesome this one looks with the black background and bright-colored text. The kid in me really likes it, and the kids in my house also approve.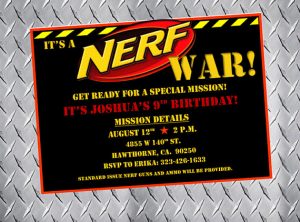 Although I'm sure you have several Nerf darts underfoot, I recommend purchasing a fresh package if you decide to make a cake like this.
We wouldn't want guests picking up floor germs, after all.
Besides health code, one of the easiest ways to attach them to the cake involves stabbing. I don't think your precious little birthday boy or girl will appreciate his or her ammunition being torn like that. This cake is perfect for your Nerf party.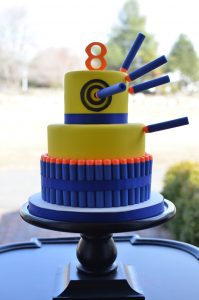 For party decorations, I'm thinking blue, orange, and yellow streamers. I'm picturing a neat poster like in the background of this picture.
I also like the table settings here: Gatorade with a birthday star label, container of glow sticks and bubble gum with darts, and a striped blue tablecloth.
Nerf is one of the greatest of party ideas, for the happy color scheme alone. Your kid and their friends will love having a Nerf party.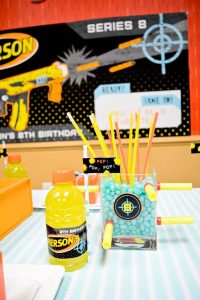 I mean, look at this place setting. It's so happy, yet so Nerf-y.
Thank goodness places like Dollar Tree have forks and plates in blue and orange, perfect for a Nerf party.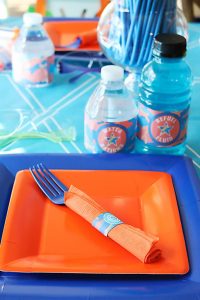 Despite loving the cleverness of it all, even I felt my stomach churn a bit at these Nerf Push Pops. Blue food does that.
If you're looking for an underage opinion, however, my son just said, "Those look AWESOME! Can we make them?" Again, a perfect touch for your Nerf party.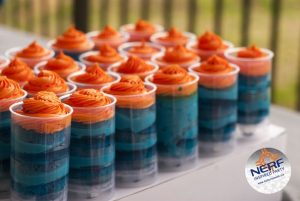 Speaking of horrible-looking foods your kid will eat anyway, what do you think of these cupcakes in a cone?
Blue and orange-tinted cake mix was baked in the cones, then topped with blue and orange-swirled frosting. In case there wasn't enough of the sugar or the theme, some blue and orange sprinkles were added at the end.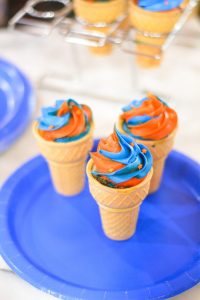 Granted, this is most often a party theme for boys. I have all boys; they shoot each other a lot.
On that topic, the most obvious game to play is a shoot-out. They're not really going to care about the rules, 'cause you're giving them Nerf guns and telling them to have at it.
I like this idea of Velcro darts to shoot at shirts with a Velcro patch. On top of that, set up an arena of sorts with balloon targets from the ceiling and shooting targets on walls.
The hyped-up, sugared guests are about primed for return to their parents. We need goodie bags!
Always a fan of simple, I liked these ones the best. They're just a blue lunch sack, folded over, then punched and hung with a toy dog tag.
Fillers can include darts, a mini gun, more of that blue bubble gum, and a plastic soldier.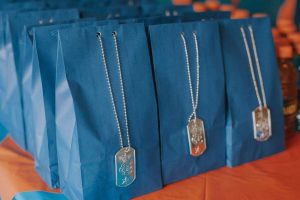 Nerf-er say you don't have enough ideas! Check out these sites for more details:
2. Cake Central
3. Kara's Party Ideas, Candy Store
4. Darling Darleen, Dollar Tree
8. Catch My Party, Candy Store reprise