Welcome to our show: DIY Gift Baskets for Any Occasion.
Baskets this evening were selected from such prestigious sites as Pinterest, Google, and personal blogs.
Do you or your loved ones wish to assemble a tasteful gift for friends, teachers, or neighbors? Do you find yourselves tired of the same, everyday ideas?
DIY Gift Baskets
Well, we're here to offer you exactly what you've seen before with this Banana Bread and Honey Butter model from Everyday Occasions.
Assembled by hand using a linen napkin, homemade bread and honey butter, coffee, and fancy packaging; your neighbors will frankly feel adored at receiving such a lovely, neutral assembly.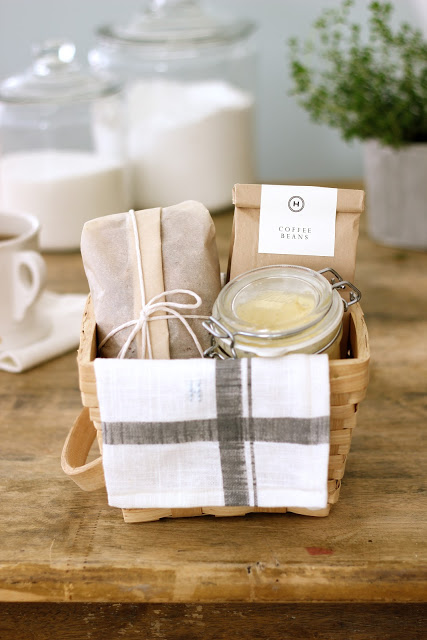 For the colleague who loves her Cup of Joe, consider our Coffee Gift Basket ensemble.
Although it says "Christmas" on the label, caffeine aficionados know that anytime can be coffee time.
We recommend mugs, sugar, creamer, stirring sticks, disposable coffee cups, and a sweet treat. Oh, and probably coffee beans.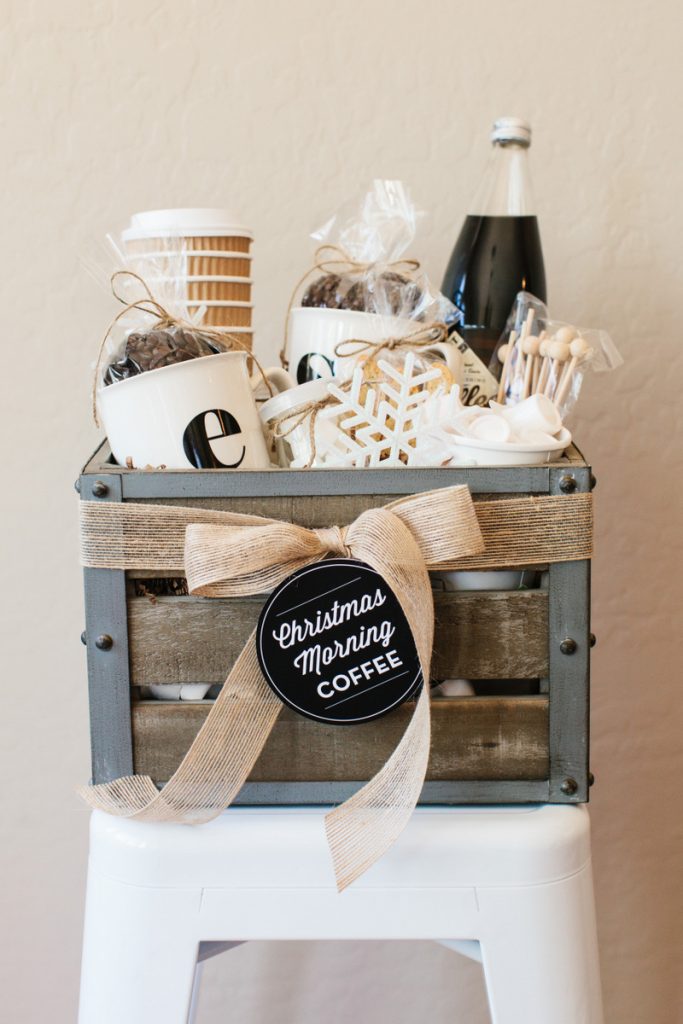 DIY Gift Baskets: For Teachers
Although many educators would enjoy our previous idea, a practical option might be better.
Especially if you are considering a gift for those teachers of elementary students, we recommend the Art Supplies Basket.
Thanks to the wonders of modern chalkboard accessories, a quick trip to the craft store will equip you with the perfect carrier for assorted supplies.
Markers, permanent markers, glue sticks, scissors, colored pencils, paperclips, magnets, dry erase markers, and pencils are all great ideas for fillers.
This also functions as a thoughtful gift for an art-loving friend or relative.
DIY Gift Baskets For Babies
Let's draw the attention of our audience over to those who may be expecting.
Your pregnant associate will be tickled pink (or blue -or yellow if you're going for neutral) at a wire basket assembly of baby accessories.
Many retailers not only carry a myriad selection of infant care items, but they do so following a similar color scheme. Keep this in mind when purchasing toys, snack cups, washcloths, baby wash, towels, or pacifiers.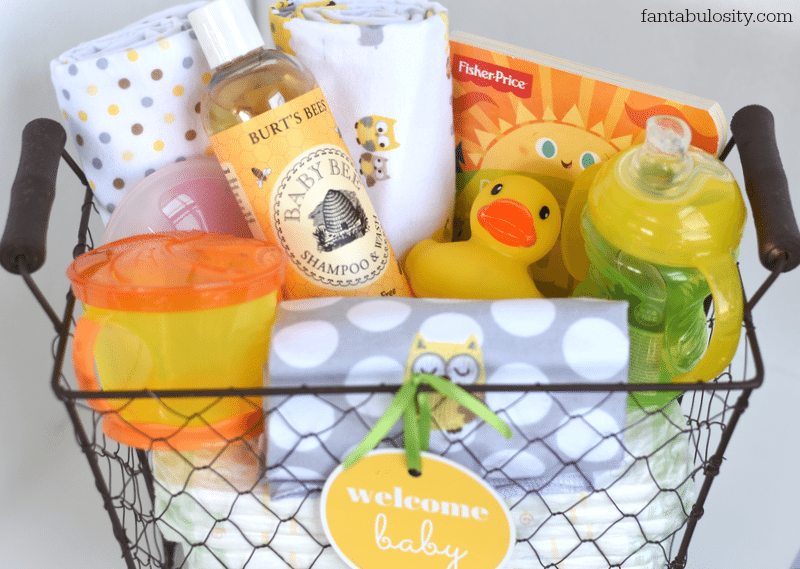 Who wouldn't love a present reminiscent of a relaxing trip to the spa?
The hexagonal, wooden shadow box, re-purposed for our container, brings a soft and unique feeling to begin with. All-natural soap, bath salts, and colored bath bombs continue the gentle theme.
Fill with paper shreds or coarse salts and accent with a loofah, patterned washcloth, and striped towel for that fantastic finishing touch.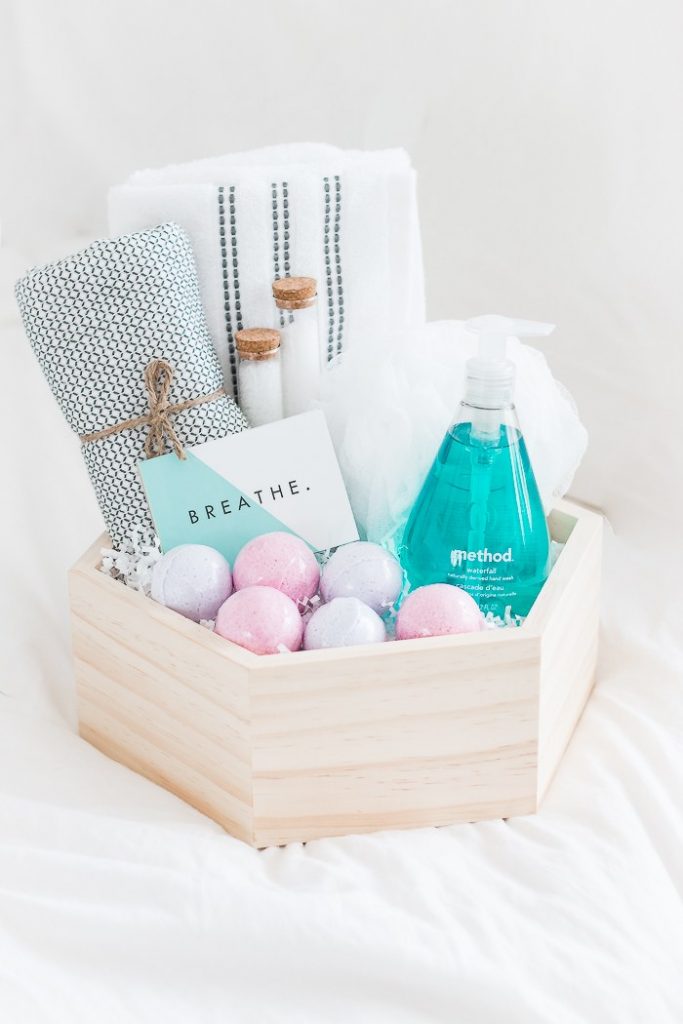 Let's not overlook those with families, or who simply have a sweet tooth.
Fortunately for all gift-givers, dessert foods have universal appeal. We therefore present the Family Sundae Kit "basket."
Bring together the chocolate, caramel, or strawberry syrups you'd like on your ice cream; then add some sprinkles, candies, and nuts.
May we suggest cones, cups, a scoop? Also consider delivering your items to recipients within a useful serving tray.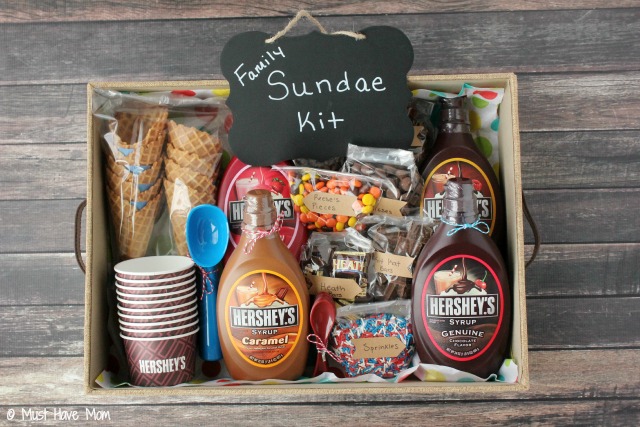 At the interest of those attending this evening, our director mentions she had a devil of a time finding a suitable picture for the following idea.
"Spaghetti Dinner Basket" garnered interest from many viewers, but only the idea of basketing in a colander appealed to our creator.
Anyone can assemble spaghetti sauce, noodles, or a well-paired red wine. We will not be anyone when giving ours to hungry friends.
DIY GIft Baskets: For Homeowners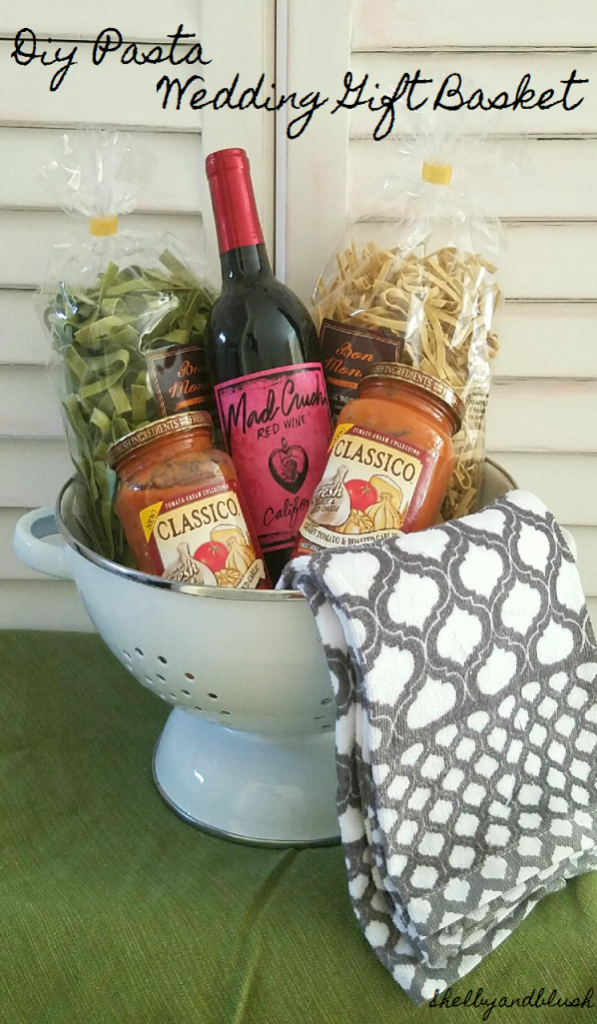 After a heavy sauce suggestion, let us draw your appetite back toward a different dessert idea.
Specifically, we will be discussing cupcakes.
What materials might you need for creating those miniature versions of popular confections? A mix, perhaps? Measuring cups, spoon, scraper, and cupcake liners as well? You might also think of purchasing sprinkles, frosting, a shopping list notepad, and a cupcake cookbook.
Be sure to display them inside a mixing bowl, complete with hand towel, for that "I know exactly what you'll need" look this season.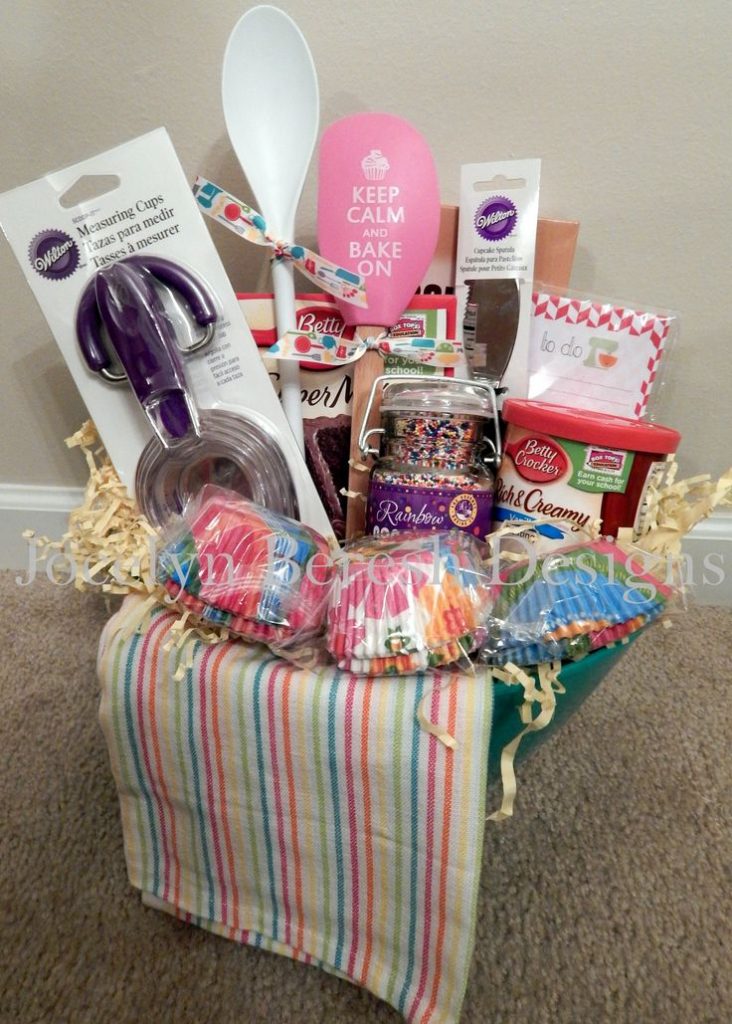 Moving house? You could use a hammer, nails, flashlights, glue, extension cords, and a versatile screwdriver.
Really, you could use a friend like Martha Stewart for suggesting all these can go inside a Housewarming Gift Basket.
Besides the usefulness of these tools and items, our viewers just can't get enough of the idea of giving them away in the ever-useful bucket.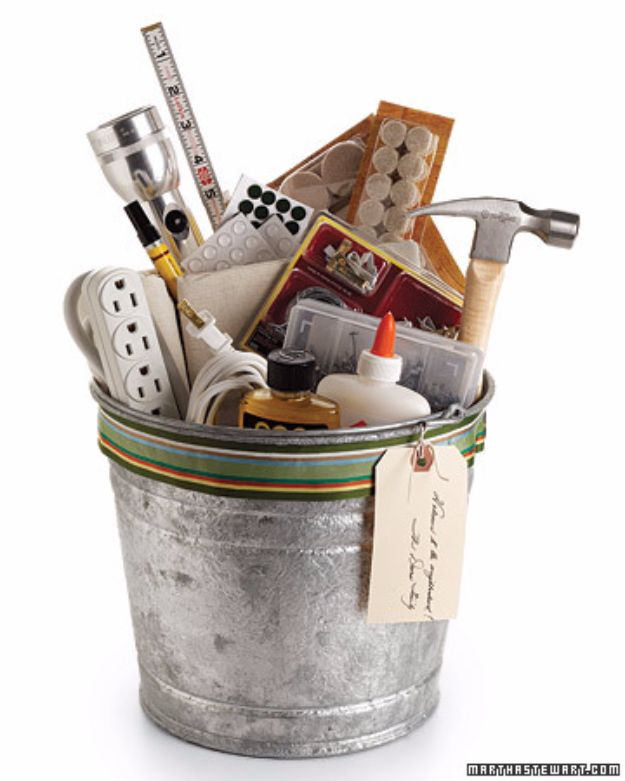 We won't leave anyone dissatisfied tonight. Consider, then, the lucky few with green thumbs who may like a basket of growing things as a present.
Or, perhaps your gardening friend prefers a planter box over a traditional basket.
The natural beauty of this setup lays in the limitless options of fillers: plants, trowel, shovel, gloves, mister, seeds, instructional books, flowers, or pots.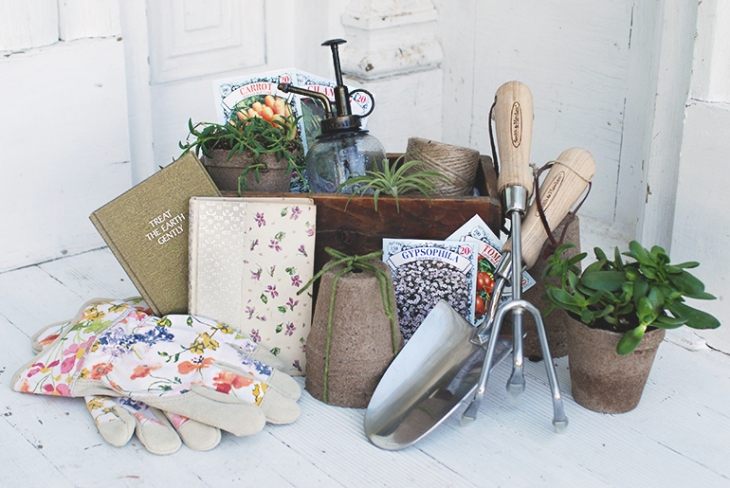 Which one was your favorite DIY gift basket? Share your ideas in the comments below. And, for some fun Easter basket ideas, keep reading.