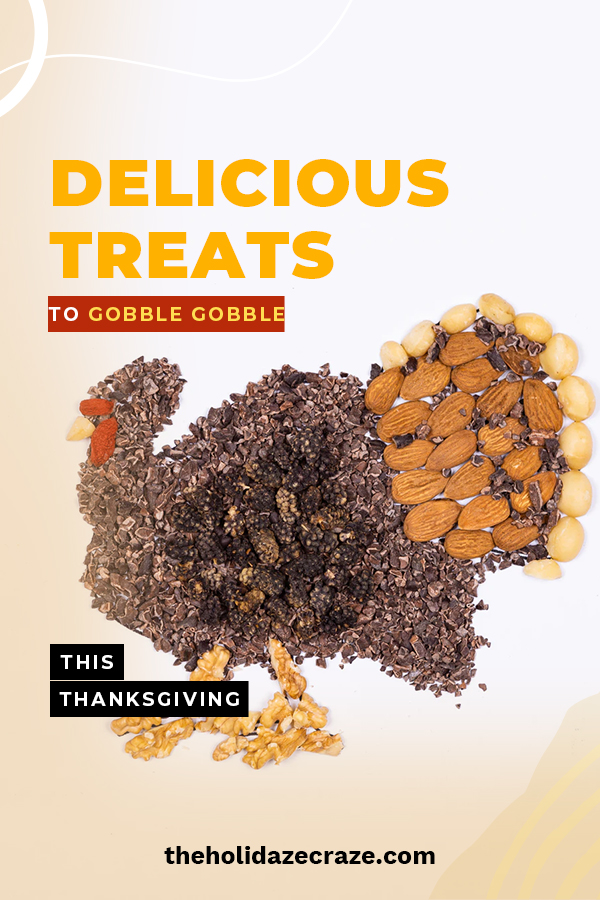 Thanksgiving is no picnic in our large family.
When you marry someone with six brothers and sisters, and they all make children, and they all want to eat food on Thanksgiving, you've got a lot of baking to do.
Throw in the variable time that your turkey wants to finally be done, and sometimes we've got mutiny on our hands.
The last few years, we've thrown out a veggie tray, crackers, leftovers -whatever is not tied down.
What if, instead, I planned ahead? What if I made some Thanksgiving-themed treats, like I'd planned it all along?
You and me, we're going to look great this year. And no one will have to go hangry.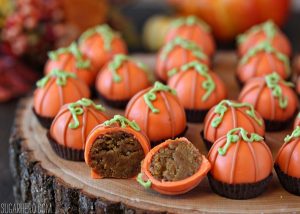 The first thing I noticed about these turkeys was those candy corn. Man, it's been too long since I've had one.
All right, I suppose that cute beak with wattle also stands out.
No, wait -is this a chocolate cupcake? How did I not see the chocolate frosting first?
If you'd like to create one of these, that also might contain Oreo cookies and M&Ms, head over to Bitz N Giggles.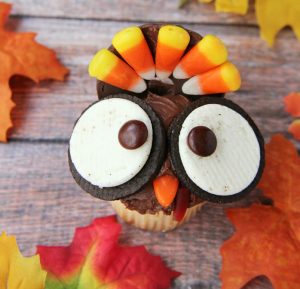 You can tell me -you've always wanted to turn a truffle into a turkey, haven't you?
Well! Snack Works has got your back, especially because they've got a recipe that is a piece of cake -well, they actually used crushed Oreos and cream cheese.
But, the natural swirls you get from not worrying about that fancy chocolate-tempering crap give you a lifelike turkey body to stick your candy corn, eyes, and frosting onto.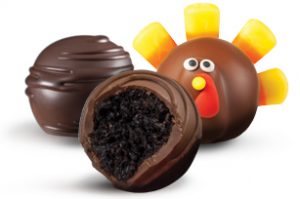 Let's take a slight sidestep away from fowl, and go for a tepee décor snack instead.
Unlike their cloth-and-stick counterparts, these teepees are filled with cake batter and dipped in chocolate. The sticks are pretzels.
Hungry? Follow Easy Baked's instructions for creating your own edible tepee cupcake village today.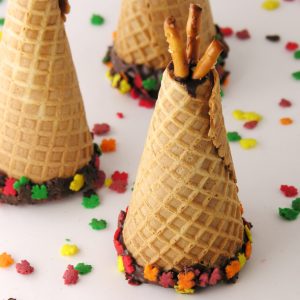 Here is another eye-popping idea involving chocolate.
Despite what you may conclude, these turkeys on a stick are actually Rice Krispie Treats.
You'll need Rice Krispie Treats (yep), dipping chocolate, modeling chocolate, sticks, and curly ribbon. You can always go with the candy corn, eyeballs, and licorice nibs accents that we saw earlier, too.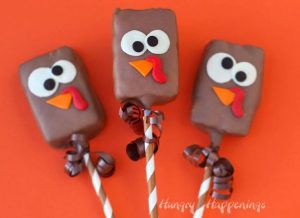 More truffles?! Pumpkin truffles?!
Yep. And you can bet they are tasty.
Sugar Hero made her insides with cream cheese as well, mixing it with baked and crumbled pumpkin bread.
The rest involves dipping and piping candy coating. If you get tired at the part where you squirt lines on each pumpkin, you can always just skip and go to the green on top.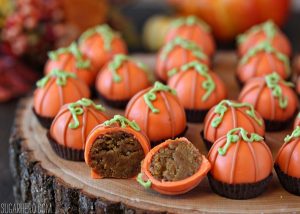 The miniature guests at your house will love you if you make these Indian corn treat bags.
I always hated going places as a kid and only finding fake food decorations. Didn't adults know that I was hungry?
So, get some Fall Sixlets (they're apparently a thing), clear bags, Kraft paper, string, labels, and some way to label the labels. You're set!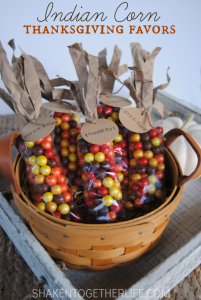 Candy apples are delicious. But they are huge.
Whenever we have capitulated to begging and bought one, I regret it. So much sour apple to get through for a sliver of chocolate, caramel, and nuts!
That's why I will be the first in my family to make My Litter's candy apple bites.
Aren't they cute? Aren't they perfect?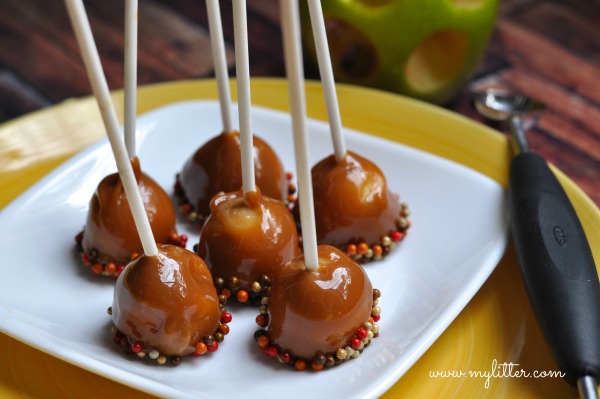 I liked this slight twist on the old turkey-from-a-glove idea, because they're made from snack foods.
The popcorn and color goldfish filling are a healthier choice than your usual jellybean or M&Ms guts, which is great if you don't want the children bouncing off the tables.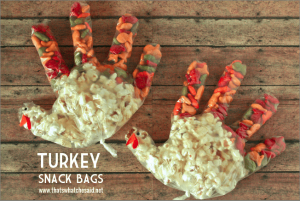 Before this holiday's over, you'll be turning everything into turkeys.
You probably already have.
Seriously, though, this simple turkey idea was too funny and so so simple to not share.
Buy pudding or fruit cups and paste feathers, googly eyes, and felt or paper beaks and feet on. Gobble, gobble.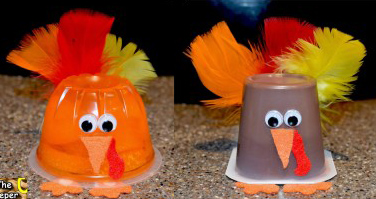 I couldn't leave you with only turkeys! Check out how cute the acorns look.
I want to eat one. One handful.
Honey and Butter literally glues a Hershey's kiss to a Nutter Butter with melted chocolate, then adds a mini chocolate chip on top. They suggest Ritz crackers if you want to avoid peanuts.