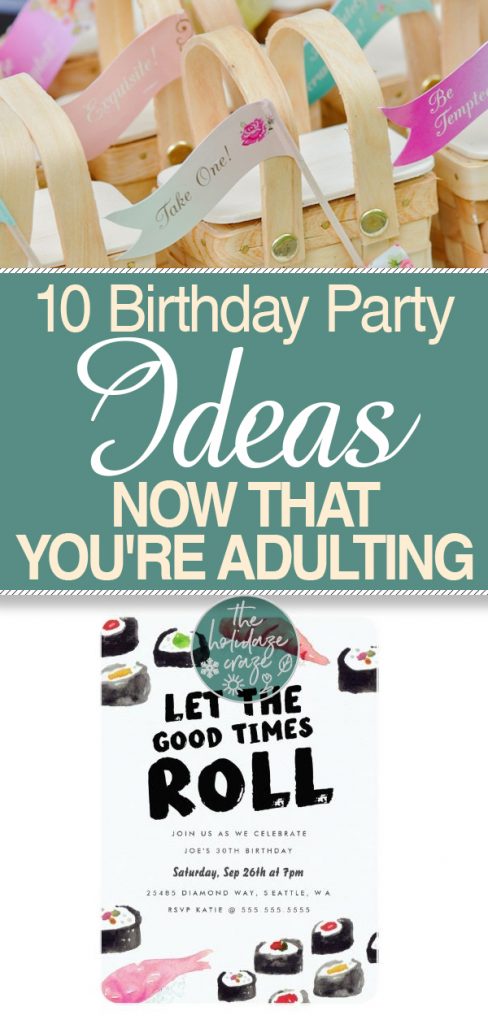 Birthday party ideas for grown ups? What? That's a thing?
Childhood birthday parties are the best. You got cake, classmates, and maybe even a piñata!
As an adult, you get a tastier cake, actual friends, and the piñata has better candy than Smarties. Also, I'll bet you can finally reach the cookies on top of the fridge.
That's right: growing up makes everything better.
Just to prove my point, I've come up with 10 birthday party ideas for grown ups that are worth adulting.
1. Pampering Night
There's never a wrong time for a spa treatment. Nope -you tell your boss I said so and get right on painting those nails at the office.
Okay, I'll agree that there are better times for pampering. Birthdays are just such an occasion, because all of your friends will be over. What better way to bond than when all of you will be wearing bathrobes and covering your faces in green goop?
You can pamper DIY-style or spring for all of you day-tripping to an actual spa. Either way, make sure to include the relaxing activities you enjoy.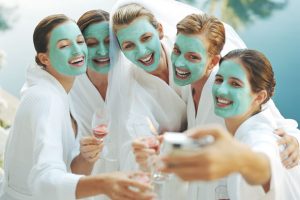 2. Sushi Shindig
There is also hardly a bad time for sushi. I have a friend who chooses all you can eat sushi for his birthday every year, mostly because we can get through a few different rolls with a large group.
The beauty of this raw fish epicurean experience is that you can also roll at home. My trade contact from the East, Amazon, totally sells a kit. You and several party guests can let the good times roll within two shipping days.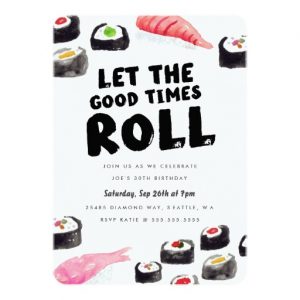 3. Cake Swap
Known as Dessert Potluck, Boyfriend-Planned Birthday, and Laziness; this party is the perfect example of adulting.
I actually made up all of those titles. For one thing, I think the idea that everyone brings his favorite cake is brilliant. That has a lot to do with me liking a variety; maybe you don't.
If you like shuffling your music, trying all the food at the buffet; if you mix up your weekly menu and want an awesome birthday: this idea is definitely for you.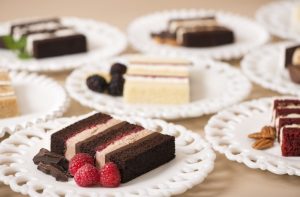 4. Fancy Schmancy
It's your birthday. You're an adult. You can drink, drive (not together), stay up late, work and get your own money, and hang with other fun people. I remember watching old movies with my parents showing grown-ups doing those, and having a lovely time.
Have you ever romanticized about spending an evening like that -dressed to the nines and sipping champagne? Well, why not?
Invite your esteemed acquaintances to a fancy dress dinner. Buy that formal dress or suit, book that overpriced restaurant or caterer, and plan to waltz till the wee hours of the morning.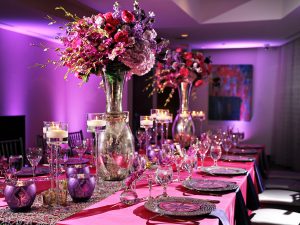 5. Wine and Cheese
Ah, the perfect pairings of life: wine and cheese. Frankly, wine pairs well with many things. We're keeping it Napa Valley style, though, and going traditional.
Thanks to the popularity of this activity, you can tour your own kitchen and have a similar experience. Have fun with your fellow yuppies picking out a variety of cheeses and drinks at your local specialty shops.
In fact, depending on where you live, you may even be able to pull an actual tour. If there's only wine, go for that. It is your birthday, after all.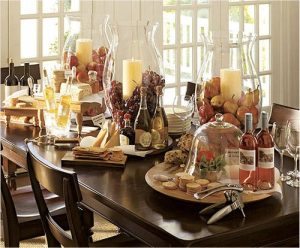 6. Craft Night or Jewelry Making
Perhaps you have a few crafty bones in your birthday body. You may not have considered it as one of your birthday party ideas, but an evening of making might be exactly the sort of partying you're after.
Stores like Michael's have a HUGE stock of materials. Decide if you're going to make some sort of DIY door hanger, sequin a pair of socks, or level up to jewelry making.
As you probably know, any activity has varying levels of skills required to complete. Keep that in mind when inviting your guests, so the ones who have little experience still have a great time.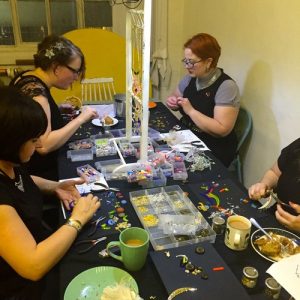 7. Toga!
Sadly, I think the old classic Toga party is going to way of The Macareña. Yep, it's about that old. And I never even got invited to one when they were popular.
Well, I'm not going to let that stop me and neither should you. Give it the old college try and have an ancient blast in process.
You can even step it up by making it Olympic themed, with events. Keep traditional Greek no-clothing rules out of it, unless you're all really comfortable with each other.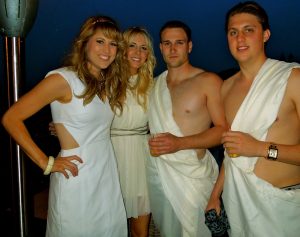 8. World Traveler
I just love traveling! I love new sights, sounds, food, people, and scenery. As much as I'd like to take party guests around the world, however, I think I'd rather be able to afford rent.
Let's bring the world to the party, with an around the world theme. The planner or the guests can pick their favorite international foods to bring, or you can buy a bunch from a nearby market.
Decorating will be super simple: globe, maps, flags, memorabilia, and souvenirs will work wonderfully. This is seriously a great birthday party ideas for grown ups!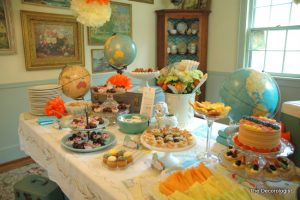 9. Picnic at the Park
Now that the weather's warming up, why not plan an outing to the park?
This party idea is great if guests want to bring their furry friends along as well, provided the park in mind allows for pets. It's also an easy one for planning games, since pretty much most outdoor sports will work.
Plan for picnic foods: sandwiches, chips, fried chicken, salads, cookies, and a few cold ones. Throw some frisbees and footballs in for later. Grab your sandals and head out into the sunshine.
If you're feeling generous and crafty, I thought these miniature picnic basket party favors were a cute goody bag idea.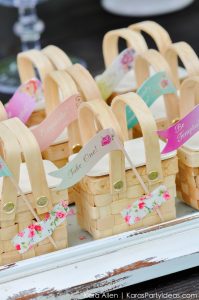 10. Murder Mystery
I think I have seen more Murder Mystery parties lately than I can count. I'd say they're a passing trend, but my parents went to a couple when I was a kid.
I'm even in favor of hosting a costume party without the whole mystery element, but those seem more common around Halloween.
Either or, plan on inviting your pals over in costume. You and your fellow dramatic thespians can also plan on full character acting, just to weird the others out.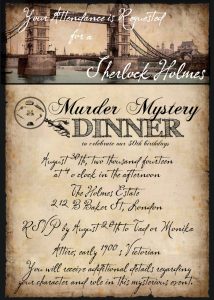 Party on, dudes! Check these places for birthday party ideas for grown ups:
2. Lady Prints, Amazon
3. Cake Crumbs
5. Pinterest
7. Savvy Spice
10. Hello Brielle!