While we are continuing on the theme of star-related parties, we have to talk about astrology party themes. This theme works best for teens and adults, but it's also totally possible to modify this theme for a little kid. This theme could work for a birthday party, a girl's night out, bachelorette, and more! Below I've gathered some of the best astrology party themes that will "eclipse" all others.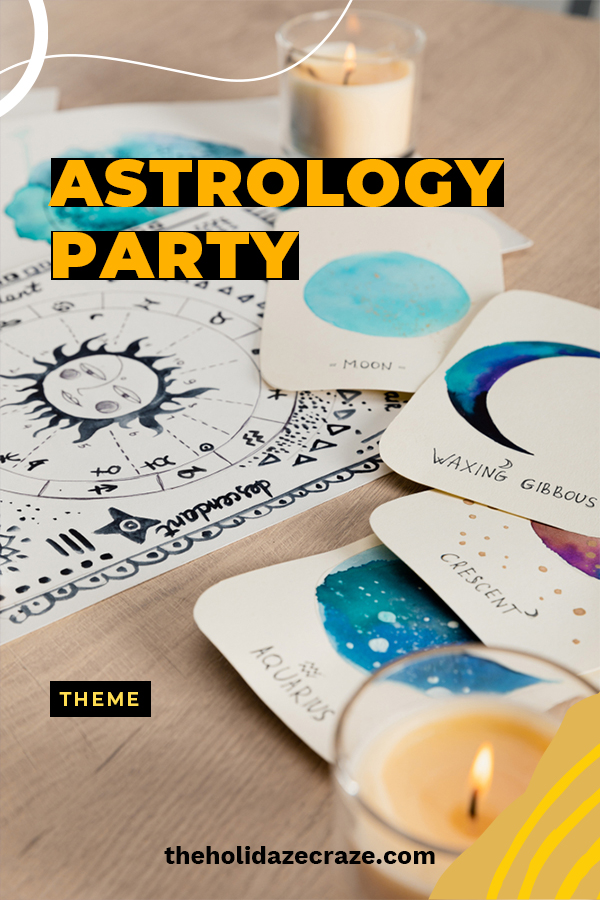 Astrology Party Themes: Decorations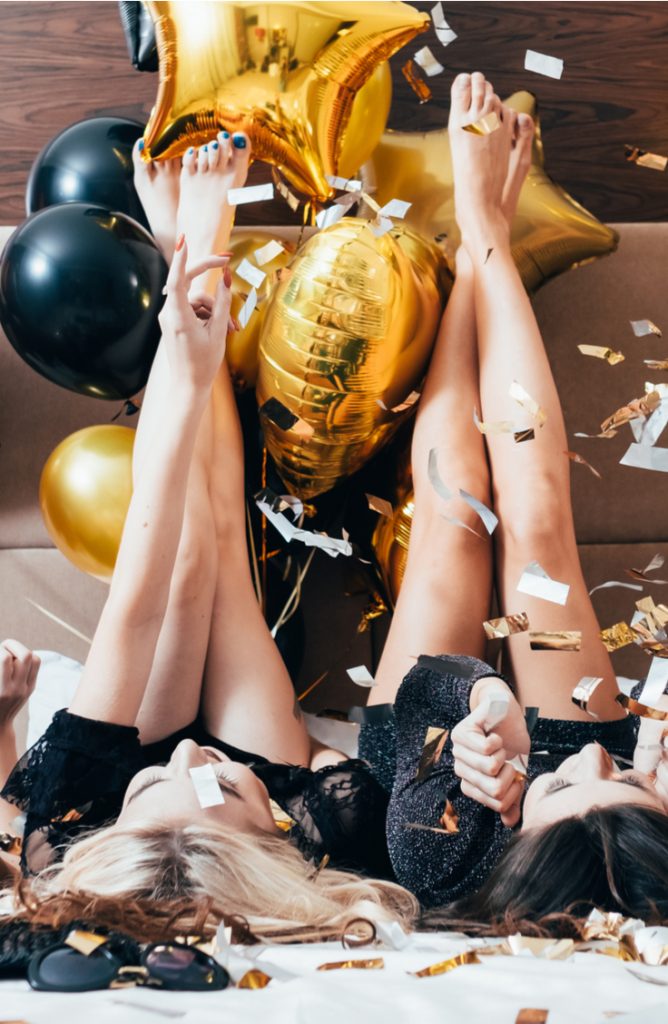 Decorations are an important part of any party. This is totally true when it comes to this theme. Grab a set of plates and tablecloths here that will be totally on point. Having a zodiac that you can hang on the wall or place on the floor is also a must! This way guests can have a visual reference for their sign. Grab a beautiful one here. Having a garland that shows the phases of the moon will not only add a little bit of glitz to your party, but it'll be a great way to add in an element of the mystical. Grab yours here. For your color palette, stick to dark colors like black, navy, and deep purple and accessorize it with pops of gold or silver.
Astrology Party Themes: Food
Food is an important part of any party. You don't have to go crazy with the astrology theme here though unless you really want to. Instead of reading it literally, take a cue from the stars and incorporate that. Whether you opt for galaxy themed macaroons or galaxy frosting for your cupcakes, they are sure to add an element of mystery to your party. To make your own galaxy frosting, just follow this awesome recipe:
Galaxy Frosting: Ingredients
2 c. butter, room temp.
8 c. powdered sugar
2 tsp. vanilla extract
3 Tbsp. milk
Cooked and cooled cupcakes in preferred flavor
Process:
Begin by making your cupcakes and allowing them to cool completely. You can make vanilla, chocolate, or marbled galaxy cupcakes. I prefer a simple cupcake so that the frosting takes center stage. When the cupcakes are cooled, it's time to make the frosting. Begin by creaming the butter in your stand mixer until it is smooth and fluffy. Next, add in the powdered sugar one cup at a time and continue to cream until combined. When you've added all the powdered sugar, allow the mixture to cream for a few minutes before adding the vanilla and milk. Then add the last four cups and continue to mix. You want a stiffer frosting so that it will hold its shape.
When you've made the frosting, it's time to add the coloring. Place the chosen tip on the piping bag and place the bag in a tall glass with the edges folded slightly over the rim of the glass. Then, using a brush or toothpick, paint the inside of the pastry bag. The heavier the color, the more vibrant the frosting will be, but to keep contrast, leave some areas unpainted. Fill the pastry bag 2/3 full with the buttercream frosting. Pipe a test onto a plate so that you know you've got the desired mix of colors before piping your cupcakes. Allow the cupcakes to sit for at least 1 hour in the fridge before serving. Add sprinkles of your choice and enjoy!
Astrology Party Themes: Games and Entertainment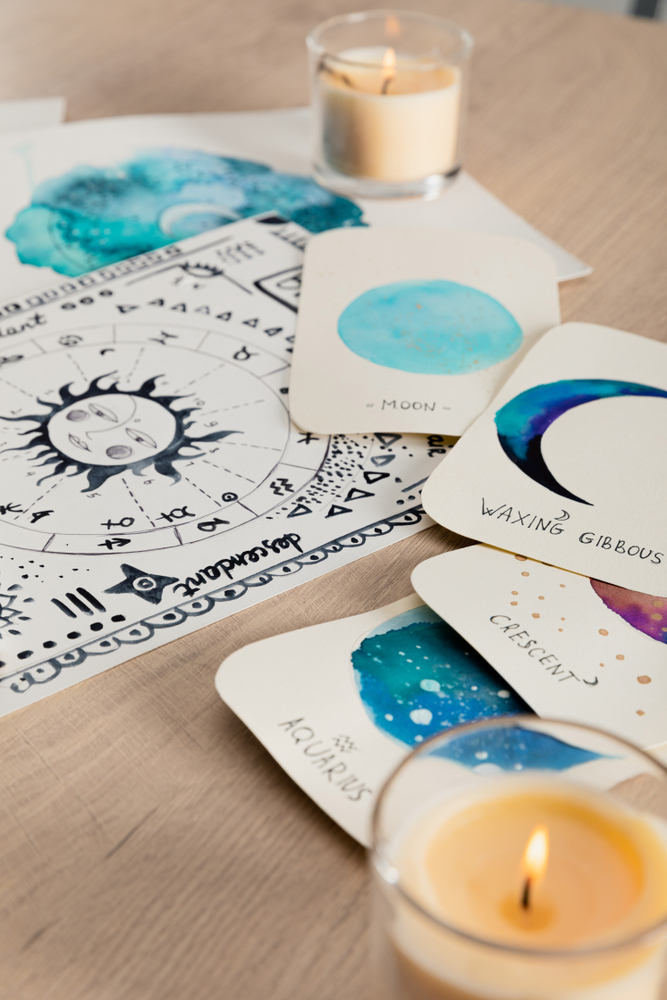 It might seem a little trite, but if you're having an astrology-themed party, it would be really cool to have a fortune teller there to read tarot cards! You can totally google and find a professional tarot reader, or you can pick up your own tarot cards here and a guide for reading them here. I'd also suggest picking up a book like this so that guests can read about their own astrology signs and how it's connected to them.
Astrology Party Themes: Favors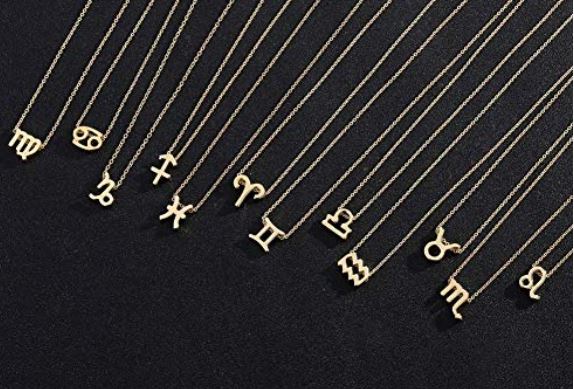 No party is complete without favors for your guests! In this case, it's pretty easy to pull some together. I'd suggest personalizing the favors to your guest's star signs if you can! It can be something as simple as these darling astrology necklaces or even these elegant astrology finger dishes. These beautiful keychains would also make great favors for your guests!
Now that you've got the basics, you have what you need to throw a rockin' astrology-themed party! What else would you make sure to incorporate into your astrology-themed party?
Happy Planning!