Dear Mr. or Mrs. Party Planner,
We are pleased to inform you that you will be hosting a celebration at Your Home of Witchcraft and Wizardry. Please find enclosed a list of 8 necessary decorating and event ideas.
Got yer ticket, 'arry? Give your attendees the BEST invitation ever by printing it like a Hogwarts Express train ticket.
My overachieving neighbor did this, and I thought it bloody brilliant.
Design your own if you've got the skills, visit your local Diagon Alley Etsy storefront, or Imperius that clever witch friend of yours to finish your work.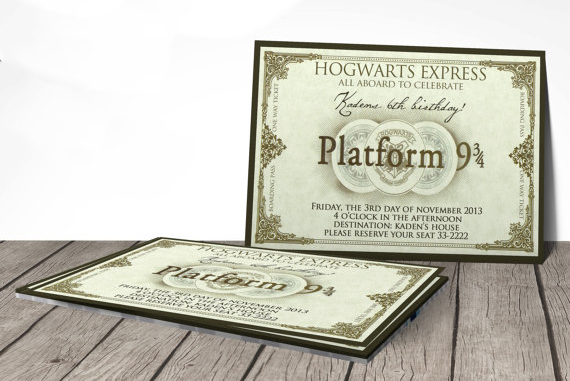 Errol acting up again? Give your regular service a rest, and try delivery by Muggle inflatable latex device instead (they call them balloons).
Pull out a few permanent markers (another invention of theirs, to replace quills and permanency charms) to create the avian likenesses.
Finally, levitate your craft to the doorstep of each recipient's home.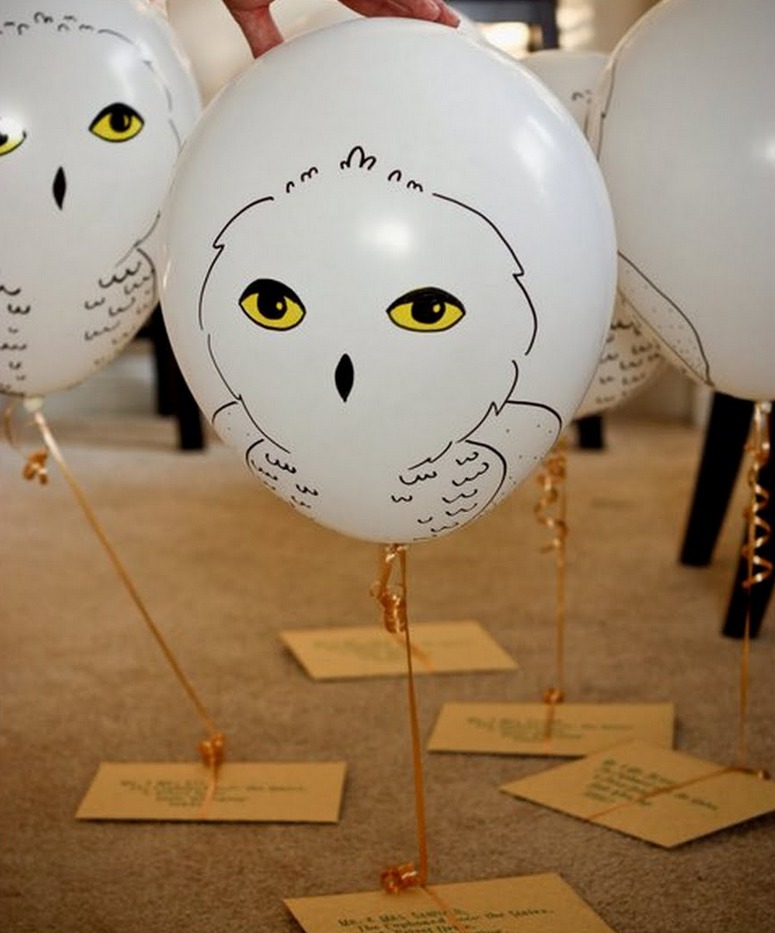 Turn your great room into The Great Hall, squib-style.
Chris Loves Julia, a lovely couple of that sort, created their candles from empty paper towel rolls, a curious device called a "hot glue gun," white paint, flickering tea lights (that use batteries of all things), and fishing line. Ah, what they won't think of next!
Apparently, this line for fish is nearly transparent, and can deceive observers as to the false candles' actual mode of levitation.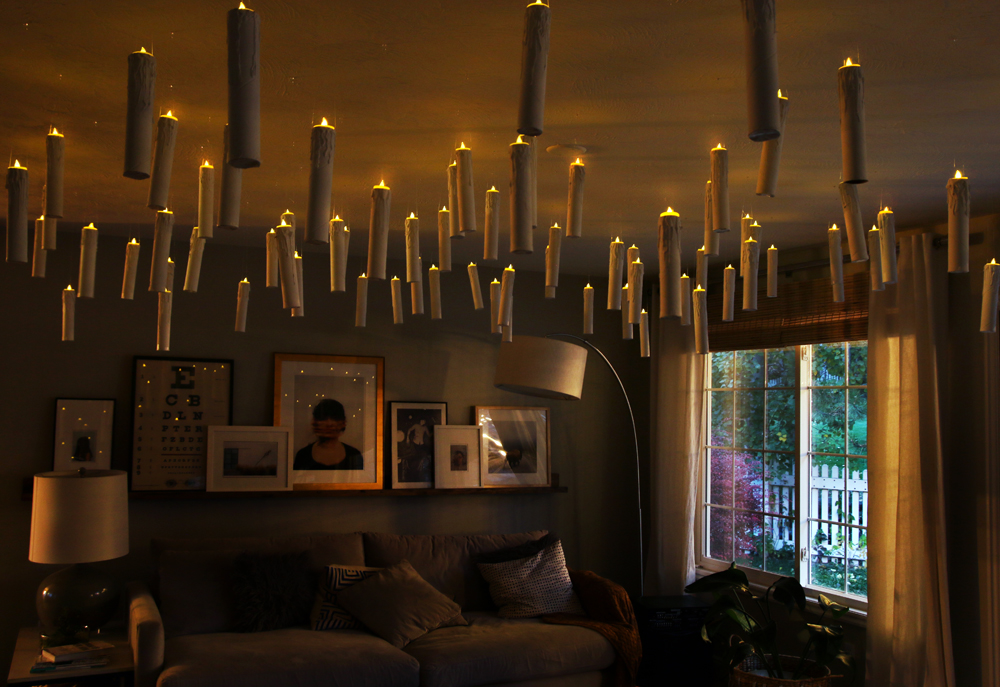 Since the actual Sorting Hat may be difficult to borrow for a personal celebration, try SnapGuide's instructions for cobbling your own together.
You'll need to acquire cardboard, tape, papier-mâché materials, and paint. Find all of these supplies at Michael's!
Once dry, cast a simple animation spell. He'll be reciting house verse in no time!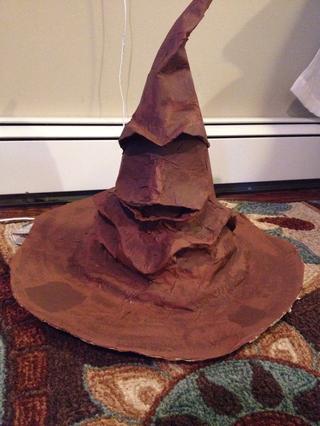 Ah, who can resist Madame Rosmerta -that is, a drink served by the good Three Broomstick's hostess?
A popular beverage option amongst wizards and house-elves alike, the blog-famous witch at Cooking Classy has willingly provided a recipe for those who wish to enjoy its benefits from the comfort of their own parties.
Necessary brewing ingredients include cream soda with an infusion of butter flavor and rum extract. After chilling these preliminary ingredients by the light of any moon, top each serving with a mixture of whipped cream and marshmallow cream.
Dust off your old Refilling Charm, in case of any attending beer connoisseurs.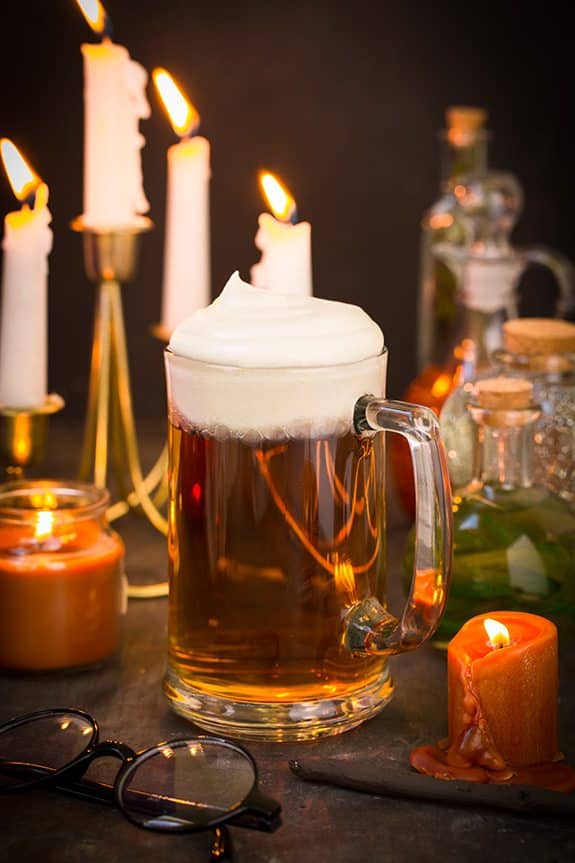 Watch out, or these chocolate frogs may …simply stay put.
They're made with molds, after all, and haven't even one good hop in them.
Their creator at Ezra Pound Cake (fine confectionary-makers since '08) came up with a peanut butter constitution, almost as good as an animation spell.
Perhaps you can sneak one in after they've cooled and set.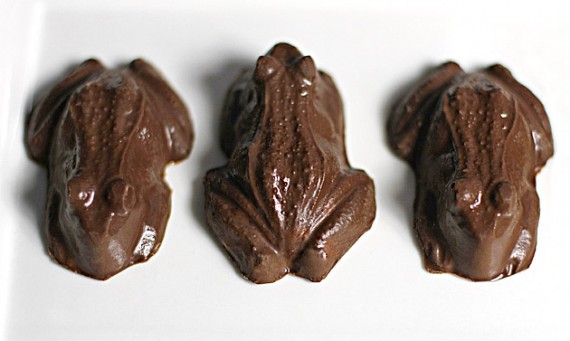 Of course those frogs need their well-known packaging!
Disgruntled, butterbeer-influenced house elves slipped us a link to a design Muggles may print for personal use.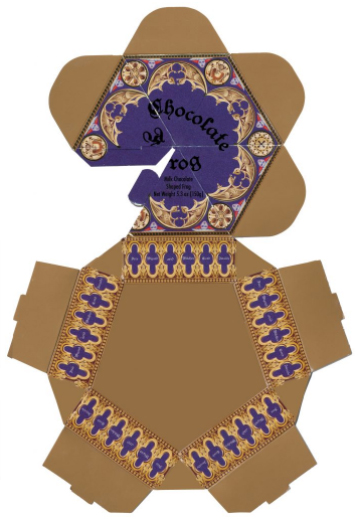 Naturally, we can't go about gifting anyone who asks an actual Quiddith snitch! Unthinkable!
Nor are most hosts planning on acquiring enough for attendees, then releasing them outside so they may be personally-marked for each. Not everyone's a Krum, after all.
Instead, we recommend purchasing several Ferrero Rocher candies from your local London shop (or, whatever supplier you may live near), then adhering facsimile wings to the sides.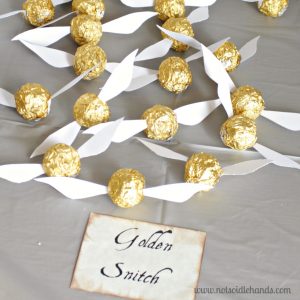 Research tells us that Muggle children enjoy violently beating cardboard shapes with sports equipment, in the hopes of loosing various confections placed inside by their parents. They call this beastly practice hitting a piñata.
Really, the only acceptable application of such an American sort of invention is in use against something odious or unwanted -say, a dementor.
Though non-magic folk cannot normally see these horrible beings, the practice should be enough to encourage a healthy dislike for them.