I can't believe I haven't heard of a donut party before! I've missed so many parties that could have been tastier.
Well, we're going to remedy that!
First, pick up a light sign. They sell some on Amazon (of course).
Next, arrange the letters to spell, "Eat More Hole Foods." I can't help but snicker.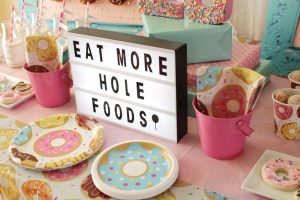 Next next, we'll need some fun decorations. I really like the color scheme of pinks, blues, yellows, and chocolate.
Your options should say, "fun" and "colorful," like a doughnut.
I like the fun look of these danglers. I would tape them from the ceiling, all around the party area.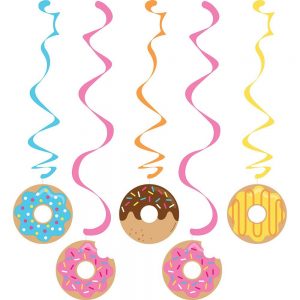 Besides ceiling décor, had you considered a donut wreath?
I don't know why I didn't think of it. I mean, it's round; a donut is round.
It's a (sadly, inedible) masterpiece of felt pieces hot-glued to a sytrofoam wreath. You'll need tan or brown for the "dough," pink or your favorite alternate for the "frosting," and various bits for "sprinkles."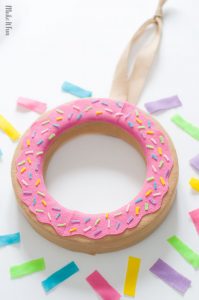 I'm not saying that you can't just serve donuts the whole evening. Or, even that you can't have a pile of them and call it a "cake."
I would like to point out that this bundt cake "doughnut" is a brilliantly funny idea.
I'm totally going to make one, just for kicks, as soon as I find my bundt cake pan.
According to the directions, just bake a cake about halfway up. Then, finish with drippy frosting and sprinkles.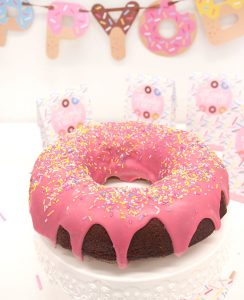 .
.
Another great decoration is this donut bouquet.
It can be a centerpiece, the craft you use for the attendees, or what goes home with everyone at the end.
Where can one find styrofoam donuts to paint? Apparently, the secret is cutting a middle hole in small circles, then coating them in Mod Podge and letting them dry.
After paint and glued-felt "frosting," the "sprinkles" are jewelry bits. The skewer is a skewer.
Voilà! You're done.
.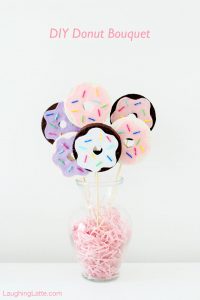 This party's going to feel over-sweet as soon as you walk in.
Let's add a refreshing complement in the form of that age-old donut pair: milk.
Putting it in a dispenser (with polka dot ribbon) is super-cute, next to those donut straws with the cups.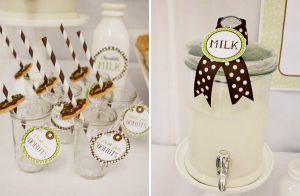 In fact, we're probably going to need to subsist on something besides the main theme for food.
Bring in the pizza!
Okay -that picture is for an Spicy Crescent Anel Italiano. I made one with pizza ingredients the other night, though, and it turned out perfectly.
Just cut your crust in rectangular strips, lay them down in a pinwheel-looking spread, put in toppings, wrap them up and seal up the edges, and bake.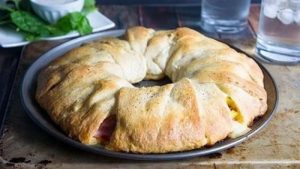 Ah, c'mon. You can't have this party without the main star!
Besides a full-on donut wall I wrote about earlier, I like these two ideas for displaying various donut types.
One, as you can see, is a skewer of full-sized fare. The other is a tree of holes stabbed into a styrofoam tree.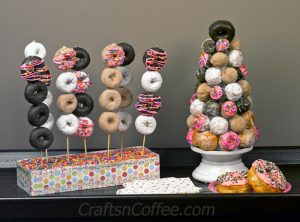 We still need some games!
Here's a simple one: ring toss. Whoa -wait! DONUT ring toss!
Just decorate some cardboard rings to look like our favorite sticky dessert, and have everyone toss them into various point zones.
Start a game of Donut Frisbee once they're tired of that.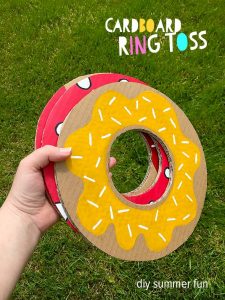 Just like we couldn't have a donut party without actually serving donuts, you can't possibly have one without including the old Donut on a String game.
You'll need a good spot to string them all from, or have one person hold a stick for another like a fishing pole.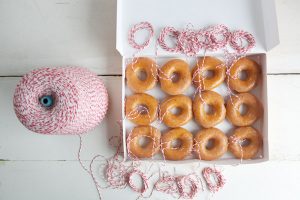 Do you see that hulkingly-large, round dessert in the background of this picture?
It's a PIÑATA!!
I'm not one to tell you what to do, but treats inside can defnitely include those donut erasers my kids are crazy about.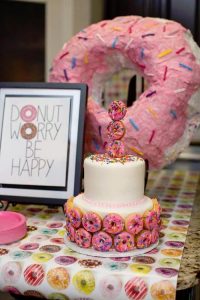 Sugared-out yet? No way? Check out these websites to see how to donut up your party:
1. Wholesale Party Suppliers, Amazon
2. Amazon
7. Kaniala
9. Mollymoo
10. Oh Happy Day