I cannot tell you how incredibly amazing Joanna Gaines' house is. Or, maybe it's that she is so talented.
Either way, let's go look at real estate for farmhouses. While we're there, we'll probably pick up a handsome, charming man who is willing to fix it up for us, too. Then, maybe, we'll actually have a Joanna Gaines Christmas.
In the meantime, we can borrow a few Magnolia Market ideas for what we have now.
Like, this chandelier decoration from Joanna's blog. Sure, you may not have a light exactly like this -but, do you have a hanging light? Do you have artificial holiday trimmings?
If not, head over to the craft store now, people! That light's not going to decorate itself!
I'd recommend some holly or mistletoe greenery, with red berries for contrast.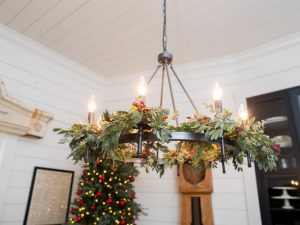 Another great form of lighting is candles. I know I'm always looking for new ways to use them, especially for the holidays.
This is why I am in love with this centerpiece idea.
Jo put water and cranberries in hurricane vases, then popped floating candles in the middle.
This is a super easy decoration if you want to have a Joanna Gaines Christmas.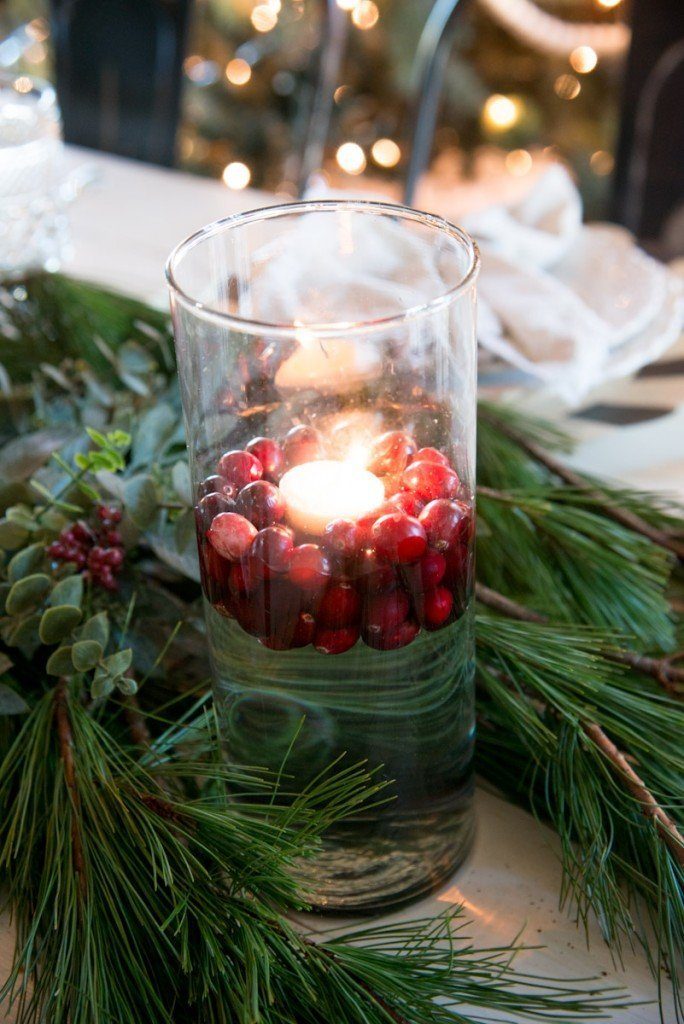 Every new decorating picture I come across makes me more excited to try it!
I mean, how adorable are these tiny topiary Christmas trees?! And I've always wanted a glass cloche since watching Beauty and the Beast as a girl.
If you've got some foam, mini terracotta pots, evergreen branches, and spray snow; then you can make one today. If not, get shopping!
This is probably (definitely) a must-have for a Joanna Gaines Christmas.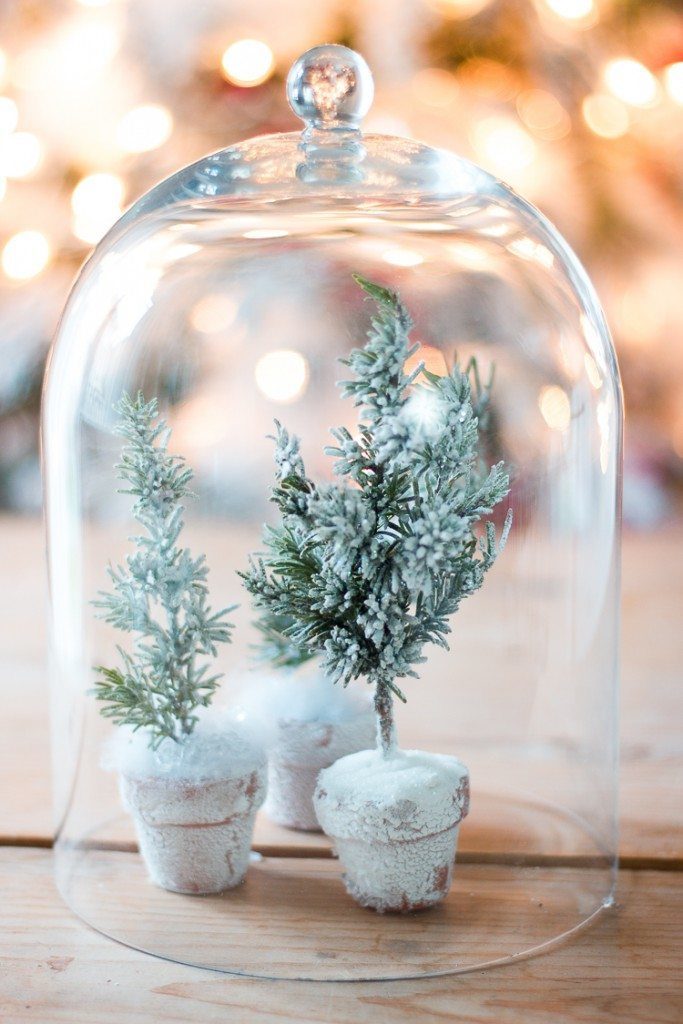 These rustic log vase things are available to purchase from the Gaines' store, or you can make your own.
Paste bark or a bark sticker around an existing vase, or go drill-happy up the middle of some actual logs.
Once the dust settles, stuff in some Christmasy stuff like evergreen branches.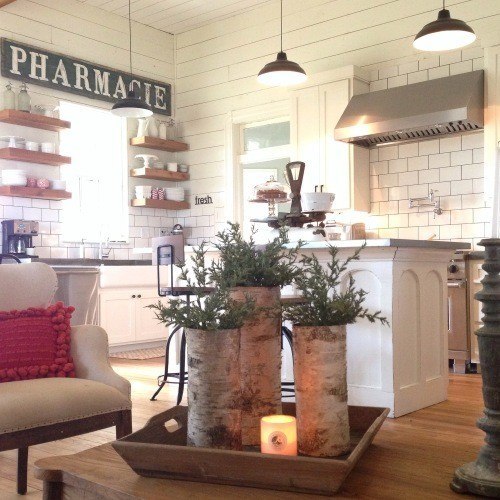 Unfortunately for me, I wasn't alone while drooling over Joanna's blog. Now my kids want to make these snowballs.
It's a good thing they're so simple! A quick trip to the store, and we'll have our styrofoam balls, craft glue, and fake snow. Find everything you need at Michaels!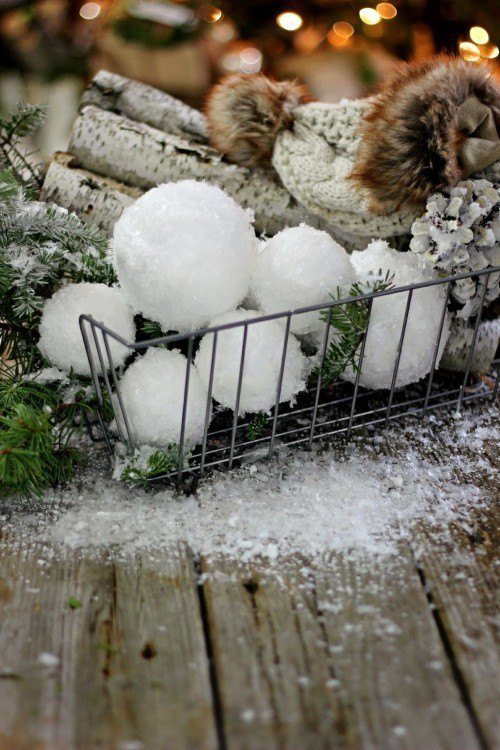 Since I just can't leave candles alone, I was tickled to find yet another idea from Joanna.
These use medium terracotta pots, foam, candles, and greenery.
If you made the mini topiary from earlier, you've got a lot of those materials hanging around already.
The great thing about this Transitional Tablescape (her words) is that, well, it's transitional. That's great news for someone like me who hates putting away Thanksgiving and dragging out Christmas.
Find an interesting container, like a stained wooden crate or short vase. Set a strip of plastic in the bottom, then some soaked oasis foam.
Stab it full of interesting holiday greenery and berrily. Joanna suggests produce for "a touch of whimsy and color," plus leaves and red berries for autumn. Moss is great to fill in any gaps in floral coverage.
Finally, artistically shove in a few flameless candles.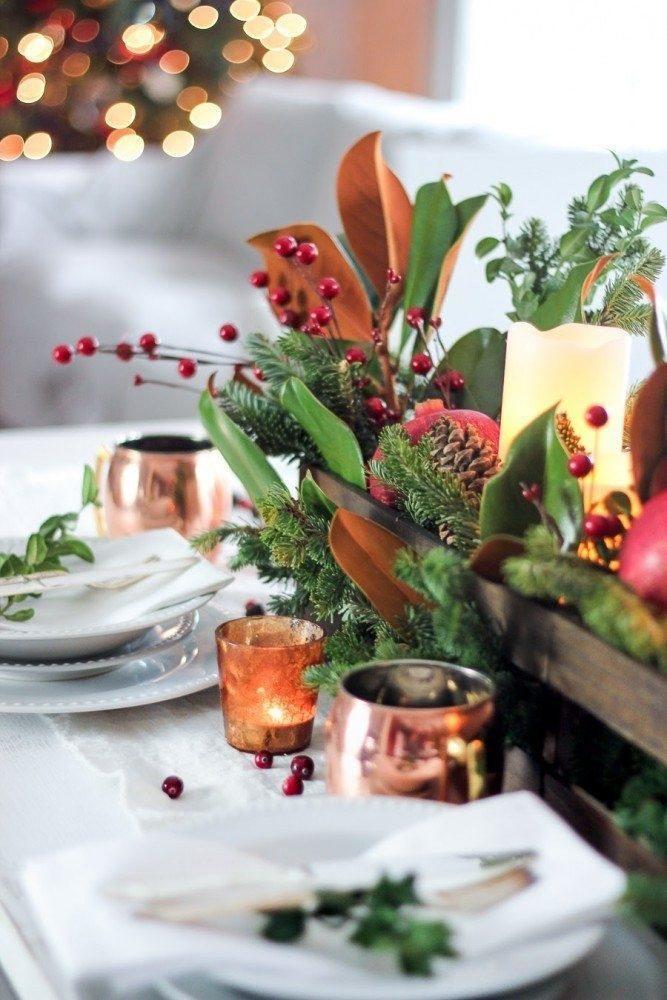 When it comes to staircases, the Gaineses tend to go with a simple evergreen garland down the railing.
For this picture, they've also hung their stockings and set out a few miniature trees.
This is not their main staircase, so it's a personal setup for their family space.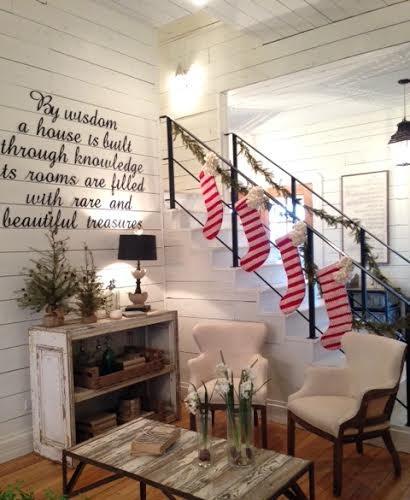 I saved my favorite picture for last.
Granted, we still may not have our rustic farmhouse yet. We may not have shiplap walls and a hardwood floor.
But, we can have a lovely, simple, silver and white Christmas tree. And, we can spend time with family decorating it.