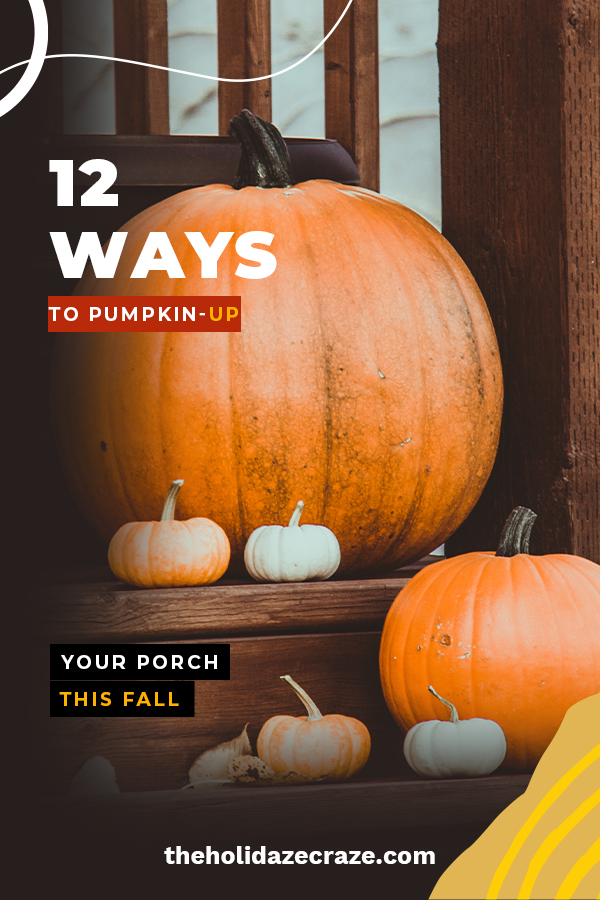 Autumn is upon us! I know, because the stores all have pumpkin spice everything.
And on my way to the old school carpool, I saw those bright orange fruits popping up in farmers' fields. I began reminiscing immediately on pumpkin-carving parties with the children.
But, wait! We are crafters. We are artistes.
We can do more with our pumpkins than a simple defacing.
For starters, consider a quiet, evening candle holder.
Visitors to your front stoop may not even notice the candle's squash support as they somehow, subtely feel of fall from the flickering flames.
Added bonus: Steph Danielynn used craft pumpkins. So you can use these anywhere flames are permitted (or get a battery candle). Then, store them up for next year.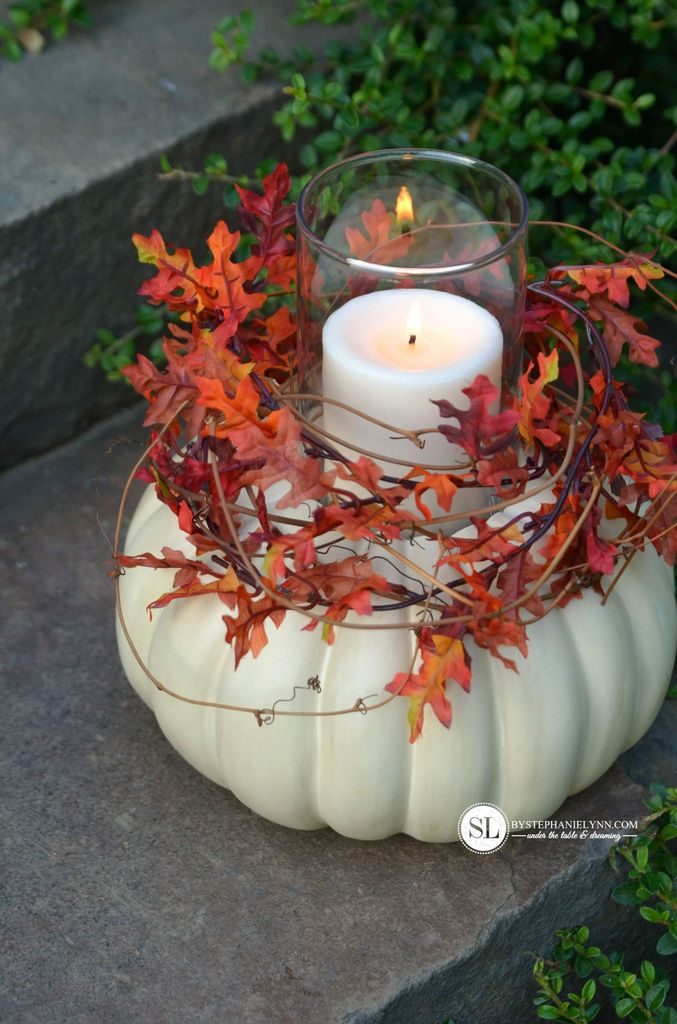 How about a vintage look for your table, mantel, buffet, night stand, or showing-off neighbor present?
Get some floral pumpkins and a few jars of chalky finish paint. Grab a brush and cover everything but the stem.
Accent with other natural crap for a charming look that actually only took a few minutes.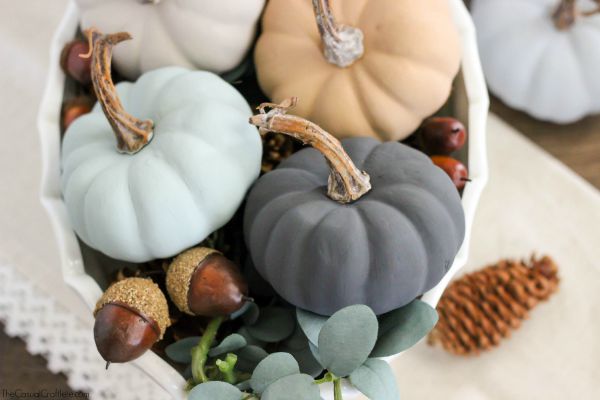 Just to mix things up, let's consider a different pumpkin decorating idea.
This craft from Trendy Tree uses a work ball (with twists), Deco Poly Mesh, wired jute roping, and velvet wired roping.
I had to study the pictures a few times, but I think I've got it: Take strips of the mesh, poofed out a bit, and attach them with pipe cleaners to a ball-shaped frame. Add fun, funky strips of roping interspersed with mesh scraps of another color.
Finally, be grateful this isn't perishable so you can keep reusing it.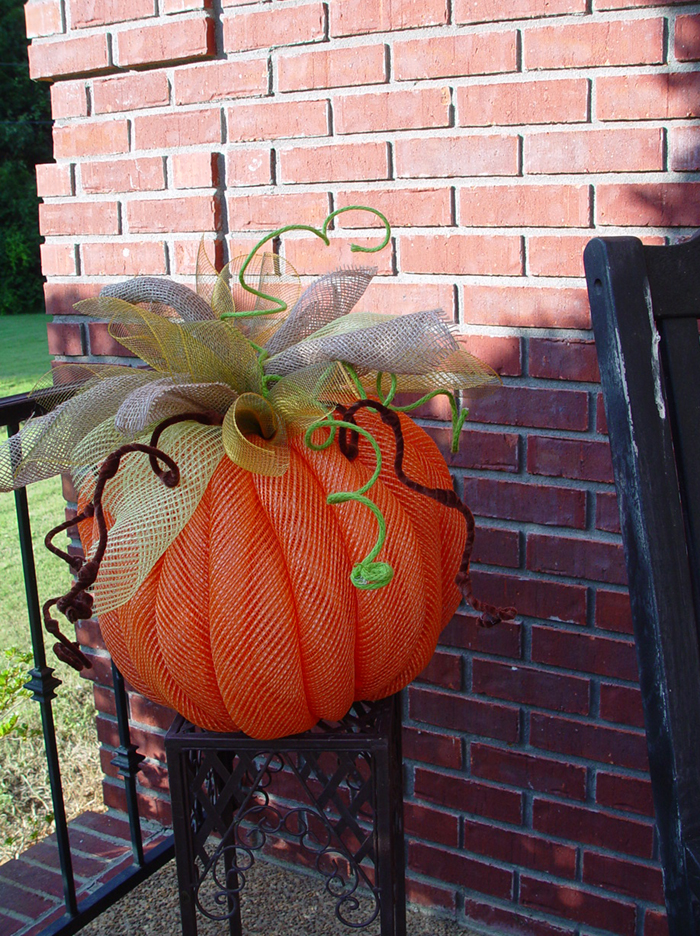 The great thing about these gold leaf and chalk paint pumpkins is that you can start with any pumpkins. This is good news if you're scouring the clearance bin after Halloween and are only finding bright orange and purple.
Three layers of chalky paint later, and you can't tell a difference.
The stems were a simple touch of wax metallic finish paint. The Happier Homemaker used a brand called Rub 'N Buff.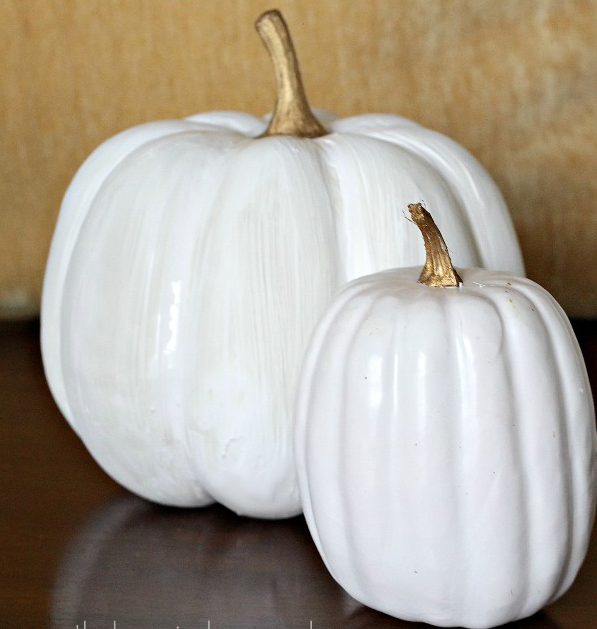 This next idea from Simply Happenstance is one of the oddest, coolest ideas I've seen.
Using moss and GLUE, you can make a succulent pumpkin planter arrangement.
The plants actually grow on top, and then will continue to thrive if you cut it off and plant it in a few months.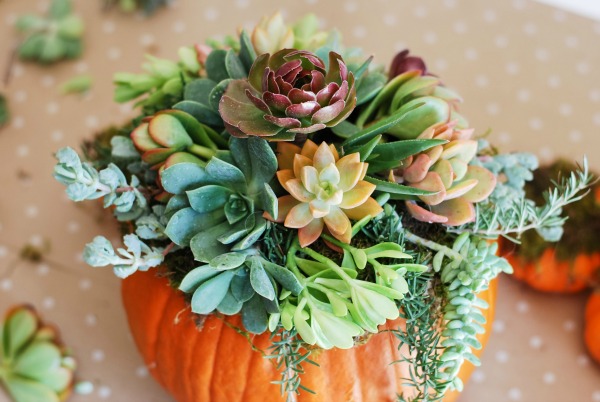 Wood crate or pallet crafts are all the rage.
Using a bit of sawing, these pumpkins could be made with pallets. However, Crafty Morning simply grabbed three wooden crates of varying sizes and painted them orange.
Finally, she added a literal pasted-on stick and tied a corn husk ribbon round it.
So simple. So cute. Go do it.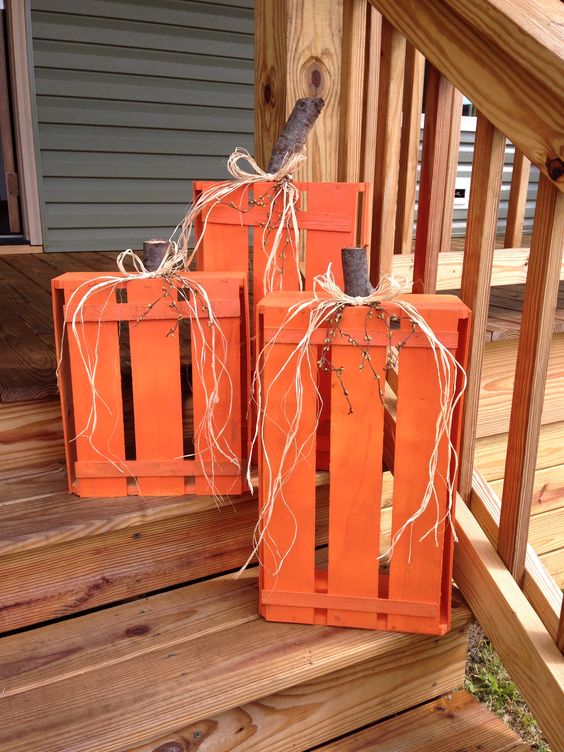 Once again, if you've got some pumpkins, you can decorate them however you want.
Why not try a patterned look?
Lolly Jane used acrylic paint to make a diamonds, polka dots, or stripes. Then, they tied a ribbon around them as an accent.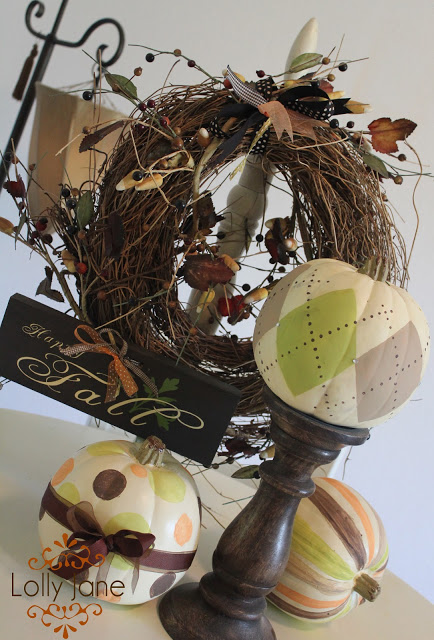 I don't think you would believe that these dropcloth pumpkins were actually made from toilet paper.
Would you?
I'm totally serious. You cut a roll of soft toilet paper in half, then wrap strips of white dropcloth round and round till it's all covered.
Then, to complete its vintage look, glue a stick of driftwood in the top for a stem. Easy-peasy, lemon-squeezey.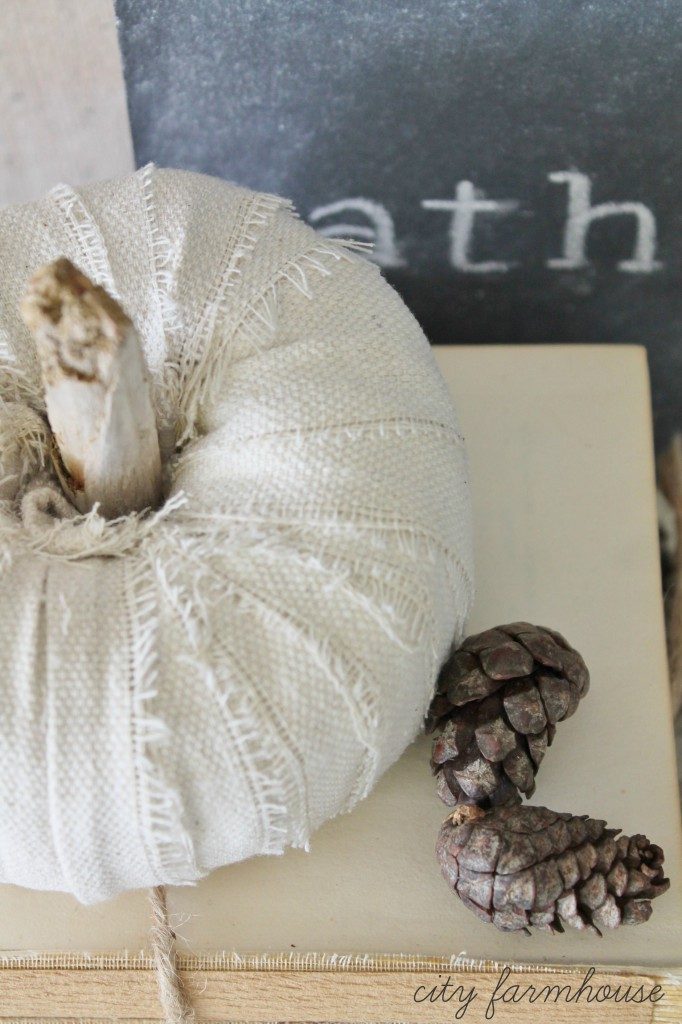 "Hey, honey, what should I do with these leftover scraps of paper?"
"Oh, go ahead and paste them all over these craft pumpkins."
Say, what?
You heard me. Got some Mod Podge? You are going to découpage toile, damask, calico, quilt, whatever paper patterns onto your craft pumpkins this year.
And they are going to look fantastic.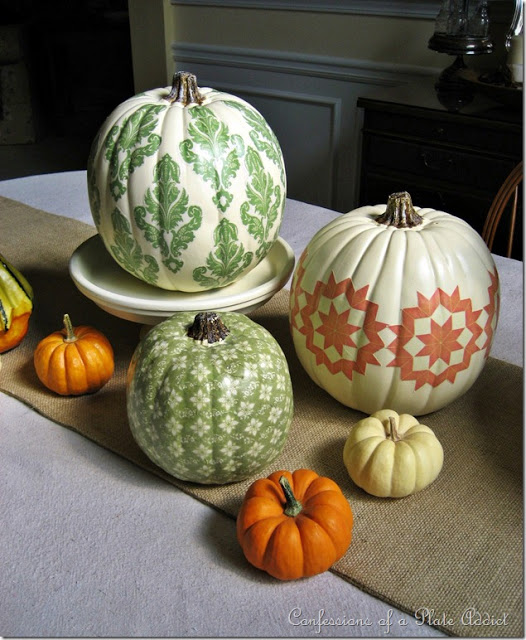 What about a step outside the ordinary greens, burgundies, and browns of fall?
If you want to say, "Fun!" and "Fall!" this year, try a polka-dot pumpkin.
This was made with your friend, Mod Podge, a craft pumpkin, and paper confetti. It's a pumpkin, and a party.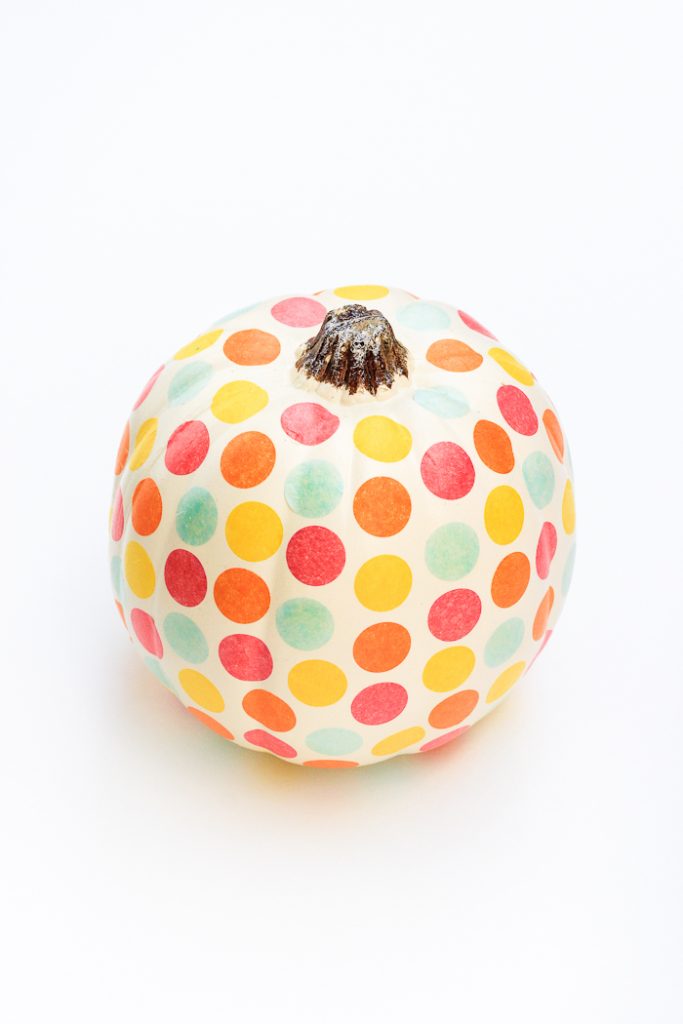 All of these crafters must have realized that fake pumpkins are great, but look terrible.
Let's say you don't want to cover yours in chalky paint, though. What if you simply want them to look real?
Diva of DIY has a simple mix of burnt umber and black acrylic paints with water, applied and buffed with a cloth while wet.
The result: a cool, aged look that takes a few minutes.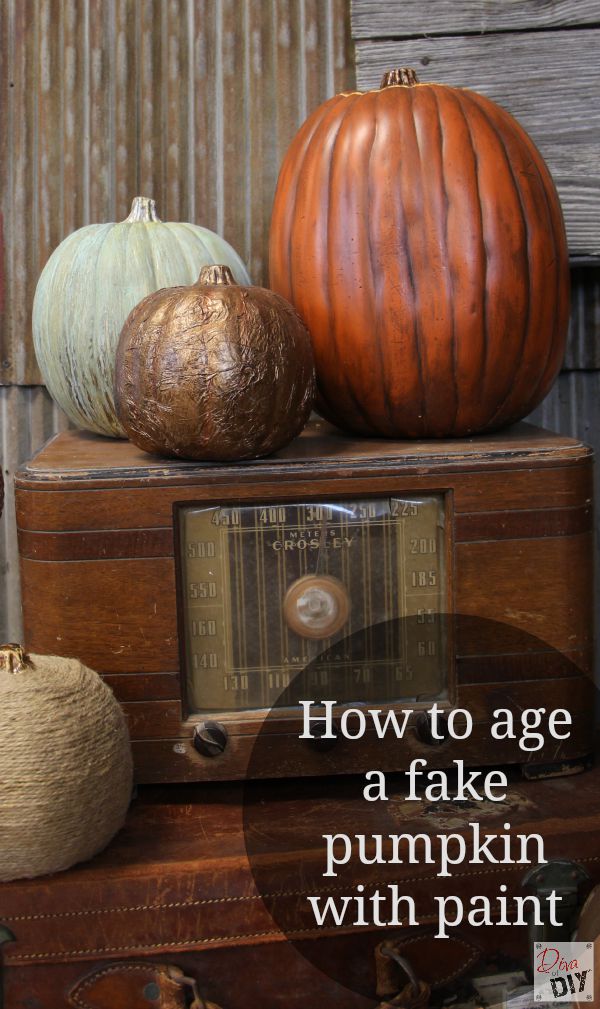 It's time to class up this place.
Let's purchase some crystal appliqués, and stick them on a white pumpkin in a beautiful pattern.
Add a vintage rose or two. Try it on all your pumpkins. You've got glitz.