It's that wonderful time of year again: weather cooling down, leaves beginning to change, and the children are all in school (yay!).
Now that you're sitting at home, you may be thinking it would be nice to decorate those walls so you have something interesting to stare at. There are only so many times you can count the dents, nicks, and black marks, after all.
Also, something decorative could cover a few blemishes. Win-win. You'll have adorable walls for fall AND you'll be more entertained throughout the day.
Despite natural wear and food stains, the rooms of my house are less interesting than those in a hospital. After searching for Fall craft ideas, however, I've realized I don't only have four walls.
I actually have four canvases just waiting for an artist -or, me.
Seriously, they're stuck since I'm the owner of this joint. Good thing I've got 12 ideas to look through.
For a simple, customizable wall-hanging that doesn't take much space, try these rustic flower sconces.
AK Print and Design sells them, or you can assemble one on your own. You'll need a stained wood slab, mason jar, flowers, twine or rope, paint, wall-mounting hardware, a hose clamp, and a screw with bolt to hold the jar to the board.
Attach the wall mounting hardware to the back of the board. Then, get your drill (or person willing to drill for you) to attach the hose clamp to the wood with the screw and bolt. Then, slide the painted jar into place and secure it. The rest is easy.
If you're making more than one, don't forget to use longer boards and lower jar placement for that lovely tiered affect.
I'm going to totally raid my box of fake flowers and hand-me-down jars and try this.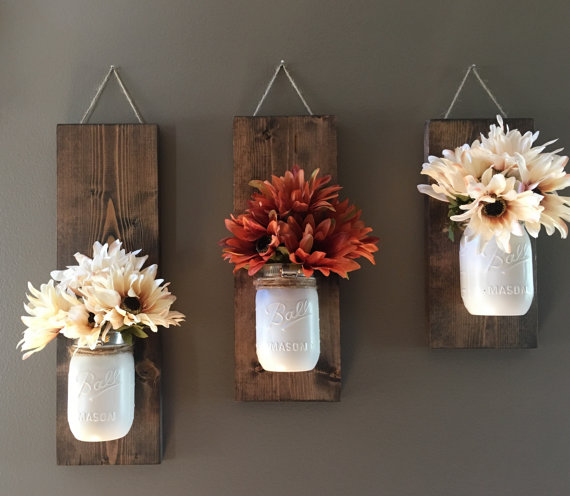 In this idea, The Grace House begins with a neutral-color entryway and adds seasonal accents.
Look at those cute pillows! Don't they seem to say, "Come in, you're welcome, but don't actually sit on me?" Perfect for guests.
To add to the theme of autumn; notice the design on the pillows, the fall wreath, and the rustic crate of white pumpkins.
Do you have an entry? Now you will have a decorated entry.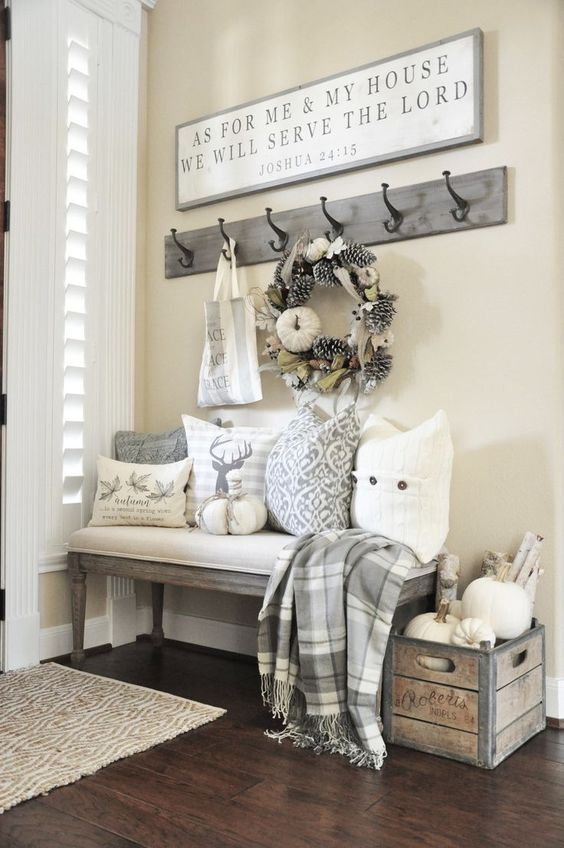 I need a brick wall. Brick walls make for perfect walls for fall.
Time and again, I find myself drawn to cute little restaurants or boutique shops that have a few interior ones. I just love the old, natural look!
With or without one, you can still pull off this look for a bare space in your home.
The designers at Dear Lillie started with a kitchen cart, chalkboard, and tiered wire basket. From there, they added a string of lights, fall accents, and a seasonal message.
If you don't have a chalkboard; I've seen chalkboard posters, stick-on surfaces, and even paint (wait till it dries). Then, pick up a pack of chalk markers and have a ball!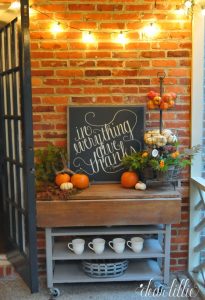 Look! It's another entry idea for you!
Okay, I really included this one because I loved the basket of flowers. I figured, I can hang that anywhere. -Especially, since I don't have an entryway.
And guess what?! Flat baskets are everywhere, as well as fake flowers. You could even do real flowers. This basket is a perfect addition to your walls for fall. It will add some vibrance to your home!
Then, you just might go crazy and throw in a bench with squash pillows. Heck, Home by Heidi says she threw it all together and it looks great.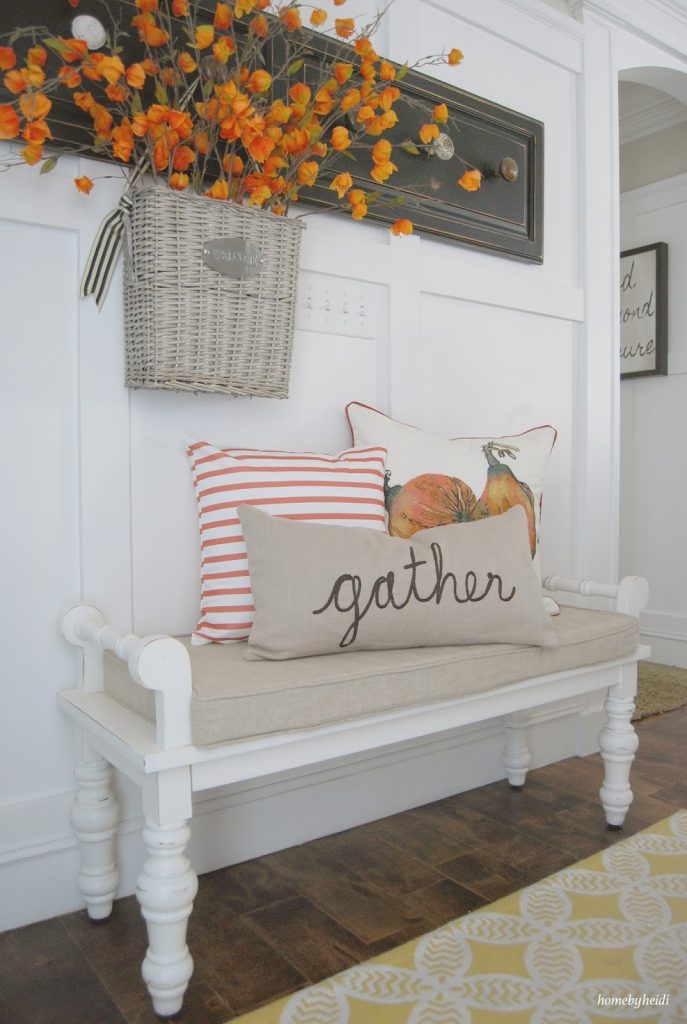 Are you looking for walls for fall floral décor?
Crafts by Coley suggests purchasing their orange, yellow, and burgundy paper flower arrangement.
I figure I can let the kids make me some. Or, I'll try to make some. Or, I'll definitely get my more-crafty sister-in-law to do it.
Whatever path we'll choose, fall will be soon be blooming on our walls.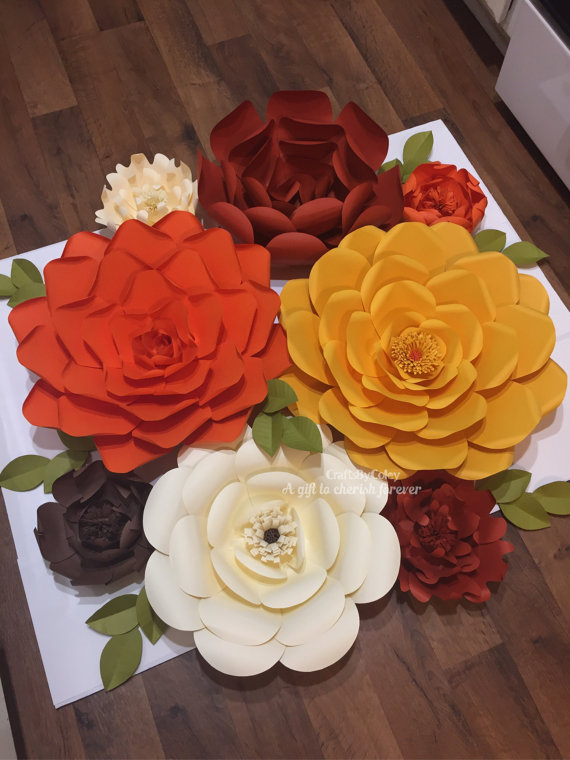 This might seem crazy, but a window on a window totally works.
I found this idea while poking around, and loved the affect. I mean, what if you have a wall of windows? Stick-on decals and fingerprints can only go so far.
Look closely at the picture yourself, and see if you can't hang an old textured-glass window in your fishbowlish room. Add a fall wreath and some matching accents and you're done!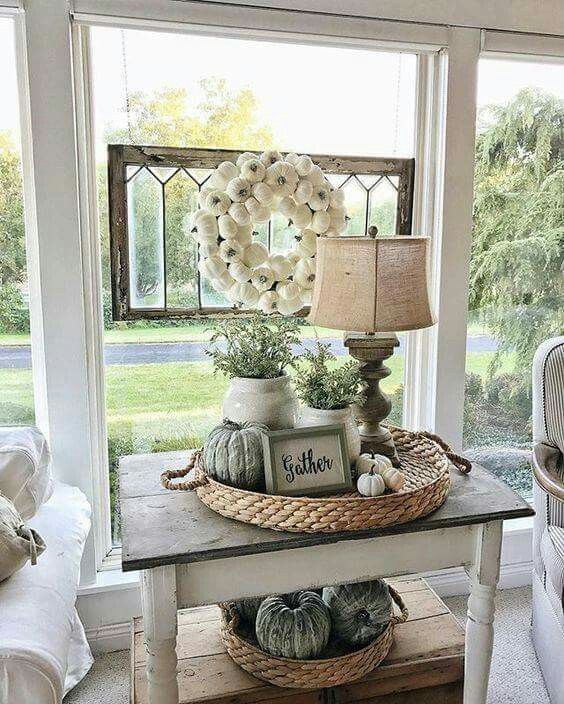 For a slight change of pace and décor, I found a do-it-yourself from Lowe's that involves the kids.
They detail how to make the frames yourself, which may be a tad involved. You can totally do this with existing frames and any background you choose (even the one that came with the frame).
Then, did you think those leaves were real? The designer is actually a person after my own heart, because those are fake –and, made using spray paint.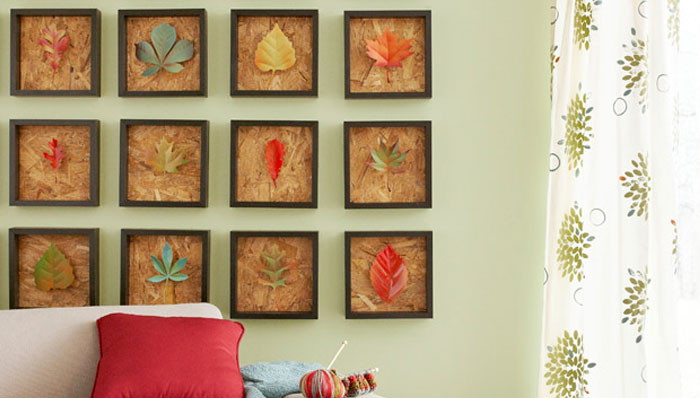 My favorite simple crafter over at Remodelista came up with another children's craft for decorating your walls: art leaf prints.
The best part about this is that it combines two of my kids' favorite activities; picking plants and playing with hand tools.
Grab some cardstock, a background board that you won't mind denting, and then go skipping outside with your little ones. They'll enjoy the smashing and you'll have cute, homemade artwork to fill any blank space.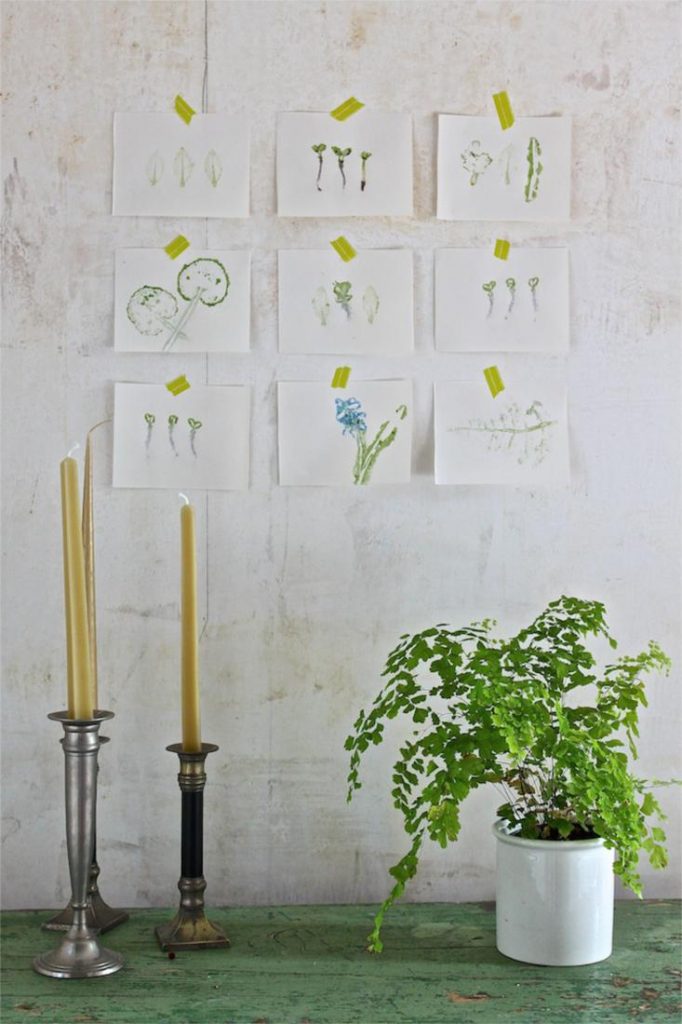 I'm always looking for something easy that doesn't look easy, plus ideas that no one else has.
Voilà! -an indoor leaf mobile!
And, again, these are not real leaves. I love leaves, I do. But, it only takes one time of crafting with them to see how crumbly, dirty, and potentially bug-infested things from outside can be.
I've had good luck with sticks, though, so I think I could hang that from the wall.
Happiness is Homemade made her leaves with a die cutting tool, but had her kids go crazy with watercolors to make the paper. I think the result is lovely, and looks realistic.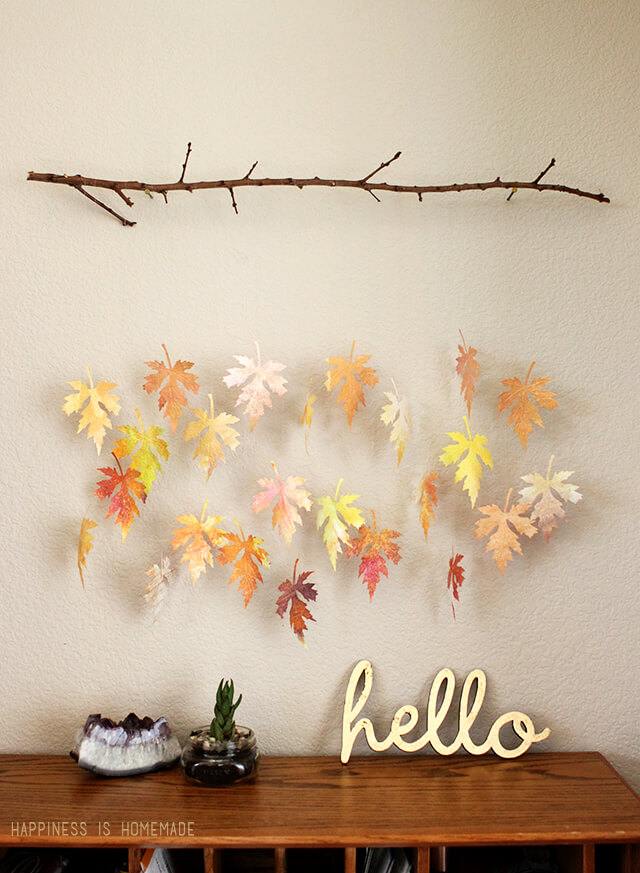 I think the woman at The View from Here is my long-lost sister. She loves Halloween and wants to decorate for it, BUT knows the greater art of glue guns.
Using a black canvas, or one painted black, she simply glued leaves in the pattern you see here.
Hang and done!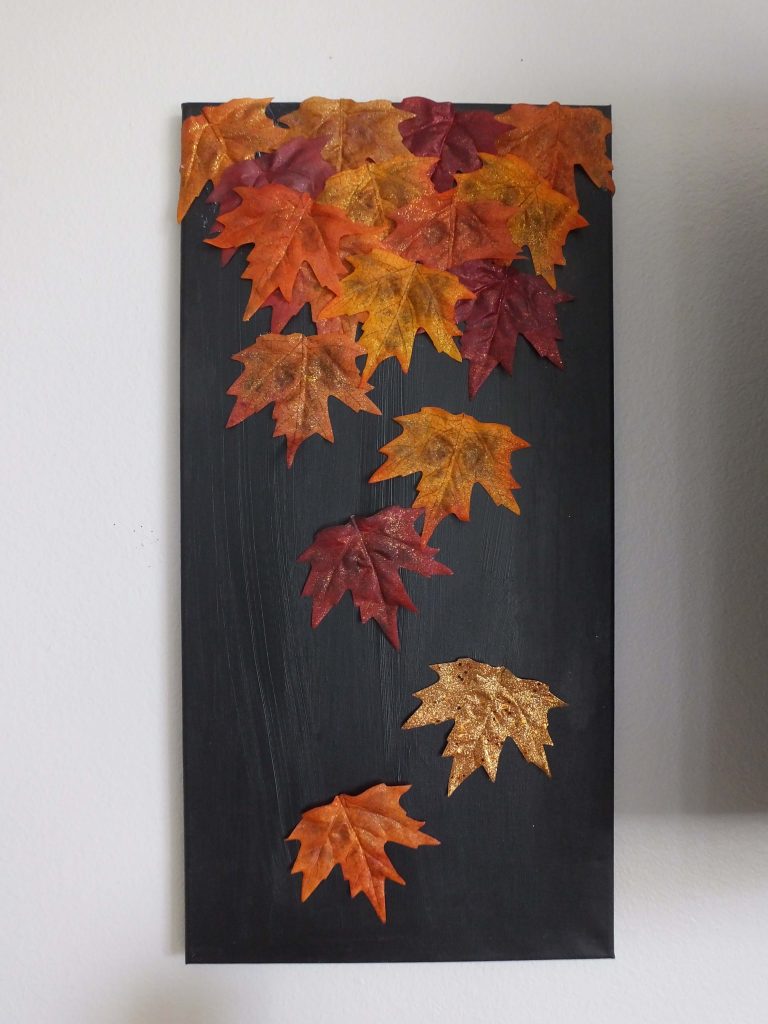 Okay -this picture is a bit deceptive. I saved it, thinking something like, Oh, cute! A shelf with a bunch of stuff.
Really, AKA Design lists this layout to show off that adorable burlap banner that will be a nice touch to your walls for fall decorations.
Which is cool, because you can hang that sucker anywhere that needs a simple accent. And, frankly, the rest would be easy to decorate with as well.
Go to the store, buy a shelf, hang it, and then add your own fall accents -including your own adorable banner you've just made.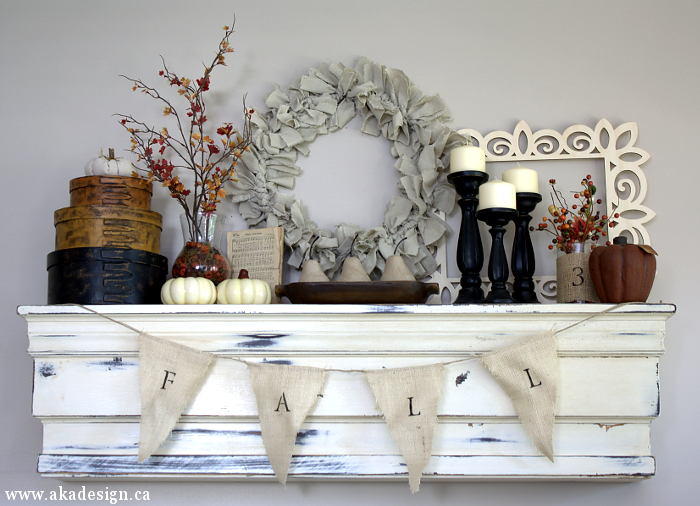 Finally, Ella Claire lists about five things you can decorate with this Fall, including a distressed sign and an old book page pinwheel banner.
To save on costs, these DIY ideas were all made from materials that cost less than $5 apiece. She even made that box-lantern thing herself, and painted the words on the sign.
If you're more like me, then you know plenty of existing signs are just waiting for you to drag out your craft store coupons for.
Try your hand at that banner, drape it near the sign, add some gourds you really got from the grocery store, and you'll have a rustic autumnal look as well. Perfect for your walls for fall.