When a young woman first thought to write a story about her beloved pet rabbit, she did not foresee how many people would fall in love with him as well.
Over a hundred years later; children still love to hear of naughty Peter, stern Mr. McGregor, and obedient Flopsy, Mopsy, and Cotton-tail.
Furthermore, Beatrix Potter's charming woodland creatures and stories make a great theme for any party.
Start with Peter's favorite: fresh carrots. He'll want a wheelbarrow to haul them home in.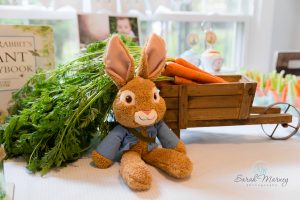 Old Mrs. Rabbit might make some fresh vegetable soup from the carrots. Let's invite our friends over to sup.
There are many very cute card ideas out there, but I'm in favor of the watercolor painting of this one.
Plus -there's Peter, himself. Hippity Hop Hurray!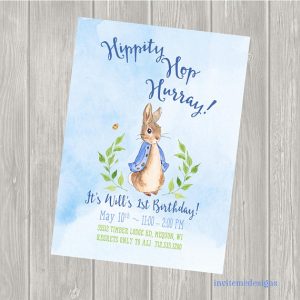 You may be fond of roly-poly pudding, but a birthday cake seems more appropriate for this event.
Besides fencing, a blue-coated rabbit, and plentiful garden ware; you might also just lay a few fondant carrots on a frosted dessert.
If you're really feeling authentic, just serve the vegetables. The birthday child would be surprised.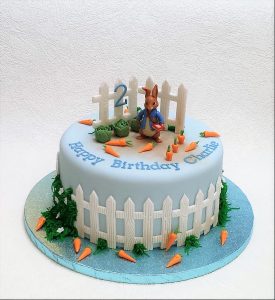 Actually, let's stick to garden things for everything non-cake.
For example, look at these smashing party hats.
They're made from orange paper circles, stapled, with frayed green tissue paper tops.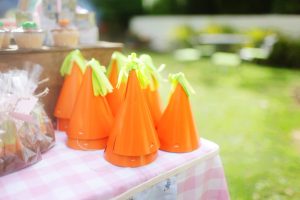 Don't you just love it when everything you need is in one place?
Bless you, Amazon, for having an entire Peter Rabbit place setting package.
If that seller drops off, orange tableware from the party store is always a great option.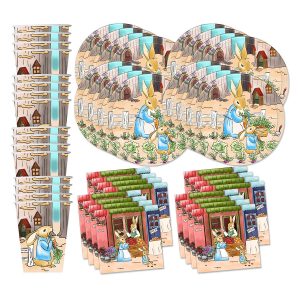 I think I'm seeing a theme, and it's not dropped shoes among the cabbages.
You may think these carrot sandwiches are the product of fancy bread-making, but they aren't. Those are croissants.
An easy chicken or tuna salad can be the filling, but the parsley leaves out the back are indispensable.
After all, they help when any rabbit's feeling sick.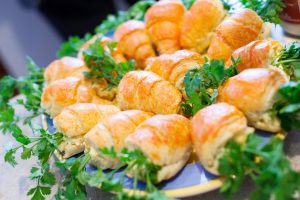 First, Peter ate some carrot sandwiches. Then, he went looking for some broccoli, celery, and grape tomatoes.
He found them on the serving table, near a potted sign that read "Garden Veggies."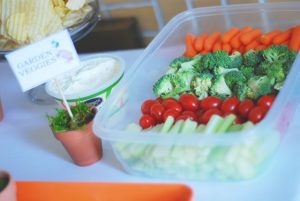 Less-authentic McGregor munchies may be disguised inside green "grass" bags.
These may be more accommodating than an old watering can.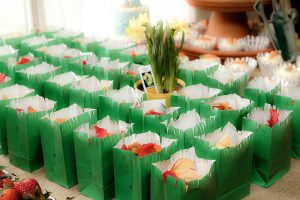 Looking for some diversions? Suddenly, quite close, we see sunflowers and pots.
Start the scr-r-ritch, scratch, scratch, scritch of your hoes and shovels for a fun, festive game.
Guests will each need a pot, soil, and flower. Provide them with each, and some supervision in planting.
They'll love going home with a prize they made.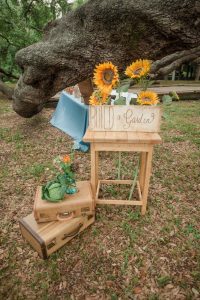 Sick of carrots yet? Never!
Besides, no gardener ever grew root vegetables quite like these.
Hint: they're really bubbles. The trick is that loop of green thread at the top.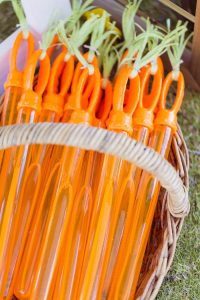 Admittedly, Peter may not be feeling well this evening after yet another edible, orange food.
Before hitting the camomile tea, let us point out that these are actually bunny cookies in carrot bags.
They'd make a great handout, food table addition, or decoration.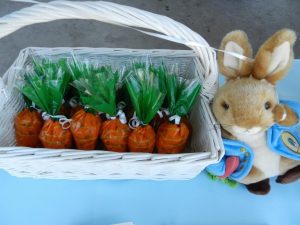 Speaking of handouts, this garden won't make you dodge sieves or lose your brass buttons for your own carrot.
In fact, we'll wrap it up in a nice, gingham ribbon.
After so many vegetables, kids will be pleased to discover this is actually Play-Dough.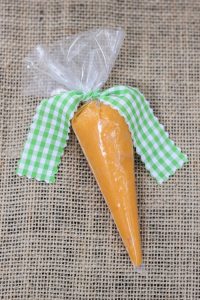 Hop Hop Hop to these Peter Rabbit Party sites:
2. Etsy
5. Amazon
6. Pop Sugar
7. Rachel Zimm
9. Pop Sugar