Boo! Did I scare you?
No? Well, I've got to work on that somehow.
I know! I'll show you a bunch of super scary Halloween Mason jar crafts, starting with SPIDERS!
I don't like them crawling on me, but I have a few friends and a sister who would hate this jar.
What's spooky about Mom Dot's approach are the more-authentic touches, even though these are plastic arachnids. They look like they're real, in that goop in the bottom of the jars. Wrapping them all in fake spiderwebs and sloppily screwing the lid on help them come across as truly creepy. Head to Dollar Tree to get your plastic spiders!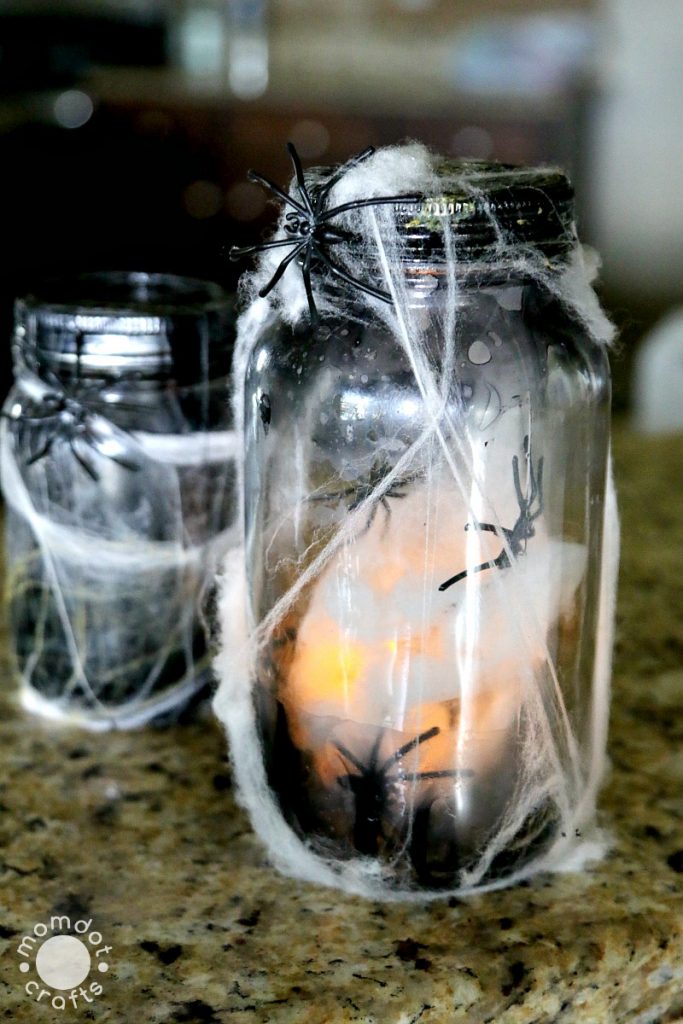 I know, I know. These luminary jars are not scary. They are serious, though.
Okay -I included them because I think the glowing looks somewhat spooky. That, and you can totally customize the look.
Stop whining and pick up some drippy-font letters. Make them look bleeding (we'll talk about that lower down), or attach freakier-looking stuff to the outsides.
Or, keep them this way. They're cute and scary.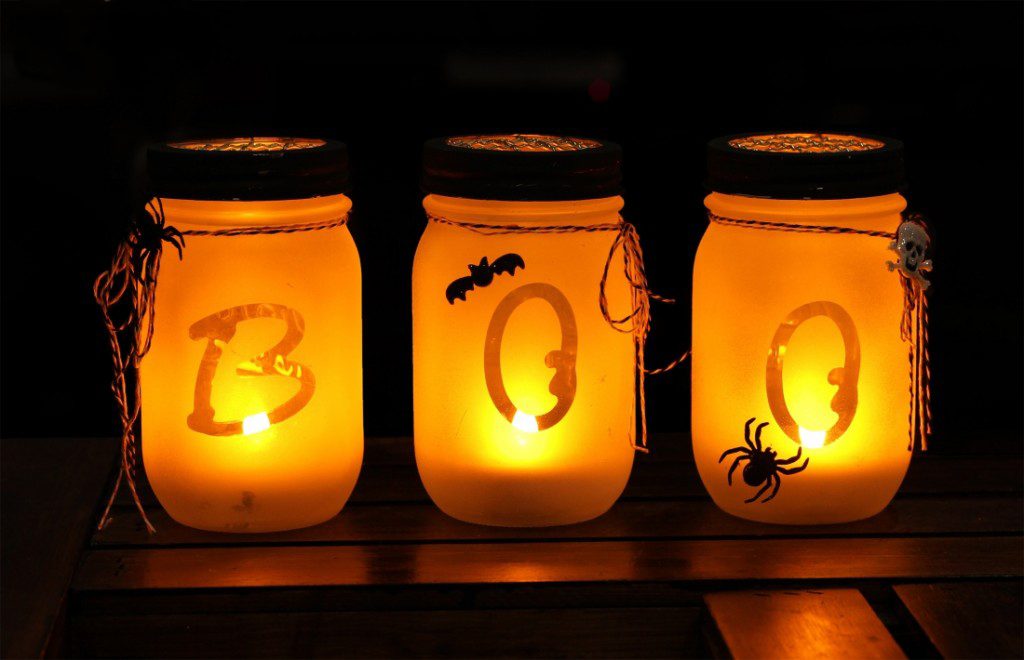 Yep, I've got a thing for glowing, because I think these glow-in-the-dark jars are scary. It's like an alien jar from Slitheen or something.
The trick is glow-in-the-dark paint, which is charged by light. Paint it in swirls, if you'd like. Paint eyeballs. Paint faces.
Hey, you're the artist here.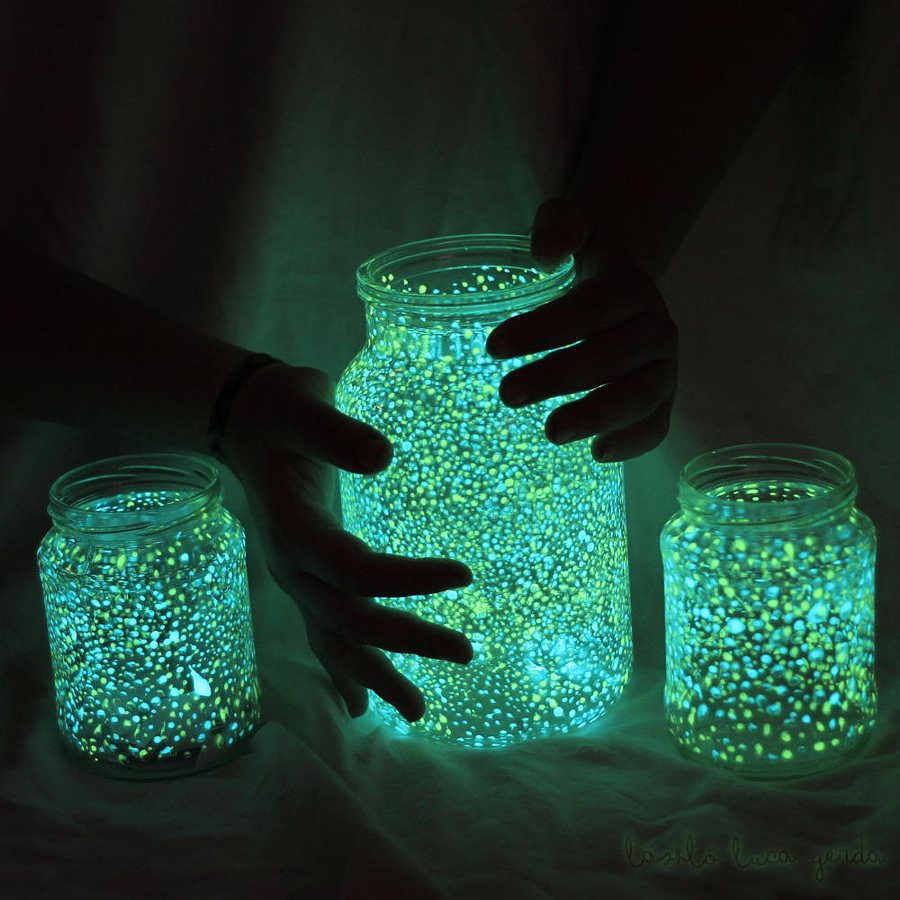 My mother does not like gory Halloween stuff.
This is why I will be sure to leave this jar of eyeballs somewhere she will see it right when she walks in.
I got this picture from Pinterest, but other artists online have made their own eyeballs (super bloodier ones) or purchased a bag from Halloween stores.
Some mad scientists floated body parts in with the eyeballs. You're only limited by imagination, and the store's inventory.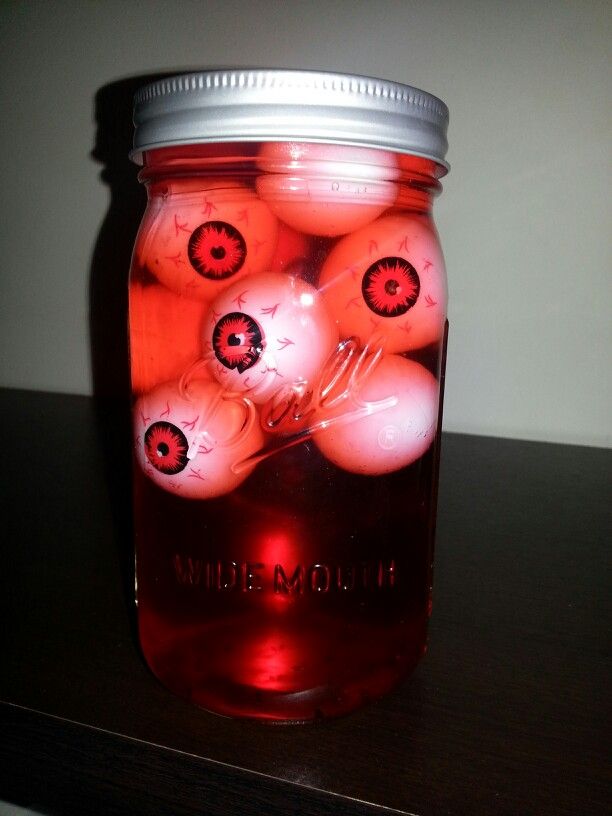 What about flipping the jar upside-down, and adding some floating ghosts?
These ghosts and the stick are upheld by the otherworldly magic of stryofoam, but observers may be too petrified to look closely.
Want them to really scream? Daub some of those glowing paints on the ghosts.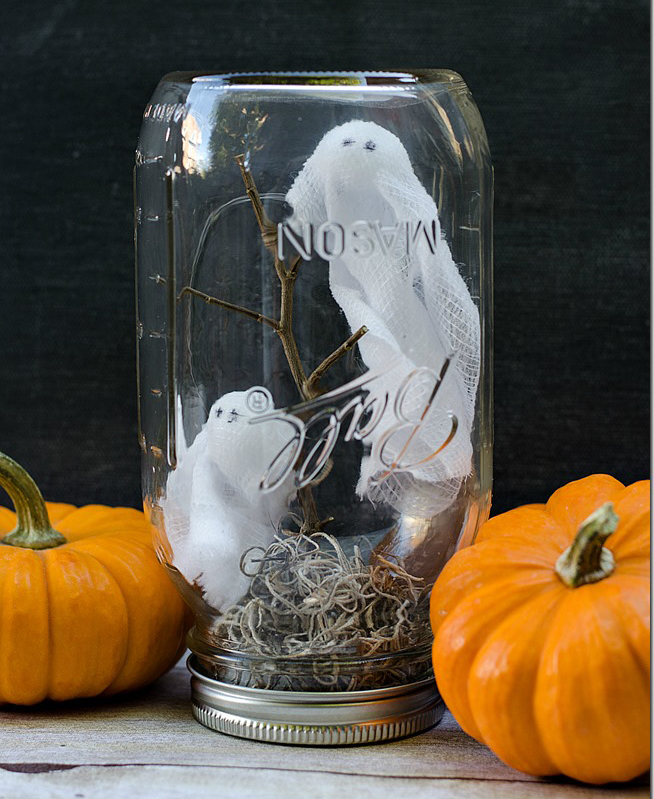 Yeah… this one's more the pretty part of pretty scary. But I like the eclectic mix of scary skull with cutesy ribbon.
I think it makes for a great accent to a skull-themed layout. That, and these are super trendy.
So, tint your jar, stuff a string of lights inside, and adhere the vinyl skull and crossbones to the side. Hot glue the bows on, or go with a more manly, piratey look without ribbon.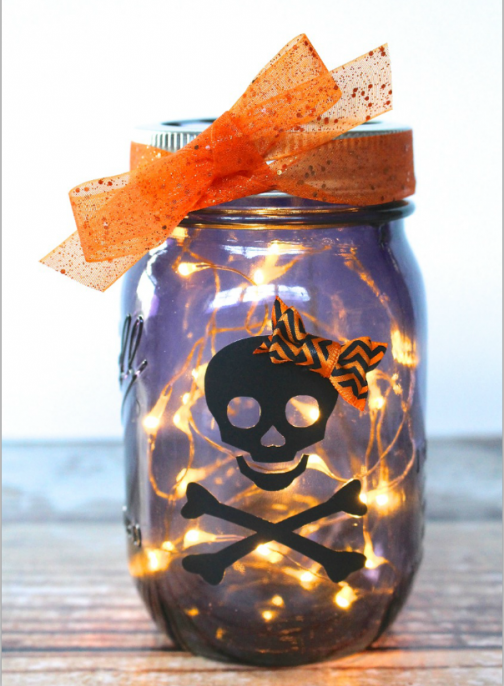 I like this idea, because of its potential as a background to a haunted woods decorating scheme.
Spray paint a few twigs with black, stuff them stylishly into your mason jar, and accent with mesh and ribbon. You'll be set to add witches, bats, glowing eyes, or a spooky Halloween village once it's done.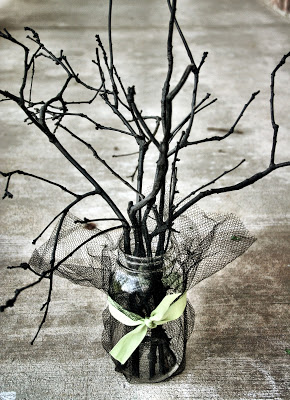 Bloody yell! Those jars are dripping!
What? I told you about these earlier. It's not like you're innocent. And, after you make these, you just might have something on your hands.
There are fairly straightforward instructions for murdering your Masons: get some red paint and drip it around the tops and down the sides. Set them to glow with battery-operated tea lights.
I highly recommend laying a dull knife nearby to really let the idea sink in.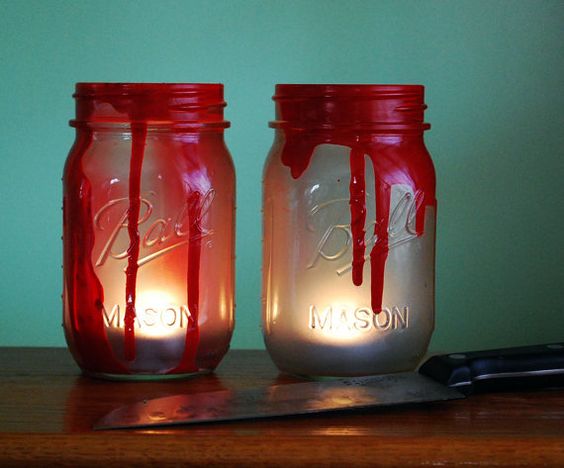 I think a vintage look can be just as spine-tingling as the gore.
In fact, a Poe- or Hitchcock-style style of scare has more universal scaring power than many slasher stories.
Hence, my fondness for this black lace jar. And, look! Home Work has set it up with some classic decorations, like a candle and a raven (Nevermore!).
You can always pick what goes in the jar, too, if this isn't saying spooky enough for you.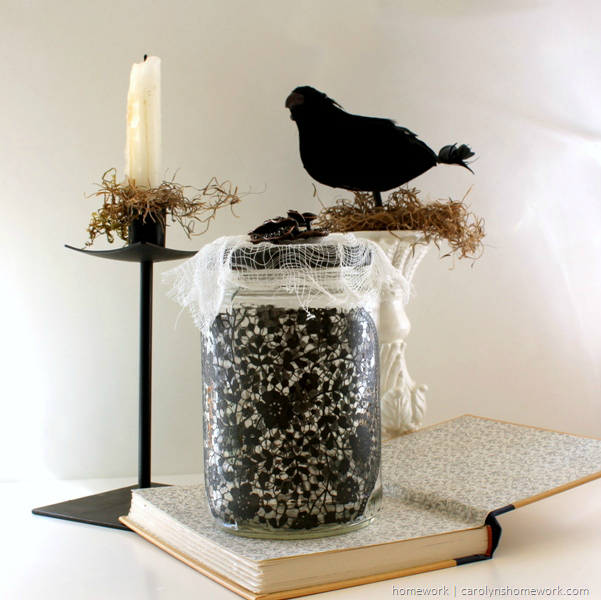 Boo! Did I get you this last time?
Darn it. Maybe it will work on visitors, after you or your kids wrap things up with these mummy jar luminaries.
You'll need large googly eyes, gauze, jars (yep), flameless votive candles, and hot glue.