Ah, Galentine's Day. It's the best ladies' holiday besides Half-Price Chocolate Day (February 15th).
Would you like to have your besties celebrate this February 13th? Let's get planning!
As always, start with some snappy invitations.
You may go with "Happy Galentine's Day," "You're invited," or "Will you be my Galentine?"
Plan the event at your favorite brunch-serving restaurant, friend's house, or your place.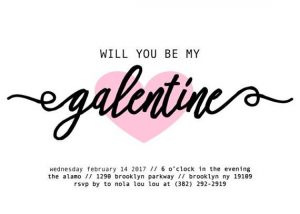 Décor for the holiday is surprisingly easy. Just pick up some things from the plethora of Valentine's crap out there! It can all easily be converted into Galentine's Day decor.
Seriously, Dollar Tree has so many heart-shaped things there, it's oozing with love.
Use a few of those customizable stick-on letters for walls to spell something touching, like "Cupid is Stupid," and add a bouquet of flowers for a centerpiece.
Perfect.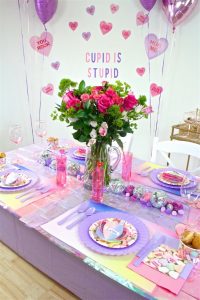 Every girl loves flowers, especially the ones she picked herself.
Had you considered displaying a romantic bouquet a little differently?
Using paint-safe tape, arrange those carnations, roses, and greenery into a heart with arrow. It'll look great over the mimosa bar and you'll be sure to let all your gals know how much you love them. Totally essential for your Galentine's Day Celebration!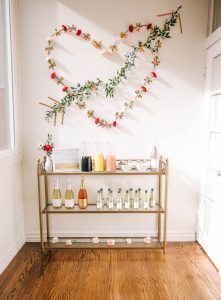 Which reminds me: what about food? If you're hosting at a house, you'll need food.
Since Galentine's is traditionally brunch, just think of your favorite breakfast and light lunch items.
I really like the look of these cake displays of donuts and macarons, plus their hand-lettered signs.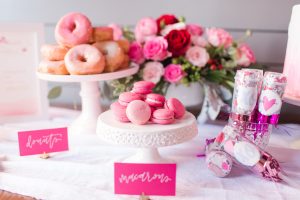 For a main dish, who doesn't love waffles? Maybe you can even spring for a heart-shaped waffle iron.
The best part about them is toppings!
Set out various fruits, syrups, and whipped creams so you and your gfs can pick what you like.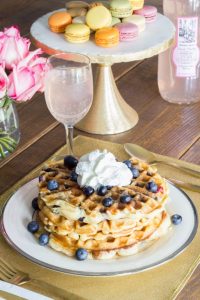 I mentioned a mimosa bar earlier. You're going to want to consider one for an at-home shindig.
Make things cute with flowers, a stringy table garland, and matching cups.
Then be sure to set out all the fixin's -maybe even some of the same fruits you used for waffles.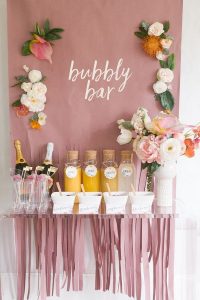 I couldn't pass up the idea of making your own drinks, especially if you're not into having that mimosa bar.
These are Rosé Raspberry Sorbet Mimosas, and they look divine.
A scoop of raspberry sorbet is covered in Rosé champagne, then topped with a sprig of mint or rosemary garnish.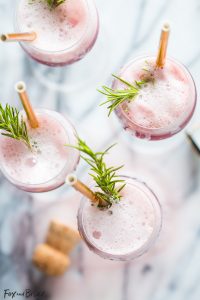 Let's keep with today's party traditions of picture-taking with props.
Instead of mustaches or glasses, however, how about some appropriate word bubbles and signs?
"Fries Before Guys," "No Boys Allowed," and I Tolerate You So Much" are some of the best options.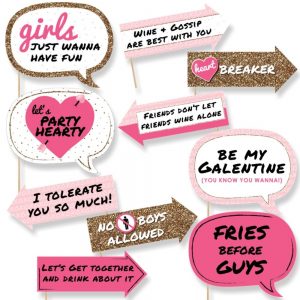 We simply can't have a girls get-together without games, right?
My favorite idea was a musical chairs rip-off called Beauty Queen.
A bag of different royal accessories is passed around the circle. Each time the music stops, the person holding the bag removes an item and puts it on.
Prizes at the end can be for Best Dressed, Most Creative, etc.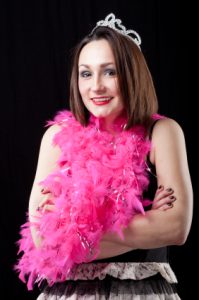 If you need some stickers for prizes, decorations, or to attach to your goodie bags; consider these.
Ovaries Before Brovaries: such an important message.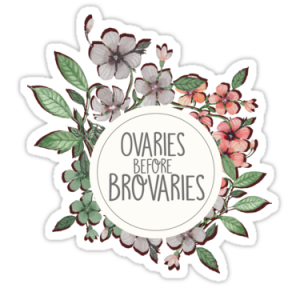 Did I say goodie bags?
Your friends will whinny with surprised delight when they receive a creative going-home gift of unicorn design.
Just because we're handing out treat bags doesn't mean they won't be good treats! Fill them with hand lotions, polish, face masks, and scented melts.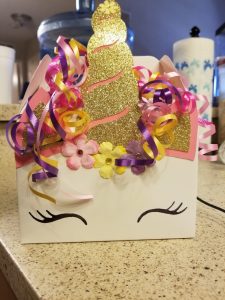 Get ready to Galentine by viewing the sites it all came from:
1. Etsy, Dollar Tree
5. Erin Spain, Amazon
8. Amazon
9. Lovetoknow
10. Redbubble
11. Pinterest