Good afternoon, ladies and gentlemen. I feel esteemed that you have taken time from your daily schedule to join us in discussing our little soirée.
Yes, of course I am referring to a tea party birthday. Or, if an anniversary of birth was not anticipated, I may also refer to a high tea party.
As you no doubt were aware, from the invitation displayed below, class and sophistication are our aims.
Did you not sense such, in the lightly-dotted background of neutral colors? What of the printing, details, and subtle graphic display?
You invariably noted that all pertinent information was present: date, time, and specific reference to the person for whom we are celebrating.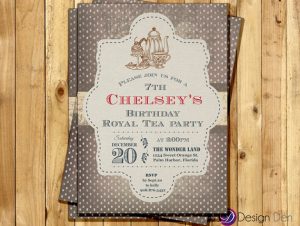 A birthday girl or boy of such esteem will need the best when it comes to confections. I speak, naturally, of a richly-decorated cake.
Look, if you please, at the engaging ruffles, the descending color pattern, the flower accent, and the vintage cake stand.
When proferring desserts, one must always think of appearances.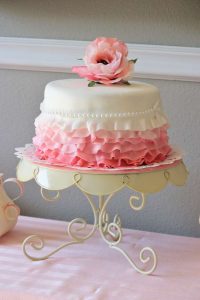 As to the tea settings themselves, I would have you consider a color scheme as pictured. One needn't always choose pink, but springtime tones similar to pinks are preferable.
If considering birthday party ideas, inclusion of inflated latex objects may entertain young attendees. If you have not any balloons, at least display a pleasing banner or backdrop with your food table.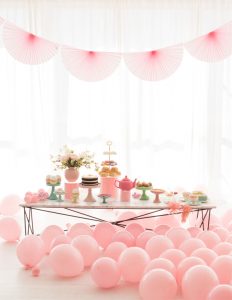 Appropriate décor may be a challenge beyond knowledge of floral designs or lace table coverings.
Send a houseservant to Michael's for quality ribbon. The Duchess of Kent herself has informed me that they may be used for an excellent backdrop, or for this ball of looped fabric.
If creating this craft appeals to you, have your man purchase a ball or two of Styrofoam as well. Plan to spend a merry afternoon looping and gluing lengths of fabric ribbon liberally upon the outside of the sphere.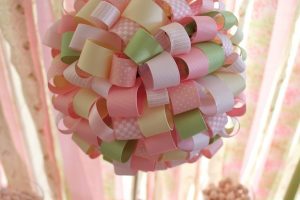 High tea party guests in current times may not remember to arrive with proper sun protection. In point of fact, a lady is hardly ever seen carrying her parasol these days.
As a reminder to the custom, or simply because of nostalgia, contact your agent at Amazon for a few lace parasols and artificial flowers.
Utilizing more of the hot glue, decorate the outer edges of each umbrella. When finished, suspend them artistically round the party areas. Perhaps the guests may also take one home in case of future engagements.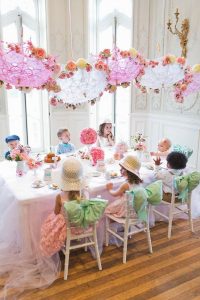 Did I hear you admit to not being properly stocked for tea? Were you even considering (*gasp*) paperware from which to eat and drink?
This will not do at all! Apply yourself immediately to the best china merchant, say at a popular retail store.
Otherwise, many a Goodwill or thrift shop is supplied with sundry tea things. The lack of matching patterns, colors, and styles will all be taken as stylistically eclectic.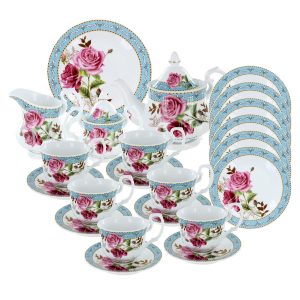 Besides dressing appropriately and arriving in a timely manner, the most important aspect of afternoon tea is the tea time activity itself.
This will most certainly involve tea, and accompanying foodstuffs.
Guests and their guardians will be impressed with a display like these candy melts-dipped strawberries. Note how they are displayed amongst roses and in a pyramid fashion.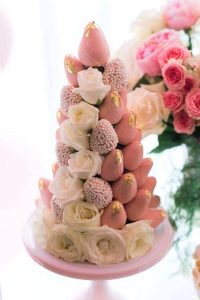 One mustn't forget nourishing items at tea, either. An age-old classic is the sandwich.
These are not merely peanut butter and jelly affairs, of course. These sandwiches are sophisticated constructions of whole grains and rye, fresh lettuces, garden tomatoes, and recently-acquired meats and cheeses.
They sit, gracefully awaiting consumption, suspended in triangles upon a three-tiered stand of excellent workmanship.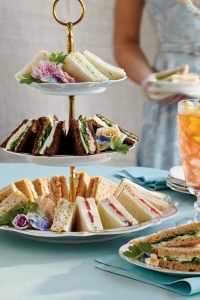 Any person of class is aware of the prodigious prevalence of macarons.
These high art forms of sugared biscuits bring style to any event. While notoriously difficult to seat precisely right, most bakeries offer them for sale at reasonable rates.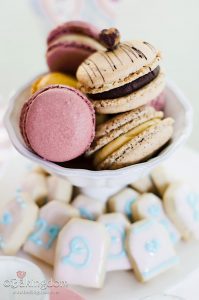 Apart from sunshade parasols, many ladies might forget their own hats.
A good hostess knows that all must be comfortable. Avoid shame and sun by preparing to have the girls make and decorate their own headwear.
Seeing as how it is merely an arts and crafts activity, feel free to create your hats from a paper plate and attached bowl. Spray paint will help hide its true construction, as will the added ribbon and flowers.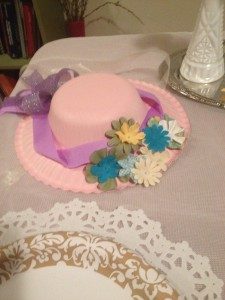 Our time is spent at last, and all must return to their estates. As usual, we will not send them away without a token of affection.
These small envelopes, filled with eraser likenesses of the afternoon's events, will do nicely. Attach a dainty clothespin and hand-lettered nametag, then dispense as parents arrive to collect their children.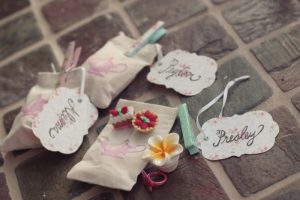 We mustn't be caught unprepared. Pay a visit to these fair websites for further enlightenment:
3. Oh Happy Day
4. Michelle's Part Plan-It, Michael's
9. Bakingdom
10. A Patch of Sun
11. Kelle Hampton