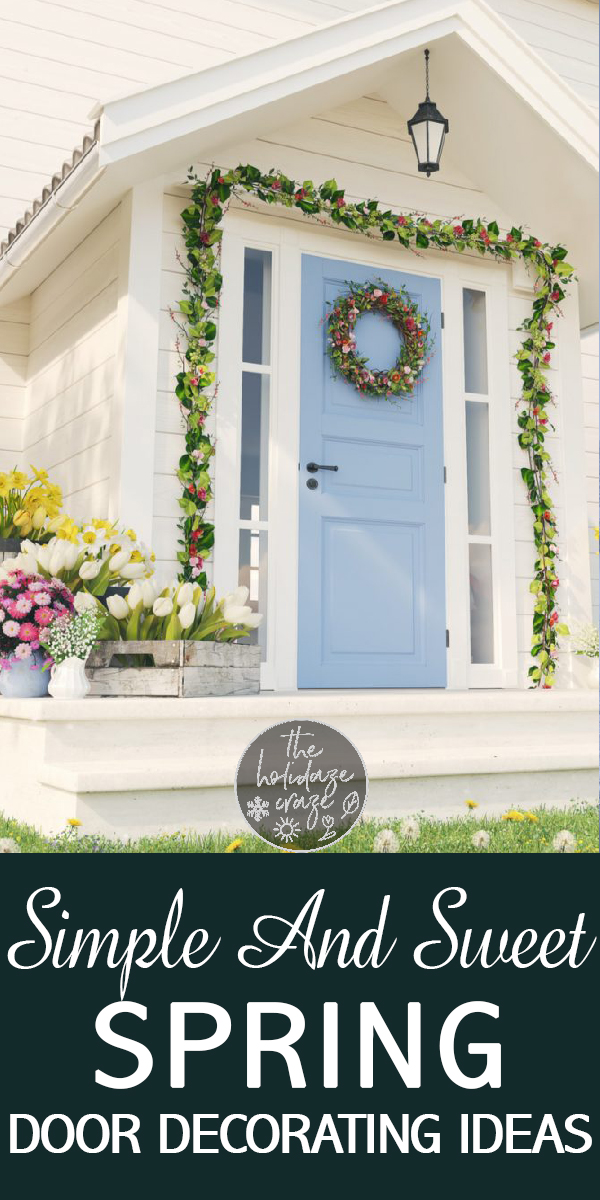 The weather has finally turned, which makes my inner self leap for joy! Done are the long cold days with little light and lots of snow, bring on the sunshine! One of the ways that I love to help welcome in the season is by adding a little bit of Spring cheer to my front door.
There are a couple of ways you can accomplish this-a wreath, some accent pillows on your porch chairs, or some seasonal blooms. I'd also suggest that now is a great time to give that front door a fresh coat of paint! Whichever you choose, it's a great way to add a little curb appeal to your home and a little bit more sunshine to your heart.
Spring Door Decorating Ideas
Idea 01: Blooms and Neutral Colors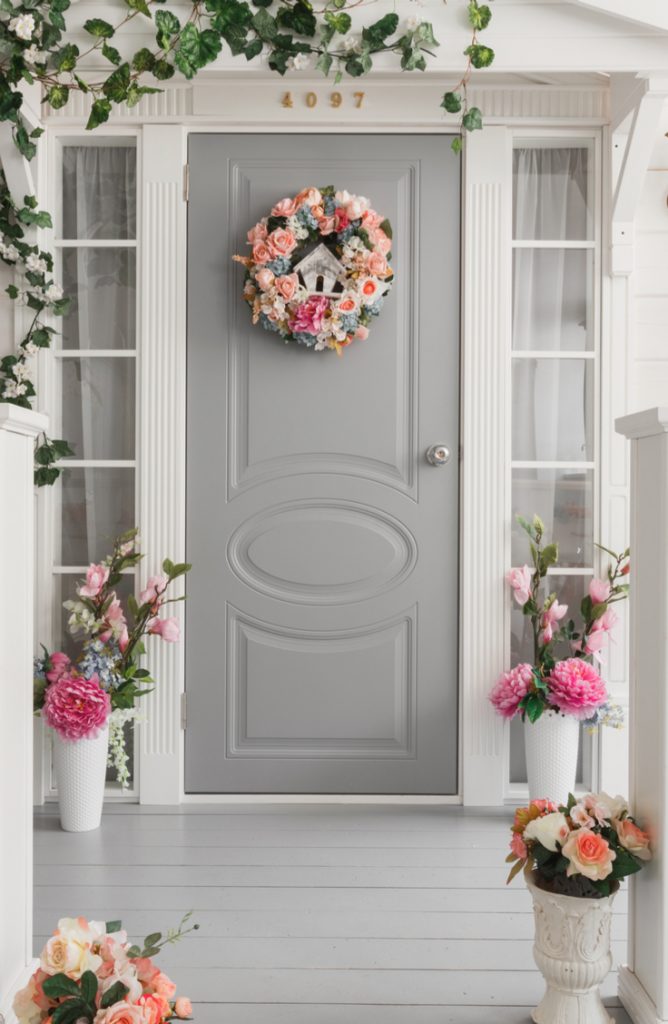 The beautiful think about this porch is that while it's soft and feminine, it's also not over the top. The neutral grey door and white trim lends itself to some really beautiful decor. Pick up some white vases here in a variety of shapes, sizes, and types. Then fill your vases with some soft pastel florals. You can find some one season and on trend floral stems here at some really great prices. Then all you have to do is use some floral foam and arrange your stems to your liking!
Top off your decor with a beautiful floral wreath. This Poppy and Hydrangea wreath is softly feminine without overdoing all the pink.
Idea 02: Spring Blossoms and Bold Colors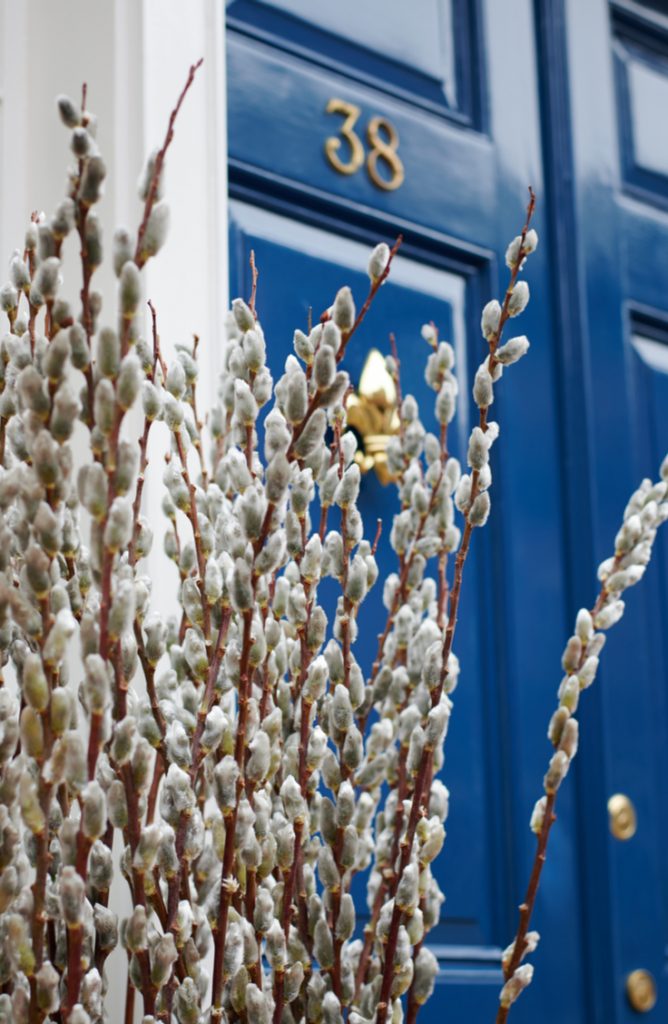 If blush and orange isn't really your thing, then how about going for a bold door with some really neutral blossoms? This door is a gorgeously bright blue that would be great in many seasons and it pairs awesomely with some branches of pussy willows. Simply grab an outdoor vase like this beautiful galvanized steel one, and toss in some pussy willow stems and you're in business. Simple but effective!
Idea 03: Green Means Spring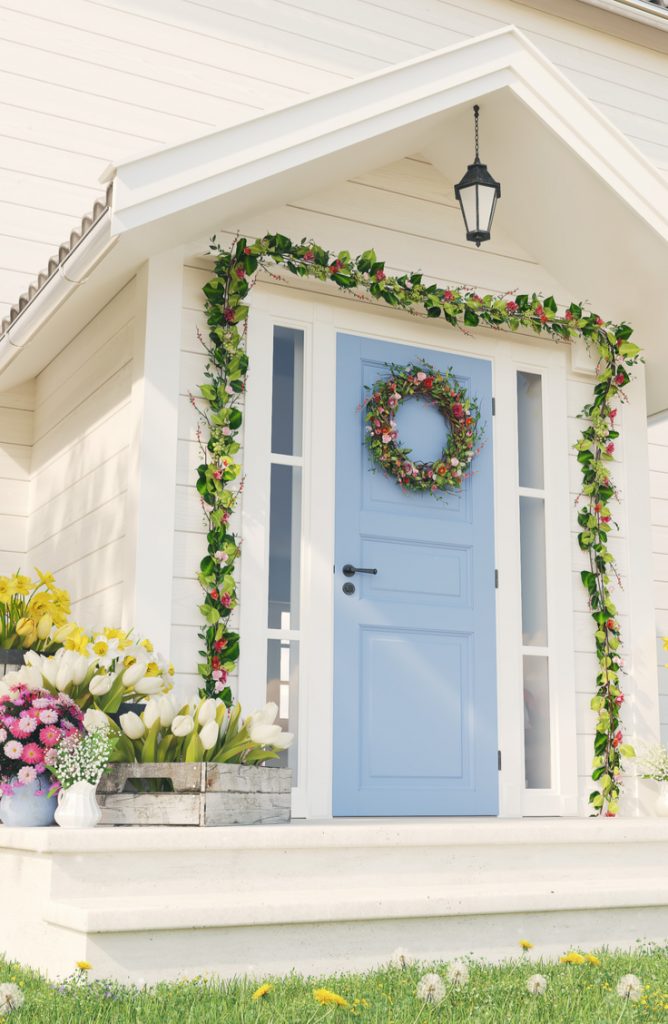 The key to making Spring green work for you is providing a good base for it to show it's stuff. Having some fresh white trim and a soft pastel door, like this sky blue, lets the greenery of Spring really pop.
Try adding a fresh garland around your door to help accent your wreath and add a little more spring time to your porch. This porch also made use of bunches of tulips to help with the pop of green and bunches of colors.
Idea 04: Make Monochromatic Work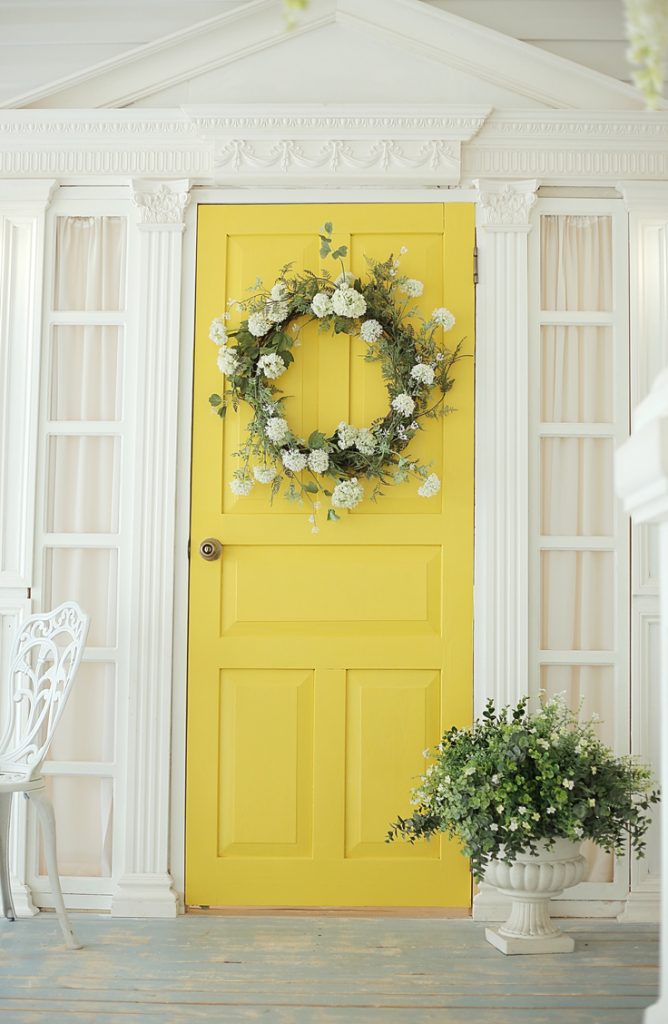 You can totally make monochromatic work on your porch! This beautifully mellow yellow adds sunshine without overdoing it because they accent so nicely with dark greens and whites. Making a wreath this like is a sinch! All you need is a grapvine wreath, some spring sprigs, some greenery, and a glue gun and you're in business.
Start by laying out your greenery as a base. You want to cover the grapevine wreath but still allow some of that beautiful wood to peek through. Then cut the greenery to fit in that space you've allowed.
Next, space out your white flowers so that they are equally arranged across the wreath. Trim the ends. Last, glue it all down! Ta da! You're done!
Want to take it beyond the door? Try adding a white pot with some white flowers as well.
Idea 05: Bright & Sunny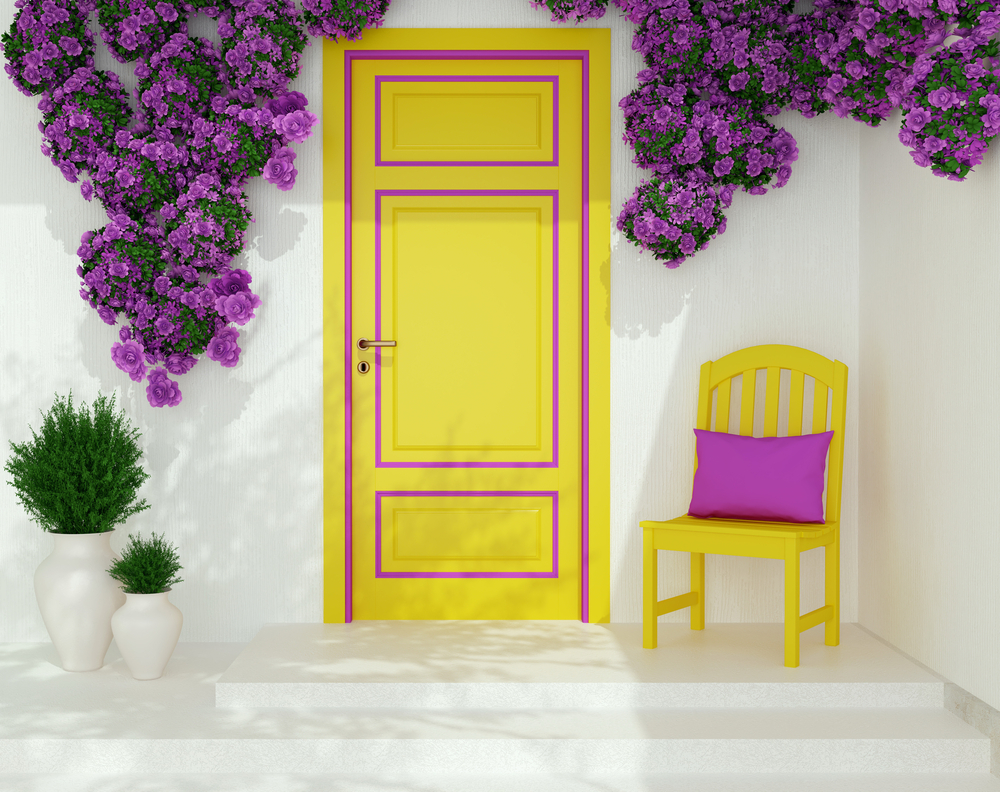 If you're up for an adventure, then try doing a two-toned door and accenting with some porch decor! This beautiful yellow and magenta porch is bright but not overwhelming. Accenting with a yellow chair and magenta pillow, they balance the whole thing with some beautiful deep greens in neutral white vases.
Check out a fabulous selection of outdoor pillows here in all shades and patterns. World Market also has some really lovely outdoor chairs, vases, and stools to help your porch. Check out their selection here.
And there you have it folks! Five ways to help add a little spring time to your porch. Whether you take the plunge and repaint your front door, or simply accessorize with a new wreath or a chair and pillows, it's sure to add some curb appeal and a little bit more sunshine to your porch.