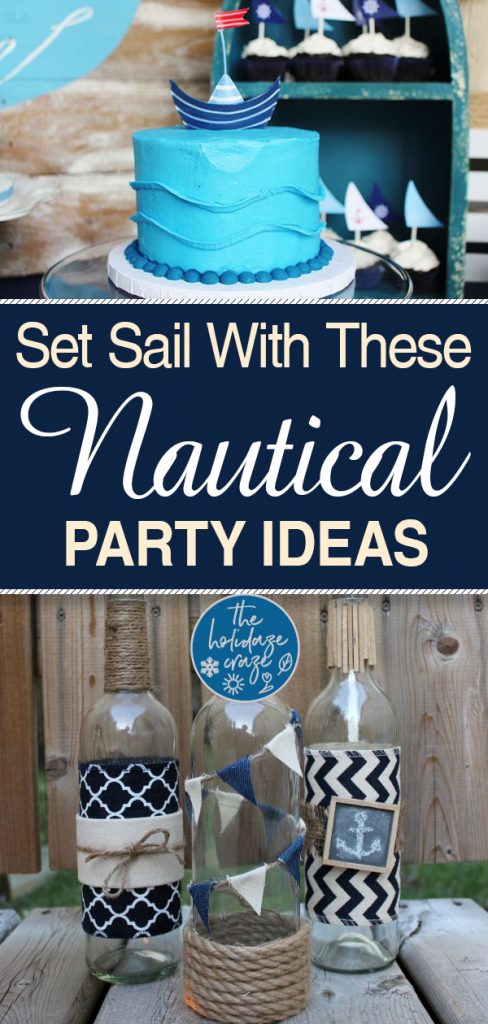 Are you ready for nautical party ideas? All hands on deck! Raise the mainsail, do that thing to the topsail, and batten some hatches!
I may not know what I'm talking about if we need a ship ready to go, but parties are right up my channel.
Nautical party ideas, especially nautical party ideas for birthdays, are listed even higher on my résumé. I just love the ocean, lighthouses, beaches, boats, ships, waves, fish, and the moody storminess of a restless sea.
Let's take a long walk on the beach and discuss how we can decorate.
Were you thinking shells, nets, a captain's hat, and blues and whites? I'm picturing rough wood accents, like a sea chest or lighthouse. We could even rig up a banner with a white lifering buoy.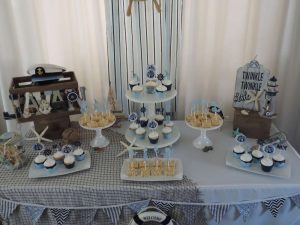 Still, I love simple. If you don't know this about me, it won't stay a secret for long.
That's why places like Big Dot of Happiness totally get me and other busy parents.
Drop anchor over there, then sail home with a pirate's plunder of decorative nautical triangles for your table and walls.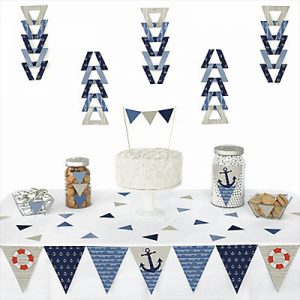 Help! I'm marooned on an island with only a few bottles and a Michael's craft store (don't ask).
I know! I'll wrap some twine and burlap pennants around one, some decorative cloth and twine around another, and chalk an anchor on the third.
Now I'll be able to message-in-a-bottle in style, plus have a few table centerpieces once they dry out.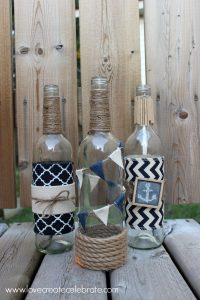 Do you know what else our decorations need? That's right: a fishnet wrapped Mason jar.
If you were a macramé-knotting hippie, now is your time to shine. As it looks, this craft involves knotting twine up a glass Mason jar.
The nifty blue ones look really cute and ocean-related. Or, once you've mastered the art, go crazy netting any sort of jar or container (or sleeping husband) you wish.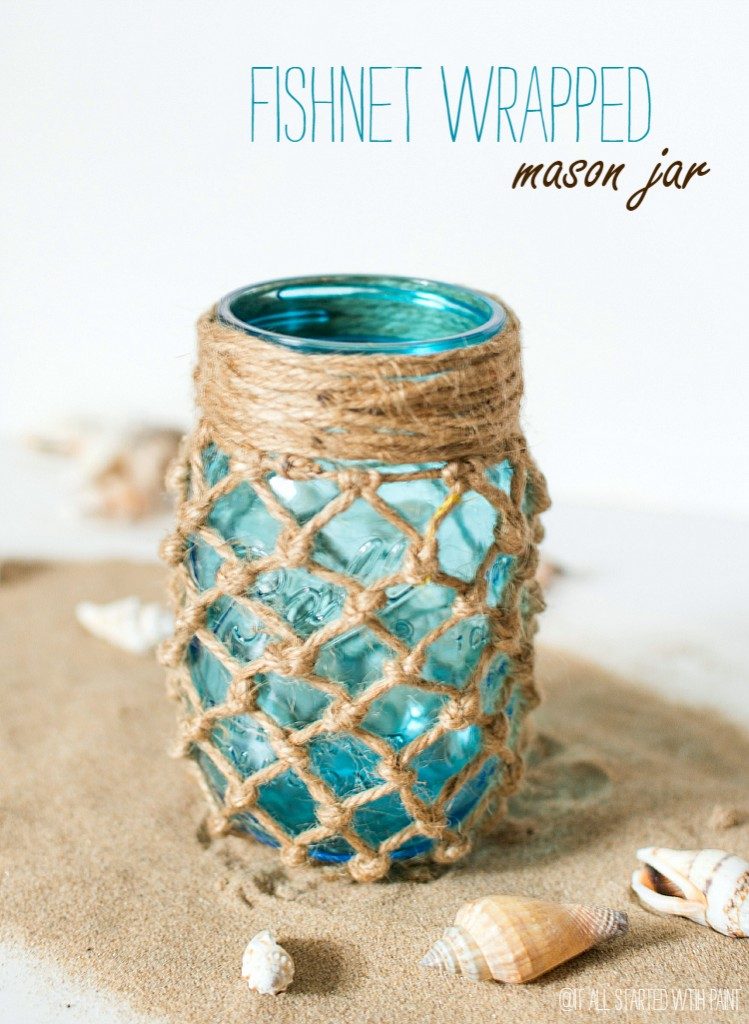 Once the guests have come into port, they'll need to know where to make berth.
The port master's a bit tied up (in a net) at the moment, so it's a good thing you planned ahead with some boat nametags.
Look how nautical you got there, with making the name like a pennant on the mainmast. I'm so proud.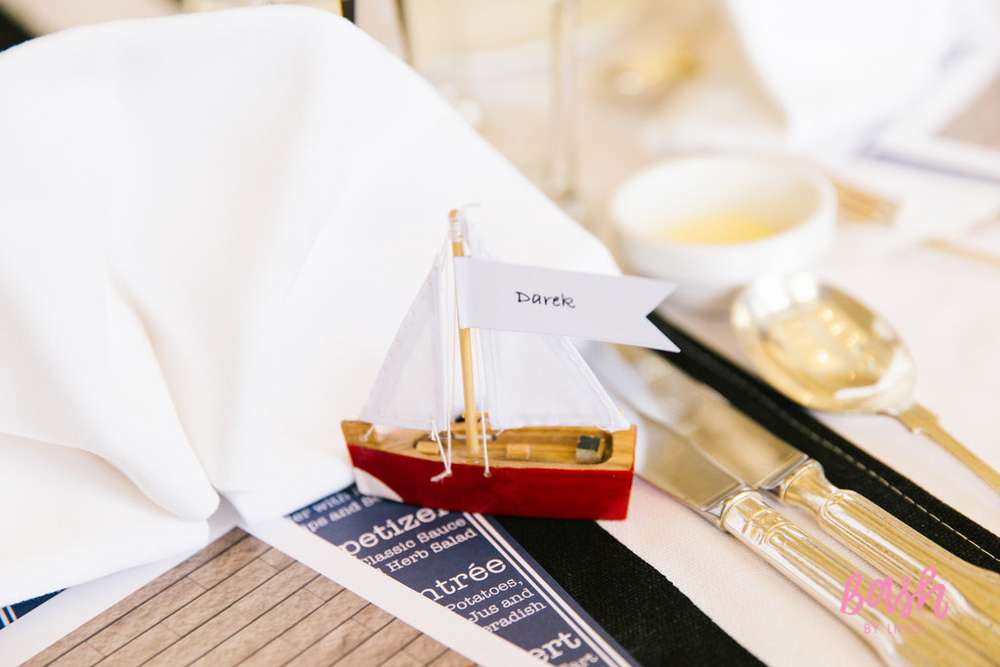 Nautical is one of the best party ideas for boys, unless your boy hates the color blue and is terrified of water.
Since you've read this far down, I'm sure that's not an issue. So, we'll go right ahead and bake and frost this adorable smash cake.
Don't you love how simple it is, yet cute? It has a boat making waves on the sides.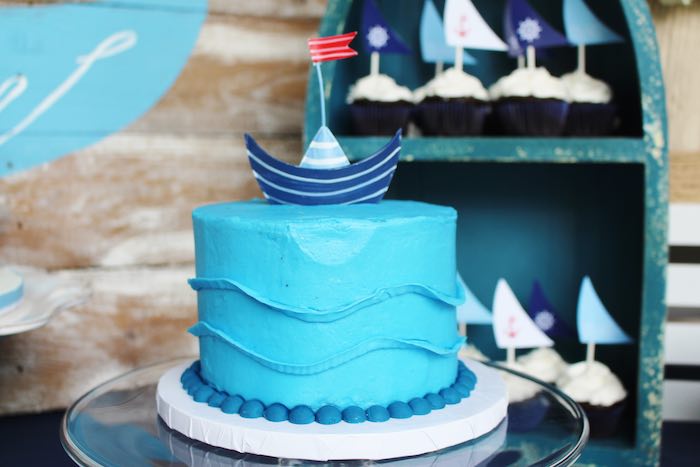 Speaking of blue, it doesn't get any bluer than a blue velvet cake.
Red velvet lovers just might convert after cutting in and finding the rich tastiness waiting beneath the waves.
Cocoa, buttermilk, Crisco, vinegar, and baking soda combine with regulars like flour and eggs to produce a moist sensation worthy of its deep blue color.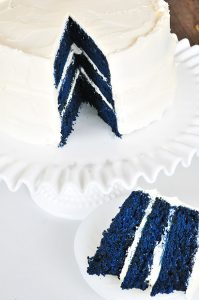 The sea holds more treasures than a barnacled Bluebeard on the beach.
Just feast your eyes on these genuine, not-really-genuine pearls. They even come inside tasty oysters.
The best part is that you can make your own! Grab a box of Nilla Wafers, pipe in pink frosting, and place a Sixlet or other white candy right inside.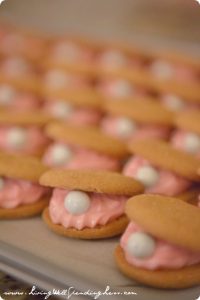 We've had a few sweet treat ideas, so how about salty? Salty like the sea, right?
Heck, it's popcorn. Throw it in some cute anchor or striped containers and I'll call them worthy vessels.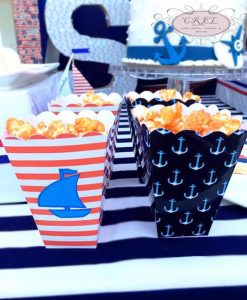 Sailing is difficult work. Although a seaman is surrounded by water, it's never the kind he needs to quench his thirst.
An excellent party host or hostess like you is sure to be prepared. I'm certain you're also in favor of a little humor, so print out your own "Thirst Aid Station" to post by the drinks.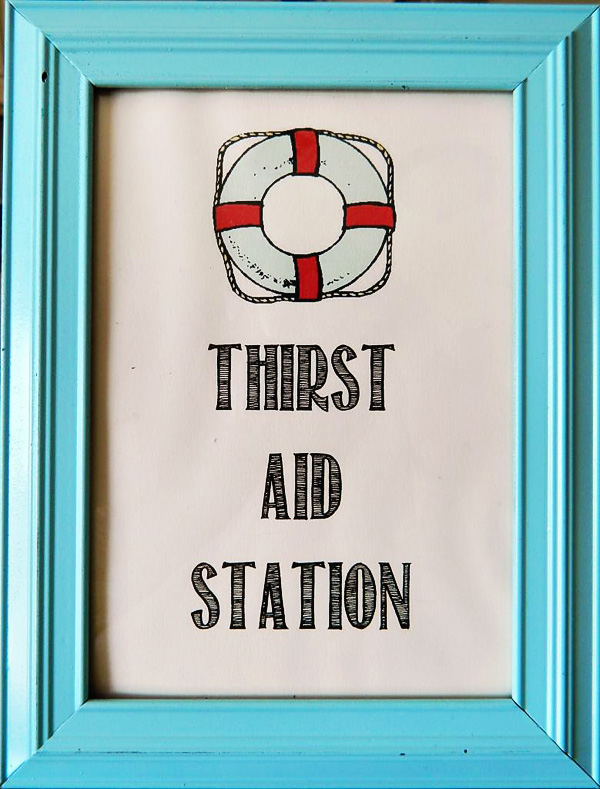 And what fine beverages might the crew expect? Only the best in sugared drinks will do for this ship: Kool-Aid.
Island traders from the far-off lands of Wal-Mart have informed me that they grow in a variety of colors, which will work nicely with whatever décor we need to match.
Make them even more authentic by hanging a lifesaver round each bottle's neck.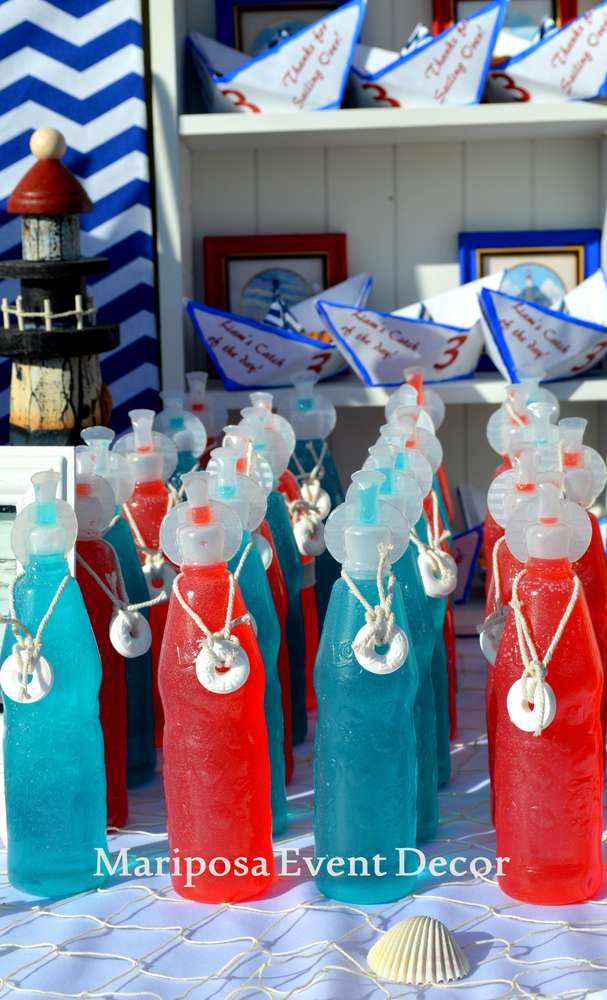 Set sail for party times! Click below and shove off today:
1. Catch My Party, Amazon
3. Love Create Celebrate, Michael's
7. Add a Pinch
11. Catch My Party