The great outdoors aren't just for cavemen anymore. Trust me: your kids will love all that fresh air, free foliage, and accessibility to mud.
What?! You're hosting a party, too? Fantastic!
Here are some games so they don't resort to throwing rocks at the house:
This first one is called Popcorn Drop. Pick up some disposable cups at the local Dollar Tree, and tape an elastic to the bottom.
Next, pop A LOT of popcorn. It's going to get dumped all over, so buying in bulk or air-popping a garbage bag full would work.
Set up a relay course for two or more teams. Slide the elastic of the cup over their shoe, fill each with popcorn, and have the competitors walk or run down to another container to fill it. First team to fill their container wins!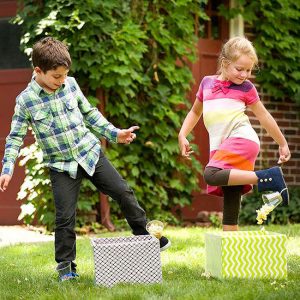 Let's combine getting the kids outside with getting their creative juices flowing. I'm talking miniature golf.
Have your kids drag out that junk they always love to collect, and shape it into various "holes" to shoot for on a course. They can get fancy with paint and obstacles, but make sure a ball can still fit through the goal.
Your part's going to be golf clubs and balls. Thank goodness for Amazon.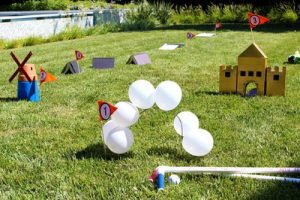 This homemade Ker-Plunk might be more of a way to get the adults' mental gears going. It's made with a screwed-together wood base, wire netting, and 18-gauge wire.
For the game part, pick up some garden stakes and ball pit balls. I'm so happy the stores sell those balls, and here's a great way to use them.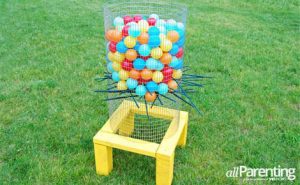 When it comes to outdoor party games, my kids are all about the water. Frankly, they get wet inside, too.
For a bit more organization, this pass the water game is always fun.
I wonder how long my kids can play it without intentionally splashing the cup full of water at each other.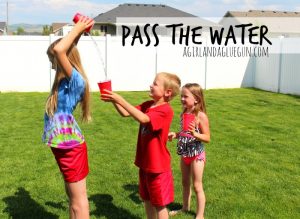 One of my favorite party games is Twister. I haven't been small enough to play in a while, as my kids remind me when they drag it out.
Well, I'll show them. I'll get some spray paint from the store in primary colors and spray my own circles out in the grass.
Now we have one of the best party games for kids and ….um, for larger kids.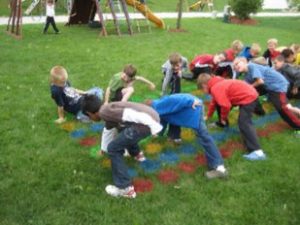 Another use for garage and storage room treasure is a DIY obstacle course.
A ladder is a skipping trap, barrels or tires can be stepped in or over, and wheeled toys might be driven to a finish line.
If you're really feeling creative, theme it. Call things "The Haunted Ladder," or "Bucket Monsters," etc.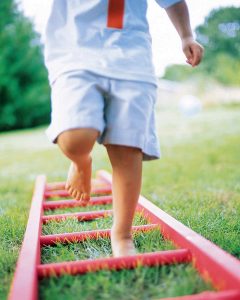 I didn't realize I was being so economical and ecological today, but here is yet another upcycle game.
Clean out old soup cans, paint them with leftovers, dry, and roll a ball at them.
It's soup can bowling, of course!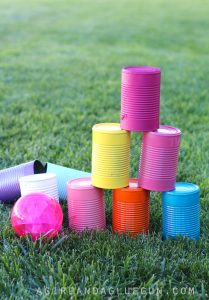 I was never really good at egg races as a child. For one thing, I hated eggs.
This adorable idea uses water balloons, instead, which is perfect for summer. I also like the idea of cute-ing up the wooden spoons a bit.
And, thanks to the wonders of technology, inflating a gazillion water balloons is now quick and easy.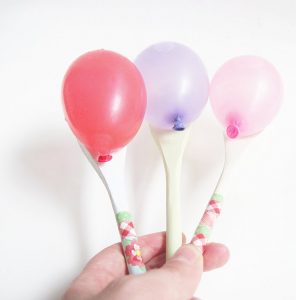 Another good exercise game besides races is soccer. An even better one is crab soccer.
Scuttling around on reverse hands and knees like a crab is more difficult, and helps contain the game in a smaller space with fewer injuries.
Try to find a large ball to play with. Whatever you find, be certain it's a soft one.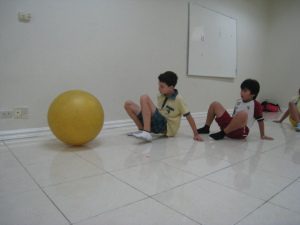 Ah, Tug O' War. This never gets old. I'm pretty sure one of my life goals was to grow up and buy my own rope so I could play any time.
I'm not sure where I thought I'd get all the kids to play with, but at least Amazon is fulfilling wishes by selling the rope.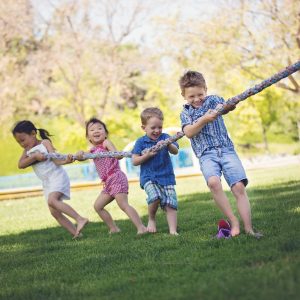 If you haven't seen corn hole played lately, you probably haven't been to any group events. I see these things everywhere.
But who knew that you could have your own, for not that much? That's right; those are homemade.
They require some cutting of boards, screwing, sawing, sanding, and painting. I know they get used often, so it may be worth that initial construction.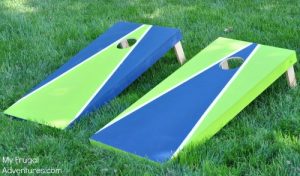 Another oldie-but-goodie is flag football.
I often think these are over-used games, but then see that the rising generation hasn't even heard of quite a few. -Probably since there isn't an annoying app for it.
Make it even more fun for all by letting them design team flags first. Then, head to a large park and have at it.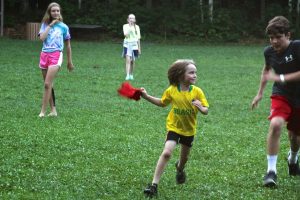 Those kiddos are just waiting for organized outdoor fun! Look at these websites for further instruction:
1. Better Homes and Gardens, Dollar Tree
10. Amazon